Latest Magazine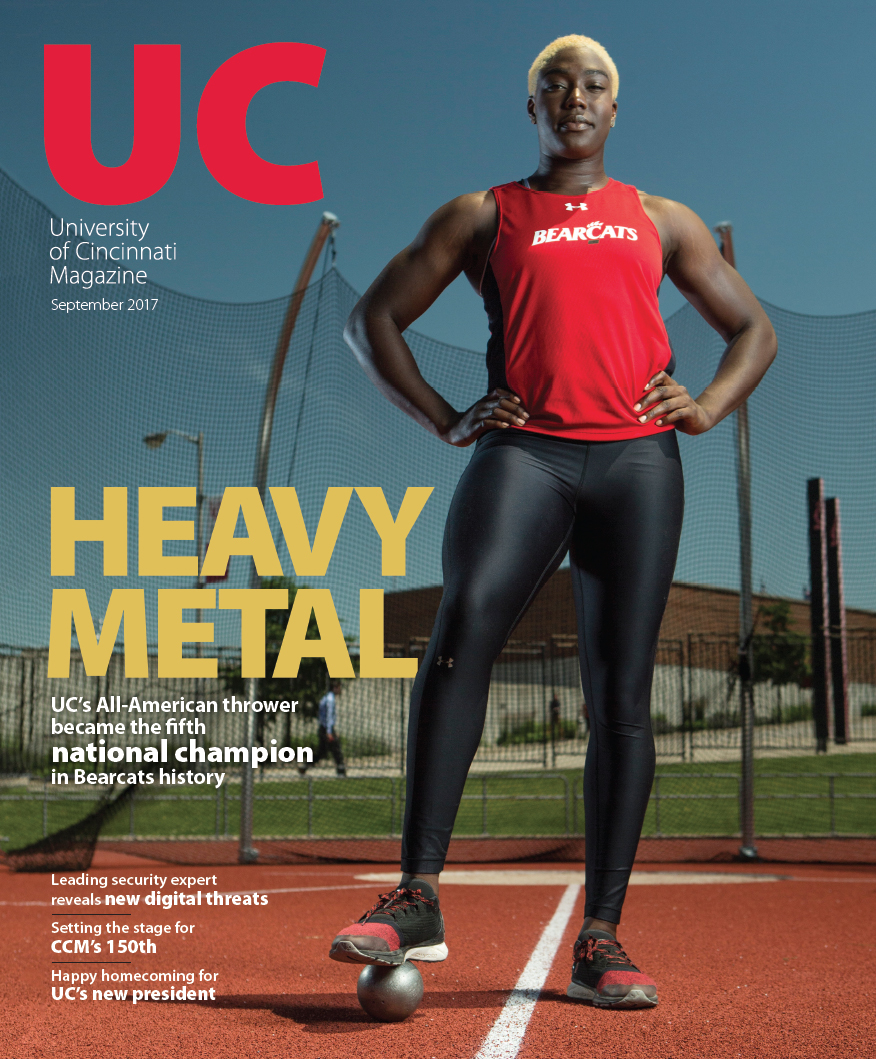 September 2017
Heavy metal
Mind estranged
Brave new digital world
Natural wonders
One happy homecoming
Celebrating CCM's 150th
Browse our archive of UC Magazine past issues.
Living the Question
The University of Cincinnati celebrates Fall Commencement
at BB&T Arena, the Bearcats' home away from home.
Story by Matt Koesters
Photos by Joseph Fuqua II/UC Creative Services
Dec. 8, 2017
Graduation is the goal of every college student, regardless of the degree being sought. But Commencement isn't a destination, according to University of Cincinnati President Neville Pinto. It's a crossroads.
"Equipped with your hard-won degree, you may be tempted to think that you have also reached a crossroads between asking and knowing — that by now, you have all the answers," Pinto said. "My hope is that you have come to learn just the opposite, that — especially with your new credential — you have gained an awareness of the wisdom of questions."
Pinto encouraged the fall class of 2017 to embrace uncertainty and "live the question" at Commencement on Friday, Dec. 8, at BB&T Arena on the campus of Northern Kentucky University, the temporary "home away from home" of the Bearcats during the ongoing renovation of Fifth Third Arena.
During his Commencement remarks, Pinto's thoughts turned toward the century-old wisdom of poet Rainer Maria Rilke. "Live the questions now," Pinto said, quoting Rilke. "Perhaps then, someday far in the future, you will gradually, without even noticing it, live your way into the answer."
Pinto encouraged the newly minted graduates to live questions such as what can be done to create a better world, and how to make it happen. "This is somewhat ironic advice from someone like me, who himself was once fearful of raising his hand in class to ask a question," Pinto admitted. "But my academic training and life experience forced me out of that very limiting zone of comfort – and I am glad."
Here's how just a few of UC's fall class of 2017 lived their questions on their academic journeys:
Tori Thomas is one of 2,321 new University of Cincinnati graduates qualified to walk in Friday's commencement ceremonies, but the geology major wasn't in her cap and gown at BB&T arena with her classmates. Instead, she and her husband of six months are spending quality time in Disneyland. Call it the honeymoon she never was able to enjoy. "The battle is over, and I have lost," the 24-year-old recently blogged. "This is me telling all of you that I'm dying. I can't tell you what it's like to know that this Christmas will be the last one you ever have with your family, because those kinds of feelings don't have words." Read more about Tori's journey here.
•••
Five years ago, disabled veteran Jeremy Wren was looking for answers. He escaped homelessness by attending truck driving school, and spent the next three years of his life in an 84 square-foot truck with his partner and his dog. Out of desperation, he wrote the Veterans Health Administration to ask for help."I was accepted into the VA Chapter 31 vocational rehabilitation program, and the rest is history," says Wren, who graduated Saturday with his degree in social work. "I am so thankful to the VA for giving me this opportunity for a new career and a new life!"
•••
Dominique Teasley didn't attend college straight out of high school. In fact, he didn't attend college until eight years later. "It has been a remarkable experience being a part of the UC family. I'm fortunate that I have had the support that I needed in order to accomplish the goals that I have set forth," Teasley says. "I can't thank the faculty enough for their commitment towards my success. I look forward to the future, and I'm thankful for the support of my fellow Bearcats!"
•••
When Emma Cowell enrolled at UC in 2015, she knew she had to do better than the 2.7 GPA she accrued in high school. She walked across the stage Saturday with her head held high. "I am graduating at just 21 years old with a 3.2 GPA, and a few semesters of dean's list under my belt," Cowell says. And that's not all: Cowell graduates as a member of the National Communication Honor Society, something she never achieved in high school.
•••
Amanda Jo Sealock was so uncertain about pursuing an advanced degree in nursing that when she enrolled, she didn't tell anyone outside of her closest circle. With three sons under 6 and a full-time job, she wasn't sure if it was possible. "If things didn't work out, I didn't want to have to explain to everyone why I failed or quit," she recalls. Instead of failing, Sealock became the first person in her family to complete graduate school by becoming a nurse practitioner in adult gerontology primary care.
•••
Michaela Sandige knows her mother would be proud of her. Sandige's mother succumbed to lupus just eight days before Sandige started college. "It was bittersweet to be starting up college when she could not be here to help and support me through my studies as she always had in high school," Sandige says, "especially when she had been so excited for me to be starting here." At UC, Sandige found a new family that helped her heal, little by little. Sandige graduated Saturday with two degrees and a minor completed. "My mom was always my biggest fan, and I can't wait to continue to make her proud," she says. "I will forever be proud to be a Bearcat."
•••
Jessica Sells started at UC as a transfer student, and completed her bachelor's degree in education as a distance learner. But she feels no less a part of the UC community. "Being a distance learning student can make it difficult to feel a part of the community in many colleges, but UC really tries to keep everyone included and involved," Sells says. Sells consistently had courses with many of the same classmates, "and you can really build relationships through that continued involvement with each other," she says.
•••
Lisa Short took the long way 'round to earn her bachelor's degree in interdisciplinary studies. Between her enrollment in 2001 and her graduation Saturday, the single mother of two has endured everything from unemployment to working a full-time night job while going to school during the day. "It has been a rough ride and I had no support from my family in any way," she says, "but I am finally here."
•••
A lot can happen in just a few years. Just ask Christopher Venti. When he started at UC Clermont College in 2012, he was a part-time shipping clerk. During his journey to earning his associate's degree in pre-business administration, he has experienced the joy of new life through the birth of his son, and the pain of the loss of his father to cancer. He married the love of his life, and his family moved into its first home. "I can safely say that my life has changed completely during those five years," says Venti, "and UC Clermont College had a significant part in that."