Daniels goes to the finale in 'Under the Gunn'
Surprise change in rules allows UC grad to be one of four finalists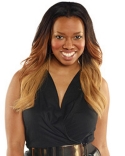 As the result of a surprise twist, alum Asha Daniels, DAAP '13, will be one of the finalists on Lifetime's fashion-design series "Under the Gunn."
The twist is that in the April 3 episode the judges were to send one of the remaining four contestants home -- leaving three designers to go to the finale of the show. Daniels was the last to be addressed at the judging, with three contestants -- Oscar Garcia-Lopez, Shan Oliver and, lastly, Sam Donovan -- already getting the nod. The TV audience knew Daniels had been eliminated -- instead, show host and mentor Tim Gunn said the UC grad would also be going to the finale. The judges decided all four could compete.
The April 3 design challenge was to create a look inspired by a Marvel comic superhero -- but not appear to be a costume.