Latest Magazine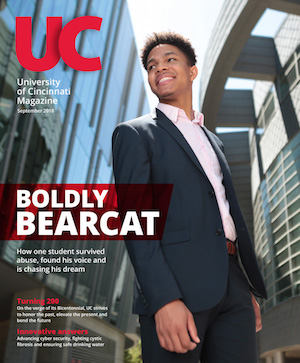 September 2018
Boldly Bearcat
Finding his voice
Danger in the tap
Virtual defense
Global game changer
Celebrating UC's Bicentennial
Browse our archive of UC Magazine past issues.
Spring 2018 commencement caps off another record-breaking year for UC.
Let 'next' commence
Spring 2018 commencement caps off another record-breaking year at the University of Cincinnati
By Matt Koesters
513-556-5279

Photos by Joseph Fuqua II, Andrew Higley, Lisa Ventre, Jay Yocis and Ravenna Rutledge/UC Creative Services
April 28, 2018
Life isn't a mountain that has a summit. Nor is it — as some suppose — a riddle that has an answer. Nor a game that has a final score. Life is an endless unfolding and — if we wish it to be — an endless process of self-discovery, an endless and unpredictable dialogue between our own potentialities and the life situations in which we find ourselves.
John W. Gardner (1912-2002)
The collegiate ritual of commencement is a celebration of a milestone, the recognition of the achievements of those who have sought to better themselves through higher education. But where one journey ends, another begins — another pursuit of what's next.
The University of Cincinnati's largest-ever spring commencement class of nearly 6,500 students savored their achievements on Friday and Saturday. But it's what comes next that will define their legacy, UC President Neville Pinto told the class of Spring 2018. During his commencement addresses, Pinto explained to the freshly minted graduates that they embody the best example of the new blueprint for UC's future, Next Lives Here.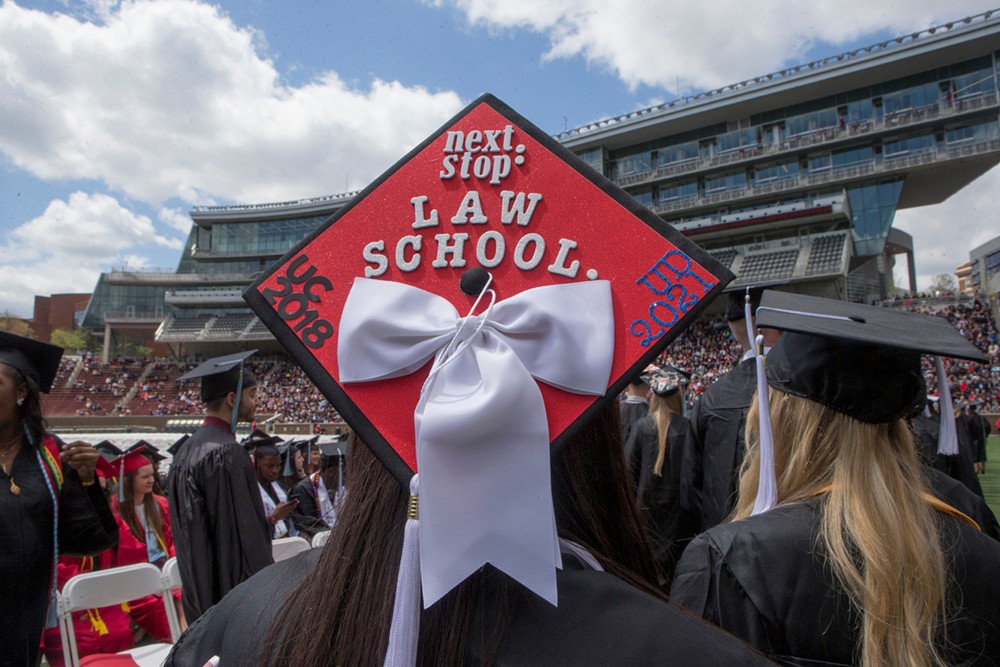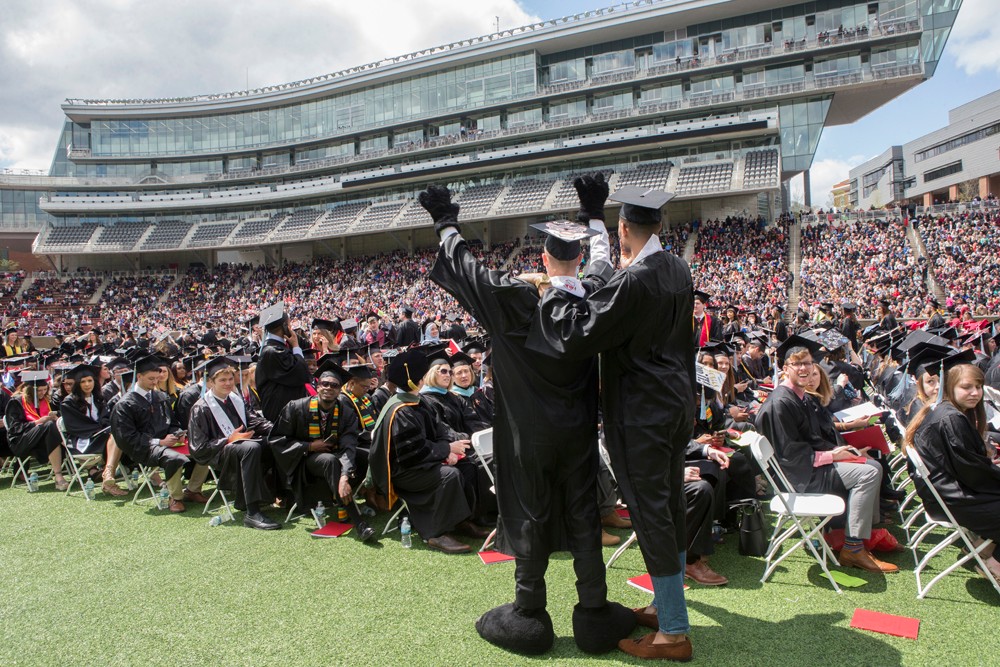 "When I look at you today, knowing your bond to our Bearcat mottoes — seek the highest and strength in unity — I feel the utmost hope and optimism about the future you will build," Pinto said.
UC conferred more than 4,100 bachelor's degrees and 529 associates degrees on Saturday to graduates as young as 18 and as old as 70. Another 1,900-plus advanced degrees were conferred at doctoral hooding and master's recognition ceremonies on Friday. And on Saturday morning, President Pinto conferred a one-of-a-kind degree upon Dr. Alvin Crawford: an honorary doctorate, the university's highest honor.
Dr. Crawford was the longtime director of orthopaedic surgery at Cincinnati Children's Hospital and Medical Center. As a clinician, Dr. Crawford performed more than 27,000 procedures and became one of the nation's foremost authorities on video-assisted thoracoscopic surgery. He went on to become a professor emeritus in the Department of Orthopaedic Surgery and an attending physician with UC Health. He is the founding director of the Crawford Spine Center at Cincinnati Children's and in 2004 was honored with the dedication of the Crawford Chair in Pediatric Orthopaedics and a subsequent chair in spine surgery.
In 2017, the Crawfords created an introductory Alvin H. and Alva J. Crawford Scholarship to support underrepresented minority UC medical students who are academically strong and demonstrate a financial need. An endowed Eminent Visiting Scholar in orthopaedic surgery has also been created.
"More than a healer, you are a hero and a humanitarian," President Pinto told Dr. Crawford. "With a big heart, you exercise the highest compassion for the underserved. Your impeccable integrity and kindness inspire the many around you."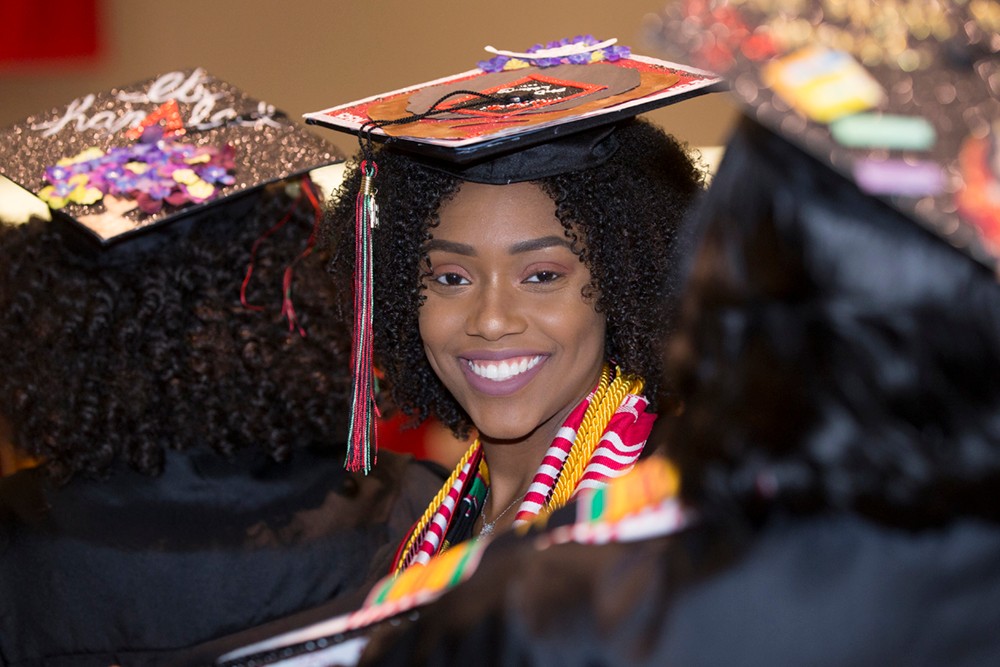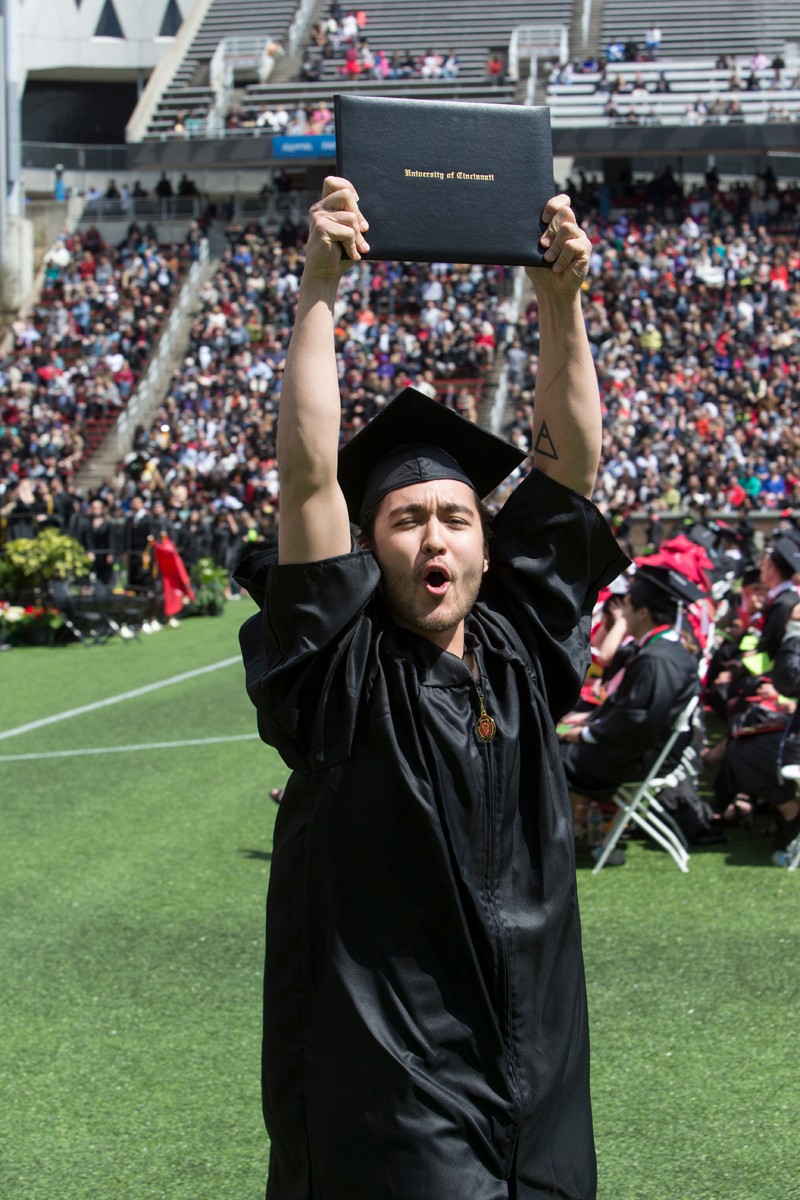 About the graduates
Students from the Spring 2018 graduating class hail from 49 states — plus Washington, D.C. — and 76 countries. For sake of comparison, last year's spring commencement had graduates from 51 countries.

More than 73 percent of all graduates hail from Ohio, and 81 of Ohio's 88 counties are represented in this year's class.

The degree breakdown is as follows: 529 associate degrees; 4,145 bachelor's degrees; 1,404 master's degrees; 262 doctoral degrees and 238 professional degrees.

Of those graduating with bachelor's degrees, 498 began their UC careers at a UC regional campus, and 519 of them transferred to UC from other institutions.

Nearly 16 percent of graduates — 1,019 students — are first-generation college students.

More than 11 percent of this year's class graduated from Distance Learning programs.
Getting to Next
Every UC student has a story about their journey from newcomer to graduate, and no two are alike. They come from all walks of life, and each must overcome challenges as they pursue their degrees — some of them are normal, while others are unique and incredibly daunting.

Here are a few of the stories from this year's spring 2018 commencement class:
When Tiara Wright left UC in 2012, many of her peers didn't think she would return. After all, she had had a son and moved back to her native Dayton. But she didn't let anything — including a gruelling commute – stop her from earning her bachelor's degree in sports administration. "My professors and adviser helped me so much on the return back to school," she recalls. "It has truly been amazing!"
---
Javan Hovind took advantage of opportunities and didn't waste any time on his way to completing his bachelor's degree in digital media. Taking College Credit Plus classes in high school helped make it possible for him to earn his degree at just 18 years old. He's finishing college debt-free and ready to pursue his passion for video and audio editing.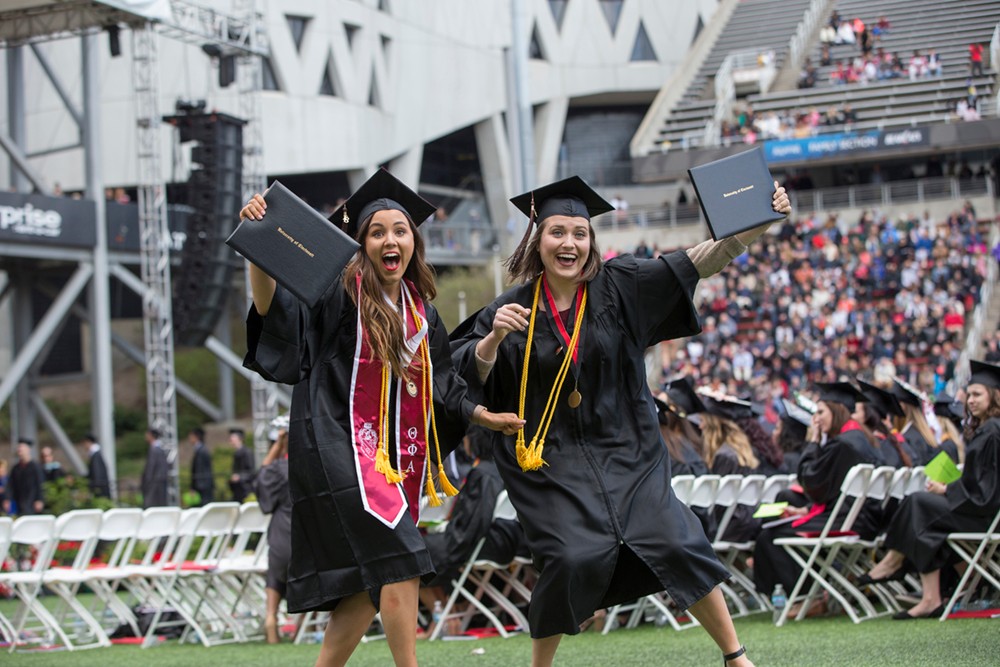 After completing a year in AmeriCorp Service, Gabrielle Boyd was ready to pursue her graduate degree in planning. But what she didn't know was what she'd have to endure. She lost people close to her in each of her five semesters, including her stepfather, a close friend and three cousins. Along with those emotional burdens, she carried a full course load while working full time and supporting two family members. She's grateful for the support of her professors, who she gives credit for her survival during the last year. "I guess I will be carrying them in my heart, because the prospects of not creating impact in this next chapter feels like I would be letting them down — a fear far greater than the unknown," Boyd says.
---
Call it the 30-year plan: Chanda Monroe-Williams has found plenty of success in her life, but early in life she struggled with school while working three jobs. Everything changed during her junior year. An international company recruited her, and she went on to lead their strategic initiatives. She founded her own consulting company in 2008 and opened a salon three years later, all while raising two children. "My parents are proud that while I have had a successful run, I'm completing this degree," she says. Monroe-Williams is also setting an example for her children — her final semester of school coincided with her son's first at UC.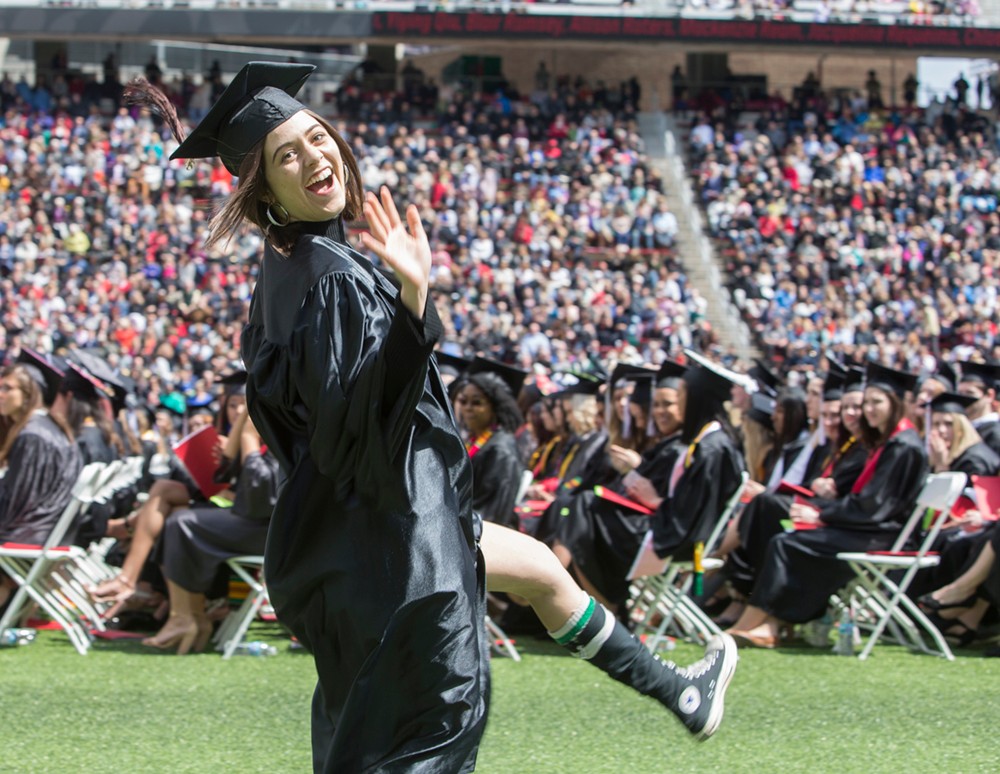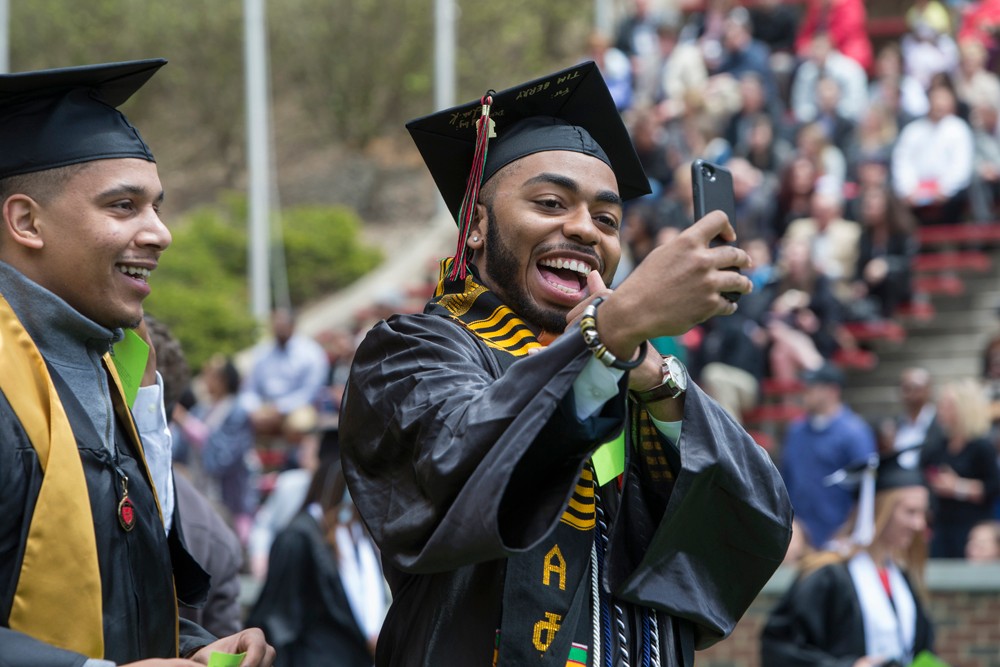 Paul O'Brien's path to his degree in interdisciplinary studies has been circuitous, to say the least. An active-duty sailor, O'Brien endured three cross-country moves, fathered two children, and toughed it through two combat deployments to become the first person in his immediate family to earn a degree. "Though it was a tough one, I am happy that I can be a positive example for my three sons, my 11 other siblings and to my fellow service members," says O'Brien, a second-generation American.
---
Kathleen Johnson became the first in her family to earn a bachelor's degree, but she freely admits that she couldn't have done it alone. "During my time at UC I have found great mentors and supporters in my mom, and two professors in particular: Professors Susan Longfield Karr and Aaron Kerley." These three became the best support system I have ever encountered."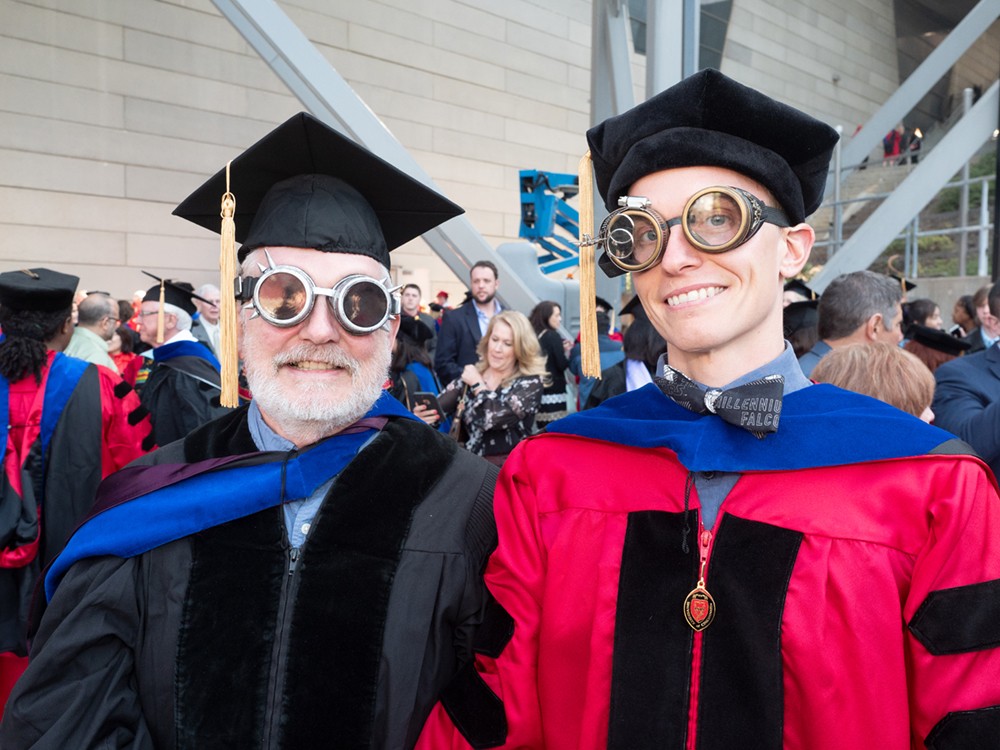 Life's twists and turns kept Amy Scobey away from pursuing a college education for nearly two decades. When she finally enrolled in a community college in Eugene, Oregon, she had to take nearly a full year's worth of remedial classes. But she was determined to finish what she started, even when her husband's career led the couple to move to Cincinnati in 2015. "The University of Cincinnati has been such an amazing place for me to complete my education," Scobey says. "As a transfer student, they made the transition as seamless as possible." Scobey worried that her age and non-traditional background would cause problems, but the inclusive UC community embraced her. "Because of my experience, I feel that I am well prepared for my next phase in life," Scobey says.

---
"Living abroad, I didn't think getting my master's degree would be possible until I returned to the states," recalls Jill Lewis. But UC made it possible. "While I have never attended a class on campus, eaten a meal in the cafeteria or attended an event at UC, I am excited to physically be on campus to accept my degree."
Laura Maag had been a nurse for about four years when she decided to pursue becoming a nurse practitioner. She remembers feeling a rush of excitement when her letter of acceptance to UC arrived. But two days later, she found out she was pregnant, and a few weeks later, she learned she was having twins. She thought there was no way she could pursue a graduate degree with two babies on the way, but encouragement from her husband and friends kept her going. She found even more support when she began her classes. My professors were exceedingly understanding and supportive," she says. "They never made me feel like it was impossible, when at times it felt like it was. They worked with me and allowed me to complete assignments early."
---
The University of Cincinnati is one of America's top public research institutions and one of the region's largest employers, with a student population of more than 44,000.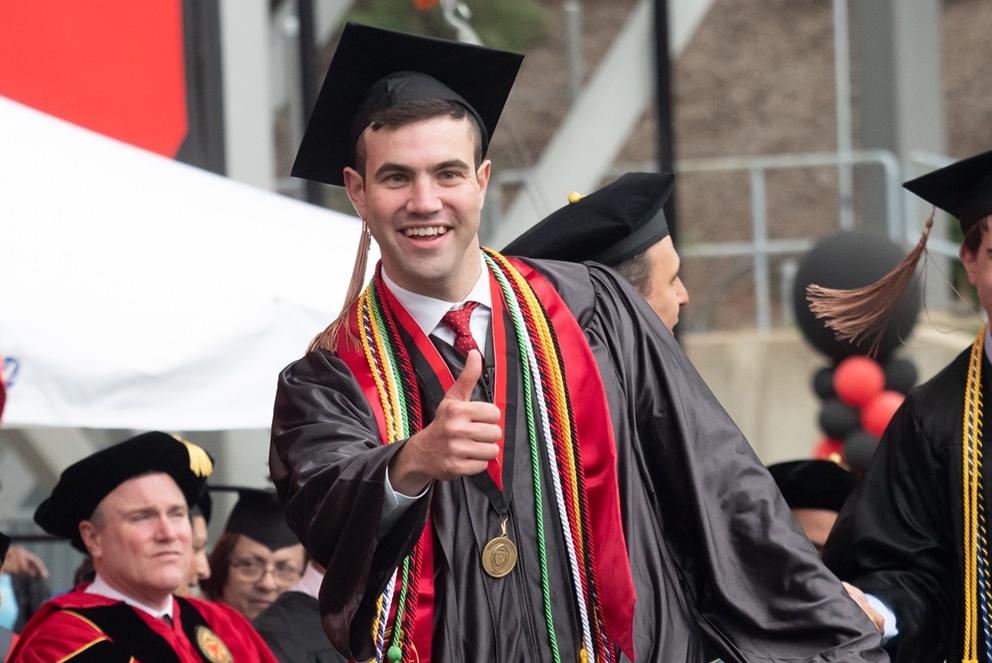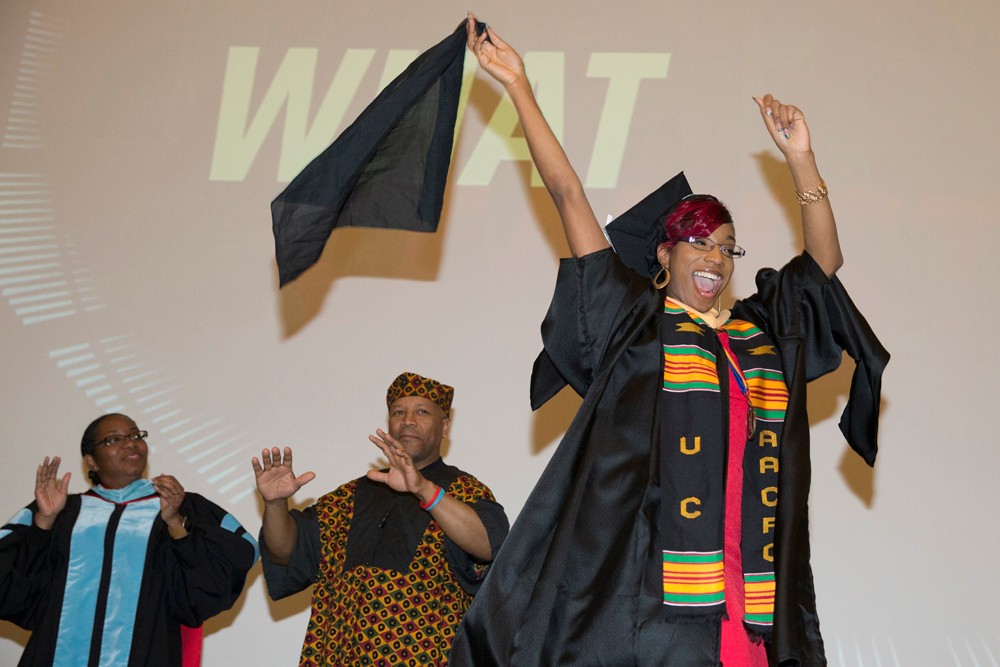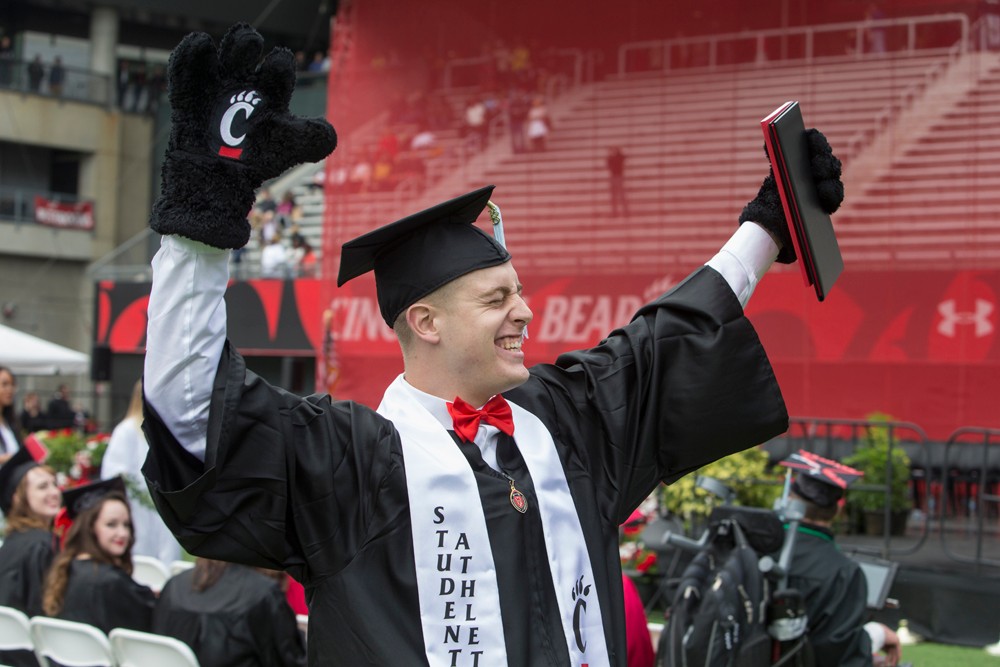 For more information about 2018 commencement:
Apply to become an undergrad or graduate Bearcat.