Latest Magazine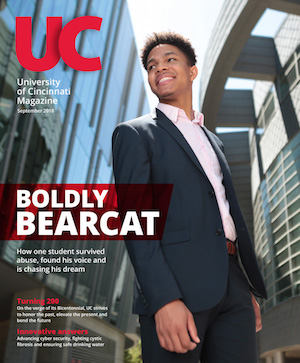 September 2018
Boldly Bearcat
Finding his voice
Danger in the tap
Virtual defense
Global game changer
Celebrating UC's Bicentennial
Browse our archive of UC Magazine past issues.
UC has plans to add new classrooms and labs to the sprawling Center for Field Studies in Crosby Township.


Room to grow

UC's Center for Field Studies is expanding, giving researchers and students more places to study the natural world.
By Michael Miller
513-556-6757
Photos by Joseph Fuqua II/UC Creative Services
July 10, 2017
Students sat in an ornithology classroom learning the language of bird identification — the lores, scapulars and primary feathers that help distinguish one sparrow or warbler from another.

To test their new birding skills, they simply stepped outside the classroom at the University of Cincinnati's expanding Center for Field Studies.

This former Shaker farm in Crosby Township 23 miles from UC's campus gives scientists and students natural habitats and research space that might be tricky to find on a landlocked urban campus.

This monthlong ornithology class is expected to record as many as 100 species on the 17-acre property, a mix of upland woods, creeks, wetlands and prairie that makes it a crossroads for birds.

"You can go from theoretical learning for students to actual learning directly from the specimens," UC graduate student and ornithology instructor Jack Stenger said. "We focus a lot on field methods that students will use if they pursue a career in ornithology or field biology. Getting that hands-on experience really helps with future employment."

Now UC has plans to expand the mission of the field station by providing overnight stays for students and visiting faculty.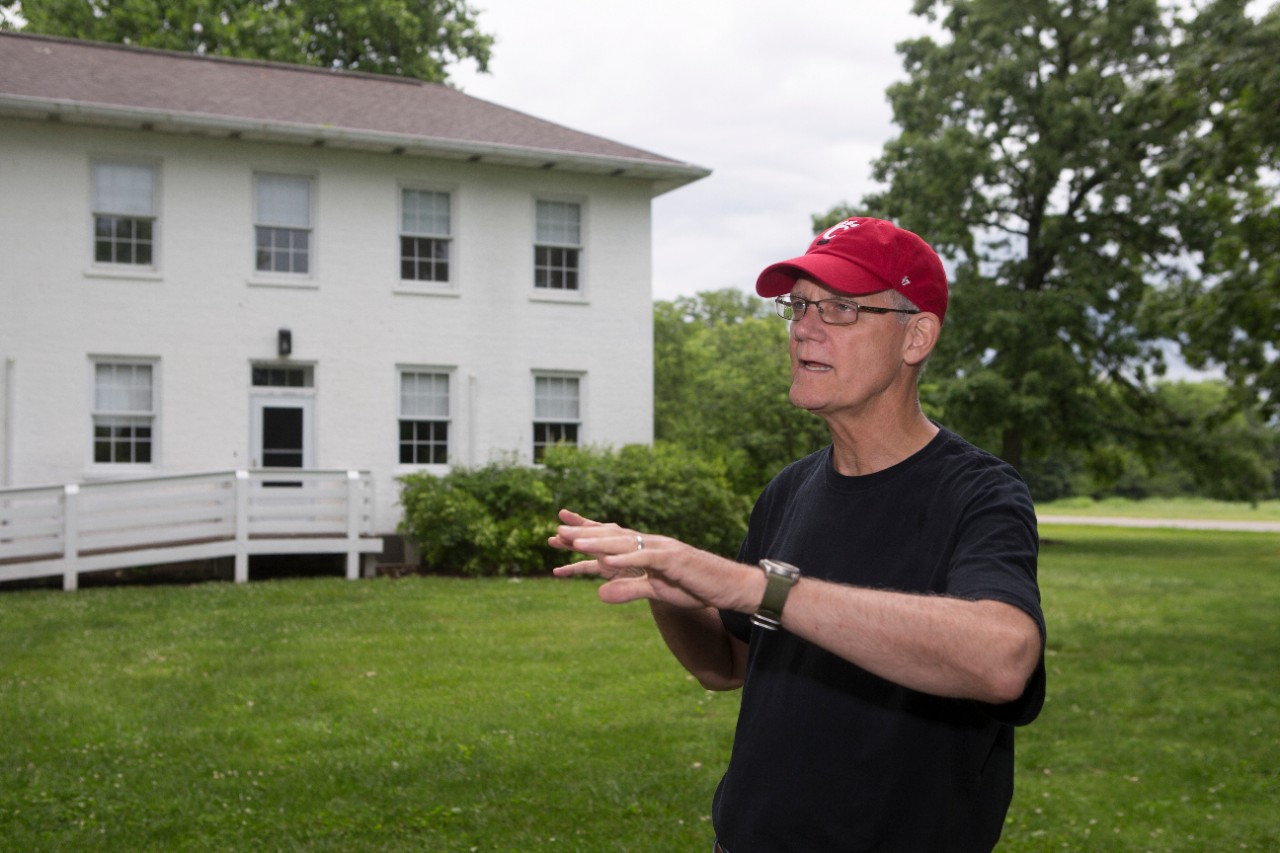 The field station is realizing more of its research potential every year with projects as diverse as butterfly migration, tick-borne illness and invasive species, executive director David Lentz said. The sprawling station borders the Miami Whitewater Forest in southwest Ohio, giving UC biologists and botanists easy access to a range of wild habitats.

Lentz noted one researcher came to UC because its field station had enough room to study morning glory, a herbicide-resistant vine notorious for growing in cornfields and binding up the gears of harvesters. Having a research center a short drive from campus helps attract faculty whose work requires flexibility, he said.

"There's no way to have a butterfly flight simulator on campus. There's just not a lot of extra space," Lentz said. "That's where a field station really plays a unique role in the development of a university."
""It's all about active learning — hands-on learning. That's our stock-in-trade. Students get to interact with nature."

‒ David Lentz, executive director of the UC Center for Field Studies
The field station is part of a former Shaker village that thrived in Crosby Township between 1850 and 1916. It sits in a district listed on the National Register of Historic Places. UC acquired the property in 2008 through a long-term lease with the Great Parks of Hamilton County. The park's popular Shaker Trace Trail skirts the property.

Shakers, a denomination of Christianity introduced to the U.S. in the 1770s, were known for their simple, utilitarian architecture, including wooden-peg construction and iron door-latches.

Lentz said UC envisions converting a former Shaker farmhouse up the road into the Shaker Lodge, a place where students or visiting faculty can stay overnight while conducting research at the nearby field station. The vacant farmhouse is part of the historic Shaker village.

"It's a very beautiful building designed and built by Shakers in 1855," Lentz said. "They made all the bricks. The joists in this house are thick and made from oak. It's very sturdy."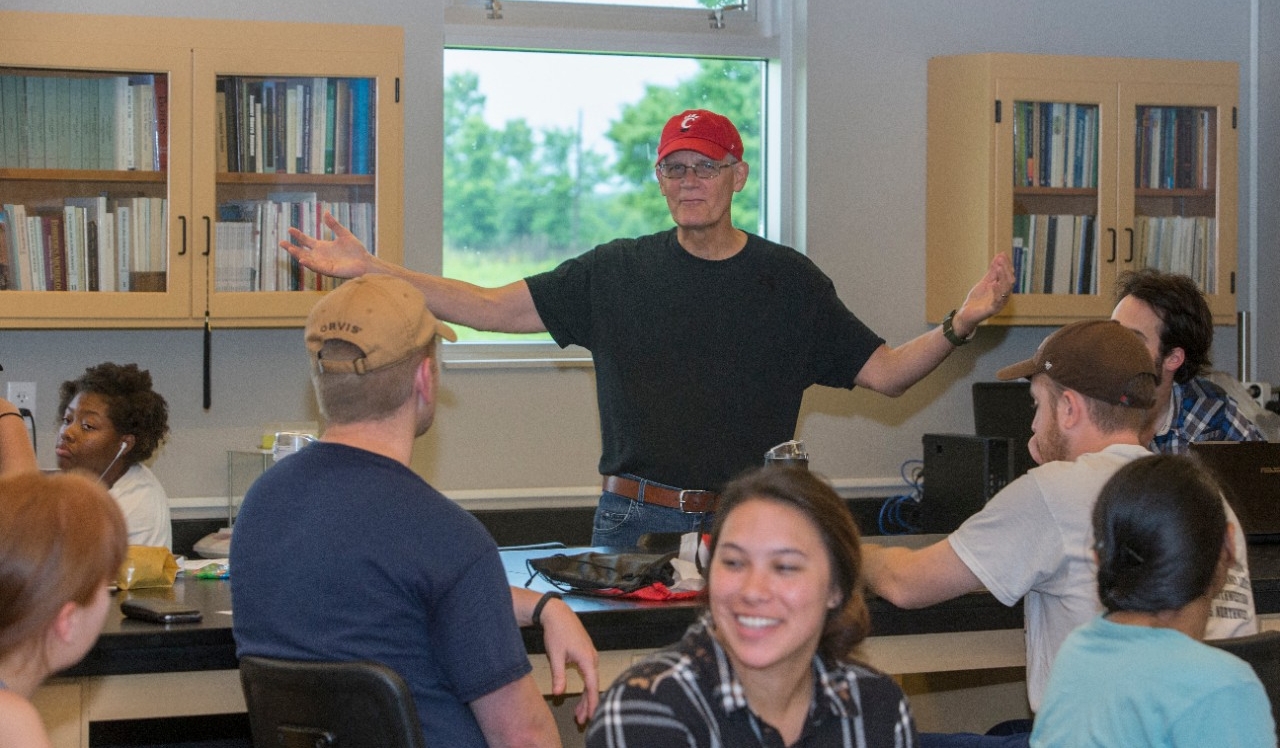 A renovation proposal calls for providing meeting rooms, bedrooms, a library, a self-serve kitchen, geothermal heating and solar power in the four-story building.

As a paleobotanist, Lentz often works with archaeologists to identify the plant matter they find at dig sites. This fall he is teaching a new class on the economics of botany, which will examine crops that have sustained civilizations.

"It's amazing how few there are," he said. "There are about 30 species of plants that, if they were eliminated, we'd probably all starve to death because we're so dependent on them."

The course will examine the origins and cultivation of agriculture's most popular crops, modern agriculture and organic farming. The class also will examine the future of marijuana as a legal cash crop in parts of the United States.
Lentz said the field station helps students put education into practice.
"It's all about active learning — hands-on learning. That's our stock-in-trade. Students get to interact with nature," he said.
And there are plenty of native plants and wildlife to study at the field station. Assistant professor of biology Patrick Guerra is trying to learn how colorful monarch butterflies find their way back to the same mountain refuge in Mexico every winter, especially since it takes the insects three, four or even five generations to make the round trip.

"I'm interested in studying how animals navigate long distances. I'm trying to understand how animals take cues from the environment. Monarchs are a cool model system," he said.


"Plus, just look at this place! Purple coneflowers and echinacea and other flowers. And being able to see a bald eagle fly over. It just doesn't get any better than this."
‒ UC professor Kenneth Barnett Tankersley

Guerra plans to use a field across from the Shaker farm to study migrating monarchs in action.
Sea turtles, salmon and many kinds of birds migrate epic distances before returning to where they were hatched or fledged. But monarch butterflies gather in the same mountains every winter even though none of them has ever been to Mexico before, Guerra said.

"It has to be hardwired. They must have this strong drive to go there," he said.

The field station provides ample room to study the question.

Likewise, Joshua Benoit, a UC assistant professor of biology, uses the field station to examine ticks and mosquitoes, which are carriers for Lyme disease or viruses such as West Nile, Zika or Eastern Equine Encephalitis.

"We use the field station a lot. It's been a great resource for us. And we have permits to extend our work into Miami Whitewater Forest," Benoit said.
This year Benoit is studying the correlation between ticks and their animal hosts during mild or harsh Ohio winters.

"If there are a lot fewer hosts, you end up with fewer ticks that survive," he said.
"It's a big advantage for a research institution to have a field site to do your work," Benoit said. "It opens up the possibilities of what we can do on our own."
On a muggy afternoon, students in professor Kenneth Barnett Tankersley's archaeology class sat at picnic tables in a barn, cleaning specimens. They found the artifacts that morning at the site of a former Native American longhouse that might have been home to as many as 65 people in southwest Ohio.

Sierra Richardson, 20, an environmental studies major at UC, held up a colorful glass bead she documented at the dig site. It resembled those swapped for centuries by Native Americans, fur traders and Spanish conquistadors. The field station is a storehouse of artifacts, including bison bones recently excavated from Big Bone Lick State Park.

"Museum-curation work takes place here," Tankersley said. "In the field, students learn to map, to lay out an excavation grid and to identify archaeological features and stratigraphy."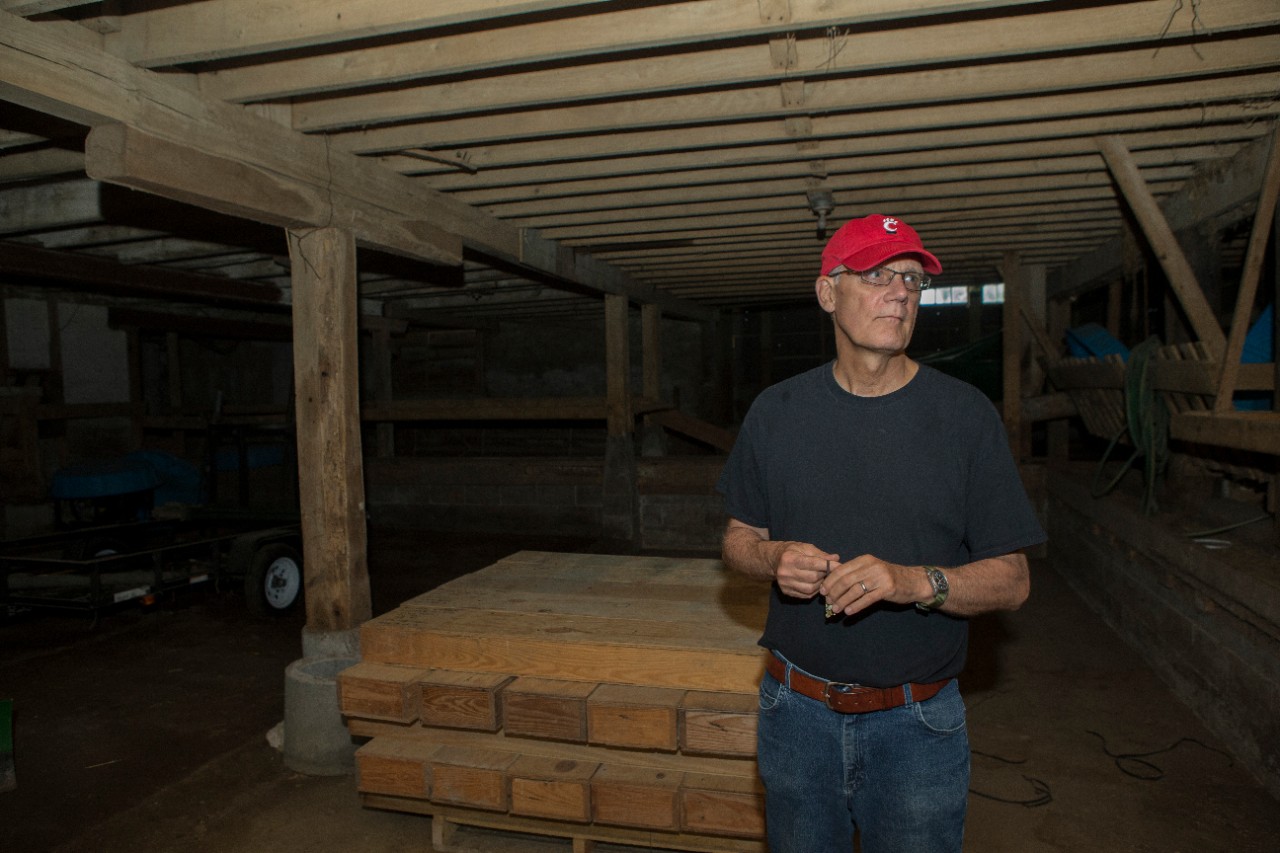 Tankersley was an early advocate of the field station. He helped secure an endowment from the late philanthropist John C. Court for the first of several planned research buildings.

"The hardest part is getting across what a field station is all about. It's where interdisciplinary work takes place. We get scientists and students from anthropology, biology, geology and geography working together," Tankersley said.

"It's just an incredible facility. I use it year round as a place to give students hands-on experience. They learn by doing. They might not remember a lecture, but they'll remember doing this the rest of their lives," he said as his students scrubbed dirt from sherds of pottery and other artifacts.

"Plus, just look at this place!" Tankersley said, gesturing to the meadow full of summer wildflowers stretching to the distant forest. "Purple coneflowers and echinacea and other flowers. And being able to see a bald eagle fly over. It just doesn't get any better than this."

UC student Daniel Bandy, 20, of Maineville, Ohio, held up a small arrowhead he uncovered at the dig. The artifacts help archaeologists piece together what life must have been like inside the Native American longhouse, where people slept, cooked, shared meals and made tools.

"For me personally, I'd rather learn hands-on like this. It's one thing to learn from a textbook. It's another to actually touch the objects and be able to talk to the professor one-on-one and do fieldwork," Bandy said. "This is the true way to learn archaeology.

"Hands down, this is the coolest thing I've ever done at UC."
Taking your research into the field

Do you like to conduct research? At UC, students in a range of disciplines work together on projects that are changing the world. Explore programs on the undergraduate or graduate level.