Latest Magazine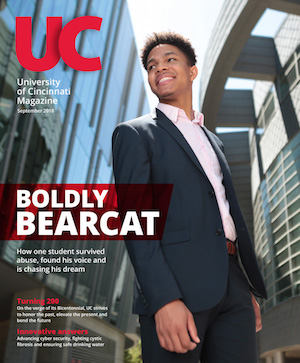 September 2018
Boldly Bearcat
Finding his voice
Danger in the tap
Virtual defense
Global game changer
Celebrating UC's Bicentennial
Browse our archive of UC Magazine past issues.
Residents waving national flags converge on Wenceslas Square in Prague to protest the Soviet invasion. (Warren Huff)
Brush with history
UC professor Warren Huff's retirement coincides with the 50th anniversary of the Soviet invasion of Czechoslovakia, a day the geologist will never forget.
By Michael Miller
513-556-6757
Photos by Jay Yocis/UC Creative Services

June 13, 2018
Warren Huff can still hear the gunshots over Prague's Wenceslas Square that summer day in 1968.

Huff, a retiring geology professor at the University of Cincinnati, was in Czechoslovakia (now called Czechia) for an international conference. All was quiet when Huff returned to his hotel room after attending a party with new friends that night. The next morning was chaos.

"I was ready to start this conference when we heard gunfire. I went downstairs and the streets were full of tanks and soldiers," Huff said.

Overnight, the Soviet Union and its Warsaw Pact allies invaded their communist neighbor. More than 500,000 soldiers occupied the streets of Prague to stifle political dissension threatening the Eastern bloc.

"They called it the 'Prague Spring,'" Huff said. "Hundreds of people were out in the streets yelling and screaming at the soldiers in their tanks. To quell the crowd, soldiers were firing their machine guns over the heads of protesters."

Huff would spend the rest of the day documenting the tense street scenes while looking for safe passage out of the country. But dodging a military invasion wasn't even the most memorable thing to happen to the geologist that day.

Huff had met his future wife at the party.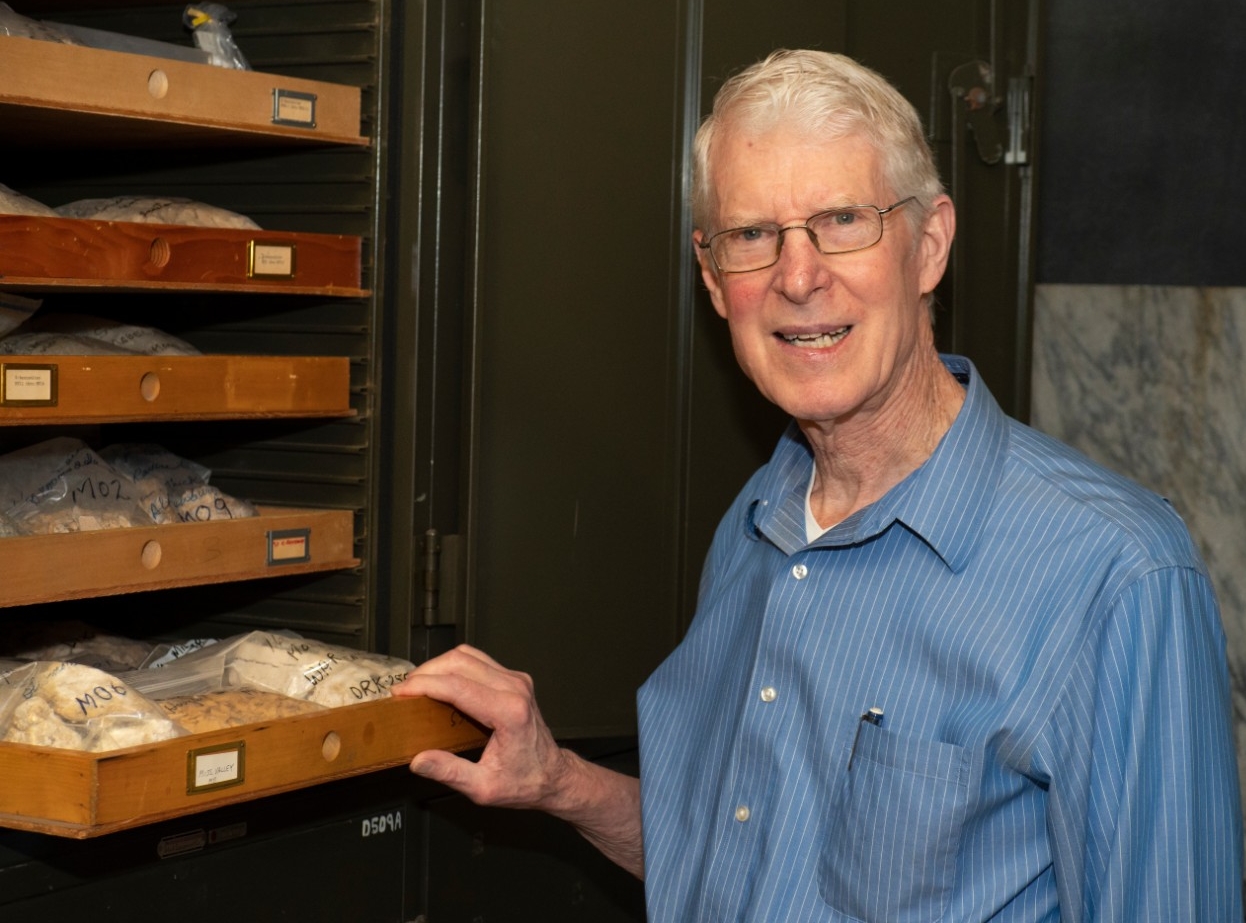 Huff never expected to be a geologist when he left his Michigan home to study at Harvard University.

"My father thought I would go to college and come back and take over the family farm because he knew I enjoyed it," Huff said. "That sounded just fine to me."

Huff spent his teen years herding cattle, baling hay and driving a tractor around the cornfields. By serendipity, he found his calling while taking a geology class as a freshman.

"We took a field trip. We were doing laboratory work. I really enjoyed it," Huff said. "I told my parents at the end of my freshman year that I wanted to major in geology. I remember the expression on my father's face. He could see there was no farming in my future."

Taking advice from a Harvard professor, Huff came to UC's esteemed Geology Department to get his doctorate. He expected he would go off to work for an oil or gas company after graduation like so many of his classmates. Instead, his department chairman offered him a job teaching.

"I am very happy with the way my career has gone. I've been very fortunate," Huff said.

He never regretted that decision, even on a hot summer day when he found himself in the middle of a city under siege.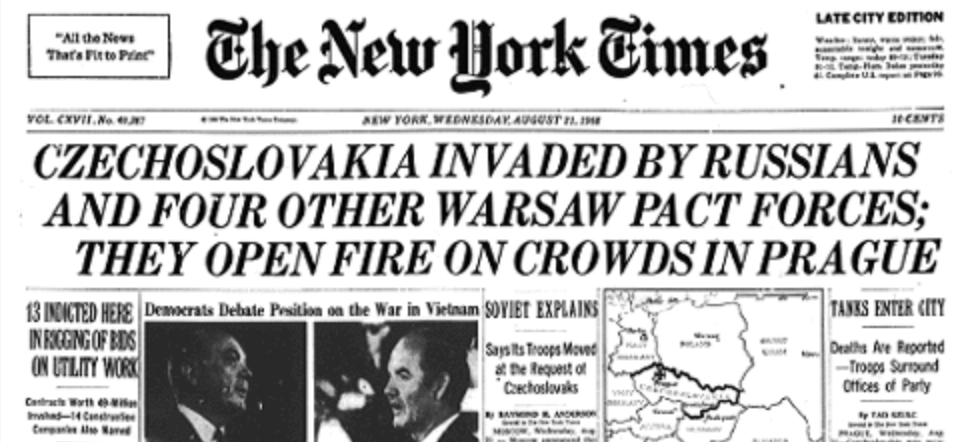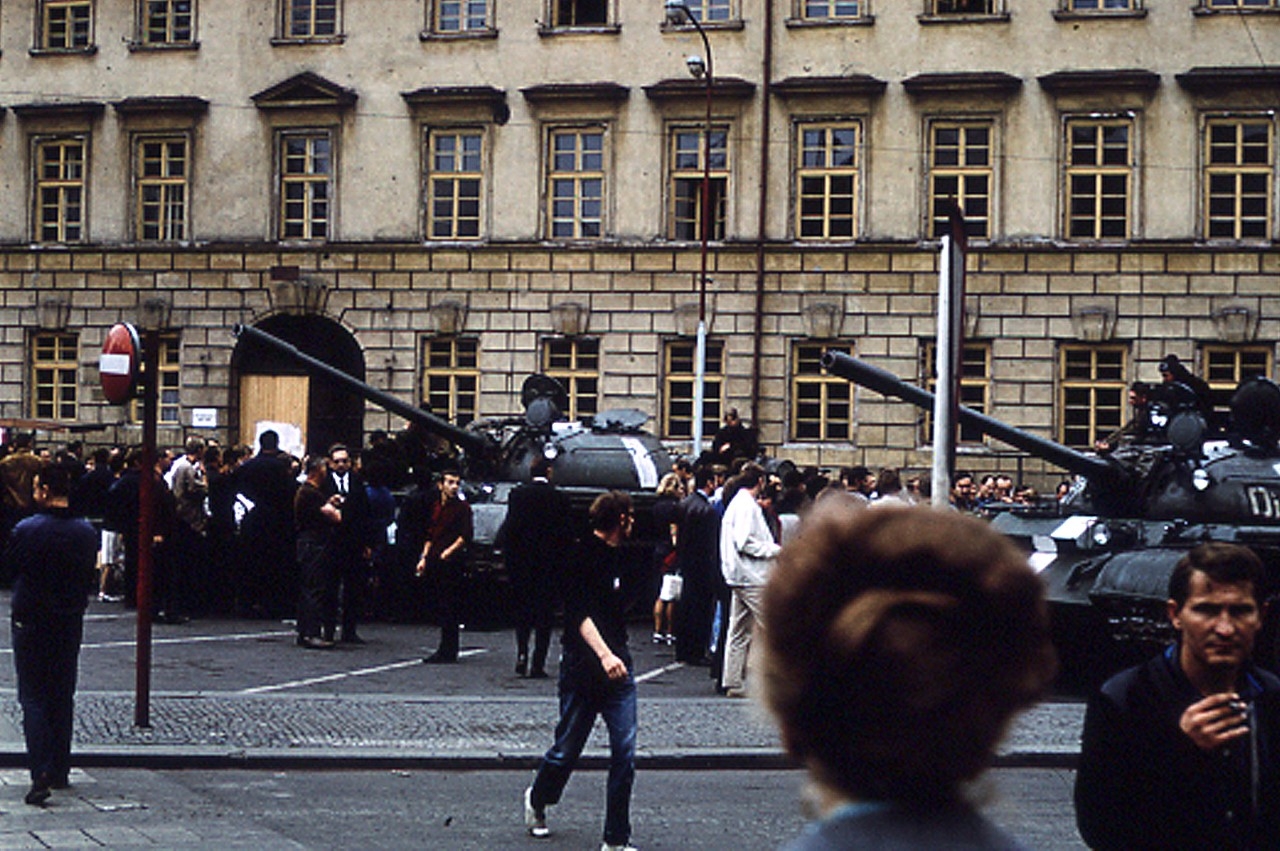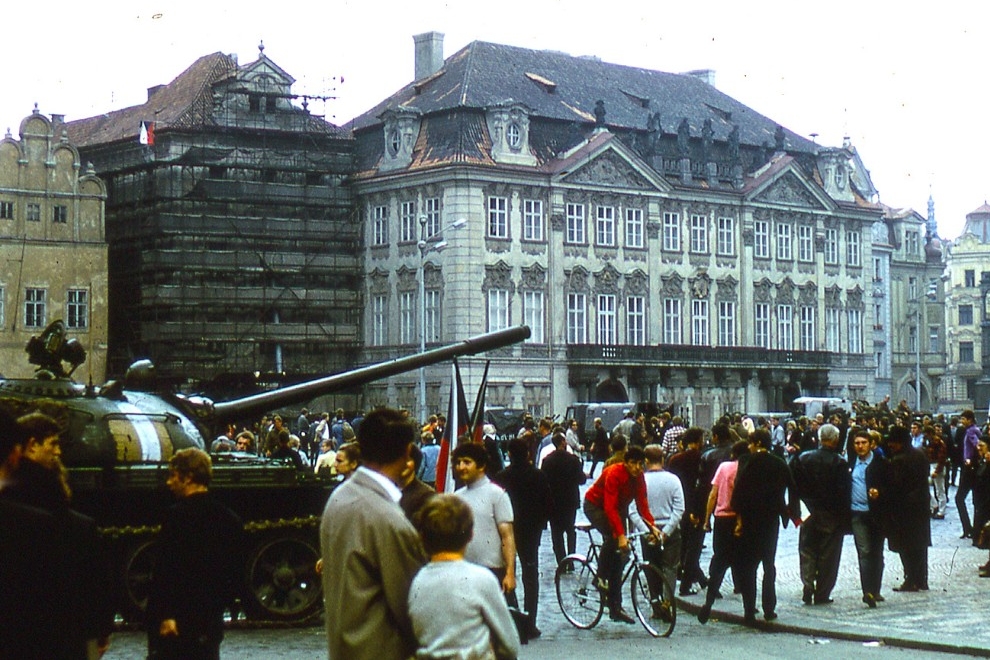 "Anxiety was pretty high after they closed the train station. We were just panicked. That was the sense: We just need to get out — to escape."
‒ Warren Huff, UC geologist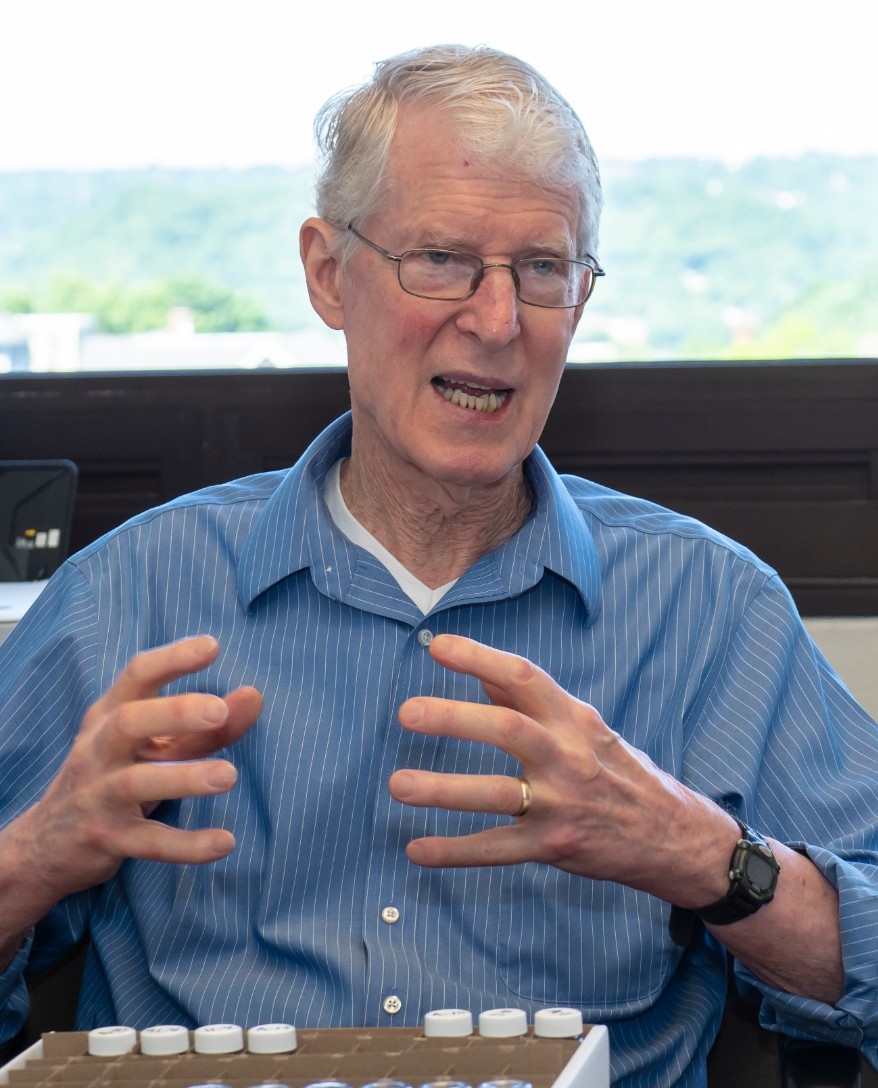 "CZECHOSLOVAKIA INVADED BY RUSSIANS AND FOUR OTHER WARSAW PACT FORCES; THEY OPEN FIRE ON CROWDS IN PRAGUE," blared the banner headline in The New York Times.

The story mentioned that among the Americans who were caught up in the pandemonium were 400 "delegates to an international geological congress" in Prague.

The Cincinnati Post reached one of UC's geologists for a front-page story on the crisis, but the report's subhead was ominous: "Four Faculty Members Missing."

Huff and his hotel roommate, Ellis Yochelson, a paleontologist from the National Museum of Natural History, headed to the U.S. Embassy in Prague to find out what they should do next. The Soviet military had closed the train station and occupied the airport.

"The embassy was in chaos. They said nobody knew this was coming — just stay in your hotel," he recalled.

But fighting in the city seemed imminent. Staying put was out of the question. Yochelson had friends at the British embassy so they went there.

"They were beautifully organized. They said there was a train leaving for Germany but we had to get to this rural station," Huff said.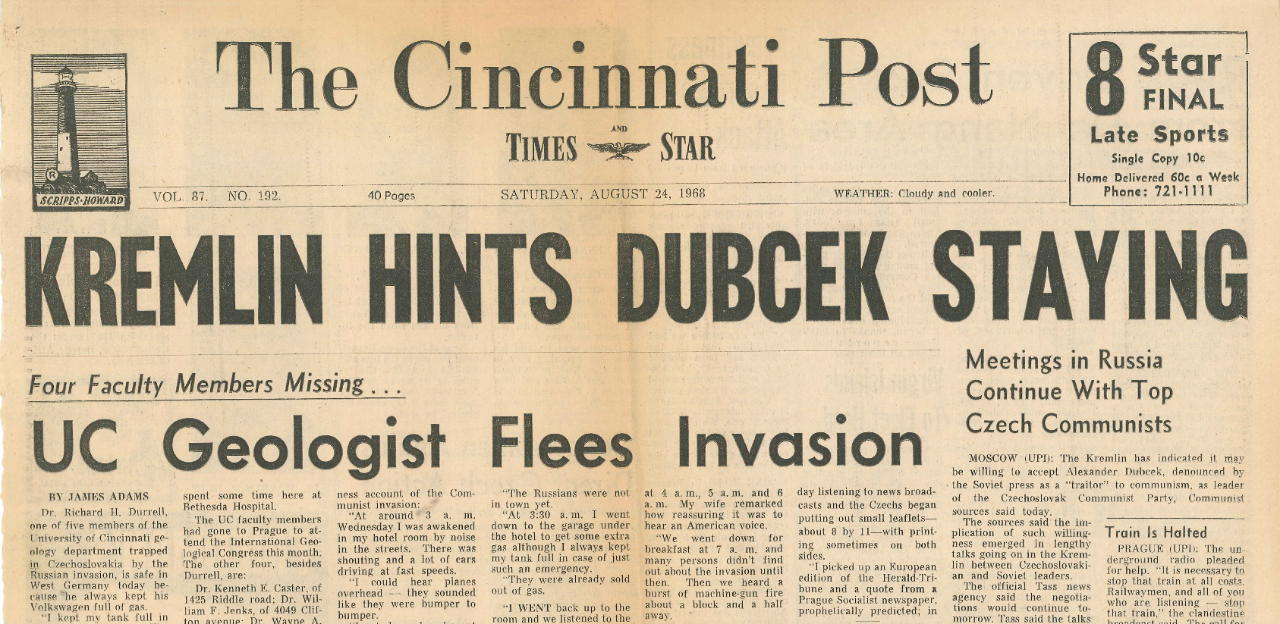 Soldiers seemed to be posted at every street corner. Huff used his camera to capture the incongruity of city residents waving national flags in open defiance of the invasion. One soldier who saw him documenting the scene gestured for him to approach.

"He took my camera and opened it. He took the film out and put the camera back together and gave it back," Huff said.

Huff was undaunted.

"I went back up to my hotel room. I had more film," Huff said. "It took some nerve to do that."

Meanwhile, they were scrambling to find a way out of the city.

"Anxiety was pretty high after they closed the train station. We were just panicked. That was the sense: We just need to get out — to escape," he said.

The two geologists asked a random driver in Prague to take them to the distant station. The man agreed. They piled into the car and were on their way.

"We had $50 in Czech currency between us. We gave it all to the driver," Huff said.

Soon after they were on their way to the safety of Germany.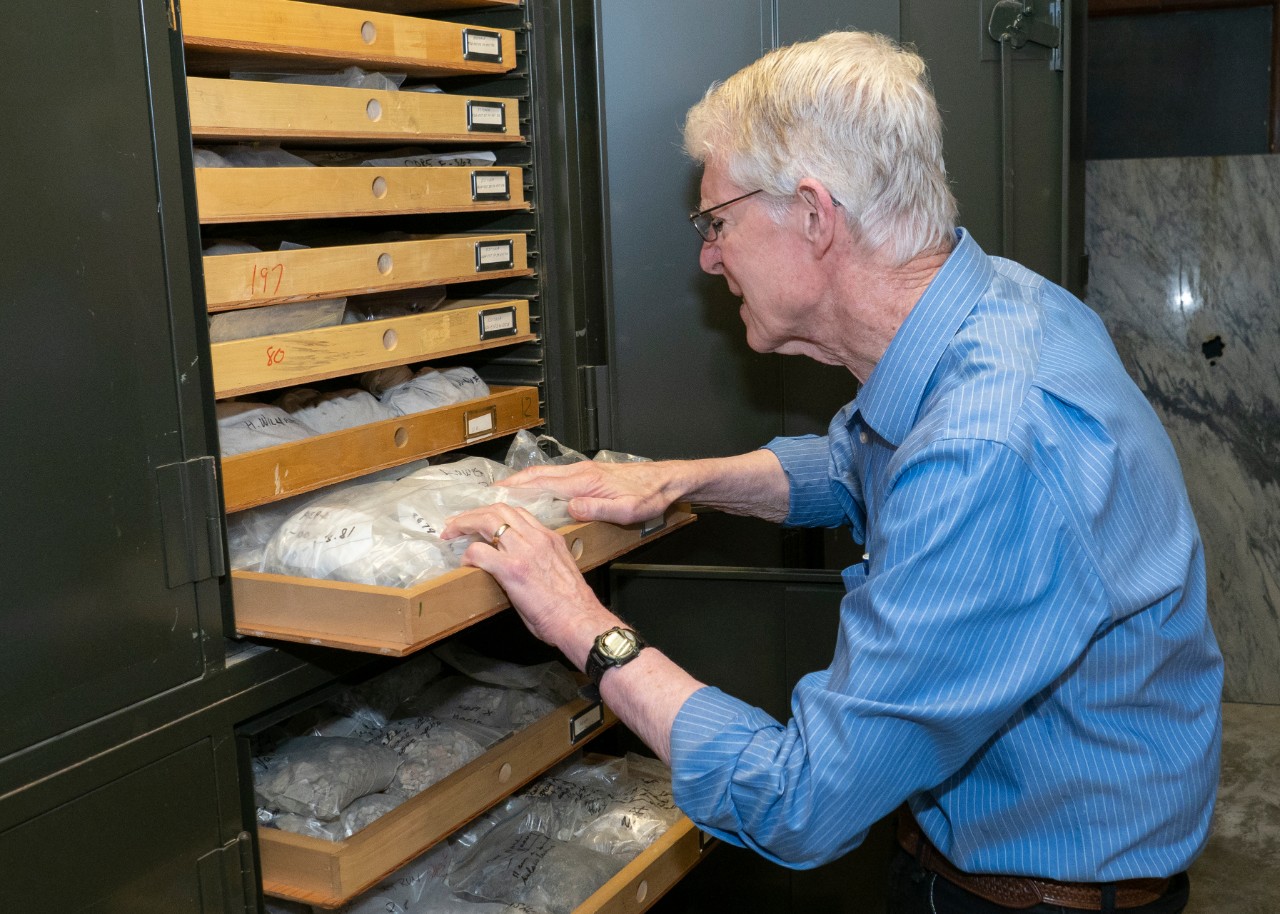 Whenever Huff goes to McMicken Hall, UC's stately and steepled Georgian-style building, he thinks of his job interview with the dean.

"He said, 'Warren, you're not married are you?' I said no, I'm not. He said, 'Then you won't need a very big salary,'" Huff recalled.

Huff returned to Cincinnati after his eventful trip to Europe. But he couldn't stop thinking about Anezka, the woman he had met at the party. He wanted to write to her but he didn't have her address. He remembered his party hosts and the name of the street where they lived, if not their precise address, so he sent them a letter.

A week later, they wrote back with Anezka's address. Over the next year, the two corresponded back and forth. Huff returned to Prague the following summer and they spent a week sightseeing around the city together. They got married a year later.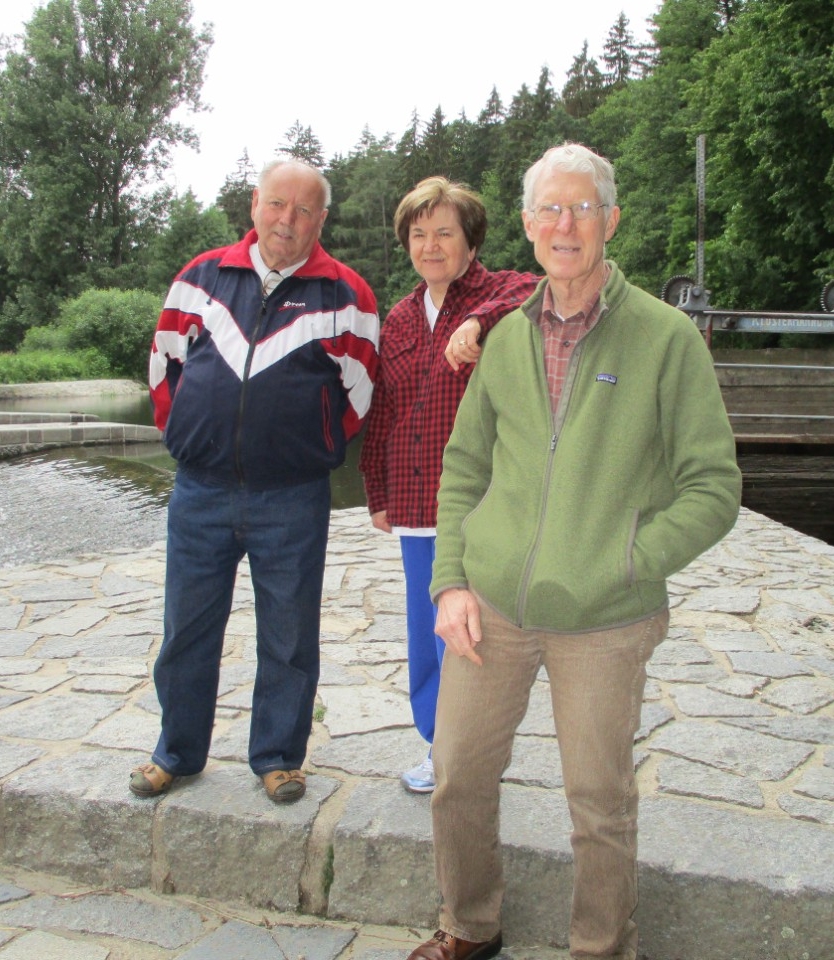 Huff would spend the next 50 years traveling the globe as a UC professor and researcher. He became an expert on bentonites, the ash deposits left behind by volcanic eruptions.

Huff's research informed a lot of what we know about the world's biggest eruptions, said geologist and UC professor Lewis Owen, who heads UC's Department of Geology.

For example, the explosive force of Indonesia's Krakatoa in 1883 changed the barometric pressure on the other side of the Earth. Its rumble was louder than any sound heard since.

"It was an incredible eruption," Owen said. "They had just laid down transcontinental telegraph cables with submarines. That eruption was the first time people instantaneously knew what happened on the other side of the world."

Owen said Huff has been a good influence on graduate students both in their research and in the collegial example he sets for collaboration.

"Our students gave him an award last year at the annual geology banquet for the nice way he asks questions after colloquiums and dissertation defenses," Owen said. "He's a very sincere person who wants to help young academics."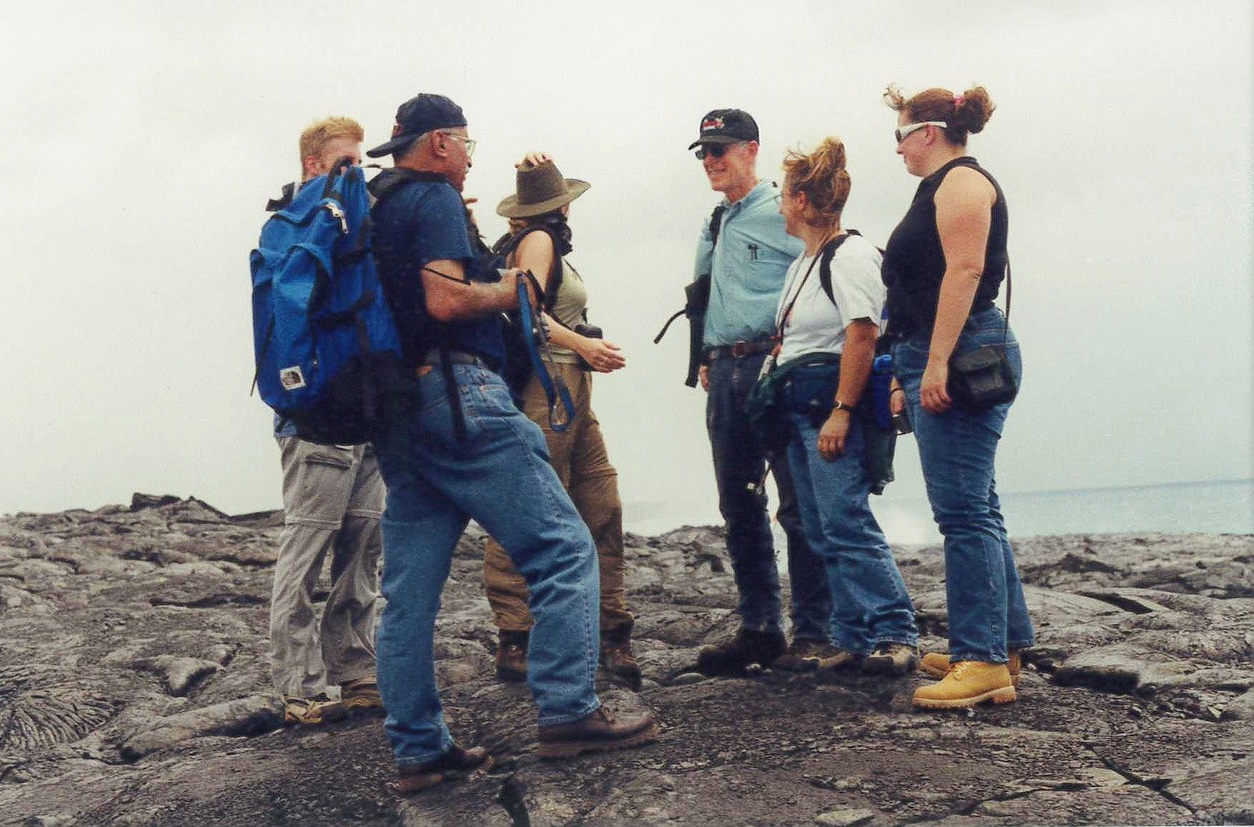 Huff tracked one eruption 400 million years ago to its unlikely source in the United Kingdom. North Wales hasn't seen a volcanic eruption in 60 million years, but Huff said he thinks one there spread ash to what would become Argentina, Estonia, Norway and Sweden when most of the Earth's dry land was massed together in a super-continent called Gondwanaland.

"What we call a big volcanic eruption pales in comparison to the biggest eruptions over geologic time," Huff said.

He conducted chemical fingerprinting of ash beds in Namibia and studied the Argentine Precordillera in the Andes. He examined volcanogenic clays in Bavaria and collaborated with colleagues in Sweden and Norway.

"There are very few places in the world I haven't traveled to for geological reasons," Huff said. "Our people are traveling. I just had lunch with a colleague who is leaving today for Namibia. It's an incredible place to visit."

Huff's research was sponsored by $6 million in collaborative grants that took him from one exotic locale to another. He spent several summers working in Mendoza province, deep in Argentina's storied wine country. And he and his colleagues supervised a student research trip to Hawaii.

"We came back and people asked how was your vacation? And I had to say this was not a vacation. This was a scientific field trip," he said.

But Huff said it wasn't all nonstop work. He spent sabbaticals living in England and France.

"I developed relationships with European colleagues that have remained to this day," he said.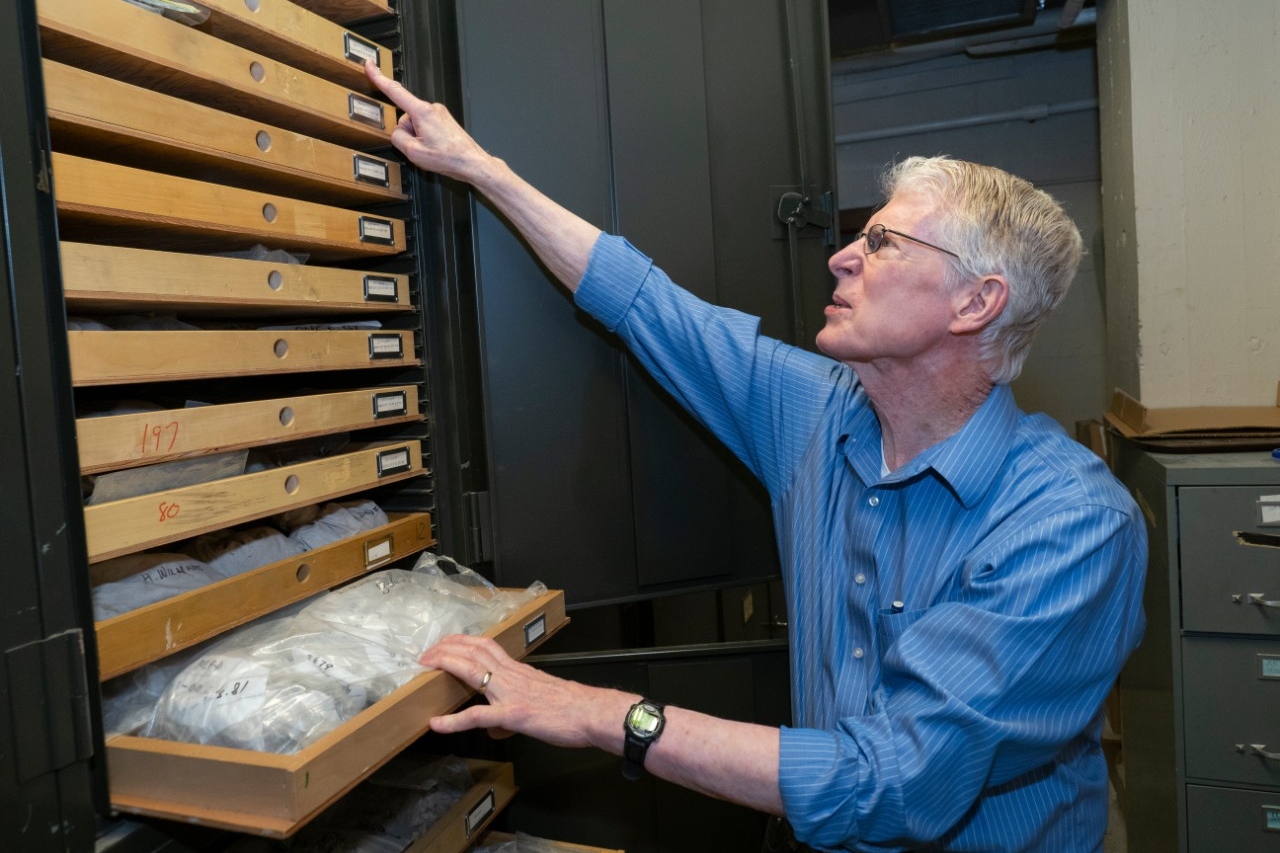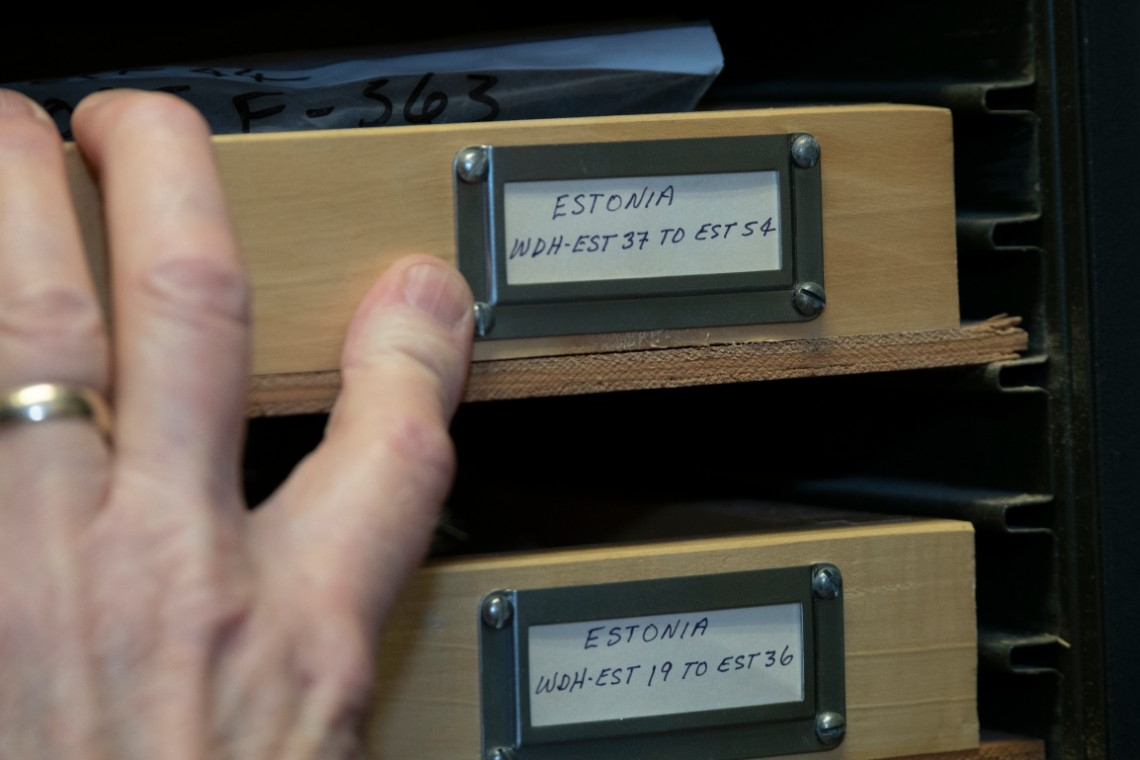 Huff is retiring this year, although he will continue teaching advanced geology.

One bit of advice he always shares with students is to apply for internships so they can get experience and see the unlimited horizon their degrees might take them. The Geology Department sponsors an annual careers day so students can see the diverse and unexpected career paths taken by their former classmates after graduation.

Perhaps the most valuable skill UC students can learn is resiliency in the face of the adversity and uncertainty that occasion any career.

"You have to be able to adapt," Huff said. "Education is not about job training. It's about preparing you to think critically, to make decisions and deal with life's uncertainties. To have enough knowledge to recognize where your strengths and preferences are."