Latest Magazine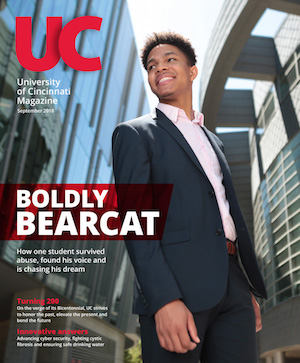 September 2018
Boldly Bearcat
Finding his voice
Danger in the tap
Virtual defense
Global game changer
Celebrating UC's Bicentennial
Browse our archive of UC Magazine past issues.
A graduate of the University of Cincinnati's College of Design, Architecture, Art and Planning, Megan Sullivan has launched a line of clothing inspired by her mother's battle with breast cancer. Photo by Andrew Higley/UC Creative Services.
Finding purpose in pain

Inspired by her mother's story, this DAAP alum launched a clothing line that gives women a stylish option for concealing surgical drains, which many consider one of the worst parts of recovering from breast cancer surgery.
When University of Cincinnati alum Megan Sullivan was 9 years old, she didn't know much about what her mother was enduring.
All Sullivan knew was that her then-42-year-old mother had breast cancer, lost her hair and wore a wig. It was only in adulthood that Sullivan found out from her mother the details she didn't know about as a child: the 10 rounds of chemotherapy, the stage 3 breast cancer's progression to her mother's lymph nodes, the radiation treatments or the partial mastectomy that resulted in far more tissue being removed than anticipated. And she didn't know about the surgical drains — plastic tubes attached to collection bulbs — that were siphoning blood-like fluid away from the incisions, hidden under a bathrobe.
"Women who have undergone mastectomies have told me that afterward, your body just feels mangled; one woman told me she felt like a teenage boy when she came home," says Sullivan. "The drains exemplify that grossness. It's this medical tubing that's hanging out of their bodies, and it's collecting this fluid that looks like blood into this ball. There's nothing about it that feels like it's something they want other people to know that they're going through."
Sullivan, 25, DAAP '15, M (DAAP) '16, has dedicated the past four years of her life to helping women who are recovering from breast cancer-related surgery maintain their dignity and freedom. Both her undergraduate capstone project and her master's thesis in fashion design at UC's College of Design, Architecture, Art, and Planning focused on devising clothing that gives women a fashionable way to conceal drainage tubing and fluid collection bulbs. Sullivan's clothing line, With Grace B. Bold, launched Oct. 1, coinciding with the beginning of Breast Cancer Awareness Month.
"Women recovering from breast cancer surgery are certainly going through a lot, both physically and emotionally," says Elyse Lower, professor in the UC College of Medicine, director of the UC Cancer Institute's Comprehensive Breast Cancer Center and a UC Health oncologist. "Patients undergoing mastectomy are dealing with a dramatic change in the way they look; when you add the issue of dealing with the way clothes fit, that could be one more unnecessary stressor in an already stressful situation."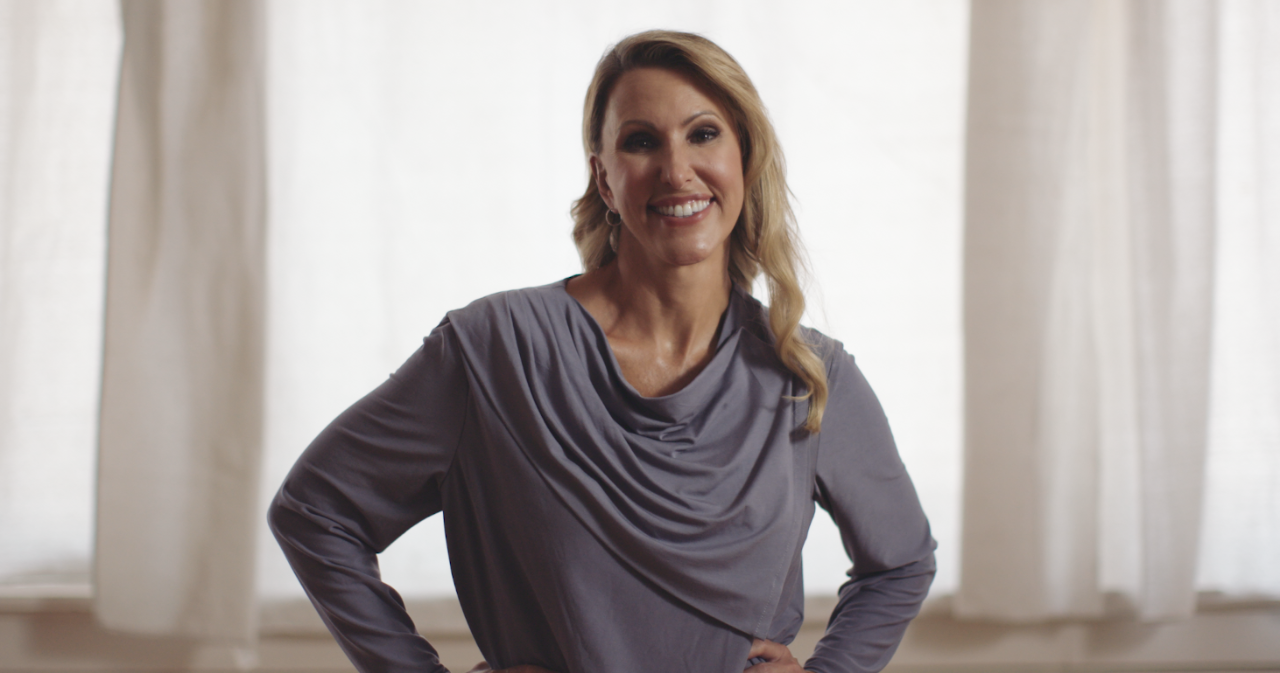 The lightbulb moment
When she was a third-year fashion design student at DAAP, Sullivan was in search of purpose. She had worked in retail and co-oped with some corporate firms, but the jobs she had taken up to that point left her feeling unfulfilled. Until one day when, while worrying about what the future had in store for her, Sullivan found inspiration in her past: Her mother's battle with and recovery from breast cancer. She asked her mother about what that experience was like and was surprised by the answers she got.
"One of the first things she brought up was this surgical drain and how annoying it was," Sullivan recalls. "I said, 'Mom, you went through chemo, you went through this awful surgery, radiation, and all you remember is this drain that you had in for a month?' She said, 'Yeah. It was absolutely the most awful thing about my treatment.'"
Clothing and harnesses for holding and concealing surgical drains do exist, but they're hardly the kind of thing a woman would want to wear in public. Such garments typically take the form of loungewear and robes. "Women say they feel like they're bringing the hospital home with them," Sullivan says. "They're not fashionable or stylish — they're just something you can lounge around in. You certainly can't wear them out to dinner."
Sullivan began thinking about what it would be like to be in that predicament. She imagined having surgical drains attached while going out to a show, while returning to work, while running errands. "As a young woman coming into my own womanhood and knowing how I'd feel if I was in that position, I can't even put into words the effect that has on me," she says. "It's every emotion — it's anger and sadness and a fiery drive to fix this problem."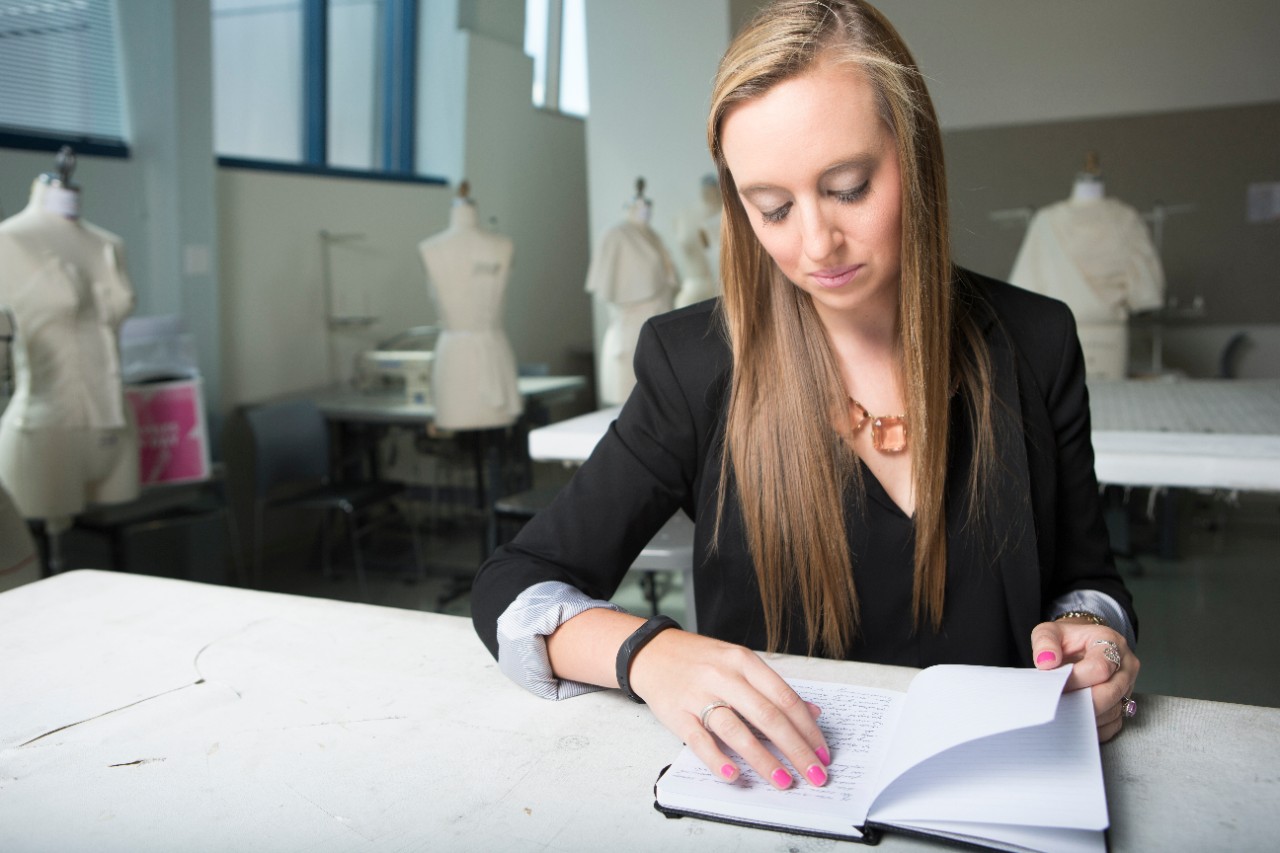 Elegant in every sense
Once she had found her inspiration, Sullivan dedicated the next four years to creating a clothing line that would give women whose recovery from surgery included surgical drains a sharp, luxurious garment that they'd be proud to wear in public. She worked through sketch after sketch, iteration after iteration, to create her prototype. Feature by feature, her first garment started to come together.
For her master's thesis, Sullivan worked with the UC Health Barrett Cancer Center to create a testing protocol. Women who agreed to participate wore Sullivan's garments home from the hospital and then wrote in journals about how the garment felt, how the drain fit and how it made them feel. The feedback the women provided informed new iterations of Sullivan's creation. Some of the responses:
"People desperately want to give you things after your surgery, but don't know what to give you. If someone gave this top to me as a gift, I would have loved to have worn it during my treatment."
"At first glance, I really liked the style of it. It looked like a garment I could wear outside of my current situation. The feel of the fabric was very soft and luxurious."
"Loved it! Wore it home from the hospital. Loved the pocket for the drain. Very stylish!"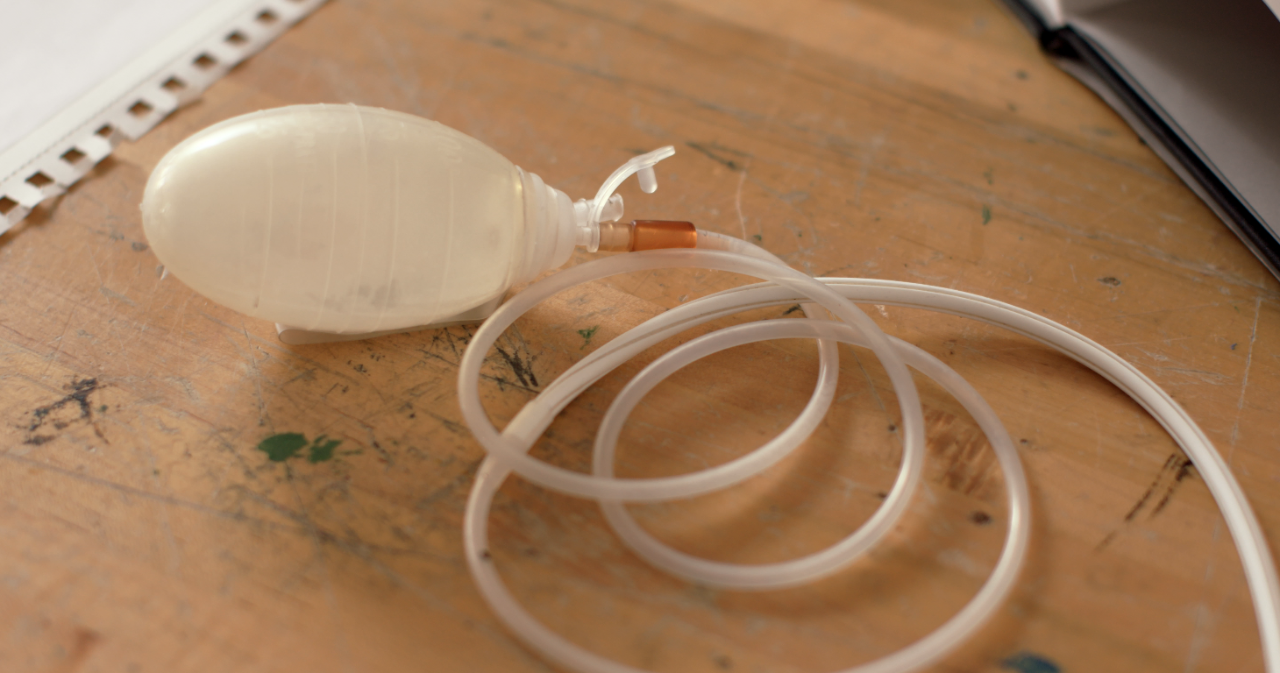 Megan Sullivan began working on the With Grace B. Bold clothing line while studying fashion design at UC's College of Design, Architecture, Art and Planning four years ago. Her sketches, patient interviews and research resulted in the Ann Elizabeth top, which elegantly conceals surgical drains that women often need after going through breast cancer surgery. Provided photos.

The result: A thoughtfully designed, fashionable top that addresses the obstacles women recovering from breast surgery commonly face. Because such women can't lift their arms above their head during recovery, the garment wraps, tied together on the inside and fastened on the outside with two snaps at the shoulder. A system of stabilizers hold the tubing in place, and pockets inside the garment are perfectly contoured to fit the drainage bulb. The soft, bamboo-knit fabric — all natural to prevent irritation to healing incisions — drapes to conceal the form of the drains, and the full neckline includes fabric that puddles and adds volume to the chest.
"Products like these are truly appreciated and adored by our patients," UC's Lower says. "When you add functionality into a stylish item like this, it's just icing on the cake. It improves overall morale and the ability for a patient to feel more like themselves in a tough situation. When you look good, you just feel better."
Sullivan named her first garment the Ann Elizabeth in honor of her mother. The name Ann translates to "grace," and the garment lives up to its name by gracefully concealing the unsightly drainage system. Sullivan plans to name other garments in the line after other breast cancer survivors who have inspired her; she's already completed a second garment she calls the Eileen, which isn't equipped with the drainage concealment system featured in the Ann Elizabeth. Sullivan says that in addition to empowering women recovering from surgeries that don't require surgical drains, the Eileen — which means "to shed light" — gives all women a way to support the brand and other women battling breast cancer.
The clothing line's name honors both her mother and the late Hanna Hall, the UC fashion design and product development professor Sullivan worked with on her thesis. Hall and Sullivan had decided that this line of clothing would allow women to boldly reclaim their confidence and self-esteem during a time when both are likely suffering.
From brand to business

When Sullivan first began working on the With Grace B. Bold clothing line, she didn't see it as a business opportunity. It was a labor of love for her, a way to honor her mother and others who had inspired her. At first she bristled at the idea of making money off of it, but she eventually became convinced that this was a way for her to dedicate her life to helping others.
"I was at this point where I had been working on this for a really long time," Sullivan recalls. "I had really solid prototypes. I had the testimonials. It was just a question of how to take this and launch a business out of this. How do I start a company? And that was kind of a tough thing for me to get my head around for awhile."
In May 2016, marketing professor Dianne Hardin, a member of Sullivan's thesis committee, introduced the recently graduated Sullivan to Tom Dalziel, the executive director of the Carl H. Lindner College of Business' Center for Entrepreneurship and Commercialization. After listening to Sullivan's story, Dalziel told her that he thought her business was an excellent candidate for funding from the Fealy Bearcat Bridge Fund. With Grace B. Bold was named a finalist for funding. That opened the door for Sullivan to participate in the StartupUC Incubator program, where she met her mentors, Piola Shoes founder Josh Rudd, BBA '12, and Dick Baker, a former Procter & Gamble executive and the chairman of the Cincinnati SCORE Association. "With their help, I worked on formulating cash flows and thinking about seed money and funding," says Sullivan "I went to investing seminars and basically did this year of intensive research on how to start a company." Sullivan keeps in touch with both mentors, meeting weekly with Baker and touching base with the New York-based Rudd by phone twice a month.
"Megan Sullivan has the drive and coach-ability to make her business dream come true," Baker says. "She has an excellent idea that will truly help women recovering from breast surgery. UC's entrepreneurship program provided training in business concepts and tools, while SCORE mentors provided the actual business experience to put these concepts and tools in practice. She now has the support structure to make sure her implementation is successful."
When I first heard of Megan's story, I was overcome with gratitude. Not only am I invigorated by her story of determination in the face of personal trial, but I am also inspired by her entrepreneurial spirit.

- Wendy Lea, CEO, Cintrifuse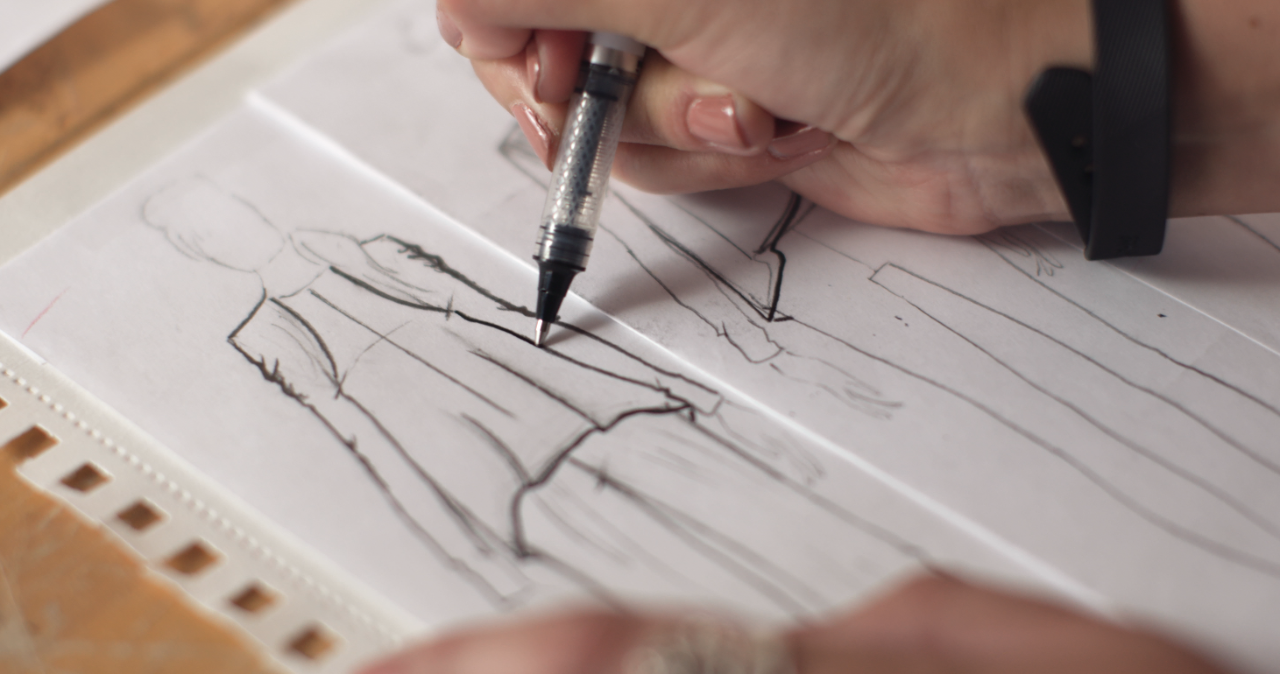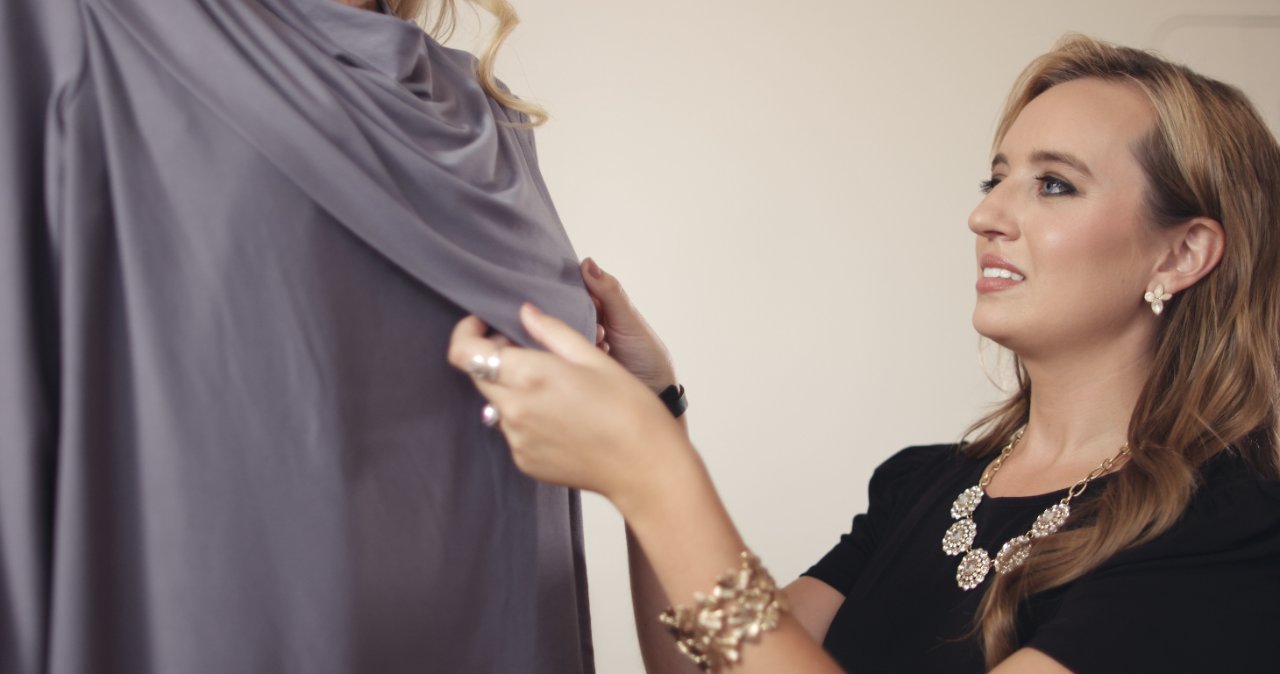 Sullivan's venture is gaining momentum on the crowdfunding site Kickstarter.com, and she has demonstrated her commitment to approaching the business with a philanthropic mindset. She plans to offer two different give-back programs. Sullivan recognizes that not all women who use the Ann Elizabeth top during their recoveries will want to keep the garment afterward because of its connection to the experience. She plans to offer shipping labels to women who want to donate their clothing to hospitals. She also plans to offer the option for customers to purchase garments and have them sent directly to hospitals to be given to women without the financial means to afford them.
Though the company is young, the story has already sent ripples throughout the Greater Cincinnati startup community. "When I first heard of Megan's story, I was overcome with gratitude," says Wendy Lea, CEO of Cintrifuse, a public-private partnership that enables high-growth startups to succeed in Cincinnati. "Not only am I invigorated by her story of determination in the face of personal trial, but I am also inspired by her entrepreneurial spirit. Megan's determination to turn challenge into conquest is the exact kind of story I strive to tell about innovators in Cincinnati."
Bearcats get down to business.
Do you have an entrepreneurial spirit? At UC's Center for Entrepreneurship and Commercialization, UC students and recent graduates get the help they need to turn their business idea into a reality. If you're a UC student, alumnus, faculty or staff member who has started a business of your own, we'd love to hear about it. Click here to share your story with us.
Megan Sullivan's road to starting her own business started at the Myron E. Ullman, Jr. School of Design and its fashion design program.
What are other DAAP grads up to? Designing shoes, cars, sports lighting and much more.