Latest Magazine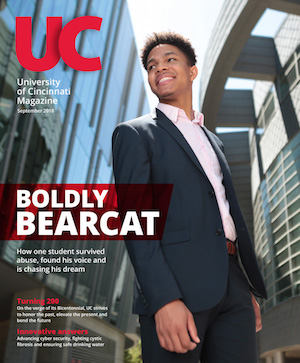 September 2018
Boldly Bearcat
Finding his voice
Danger in the tap
Virtual defense
Global game changer
Celebrating UC's Bicentennial
Browse our archive of UC Magazine past issues.
UC grad Tim Brown sports wool sneakers by Allbirds, the company he created with Joey Zwillinger (left). Photo/provided

'Better shoes in a better way'


UC education, New Zealand environment inspire alum's successful startup
by Jac Kern
513-556-1823
Sept. 27, 2016
University of Cincinnati alum and former Bearcat soccer player Tim Brown was determined to make better shoes in a better way.
Judging by the response to his company Allbirds, a wildly successful wool sneaker startup, Brown has accomplished just that.
Time magazine called Allbirds' debut wool runner the "world's most comfortable shoe," while Wired, Fast Times, Huffington Post and others followed with equally glowing reviews. When Brown launched the shoes on the crowdfunding platform Kickstarter in 2014, the project soared past fundraising goals in days. More recently, the company raised $7.25 million in a round of funding.
It seems everyone wants a piece of Allbirds.
Despite studying design at UC's College of Design, Architecture, Art, and Planning, Brown says creating a shoe company never crossed his mind while at UC.
"My professional sporting career took off after DAAP, and I ended up playing for a decade," he says. "It was only the back-end of [my sporting career] when I started to think about creating a company — creating shoes made out of wool."
After playing soccer for the Bearcats from 2000 to 2003, Brown went on to play professionally for Virginia's Richmond Kickers, Australia's Newcastle Jets and the Wellington Phoenix in his homeland of New Zealand. He was also on the country's national team from 2004-12, during which he qualified for the 2010 FIFA World Cup in South Africa.
Whether a pro footballer or more of a desk jockey, odds are most folks' shoes are made of what Brown calls "nasty" synthetic materials. Most footwear isn't sustainable — in terms of its materials or its ability to hold up over time. Shoes aren't breathable, leading to that funky sneaker scent. And for athletes especially, the focus is on branding, first and foremost (think swooshes). So while still playing soccer, he began to take what he calls a crash course in shoemaking.
"It was really just a project to keep me out of trouble outside of my training in the mornings and afternoons," Brown explains.
He envisioned a simple, unbranded sneaker and began experimenting with alternative, natural materials. Coming from the land of nearly 28 million sheep — seriously, they outnumber humans in New Zealand six to one — Brown was inspired to use sustainable wool as the main fabric and was perplexed as to why it had never been done before.
"I became curious about the idea of why there wasn't a woolen fabric that you can make the entire upper [shoe] out of, and that's when I fell down the rabbit hole," he says. He applied for a grant to develop the textile, which was fabricated by a New Zealand research lab over the course of a couple years. By the time he retired from soccer in 2012, he already had one foot in the door, so to speak.
"I consider my design education such a valuable thing for what I'm now doing as an entrepreneur," Brown says, explaining that although he never thought of himself as a great sketcher, he developed a "designer-thinker" mentality thanks to DAAP. With that, plus a mind for sustainability and the knowledge of what makes an athletic shoe comfortable and durable, Brown looked to develop his business acumen. He attended graduate school at the London School of Economics and Political Science and Northwestern University in Illinois, where he presented the idea of a woolen shoe in an entrepreneurship class. He was accepted into London's Sirius Programme, an entrepreneurship incubator for startup founders, and later won billionaire Virgin Media founder Richard Branson's "Three New Things" global innovation competition.
Brown launched the "wool runner" — then branded as Three Over Seven, now known as Allbirds — via the online crowdfunding platform Kickstarter. On Jan. 28, 2014, the project went live with 30 days to raise a goal of $30,000. Anyone who pledged $98 or more would eventually receive a pair of the shoes.
That initial goal was reached within the first day. By Feb. 2, that number had nearly quadrupled to a total of $119,196 from 970 backers pre-ordering the entire stock of 1,064 pairs of shoes. With 24 campaign days to spare and no shortage of interest, Brown made the tough decision to stop taking backers so as not to get overwhelmed by the demand. After all, a successful funding campaign does not always ensure a successful business.
"I ran into probably the hardest year of my life trying to get that thing off the ground and build a supply chain, trying to work out how I could deliver these shoes to the Kickstarter customers," Brown says. "It was just a really, really tricky thing."
As a result of the campaign, Brown connected with Joey Zwillinger, an engineer and renewables expert in San Francisco. And while Brown never considered experimenting with wool or creating shoes at UC, what he did learn on campus paved his path of entrepreneurship.
"What UC helped unlock for me was that design was a process of thinking that could be applied to a whole bunch of different problems," Brown says. "I've used it a lot through my professional sporting career, as a leader in those types of things, through the evolution of the company that I now run in San Francisco. The actual physical education of design is just the tip of the iceberg for me. The real meat of what a design education is is in the thought process, and I got that at UC. It was an incredibly special part of my life."
Zwillinger and Brown raised capital, reworked the branding and enlisted Italian textile mills to produce a high-quality, certified-sustainable Merino wool fabric. The durable yet lightweight and wickable material is made specifically for footwear. It stays cool in the heat and warm in the cold — think of the breeziness of cashmere, not a hot, itchy sweater. Without gaudy labels, logos or swooshes, the simple shoe is intended to be dressed up or down. Completed with plant-based insoles made from castor bean oil and a rubber-foam polymer sole, the result is a breathable, flexible lace-up shoe available in black, gray and limited-edition colors. Soft enough to be worn without socks — they're actually designed for a bare foot — the shoes are machine washable. (Fun fact: Feet actually don't smell. It's the sweating in synthetic materials that breeds odor.)
And with that, Allbirds was born.
"When people first came to New Zealand, where I'm from, there was nothing there but birds," Brown quips when asked about the name. Indeed, birds ruled the islands before humans arrived, bringing land mammals like rats, dogs and, of course, sheep with them.
"And the idea was that [the name] was a bit of a nod to our sustainable mission — the idea of treading more lightly with the things that we make," he continues. "And it was also linked into the idea of travel, flight, seeing and moving and doing, which is what we feel we make products for — that moment."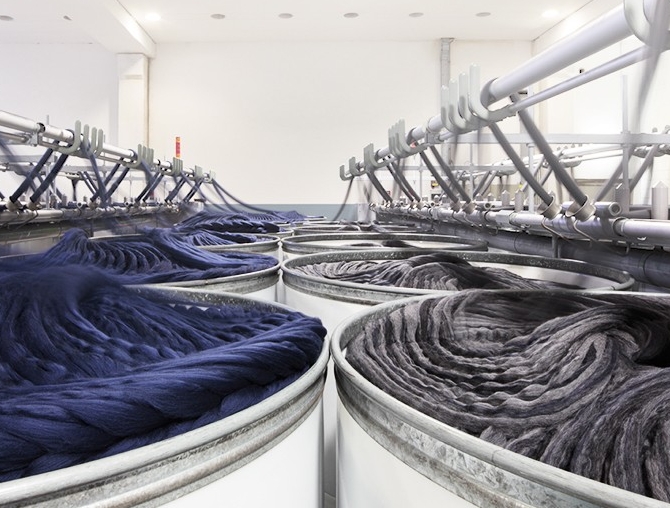 So how did a kiwi living 8,000 miles away end up a Bearcat? A perfect storm of opportunity.
"I made the New Zealand Under 20 [soccer] team and had gone out to a number of different universities and had a range of different scholarship offers from places around the country," Brown explains, "but I really wanted to study design, and Cincinnati, as far as I could tell, was the best place in the country that I could come to America and play Division I soccer and study design at the same time."
Brown was a midfielder and three-time co-captain for the team while studying at DAAP. Naturally, student athletes have extremely busy schedules. DAAP, too, is known for its intense workload. Brown juggled both.
"It was a constant challenge to make my athletic career fit around the demands of DAAP," he says. "I remember having afternoon studios and training every day, and between that and the co-op program was a challenge, but I just had a whole bunch of great people who went out of their way to help me." After 11 years, Brown still remembers his teachers by name — along with Dean Robert Probst, he mentions emeriti UC professors Sandy McGlasson, Gordon Salchow and Joe Bottoni.
Today, as Allbirds moves forward, Brown looks to give back. All shoes come with a 30-day money-back guarantee, and those that are returned that can't be resold are donated to Soles4Souls, a global nonprofit that collects and distributes shoes and clothing to people in need. He also hopes to make an impact on the future entrepreneurs and designers at UC.
"I have fond memories of my time at UC," Brown says. "I'm really grateful for everything that the university did for me. We're really hopeful that we'll be able to get some co-ops in the near, near future, and I can pay forward some of the great experience I've had."
Allbirds shoes, offered online in men's and women's sizes for $95, are available at allbirds.com.