Latest Magazine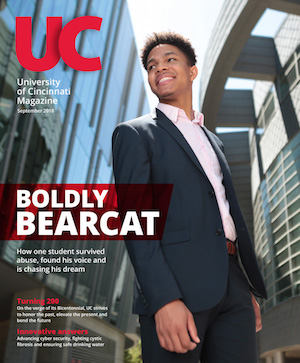 September 2018
Boldly Bearcat
Finding his voice
Danger in the tap
Virtual defense
Global game changer
Celebrating UC's Bicentennial
Browse our archive of UC Magazine past issues.


UC projects record-breaking fall class



UC prepares to welcome largest total enrollment and largest incoming
first-year class in 197-year history when classes begin Aug. 22.
By Rachel Richardson
513-556-5219
Aug. 17, 2016

The University of Cincinnati is on track to smash records again, as projections call for an all-time record fall enrollment of 45,000 students, including the largest first-year class in the university's 197-year history.
This year is expected to be the fourth consecutive overall enrollment record for UC, topping last year's all-time high of 44,251.
Estimates suggest that this year's incoming class of 6,900 first-year students — up 8.9 percent from last year — is not only the university's largest, but also among the smartest.
First-year students on UC's Uptown Campus boast an average ACT score of 25.7 and SAT score of 1163, with an average high school GPA of 3.58, up from 3.471 in 2015. More than 1,500 of them are Cincinnatus Scholarship recipients.
The class, which is comprised of students from 33 states and 45 countries, also includes 55 National Merit/Achievement Scholarship recipients, up from 50 last year and nearing the target of 60 set for 2019.
"UC's continued year-over-year growth is the result of a diversified enrollment strategy inclusive of growing the traditional direct-from-high school student, enhanced retention of the students we recruit, targeted distance learning programs and the quality delivery of graduate and professional school degrees," said Caroline Miller, UC's vice provost of Enrollment Management.
UC is also celebrating gains in retention, students seeking bachelor's degrees on the Uptown Campus and graduate student enrollment in 2016, according to early projections:
First-year retention rate: 88.7 percent (a record high, nearing the target of 90 percent set for UC's bicentennial in 2019)
Uptown Campus bachelor's degree-seeking students: 5,100, up 15.4 percent from fall 2015
Graduate student enrollment (includes master's, doctoral and professional degrees): 11,185, up from 11,033 in fall 2015
UC's final enrollment will be reported to the state in mid-September.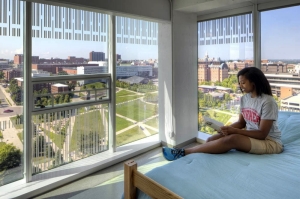 Students returning to campus this fall will encounter new housing options and classrooms equipped for 21st century learning, among other renovations.

Nearly 500 students will begin moving into the newly renovated Scioto Hall this week, the new and improved twin sister to Morgens Hall.

The $38 million glass-enclosed 152,846-square-foot apartment-style residence hall boasts expanded lounges on the ground level, more community space, as well as the choice of a double-single room or double-double room, now holding four students instead of three.


After a two-year renovation, UC's Teachers/Dyer Complex welcomes back faculty, staff and students.

Bringing together UC's College of Education, Criminal Justice, and Human Services (CECH) and Information Technology, the new Teachers/Dyer Complex provides a base for more than 130 CECH faculty members and 5,500 undergraduate and graduate students.

Building updates include an outdoor classroom in a newly designed courtyard, grab-and-go café, handicap-accessible 120-seat auditorium, conference rooms, state-of-the-art science lab, video studio and digital and multimedia capabilities in all classrooms, among other upgrades.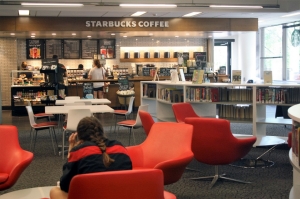 Forget dorm room Ramen or microwave mac and cheese. UC students this fall will find a number of convenient and delicious dining options to chow down on campus.

Four new eateries are set to open Aug. 22, with options ranging from mouth-watering spicy fish tacos, chicken cheesesteak sandwiches and a loaded smashed potato bar to calorie-conscious choices like turkey burgers, salads and wraps.
Unique course offerings
Unique course offerings this semester explore hipsters, Barbie, skydiving and everything in between. Finding a balance between required courses and classes with personal appeal is crucial for any University of Cincinnati student. Luckily, colleges and programs across campus offer a fun mix of special-interest classes, many of which can count toward majors. Read more about some of these courses.