Latest Magazine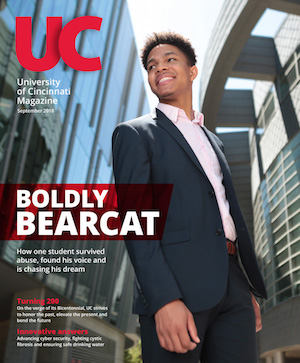 September 2018
Boldly Bearcat
Finding his voice
Danger in the tap
Virtual defense
Global game changer
Celebrating UC's Bicentennial
Browse our archive of UC Magazine past issues.
Video by Andrew Higley/UC Creative Services
The future of fashion

Photos and video from UC's 67th annual DAAP Fashion Show
By Jac Kern
513-556-1823
Photos/Joseph Fuqua II/UC Creative Services
May 7, 2018
The University of Cincinnati's College of Design, Architecture, Art, and Planning capped off its annual DAAPworks Showcase with the 2018 DAAP Fashion Show April 27.
It was the final fashion show for longtime DAAP Dean Robert Probst, who stepped down at the end of this semester after 40 years at the university. He walked the runway one last time with his daughter Jasmine Probst. Jasmine is a noted Facebook strategist who used to model in the DAAP shows when she was a teen.
UC's Campus Recreation Center transformed into a runway fit for New York, Paris or Milan. The show featured garments by 34 fashion design seniors (plus the work of 14 product strategy seniors), with dozens of models strutting down the 92-foot catwalk. Aveda Fredric's Institute students provided hair and makeup design, with staging and lighting elements created by students from UC's College-Conservatory of Music.