Latest Magazine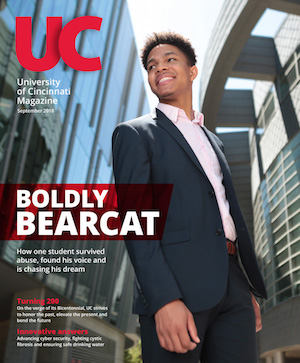 September 2018
Boldly Bearcat
Finding his voice
Danger in the tap
Virtual defense
Global game changer
Celebrating UC's Bicentennial
Browse our archive of UC Magazine past issues.
Section 001's ICFF award-winning exhibit is now on display in the DAAP library. Photo/Joseph Fuqua II/UC Creative Services
Brand recognition
Collaborative University of Cincinnati project wins top school award at International Contemporary Furniture Fair

Anyone familiar with the University of Cincinnati's College of Design, Architecture, Art, and Planning (DAAP) student experience knows about the long, arduous hours spent in studios. Especially as semesters come to a close, with final critiques — "crits" — looming, undergraduate and graduate students alike essentially set up shop in DAAP spaces, working around the clock.

"Studios are very much a live-work environment where you're doing everything but sleeping, hopefully," says UC industrial design professor John Dixon. "There should be a kitchenette, a lounge space.…"

"The reality is that they're actually sleeping there as well," interjects architecture professor Stephen Slaughter.

They laugh, but it's true.

Last year, Dixon and Slaughter began crafting a collaborative class for industrial design and architecture students to create a collection of furniture and pieces to populate the graduate design studio space in DAAP. Crits for this class would be a bit more high-stakes than usual — this collection would go on display at the prestigious 2017 International Contemporary Furniture Fair (ICFF) in New York City.

Slaughter has been working with students to produce exhibits at ICFF since 2013. The show, North America's premier showcase for contemporary design, features displays by more than 35,000 interior designers, architects, retailers and a select few top design schools. Previous DAAP displays at ICFF include a disaster relief shelter and a collection of items from DAAPcares, an outreach initiative that applies architecture, art, design and planning skills to address humanitarian concerns. They didn't end up winning any awards in those years, but the students took away a lot from attending the international event.

"It was such an amazing experience for the students to see design from all over the world and see exactly how this school ranks in terms of their education," Slaughter says. "It's a great chance for them to get in front of employers at an international fair and have the opportunity to interview."

Dixon and Slaughter decided to collaborate for UC's 2017 ICFF entry. Learning from past ICFF exhibits, they had an idea of what the festival judges were looking for. Gjoko Muratovski, director of DAAP's Myron E. Ullman, Jr. School of Design, challenged the class to create a live-work collection that could be used in an actual studio on campus.

It's a tall order to get 25 creative students with individual points of view to work together as one brand, so Dixon and Slaughter framed the class around researching not only live-work space, but Shaker design — a minimalist style of furniture developed by the Christian sect in the 19th century — and its influence on Scandinavian modernism, Japanese modernism and American midcentury modern design. Students researched these topics, presented brand proposals and developed a cohesive brand under which to operate, like a professional design company.

They called this brand "section 001." "It was rooted in this bluntness of midcentury American," Dixon explains. Many midcentury modern designers gave their pieces very straight-forward names. For example, an iconic midcentury chair design is the Eames LCW, which stands for "lounge chair wood."

"The actual name is an acronym for a description of it," Dixon says. "In a clever way, the students noted, 'Why don't we just call this brand what the class is?'" And section 001 was born, pulling its name from the course title.
The class established a logo and color palate, unintentionally taking inspiration from the iconic pastel DAAP building, with a soft sage green, steely gray and light pink.

"It's kind of funny," Dixon says, "because DAAP colors have been made fun of for so long and now they're really on-trend all of the sudden."

Each student designed a piece for the collection — from chairs to a clock to a coffee station, perfect for late-night studio sessions. The industrial designers also maintained branding roles while the architects designed and built the exhibition space. For many, it was their first time taking a design and building a piece or furniture or usable object. Most items were built in-house, but some required vendors (for example, sheet metal work was contracted out) — also new territory for the students.

"That was their first time taking a design, breaking it down into drawings that communicated that design well enough for a vendor to make and being responsible for that," Dixon says. "It was cool to have students send designs off and get pieces back."

Most students had to tweak their designs to fit the brand or just based on what tools were available — all limitations of the real world, Dixon says.

"Our strengths as a program are having designers fit within parameters so they can execute a real thing, whether that's fitting within a brand or synthesizing research into a piece."
Once complete, section 001 produced a full line of furniture and other objects for the office (shelves, desks and organizational storage), kitchen (a dining table and chairs, chandelier, cabinets and tableware) and living spaces within the studio (lounge seating, a coat rack and coffee table) and even incorporated outdoor elements (a porch swing and firepit).

Final critiques in DAAP are seen more as "milestones" than deadlines. "There's always a critical angle in the studio that allows students to grow both as designers and makers and grow an investment of their projects by creating a dialogue," Slaughter explains. He and Dixon invited DAAP Dean Robert Probst, Interim Director of the School of Architecture and Interior Design Michael McInturf and director Muratovski to check out the final collection. What the professors expected to be a quick viewing turned into a two-hour crit by their own bosses.

"The conversation was like nothing I could imagine," Slaughter says. "It was at such an amazing level. The students benefitted from it, and the work progressed as a result." It was clear the class had an impressive exhibit on its hands, and that was confirmed at the exhibition. ICFF awarded DAAP's section 001 with the 2017 Editor's Award for best school installation.

Having learned from DAAP's past entries in the show, section 001 made a concerted effort to integrate the collection's design — color palate and overall aesthetic — with all the furniture pieces and the display booth itself. As one of 15 schools showing at ICFF, DAAP's display impressed attendees and judges.

"Our students are really good at designing for a brand and fitting in with what the market wants," Dixon says. "Some people didn't understand that it was from a university. Their first reaction was that it was not student work." The quality was great, he says, but it was the cohesion among the pieces that really drew attention.
"We got this question time and time again of how we got the students to all work in the same color," Dixon explains. "That's just what they can do. We posed this prompt and they just had to fit in with it, and our students are good at that. Co-op helps, obviously. Every project we do in early stages in industrial design is geared towards a specific brand or user."

Five editors from leading design industry media scoured the show floor to identify the best of global design. In one of just 12 prizes overall, ICFF presented DAAP's section 001 with the award.

"We got feedback that it was the most thorough, cohesive and professional looking school installation," Slaughter says. "They thought the quality of the work, craftsmanship and design was so high that it was on-par with companies that had their own booth."

The section 001 collection now resides in DAAP — in the library, for now. Pieces of the exhibition will be on display in the upcoming DesignBuildCincy, a curated showcase of home design and fine craftsmanship, taking place in Cincinnati's Music Hall Oct. 28-29.

Looking ahead, Dixon and Slaughter will collaborate on another cross-disciplinary class next spring, planning to return to ICFF and replicate their success in 2018.

"Winning was a vindication of understanding what a collaborative studio can actually produce and that it can be successful," Slaughter says.