Latest Magazine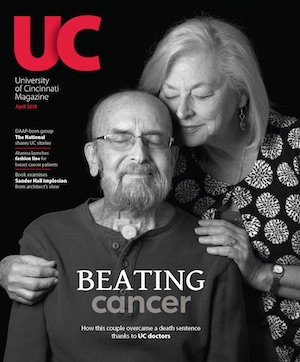 April 2018
Beating Cancer
Always room for hope
Musicians by design
Finding purpose in pain
Tower of glass
Inside job
Browse our archive of UC Magazine past issues.
Recent developments around the University of Cincinnati are transforming the community as a place to live, work, study and play near campus.
Uptown upgrade

Years of efforts in community development attract students to campus,
and community employment and activities in the surrounding area
By Fernanda Crescente
513-556-5224
Photos by Lisa Ventre and Andrew Higley/UC Creative Services
March 9, 2017
Walking down the bright, busy streets of Calhoun late at night, it is easy to think that the heart of off-campus entertainment has always been just that: a place to work, live, study and play.
It is no wonder. With developments such as a brand new Kroger (opening today!) and a new Target store set to open in summer 2017, as well as more-recent restaurants, apartments and specialty stores, the neighborhood is attractive to students, faculty and staff as well as members of the community and business owners.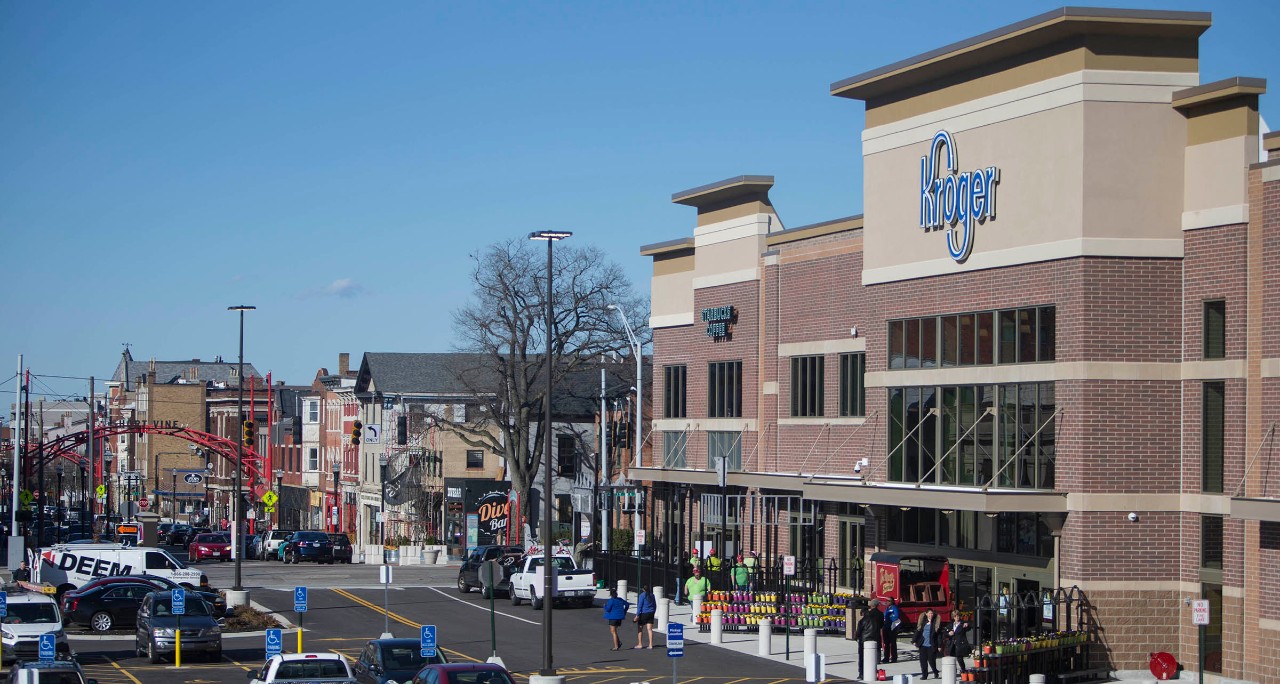 According to community member Mike Ealy, president of the Corryville Community Council, the new Kroger means job opportunities for people living in the neighborhood. At the same time, the store will contain features that appeal to campus and community alike, including an in-store medical clinic, drive-thru pharmacy; natural foods section and much more.
Yet, it wasn't always quite this way, and the partnerships that led to redevelopment surrounding the university were fostered and built over years, a brick at a time so to speak, spurred by one-time decline that's hard to imagine now.
"In the past, neighborhoods around the university had deteriorated to the point we had a lot of vacant lots, a lot of vacant buildings … and illicit activities going on," says Gerald Siegert, associate vice president for the university's Office of Community Development. "Frankly, people were not that crazy about sending their kids here."
Siegert knows this all too well. An alumnus himself, graduating with a bachelor's degree of business administration in 1970, he said he had a hard time finding parking when he was a student and, often felt uncomfortable walking to class.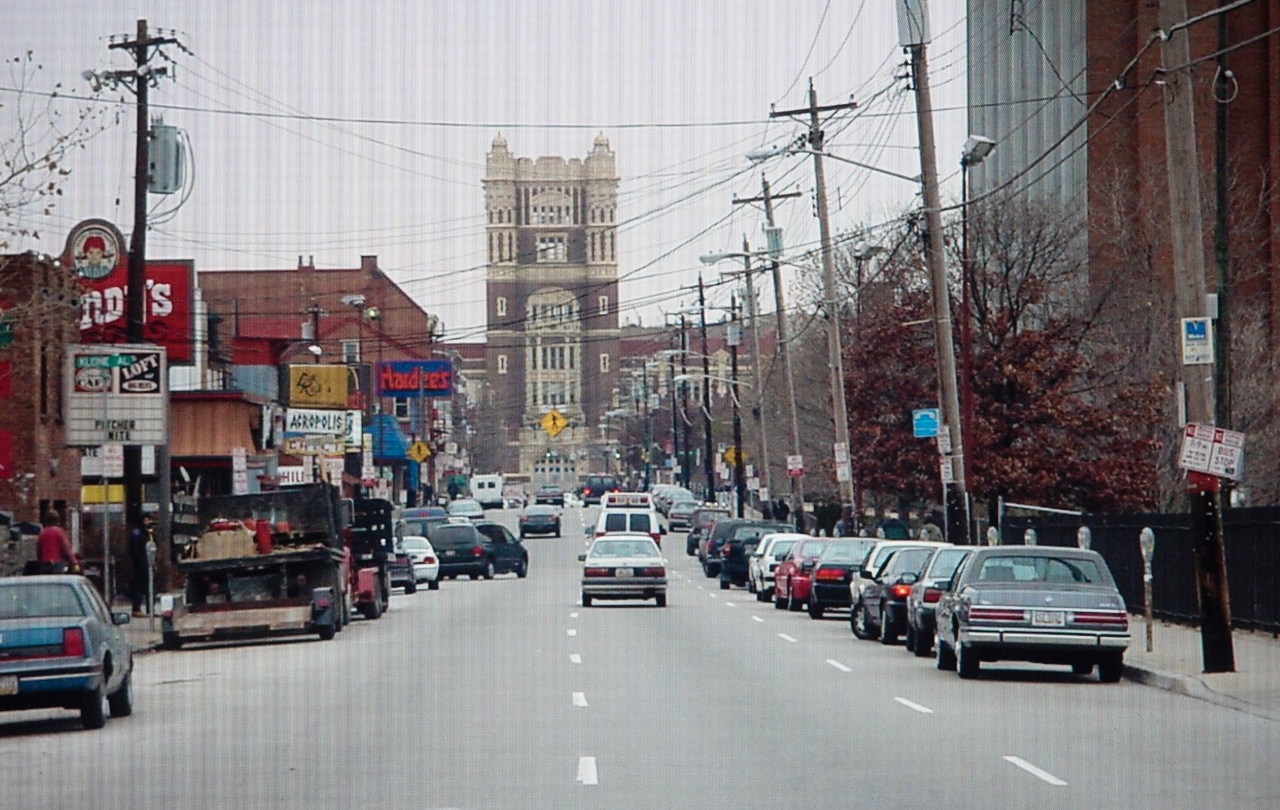 Things, he says, started to change during the tenure of Joseph Steger, the University of Cincinnati's 24th president from 1984 to 2003. Led by Steger and then-vice president of finance Dale McGirr and administration leaders, UC invested a $150 million endowment into the area.
"[Steger] was probably one of the key visionaries in getting this whole thing started," Siegert says. "There was a lot of expertise, a lot of risks taken and a lot of debate."
The university's investment created seven urban redevelopment organizations to focus on the projects and needs of each of the seven neighborhoods surrounding campus. In each organization, a university representative served as one of five chair members.
"We wanted to allow these neighborhoods to maintain their unique integrity, because that is very important to the way the neighborhoods function around the city," Siegert says.
These organizations, which include the Clifton Heights Community Urban Development Corporation (CHCURC) and the Corryville Community Development Corporation, are responsible for much of the development seen today.
For instance, restaurants along Calhoun Avenue, such as Buffalo Wild Wings, Keystone Bar & Grill, Panera and, more recently, Bibibop, Raising Cane's and French Fry Heaven, came to the area as a result of CHCURC's work, which include residential and office space in University Park Apartments and University Square.
As well as providing new retail space for businesses, these projects have brought new, updated and safe off-campus housing for students attending UC.

These mixed-use developments were key to proving a market around campus and inspiring other retailers to come to the area, says Matt Bourgeois, director of CHCURC.
"There was nothing to suggest when you walked down the street that things were going to get better, until all of a sudden you drop a building in the middle of it all that did succeed, that did attract people," Bourgeois says. "People started to realize that there is a market here, there always has been, it just wasn't proven yet."
Investing in the neighborhoods around campus became more and more appealing as these organizations demonstrated that there was a market. Dan Schimberg, owner of Uptown Rental Properties, was one of the first to take interest in the area during its urban renewal.
In the last year alone, Uptown Rentals opened two apartments complexes, totaling $75 million, on Corry Street called "101 East Corry" and "VP3".
Other property developers have also decided to invest in the area. The Verge, an apartment complex designated for student housing, opened in August on West McMillan Street. Similarly, a Fairfield Inn & Suites opened in September between Calhoun and McMillan.
Investment in the neighborhood's housing market was a result of the often poor condition of houses surrounding the university, which did not meet the expectations of an ever-higher number of incoming students, Schimberg says.
"There's much more demand for people to live close to campus," he says. "By providing new housing we are not only adding to the housing stock, but replacing really run-down housing which was the only alternative for kids to live in."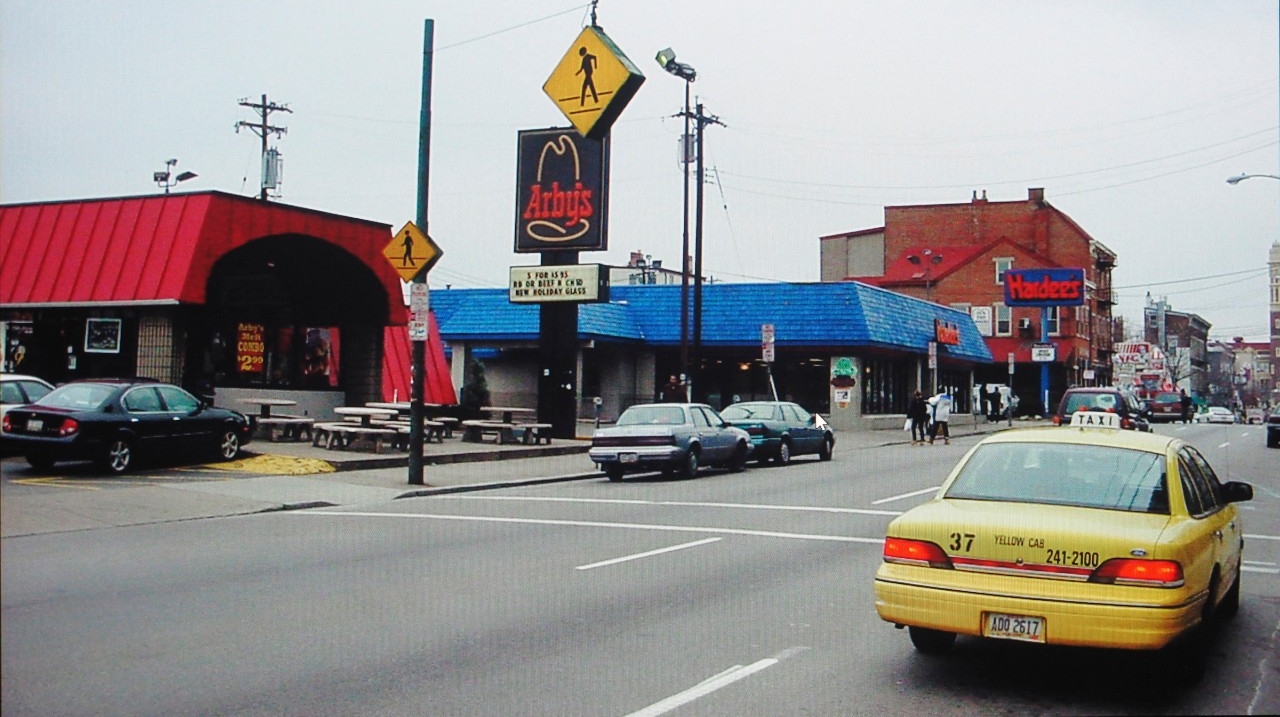 Years after these corporations proved there was a market in the neighborhood and attracted new businesses, interest continues to grow, as evidenced by the opening of the renovated Kroger.
"We […] are extremely excited to offer our customers this new store in the heart of Cincinnati. We know our customers will connect with the many new features and expanded offerings," said Sukanya Madlinger, recently president of Kroger's Cincinnati/Dayton division.
The store will have many new features, including a drive-thru pharmacy; an in-store medical clinic; beer taps and growler stations; a cheese shop; a natural foods section; expanded produce, meat, seafood, dairy and frozen sections; a Starbucks; a bistro with a grab-and-go entrance and a floral department. Customers will also be able to shop online.
And, as mentioned, the new Kroger will bring jobs to people living around the university, said Mike Ealy, president of the Corryville Community Council.
"We are going through this Renaissance era, and Kroger is truly one of the anchors. It is somewhat of a gateway for the entire community," Ealy said. "[Kroger] is going to be hiring people from the neighborhood and putting these people back to work, and that is one of the biggest goals in our community — employment. When there is no employment, people kind of move away and crime starts to increase."
The Kroger will also cater to a generation of millennial and Gen Z students with modern demands, he said. "You got a lot of these kids who grew up in the suburbs. They would rather live in the city, but with a suburban feel, where they can walk to everything or ride their bike or do the zipcar."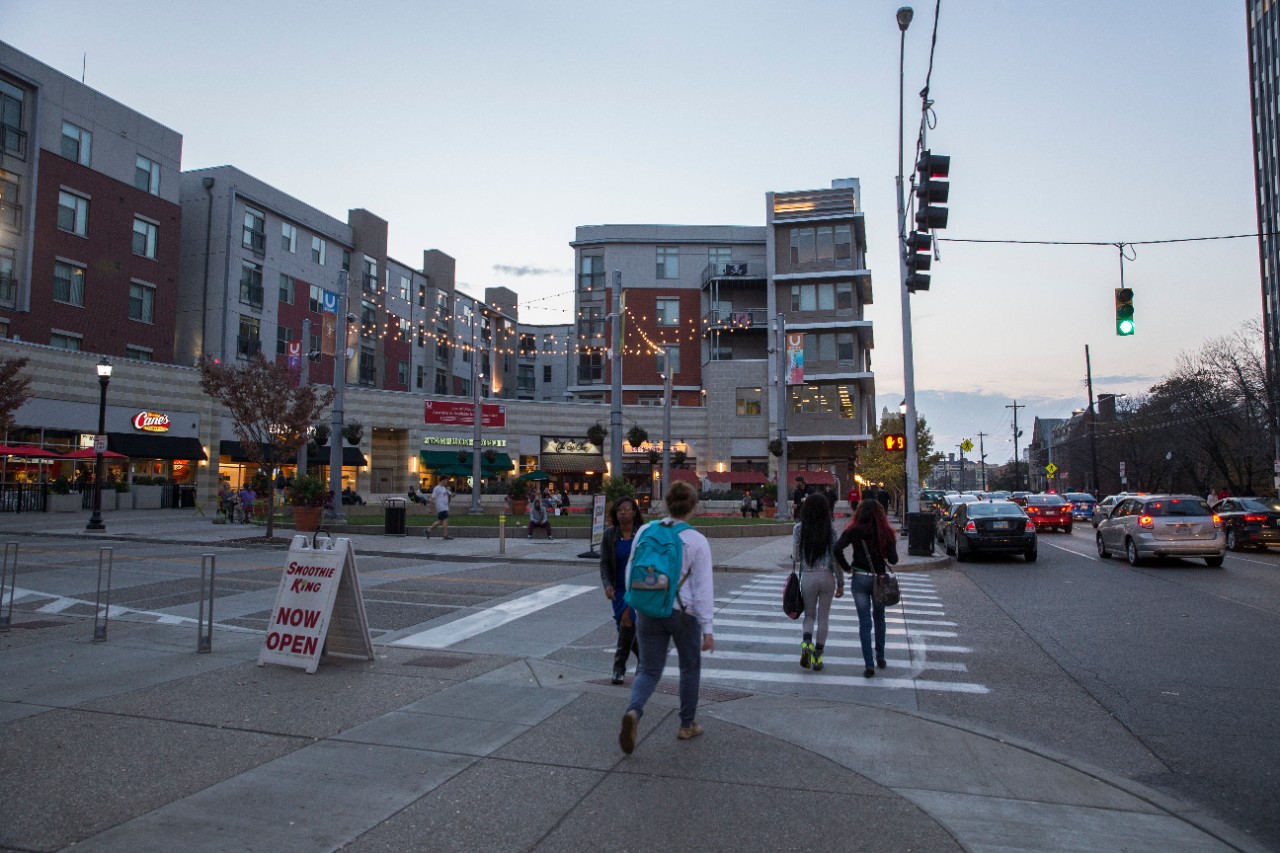 Competition follows closely behind. Target recently announced its plans to open an urban store on Calhoun Street in July of 2017. The store will offer dorm and apartment essentials, a selection of fresh groceries and health, personal care and beauty items.
"Target is focused on providing a convenient shopping experience, and we're doing so by adding flexible format stores in urban markets and near college campuses across the country. We look forward to providing the University of Cincinnati with a quick-trip shopping experience and offering a product assortment that is unique," said Mark Schindele, senior vice president of properties at Target.
Restaurants, hotels, grocery stores and apartment complexes are not the only ventures thriving in the area. Cincinnati-area Crossroads Church invested over $14 million into the revitalization of Old St. George Church on Calhoun in 2015-16 to create a spiritual space for the community.
"We wanted to be a permanent home for students in the corner of campus — not just available for an hour on Sundays, but a home base, even during the week, for students to be able to come explore, ask questions and have a safe place to do that," said Lena Schuler, a pastor at Crossroads.
The church opened its doors in August 2016 and, since then, its services have attracted close to 1,000 people a week. But people are sprawled across the building at any given time, Schuler notes, either studying or participating in one of Crossroad's 57 student groups. The church is open to the public most days from 10 a.m. to 10 p.m. and offers free wifi, coffee and soda.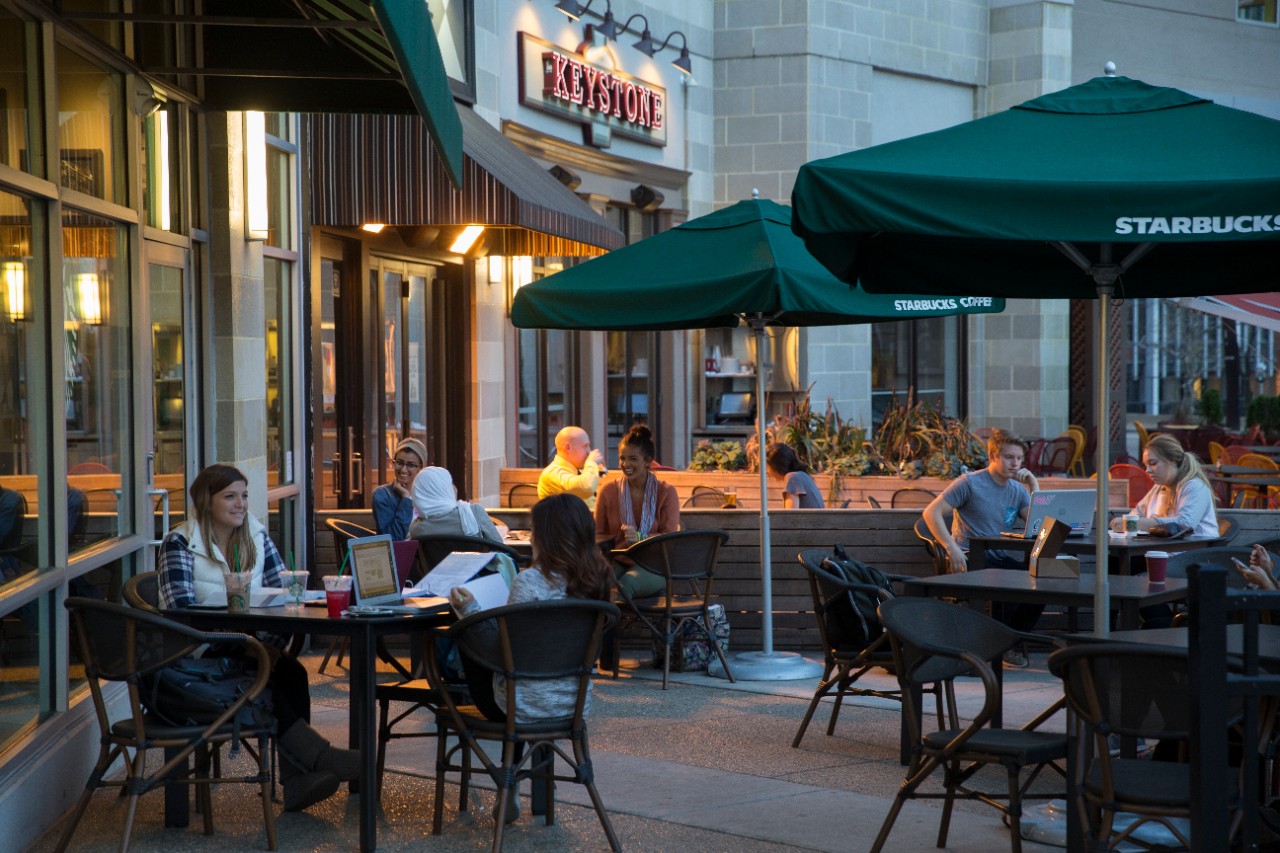 For UC's Siegert, seeing the area come to life is a satisfying feeling.
"The community has been recreated, and it is based on the university," Siegert says. "I think it is incredibly gratifying to go walk down these areas that I used to be very concerned about and see how vibrant and alive they are, how comfortable people are walking around, enjoying what is here."
Siegert knows first hand how much all the development around the university has attracted students to UC, which now has an enrollment over 44,000. Two of his sons have graduated from UC, he says, while his third is a sophomore and his fourth will begin studies at UC this fall.
"This is what [UC President Steger] hoped would have happened when this whole thing started," Siegert says. "It's a shame he didn't live long enough to see it. I often wonder what he thinks when he looks down and sees things now."
Fernanda Crescente wrote this article as a senior journalism student and writing intern with UC Magazine.