Latest Magazine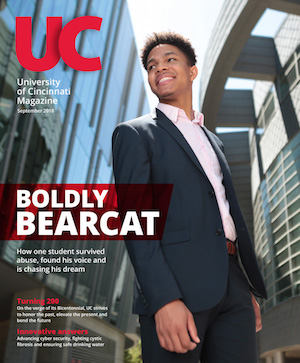 September 2018
Boldly Bearcat
Finding his voice
Danger in the tap
Virtual defense
Global game changer
Celebrating UC's Bicentennial
Browse our archive of UC Magazine past issues.
University of Cincinnati fine arts students network with professionals from the Cincinnati arts community at an "Artistic Introduction" event hosted by DAAP at Weston Art Gallery. UC is the first and only public university in the nation to offer a fine arts co-op program. Photo by Andrew Higley/UC Creative Services
Work of art
UC's first-of-its-kind fine arts co-op prepares creative students for the job market
By Jac Kern
513-556-1823
Photos: provided
July 9, 2018
Students pursuing creative fields of study are often faced with a familiar question: "What are you gonna do with that degree?" The starving artist stereotype persists.

But thanks to a new cooperative education program, fine arts students at the University of Cincinnati are learning how to market themselves as working artists, getting on-the-job training before they graduate. What can these art students do with their degrees? Design toys for Fisher-Price, curate art shows at a gallery or make fiber art at a Maine dairy farm, for starters.

For decades, UC's College of Design, Architecture, Art, and Planning (DAAP) has required cooperative education, a model in which students alternate traditional academic semesters with those spent working full time in their chosen field. But co-op was only required of students studying design, architecture and planning. Only in 2015 was the co-op model expanded to include DAAP fine arts students, with the first major group of students recently returning from their worksites. UC is the first and only public university in the nation to offer such a program.

"We're initiating a culture change," says Aaron Bradley, assistant professor of design and arts initiatives in UC's Division of Experienced-Based Learning and Career Education, who helped develop this innovative program.
"In general, the arts — whether it's liberal arts or visual arts — aren't necessarily directly associated with a traditional career in the workforce," Bradley explains. While engineering and architecture students typically have a more linear path to a job, many fine arts students go to school to learn their craft, but very few will go on to make a living painting, sculpting or selling their works in a gallery. The co-op program has forced students, employers and faculty to re-evaluate what this path can be.

The program was established as a way to "help a group of students who have creative and technical skills bridge the gap between their coursework on campus and their options for future careers," Bradley says. "We're helping them explore the value of their degree as it pertains to what they can do after graduation." It's a way to take the DAAP artist out of the solitary studio and into the real world — where they can have fulfilling, sustainable artistic careers and lives.

Employers can benefit from working with these students, too. "Art students are on the cutting edge of creativity," says DAAP Dean Robert Probst. "Many organizations, institutions and businesses are looking exactly for this kind of talent today."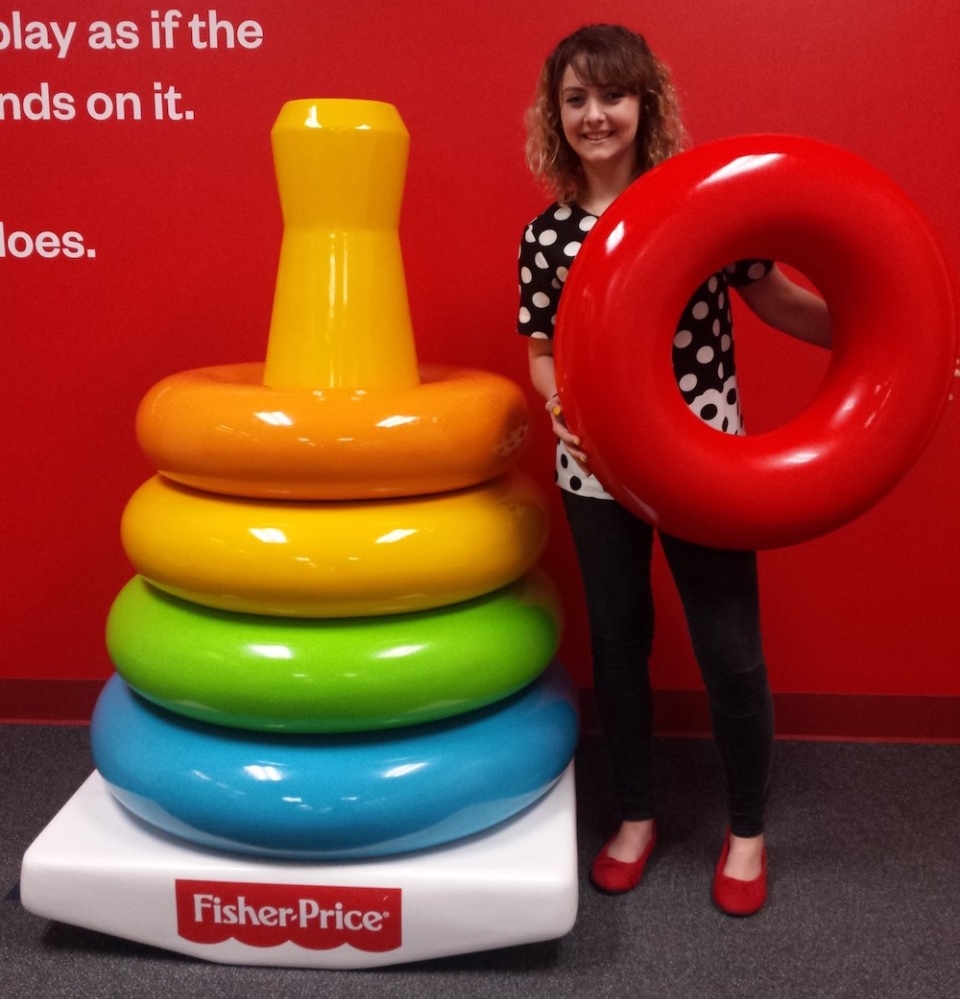 The first full group of fine arts co-op students recently returned from their spring semester jobs, bringing with them loads of experiences that exemplify what this program is meant to do.
Toy story

Devon Hensler, a third-year fine arts and arts history major, recalls touring DAAP as a prospective student, when the School of Art first began promoting the new program. "Adding the co-op program was actually kind of the seller for me and my family because it exposes me to more opportunities in the arts field that maybe wouldn't leave me as the starving artist that everyone always talks about," she says. Having a brother who studies mechanical engineering at UC (for which co-op is required), she was already familiar with the model and its benefits.

For her first co-op, Hensler landed a job at a well-known children's toy company: Fisher-Price in East Aurora, New York. Hensler's supervisor later told her that the company decided to interview her for the highly sought-after position due to her impressive resume and portfolio. "I definitely wouldn't have gotten those notations if it wasn't for Aaron's help and taking the co-op class," she says.

The prerequisite Professionalism and Purpose for Fine Artists course helps students build their personal brand and assemble a CV, portfolio and personal website that articulates that message. "The emphasis on making yourself marketable was something that I had not heard before," Hensler says.

Hensler worked on Fisher-Price's transmedia design team, something she describes as the final puzzle piece in the company's assembly line. While the industrial designers think about the form and function of a product, Hensler worked on surface design, considering the colors, visual learning elements and overall brand aesthetic. Her projects included company style guides and designing toys that will soon hit the market.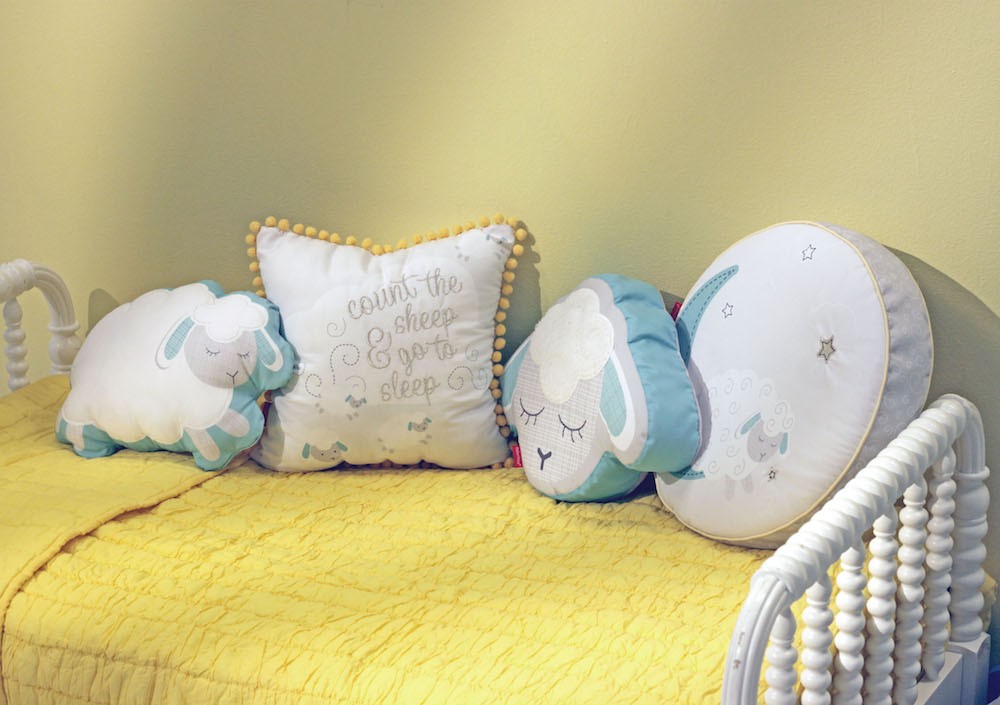 As part of her co-op at Fisher-Price, UC student Devon Hensler helped create these pillows for a trade show in Canada. photos/submitted
Her work at Fisher-Price was quite a leap from the art she usually makes, mostly drawings, which she loves to do in class and her free time. But the co-op helped shed light on all the possibilities of being a creative professional.

"There's a large misconception that as an artist you can't have a corporate job or work in an office and still be a true artist. I would have believed that a while ago, but after taking this co-op, I've realized that it's a very important part of learning to balance life," she says.

"I would love to be a professional artist and make a living by just doing what I love and being true to my own ideas, but realistically speaking, there's nothing wrong with being able to go to work — and still exercise that creative part of your brain — then get home, and still have the energy to move forward with your own work."
Office space

Meggie Bailey, a fourth-year fine arts major with Spanish and fashion design studies minors, had what might be considered a more traditional fine arts job — but with a twist. After getting an early start on co-op at Cincinnati's Ombre Gallery last summer, she worked most recently as a curator at 1628 Ltd., a non-traditional gallery and creative co-working space in Cincinnati.

The membership workspace offers desks, offices, conference rooms and other amenities for local professionals and business travelers looking for a design-forward place to work. "The idea behind it is creating an inspiring workplace, and the founder and CEO Tamara Schwarting's vision for that is through art," Bailey explains.

Bailey describes curation as a staple career path for artists, only she did it in an alternative setting to a typical gallery. She enjoyed planning 1628's art exhibits for the next year, working with artists and selecting pieces to go on display.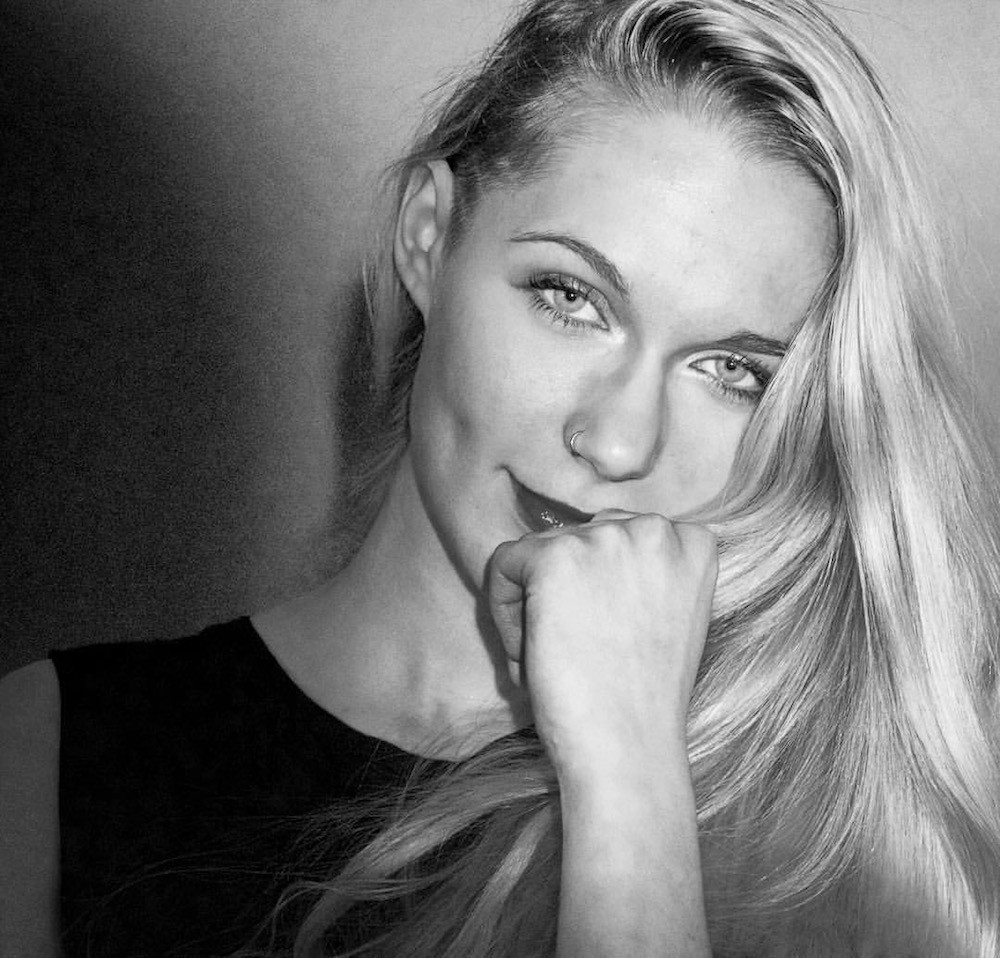 "Being a DAAP student, sometimes we have a tendency to stay in our studios and not branch out too much," she says, "so this was amazing for me, to interact with working artists and know that this is something that I could do."

Bailey's big takeaway from the co-op was being mentored by Schwarting, who brought her to networking events and even on a trip to New York City.

"Her dedication to educating me on what it's like being a female entrepreneur is so inspiring. She had a business conference in New York and she took me with her, so I got to see the Museum of Modern Art and the Guggenheim for the first time. Having a mentor that goes so far and beyond was amazing."

The co-op left a positive impression on Schwarting as well, and the company has invited Bailey back to work at 1628 this fall.
"As a UC College of Pharmacy alumna, I feel fortunate to be in a position to use my company's resources to add to the educational experience of a student," Schwarting says. "Meggie was a true asset to the 1628 team and made a substantial and positive impact in the 1628 art program. We are excited to continue our partnership with DAAP by hiring a second intern for the summer, and are equally excited to have Meggie return for another term in the fall."
Meggie Bailey worked as a curator at 1628 Ltd., a creative co-working space in Cincinnati with a focus on fine art.
Green acres

Most fine artists typically don't find themselves caring for animals and living on a farm, but that's exactly what Samantha Lakamp did for four months in Turner, Maine. A fine arts major in the art education track with a minor in art therapy, Lakamp was instantly drawn to a fiber art co-op on Nezinscot Farm. Maine's first organic dairy farm has grown to include a gourmet food store selling their own herbs, meats and cheeses, a cafe and bakery and a fiber studio, where Lakamp worked. Nezinscot maintained a relationship with DAAP after a fashion design student reached out to initiate a loom weaving co-op there a few years ago.

"I love being in nature and working with animals rather than in an office in the city," Lakamp says. "It was very unique, very up my alley."

She lived in a loft above the art studio, shared meals with the family that owns the farm and spent her days doing everything from grooming angora rabbits and helping shear sheep to learning how fiber is milled and using it to create knit, woven, felt and crocheted products and art pieces. Some products she made, like natural dryer balls and hats, were sold on site, and she also created artwork for her personal portfolio.

Outside of learning fiber art skills, Lakamp says she benefited from the immersive experience of living on 250 acres of farmland.

"You know your food comes from a farm, but really getting to understand where food and the materials we use come from was really cool," she says. "We live in such a materialistic society, but we don't think about the materials we use. We just consume them, and we really don't put thought into it." This idea inspired a table runner she created during her co-op.

Opportunities such as those given to Lakamp, Bailey and Hensler just can't be obtained in a classroom or art studio — a true sign that the fine arts co-op is serving its purpose as experience-based learning.

"Co-op opens up possibilities for artists," says DAAP School of Art Director Kate Bonansinga. "Our undergraduates work in places and with people they never thought possible."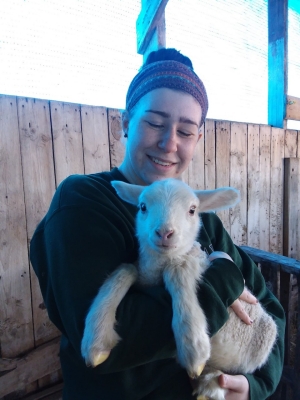 Samantha Lakamp worked with sheep's wool to create a number of products for the farm, including a child's dress and artwork for her personal portfolio.

Associate Professor of Art Matt Lynch agrees. "Our co-op curriculum really formalizes and facilitates something we all know has been going on for a long time," he says. "It is that fine artists have multidimensional abilities and interests and find successful careers in a wide variety of fields. UC's resources to connect the fine artists to local, national and global partners enables our students to expedite the natural process and bring more attention to our program."

As the program has evolved, professor Bradley has noticed three major areas of student interest. Some fine arts students are open to working in any number of commercial fields where they can flex their creativity — like Hensler's job at Fisher-Price. Then there are purists who aim to do commissioned work and have their work shown in galleries — they may choose to co-op as curators like Bailey or as assistants to professional artists.

There's a third emerging population of students interested in art as it relates to the community — art that heals. It's difficult to find a co-op that satisfies that desire — Bradley mentions Visionaries + Voices and Starfire Council, Cincinnati arts organizations that work with artists with disabilities, as good examples. To develop more opportunities, he secured a grant to create a UC course on creative placemaking and using creativity as a catalyst for social change, which will act as an equivalent to co-op. It will launch next spring.

Early numbers, including placement, have exceeded expectations and will evolve as DAAP's fine arts program is expected to double its class size this fall — an enrollment increase credited in part to the introduction of co-op.

For now, the next time a well-meaning relative questions a DAAP student's fine arts degree, they'll be equipped with a list of work experiences — and maybe even a job offer or two.
Learn more about DAAP's fine arts program and co-op.
Read about UC's new strategic direction, Next Lives Here.
Apply to UC.