Latest Magazine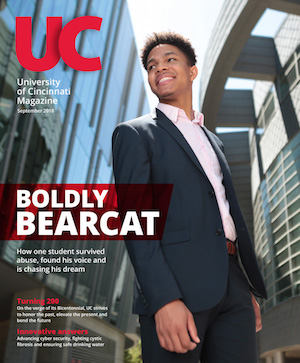 September 2018
Boldly Bearcat
Finding his voice
Danger in the tap
Virtual defense
Global game changer
Celebrating UC's Bicentennial
Browse our archive of UC Magazine past issues.
President Pinto's inauguration

Homegrown president focuses on culture of caring and calling in inauguration speech

by Marianne Kunnen-Jones
Photos by Lisa Ventre & Andrew Higley, UC Creative Services
Oct. 20, 2017

Homecoming weekend is always about welcoming back UC family and friends. This year, Homecoming began with a special welcome home for the university's new president, Neville G. Pinto. Dr. Pinto is the first UC president to rise from the ranks of its faculty since Herman Schneider, the inventor of cooperative education, in 1932.
A 26-year veteran of UC's faculty in chemical engineering, Pinto returned to UC in February after a six-year tenure at the University of Louisville.
As is traditional, his inauguration took place several months after his arrival.
"Thank you to all who participated in the inauguration activities and made the events so special for me and my family. The spirit and the chance to be together made me feel so blessed to be a Bearcat once again," said President Pinto.
The inaugural events included a formal ceremony attended by 200 people at 1 p.m. Friday, Oct. 20, in Werner Recital Hall at the College-Conservatory of Music followed by a major outdoor celebration on McMicken Commons, open to all students, faculty, staff and alumni.
The President's inaugural address focused on culture, remarking, "These days, it's hard to find any organization that's not talking about" it. "How to fix the bad, how to grow the good, how to eat strategy for breakfast."
Higher education boasts all sorts of fields. Yet, President Pinto noted, when it comes to higher education's culture, "we've been so busy studying culture out there, that we've missed opportunities to refine the culture in here, inside the academy."
"To my core, I believe that organizations are at their best when the culture is owned, not rented," Pinto asserted.
With renting, every problem belongs to somebody else and every interaction is, at bottom, a transaction, he said. But "owning demands both action and accountability. It requires us to make tough decisions; to sacrifice wants for needs; to invest in long-term solutions; to care about those around us; and to get beyond simply being in charge in order to take charge too. … In short, owning puts the burden of responsibility on us," he said.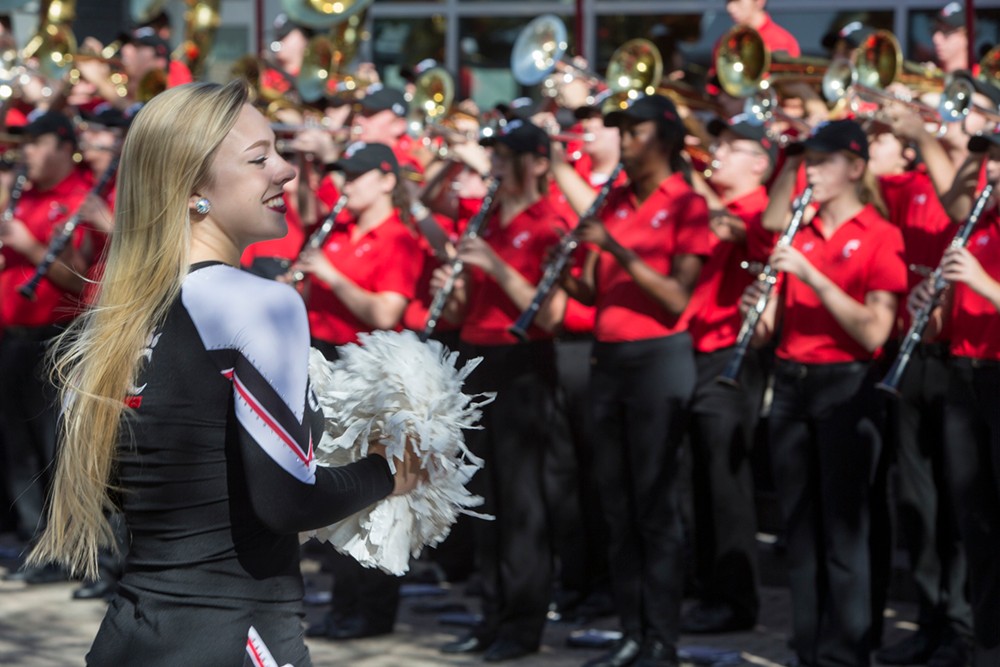 UC's 30th president also outlined three habits that he believes are crucial to create a culture that is owned. An owned culture is one:
Where every person counts and can be counted on to go the extra mile. He gave as an example the late Professor Robert Delcamp in chemistry and chemical engineering. "He made it his mission to know every student in the department by name. Plus, he remembered their personal stories, and never, never missed an opportunity to ask about their experience. Even after they graduated, Professor Delcamp went out of his way to keep them informed, engaged and excited about what was happening on campus."

President Pinto added: "There's an old saying 'that to the world, you may be one person, but to one person, you may be the world.' That was the type of culture that Professor Delcamp cultivated every single day."
That cares more about people than process. Pinto cited how former dean, Constantine Papadakis, worked in the mid-1980s to address the inequity that doors of opportunity in engineering were mostly closed to underrepresented minorities. "Rather than simply accept this inequity, Dean Papadakis set out to change both the conversation and the outcome," Pinto said. The result was one of UC's best success stories, the Emerging Ethnic Engineers program (E3). Now after 29 years, the program has nurtured more than 500 alumni and has a graduation rate 18 percent above the national average. Two of its graduates now serve as faculty members in the College of Engineering and Applied Science: Dr. Whitney Gaskins and Dr. Michael Alexander-Ramos.
That faithfully marries excellence to impact. The president cited as an example the visionary leadership 50 years ago that led UC to create its first-class transplant and hipatobillary surgery program. As a younger professor, Pinto himself benefitted from its care under Dr. Stephen Rudich at a time when he was told he had a 5 percent chance of surviving liver cancer. Dr. Rudich's care not only saved his life but also taught him a profound lesson that acclaim without impact means little and redeems even less.

While the examples Pinto shared may seem unrelated, he explained they all carry a common thread: a bias toward action.
"Perhaps, in the end," he said, "that's the most defining characteristic of a culture that's owned. Above all, it's a culture that's felt. It's a culture baptized in glue. It's a culture addicted to verbs. It's a culture made farm-to-table fresh by us, by making 'we before me' the primary ingredient."
He also noted that a culture of "calling" rather than "jobs or careers" is one where great things happen. "Grand visions start with the true grit and humble gains of our everyday actions."
The new president acknowledged UC's previous 29 presidents. Each of them, in their own way, took charge in making UC "a remarkably better institution, in transforming this campus from a house to a home."
The best way to honor their legacy, he continued, is to partner with all to help take our UC culture — and an enduring pride of ownership — to the next level.
"Let's commit to ourselves and to each other that today is the day: today is the day in which we broaden the authorship of change. Today is the day in which each and every one of us owns this culture — our culture — in bigger, bolder and more meaningful ways."
Starting this week, President Pinto and senior leadership will hold a series of input sessions on UC campuses to seek input on the university's strategic direction and future priorities.
LINKS: