Latest Magazine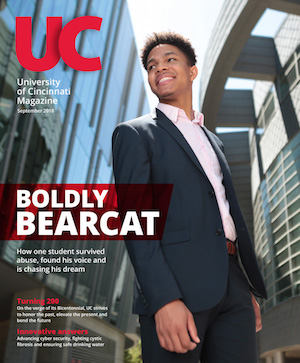 September 2018
Boldly Bearcat
Finding his voice
Danger in the tap
Virtual defense
Global game changer
Celebrating UC's Bicentennial
Browse our archive of UC Magazine past issues.
Universtiy of Cincinnati's #WeWearCincinnati social media marketing campaign helps showcase the connection UC has with the city. photo/Brad Matthews

UC's red and black bring in the green

University of Cincinnati branded merchandise breaks record income for fifth straight year, totaling more than $1 million in royalties in 2017.
By Melanie Schefft
513-556-5213
Photos by UC Creative Services
Oct. 16, 2017
In a retail era where college-branded merchandise fights to hold its own against entertainment and professional sports, income from the sale of the University of Cincinnati's licensed products shot higher than ever, passing the $1 million milestone for the first time.

Topping the year with an income of $1,001,559 in royalties –– from $13 million in retail ($6.5 million in wholesale) sales of UC licensed merchandise –– UC's Office of Trademarks & Licensing (T&L) set a new record for the fifth straight year. Marty Ludwig, director of T&L, credits the 2.4 percent increase from fiscal year 2016 royalties ($978,430) to strategic planning and enhanced engagement with the Bearcat community.

"Our success is based on having better quality UC trademarked products [and] sales are now available on multiple platforms," says Ludwig. "We've enhanced our online shopping venues, diversified our products into new categories and improved our creative marketing efforts."
UC signed a 10-year contract with Under Armour to outfit all college team sports until 2025. photos/Andrew Higley/UC Creative Services

Supporting scholarships

Since 1990, the licensing program has accounted for more than $33 million in overall sales of UC branded swag, generating over $13.7 million in royalties for the university, which helps to support student scholarships. For example, funds allocated to UC's president's office or the athletic department help support Gen-1 scholarships and student athletes.

Collegiate sports licensing continues to be among the most profitable sectors in the industry. For UC, this includes T-shirts, hoodies and hats with the UC trademarked C-paw, Bearcat Mascot, UC symbol and even the name "Cincinnati" when used in reference to the university.

According to Ludwig, sales of licensed merchandise worldwide totaled $262.9 billion in 2016-17, with entertainment licensing making up the largest market segment at $118.3 billion and collegiate licensing coming in at $5.7 billion.

UC finished the year ranked as the 45th largest in IMG College's consortium of clients and was the second largest licensing program in the American Athletic Conference.
Photo by Andrew Higley/UC Creative Services
Profitable partnerships
In 2015 the universtiy inked a 10-year contract with athletic apparel giant Under Armour to produce uniforms exclusively for all UC team sports. Ludwig says that while online orders are growing, it is still in-person sales making the difference.

"The largest percentage of sales still come from brick-and-mortar stores," says Ludwig. "While online is growing, women are the largest consumer of licensed goods –– even if buying for the men in their lives –– and they still like to touch and feel the product more in a store."

Of the more than 600 retailers carrying UC's products, Ludwig sees the top sales coming from UC Bookstores and Clifton mainstay DuBois Book Store, as well as Dick's Sporting Goods, Rally House and Bed Bath & Beyond.
Another element increasing growth is T&L's expansion of sales through wholesale clubs like Sam's Club and Costco as well as discount superstore chains such as Target, Walmart and Meijer.
New options for Bearcat shoppers emerged this fall with the grand opening of a new Target store just off campus in the 200 block of Calhoun on U-Square. Some of the first items patrons see when entering the store are an assortmant of UC licensed apparel.
T&L and athletics recently teamed up to promote the #WeWearCincinnati social media campaign to emphasize that UC sports teams wear Cincinnati on front of their jerseys as part of the marketing campaign to showcase the connection the university has with the city.
UC DAAP fashion design student Julia Bond, Alumna Asha Ama Daniels-Henderson and T&L's Meredith Kussmaul attend New York Fashion Week.
"While attending New York Fashion Week, I enjoyed getting a sneak peek at up and coming fashion trends, which I'll use when finding new, exciting ways to promote UCs brand on apparel."

‒ Meredith Kussmaul, T&L program manager
So how does UC determine what's hot and what's not?

To stay ahead of the current trends in fashion, Meredith Kussmaul, T&L's program manager, recently attended "Fashion Week" in New York City. The trip also included DAAP fashion design student Julia Bond and well-known DAAP alumna Asha Ama Daniels-Henderson, a contestant from the TV reality show "Project Runway."

"New York Fashion Week is known around the world as the premiere event, so I found it very interesting to see how they marketed the event and how they continuously engaged visitors during the entire experience," says Kussmaul. "I especially appreciated getting a sneak peek at up-and-coming fashion trends, which I plan to use when working to find new, exciting ways to promote the University of Cincinnati's brand on apparel."

"We strive to dress our UC population in the latest chic fashion."
Meredith Kussmaul, T&L program manager, displays some of UC's newest and hottest merchandise including the new adult coloring book, fun novelty items and UC's tartan plaid furniture fabric. photo/Joseph Fuqua II/UC Creative Services

Data-driven decisions

To determine what merchandise will be most profitable, Ludwig works with licensing partners to analyze trends and track billions of points of consumer data.

"Data analytics is the next oil," Ludwig says. "And the secret to informatics is knowing how to apply the data that you have. Consumer insights help retailers understand when a consumer of a certain age will be going to a store, how much money they will spend, and what they will likely buy.

"Before you even walk into the store, retailers can predict what you are going to do."
Protecting the brand

Central to UC's licensing success is maintaining high quality standards, keeping the environmental footprint low and cracking down on imitation and bootlegged UC merchandise by unlicensed producers, says Ludwig.

"We recently filtered down our list of licensees to a very narrow group of businesses that respectfully value our high quality brand and source it responsibly," says Ludwig. "We deal with companies that use no illegal labor, source materials responsibly and respect our code of conduct when producing our products."

Keeping manufacturing local is also important. UC's tartan plaid and furniture items are produced by licensee Alma Mater Designs based in Oxford, Ohio, while Oakley-based Late for the Sky Company, is updating UC's Monopoly game to showcase changes around campus. Ludwig looks forward to the latest edition to hit the shelves later this year.

Another local company, Vesi Sportswear based in Evendale, produces UC branded ties and sportswear, as well as distributes Vera Bradley's collegiate branded products. Cincinnati's Graeter's, famous for its ice cream, continues to produce UC branded chocolate bars.

New merchandise coming out before the holiday season includes UC adult coloring books, branded gift boxes and UC tissue paper designed in-house by UC Creative Services. And UC's upcoming 2019 Bicentennial designs will begin to appear alongside traditional UC logos on merchandise as early as fall 2018, says Ludwig.

"While it is a challenge to continue setting new records each year, we are confident in the strength of the university's brand and our potential for growth moving forward," says Ludwig. "If we continue to engage with UC's constituents to show their pride in the university and the role UC plays in the region, then we will certainly have a chance for another record year in 2018."
UC licensing by the numbers:
UC's profit growth in trademark merchandise for last five years:
2016-17 –– $1,001,599
2015-16 –– $978,430
2014-15 –– $905,400
2013-14 –– $863,861
2012-13 –– $859,458
Top five UC apparel categories for fiscal year 2016-17:
men's/unisex T-shirts (12.5%)
men's/unisex performance apparel (10.7%)
men's/unisex fleece (9.2%)
men's fashion (5.6%)
gifts and novelties (4%)
Top five non-apparel categories for 2016-17:
school supplies
drinkware
sports equipment
housewares
office products

Top five licensees distributing UC retail products in 2016-17:
Under Armour (15%)
Knights Apparel (13%)
Champion (5%)
Colosseum (3%)
Victoria's Secret (2%)

Top five retailers carrying UC branded merchandise in 2016-17: