Latest Magazine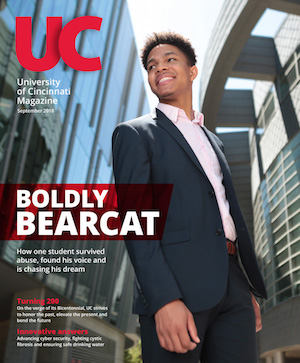 September 2018
Boldly Bearcat
Finding his voice
Danger in the tap
Virtual defense
Global game changer
Celebrating UC's Bicentennial
Browse our archive of UC Magazine past issues.
The Art Design Consultants space is full of vibrant artwork. Photo/provided

The art of business

After 25 years as an arts entrepreneur, this UC grad shares her 'Secrets of the Art World'
Always keep your target audience in mind.

Develop a consistent and unique signature style.

Never show up to a gallery unannounced.

These are just some of the tips Litsa Spanos has for emerging art entrepreneurs — many more can be found in her new book, "Secrets of the Art World: Getting Real about the Process, Business, and Selling of Your Work."

The University of Cincinnati alumna runs Art Design Consultants, a multimillion-dollar art consulting firm now in its 25th year, but this success did not come easily or overnight. In fact, Spanos comes from very humble beginnings.

At age three in 1967, Spanos and her family immigrated from a small village in northern Greece without running water or electricity to the bustling metropolis of New York City. Each family member had one suitcase. Their father carried his life savings in his pocket. None of them spoke English.
It was an uphill battle for the family, but one that was worth it for a shot at the American dream. So they learned the language. They eventually moved to Cincinnati, where Spanos' father owned a convenience store, and her mother worked as a seamstress.

"They wanted a better life," Spanos says of her parents. "One of their dreams was to educate their daughters — that's how we ended up at UC, both my sister and me."

Spanos pursued a degree in education. Her sister, Sylvia, inspired by their mother, studied fashion design at the College of Design, Architecture, Art, and Planning (DAAP). Upon graduation from UC in 1985, Spanos found that teaching wasn't really her calling, instead turning to more artistic pursuits.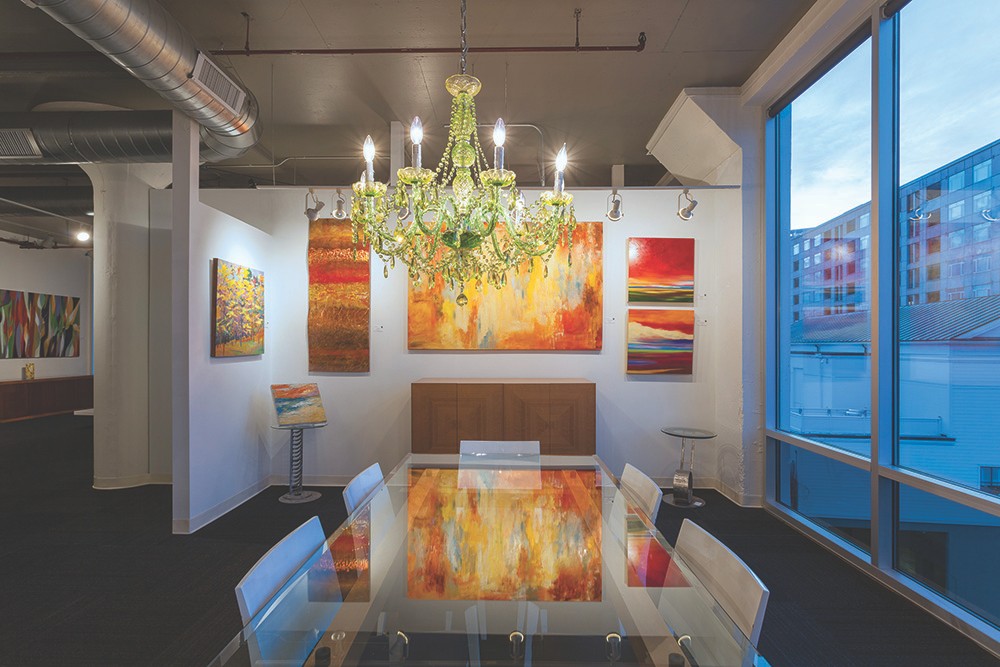 The change made sense. "I came from a very creative family," Spanos explains. "We all have this love of art, design and how happy beautiful things make you feel, whether it's your clothes or a beautiful room or a piece of art."

Spanos worked at an art gallery in Grand Rapids, Michigan, for three years before returning home to Cincinnati. In 1992, she launched Art Design Consultants (ADC), an art consultation company that works with artists trying to sell their work and buyers in need of art. Working out of Sylvia's basement, the sisters ran the consulting firm together for a year, landing their first client, Cincinnati Financial Corp., which still works with ADC today.

"We focused, early on, on reaching out to companies that were moving into new buildings, because they were doing design and needed art," Spanos explains. "You can't have bare walls, right?"

In 1993, sister Sylvia left to pursue a footwear design career, and Spanos moved out of the basement and into the Pendleton Arts Center, a Cincinnati studio space. Over the next 18 years, ADC grew from occupying a 500-square-foot space to filling 14,000 square feet. The business has an emphasis on corporate work, restaurants and commercial companies, but also private homes.
Today, Spanos operates ADC out of a chic, urban space in downtown Cincinnati that less than a decade ago was an abandoned warehouse. Spanos used her savings to rehab the entire property from a building with bricked-in windows to a bright, open space worthy of gallery shows and private events hosted there today. Sylvia eventually returned to her love of art and has owned local gallery Malton Gallery since 1998, where she hosts art exhibitions, sells to private collectors and consults.

Now, ADC's revenue is more than $1 million a year, ranking in the top 2 percent of women-owned businesses in the country. Spanos and her company were recognized by the Cincinnati USA Regional Chamber of Commerce and WE Celebrate as the Woman-Owned Business of the Year in 2013, a designation based not only on her company but also her philanthropic side. That idea of giving back has always been at the forefront of Spanos' work.

For example, health care facilities like hospitals and senior living communities make up a large portion of ADC's clients. Cincinnati Children's Hospital Medical Center is one of their biggest accounts.

"Art can be very healing, not just for the patients but for the employees — to be proud of where they work and the visitors, the people coming in to see their loved ones," Spanos explains. "They want an inspirational space. They want to be taken away from the anxiety that they're feeling. Art can do that."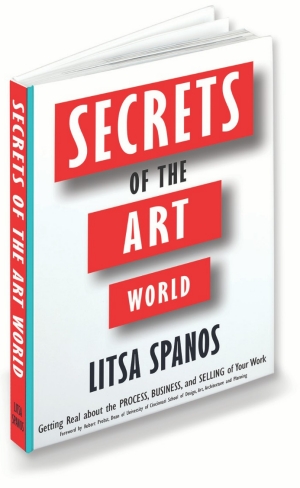 And now her book, "Secrets of the Art World: Getting Real about the Process, Business, and Selling of Your Work," serves as another means for Spanos to pay it forward and help others.

The book features autobiographical stories and business tips from Spanos and advice from several working artists, gallery owners and other industry professionals. Workbook pages encourage the artists to list goals, manage their schedules and develop their brand right in the book. Action steps prompt them to put what they're learning into motion, like seeking out a mentor, researching trade shows and creating a marketing strategy. There's a major focus on inspiration and positive thinking with motivational quotes from artists and other public figures and suggestions for self-care. A key takeaway is for artists to look at their work as a business.

"Being an art dealer and selling art is one of the most exciting experiences," Spanos says. "But, first and foremost, it's a business. I you can't make money, you can't pay your artists, and they won't be able to make a living. I wrote the book to help artists be successful in business."

It's not just for artists, though. Much of the advice in the book — such as always researching your market, avoiding the use of industry jargon and never committing to unrealistic deadlines — are applicable to any entrepreneur, artist or not.

"Secrets of the Art World" garnered the approval of DAAP dean Robert Probst, who wrote the foreword. Spanos' goal is for the book to be part of the curriculum in DAAP and in college classrooms across the country.

"One of my dreams is to get this in every university's art department and have it be required reading for every student," Spanos says. "Because I think they need it. That's why I thought having Dr. Probst write the foreword — because DAAP is so world-renowned as an art school — could really set the tone to get the book out to all these different art schools everywhere. That would make me so happy, if I could help young, emerging artists."
Learn more about Art Design Consultants
Purchase "Secrets of the Art World"
Explore UC's College of Design, Architecture, Art, and Planning and College of Education, Criminal Justice, and Human Services