Latest Magazine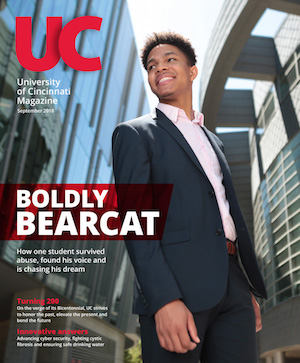 September 2018
Boldly Bearcat
Finding his voice
Danger in the tap
Virtual defense
Global game changer
Celebrating UC's Bicentennial
Browse our archive of UC Magazine past issues.
Shelly Sherman and Keisha James are participating in the University of Cincinnati's Mentor Me UC program. The program boosts careers and builds a culture of inclusion for both newer employees and more-experienced staff alike. photo/Joseph Fuqua II/UC Creative Services
Power of influence
For other staff members –– especially those still working on their education –– looking ahead at the opportunities for moving upward doesn't always come easy.
But UC maintenance worker Izaiah Johnson has learned first hand from his mentor Dy'an Marinos as she described rising from her earlier career in manufacturing to her current role as a program coordinator in the Office of Equity, Inclusion and Community Impact. She presents educational programming and just completed her doctorate in education.
"This program has been a big step for me because I feel like I needed that push to aim higher for my career," says Johnson. "I have been in janitorial services since I was 14, so watching Ms. Marinos' success has helped me see so many possibilities for myself. I now look into similar programs where I can earn certificates and grow in my own career."
Without the benefits of a mentoring program herself, Marinos learned how to navigate the educational system while developing new career options along the way –– all by trial and error.
"While I rose through the ranks, educating myself while moving into new career positions, I had no mentor," says Marinos. "My role as program coordinator provides wonderful opportunities to engage with large and small groups of people across the campus and Greater Cincinnati communities, but I was looking for a way to connect with individual community members.
"The 'Mentor Me UC' program provides me with an opportunity to give back, to mentor someone in a way I wish I had been coached when I left manufacturing. So working with Izaiah in this way has been extremely fulfilling."
No matter the level or position, mentors and mentees alike are finding new paths for developing their careers through Mentor Me UC opportunities. 

Bleuzette Marshall, vice president of UC's Office of Equity, Inclusion and Community Impact speaks at the first Mentor Me UC reception in February.
For more information and to participate: