Latest Magazine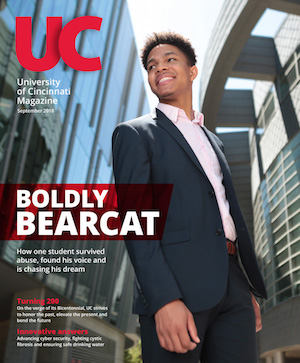 September 2018
Boldly Bearcat
Finding his voice
Danger in the tap
Virtual defense
Global game changer
Celebrating UC's Bicentennial
Browse our archive of UC Magazine past issues.
UC President Neville Pinto visits with students at Oak Hills High School on March 2, 2017.
The teacher's teacher


UC alumnus Dan Boles, a teacher at Oak Hills High School, reconnected March 2
with his favorite professor, now president of UC, Neville Pinto.
Story by Marianne Kunnen-Jones (513-556-2019)
Photos by Andrew Higley/UC Creative Services

March 3, 2017
When Dan Boles studied chemical engineering at the University of Cincinnati, he never dreamed that one of his favorite professors would someday become its president.
The Dec. 17 announcement by the UC Board of Trustees appointing Neville Pinto as the university's new president earned high remarks from Boles. Pinto served on UC's chemical engineering faculty from 1985 to 2011 before leaving to become dean of engineering at the University of Louisville
"This was my favorite professor back in the day as a ChE; he was a great teacher," he tweeted.
Boles, who graduated in 2003 with his bachelor's degree in chemical engineering, now finds himself at the head of the class as an engineering teacher at Oak Hills High School. He and his former professor reconnected March 2 when Pinto visited two of his classes.
"I was a hard-nosed guy, so I'm surprised he reached out," quipped Pinto, about the tweet from Boles.
"You were tough, but I liked it," responded Boles with a grin.
In a later interview, Boles recalled that Dr. Pinto "asked you great questions and talked to you person to person...He was a good teacher, and he was one that I remember the most. He wanted to make sure you understood. It was hard, but he cared."
Pinto visited two of Boles' Ohio College Credit Plus courses, a program that allows high school students to earn college credit while still in high school at no cost.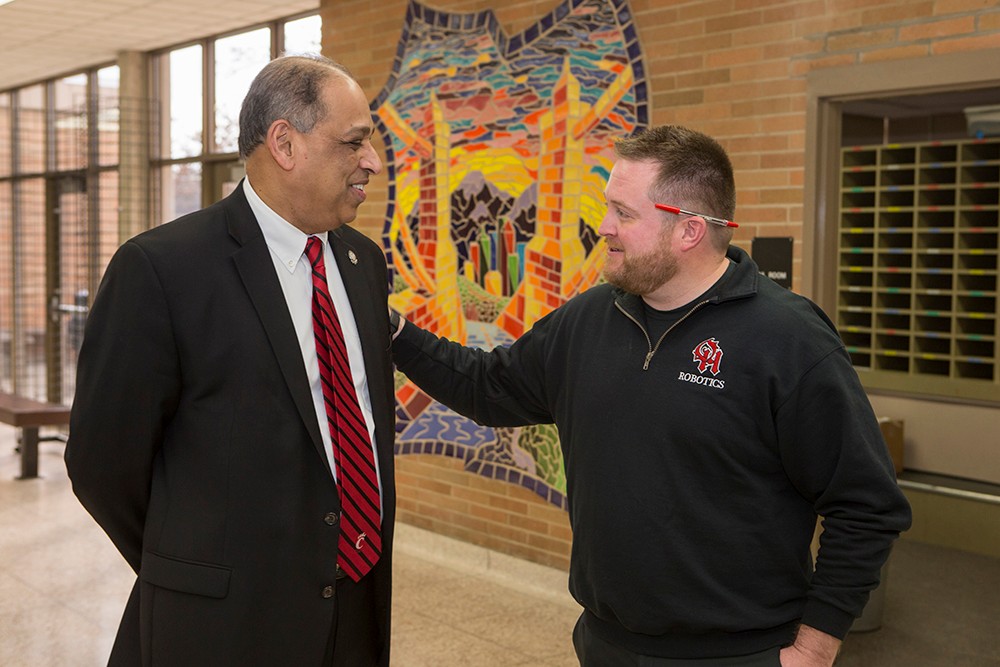 In one class, geared for students planning to pursue engineering majors in college, at least 10 students indicated they had been admitted to UC's upcoming first-year class.
Members of Scotbots, the Oak Hills High School robotics team for which Boles is an advisor, demonstrated their latest creation for Pinto: a robot that will compete in a March 8 regional contest at Wittenberg University.
Samantha Oakes, the head coder for the robot's construction, explained that advanced placement courses in computer science gave her the JAVA programming skills needed to make the robot work.
"This is what this project is all about," Pinto said approvingly, "needing people with different sets of skills to put something together."
The most challenging part of the project?
"Staying in the size limit," the students told Pinto, referring to the dimension and weight limit of 120 pounds. Their Scotbot was 114.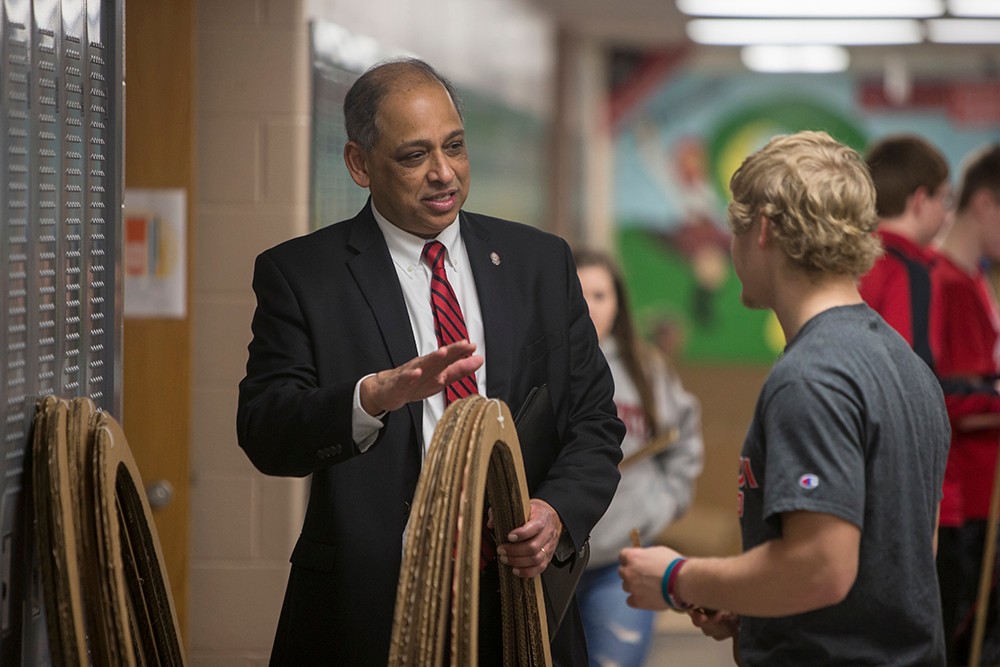 In the second class, designed for students who want to explore science and technology, students showed off a project in which they have to build cardboard chairs that have to withstand the weight of their teacher (about 200 pounds).
Team Ocelot — made of up Marie McClurg, Jessica Schloemer, Andy Busker and Jordan Asman — hurried to finish theirs so that their teacher's teacher could take a seat and test its limits.
First, Boles sat down on it. It held together. Then Pinto sat down and it still remained standing. Oak Hills Superintendent Jeff Brandt tested it next.
The chair, they all agreed, was not only durable, but also comfortable.
Pinto offered some sage advice to the college-bound students, urging them to follow their passions.
"I was watching your faces as you worked," he told the engineering class. "You clearly love working on this robot."
Boles, he noted, discovered his passion for teaching after co-oping as a UC student for three different firms and then working for a year as an engineer at Procter & Gamble.
"Clearly he loves what he is doing," Pinto told the students. "The first year [of college] will be a challenge. It will be hard. But stick with it."
Pinto cautioned students that because college often represents a student's first experience away from the watchful eye of their parents, they may encounter distractions that could lead them to lose focus on academics.
"Remember what your parents taught you," he said, advising students to always remember why they went to college.
Boles isn't the only UC alumnus at Oak Hills. Pinto also met with UC alumni Dan Couch, a graphics design teacher who graduated from the College of Design, Architecture, Art, and Planning, and AP calculus teacher Andy Schroeder. In Couch's class, a student presented his concepts for a new Brent Spence bridge on I-75.
Pinto concluded the visit with a tour of the high school building led by Brandt and a group of National Honors Society students, in which he visited the school's makerspace, library and newly renovated auditorium.