Latest Magazine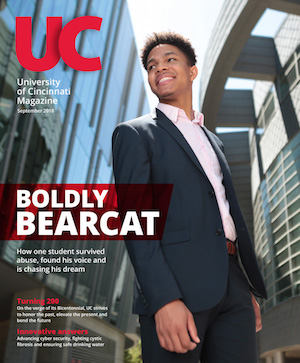 September 2018
Boldly Bearcat
Finding his voice
Danger in the tap
Virtual defense
Global game changer
Celebrating UC's Bicentennial
Browse our archive of UC Magazine past issues.
Clear skies ahead
Graduates claim their UC degrees at eventful April 29 Commencement ceremonies
by Jac Kern
513-556-1823
Photos by Joseph Fuqua II, Andrew Higley, Lisa Ventre and Jay Yocis/UC Creative Services
April 29, 2017
University of Cincinnati graduates and guests didn't let a morning downpour dampen the excitement of spring Commencement, where UC conferred 6,317 degrees to 6,171 students in two ceremonies Saturday, April 29.
Due to thunder, lightning, high winds and hail, the morning Doctoral Hooding and Master's Recognition Ceremony moved from Nippert Stadium indoors to the Campus Recreation Center.
Weather conditions then made a sharp turnaround in the afternoon, allowing the Commencement Ceremony for undergraduates to take place in Nippert as planned — and with ample sunshine and smiles.
President Neville Pinto addressed the crowd, congratulating graduates on their success and urging them to never forget how they felt on this day.
"Remember feeling unique in the midst of a crowd. Remember feeling grateful for the shoulders you stand on. Remember feeling free to pick the future you want, not the one you're dealt. Remember the sense of height, the sound of hope, the smell of home and the strength in unity."
Saturday marked Pinto's first Commencement since his return to UC as president in February. He echoed the word of American poet Adrienne Rich, encouraging grads to take ownership of their new degrees.
"Professor Rich argued that an education should not be something that you simply 'receive.' An education must be something that you 'claim.' Claim your UC degree. Claim it to be the spark you need to light up the world."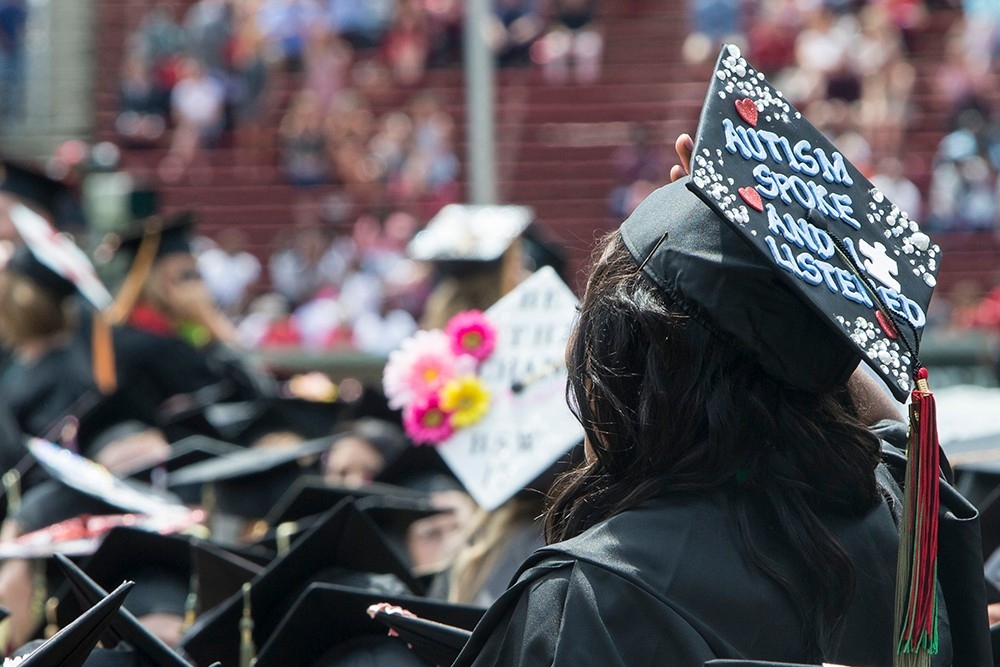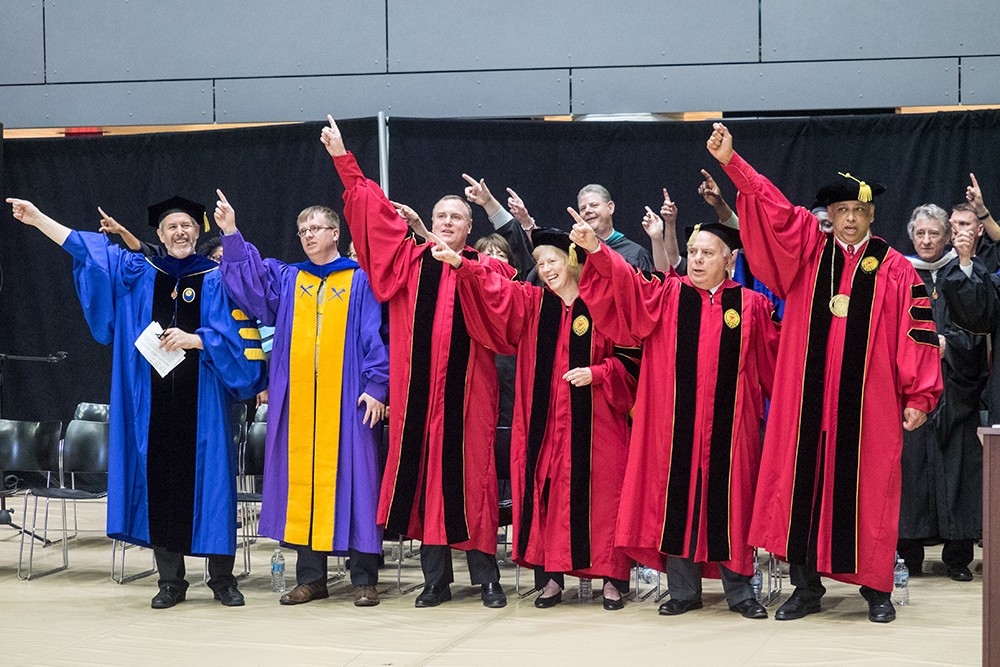 UC's morning and afternoon graduates experienced near polar opposite weather conditions.

Honorary degrees
UC bestowed two honorary doctorates, its highest award, during the spring commencement ceremony.

Former UC president and current Chancellor of the State University of New York Nancy Zimpher received an Honorary Doctor of Humane Letters. A widely recognized leader in higher education, civic engagement, economic development and urban education reform, Zimpher served as the 25th president of the University of Cincinnati — and UC's first woman president — from 2003-09.

UC alumnus and sports broadcaster Lewis Johnson was awarded an Honorary Doctor of Letters. Johnson has worked with NBC, CBS, ABC and ESPN over the course of his career and has covered nine Olympic Games.
Return to Nippert
Campus renovations moved Commencement from its longtime home in Fifth Third Arena to Nippert Stadium, where the ceremonies were last held in 1984 — and for decades before that. Commencement was first held in Nippert nearly 70 years ago, in 1949.

Because of this move to a larger venue, undergraduate ceremonies that were previously separated were combined into one afternoon event.

Over the years, Commencement has been held in old McMicken Hall, Wilson Auditorium, Burnet Woods, Riverfront Stadium, the Armory Fieldhouse, Riverfront Coliseum (now US Bank Arena) and Cincinnati Gardens, among other venues.
In their words
"I am the first in my family to go to college. When I started UC I struggled to succeed. I didn't know I had a learning disability. I was told I would be lucky to graduate, let alone get higher than a C average. Thanks to the support of my husband and Disability Services, I have been successful. I am graduating and I've been on the Dean's List. Advice I would give incoming freshmen is don't be afraid to ask for help. If you don't seek help you have further to fall which means you have to work harder to get back. One day you will get there — don't measure your success against others."
Melissa Eiler, McMicken College of Arts & Sciences


"Balancing both academics and basketball on the collegiate level is my most remarkable achievement. My favorite memory from my time at UC is definitely traveling with my teammates."
Brandey Tarver, College of Education, Criminal Justice, and Human Services

"I want to tell you that hard work does pay off. I'm a returning student after raising my children and now I have finished my BA degree in Early Childhood Education. I want to say to the incoming class to focus and stay on track by organizing your time wisely. Don't depend on someone else to ask the questions — ask the questions your self and remember it is your future that you are working on, so get everything out of college you can and remember to take one day a week for yourself because you are worth it."
Joeann Ralston, UC Blue Ash College

"I am a proud Bearcat and take the chance to tell people that whenever I get it! UC gave me countless opportunities from becoming a leader in my sorority, Delta Delta Delta, to seeing all the beauty this world has to offer through studying abroad in England, France and Italy. I grew as a student and teacher in my college, CECH. This university gave me so much and made me into the woman I always hoped I'd be, and for that I owe everything to the University of Cincinnati. Thy loyal children we will be!"
Demetria "Mimi" Castanias, College of Education, Criminal Justice, and Human Services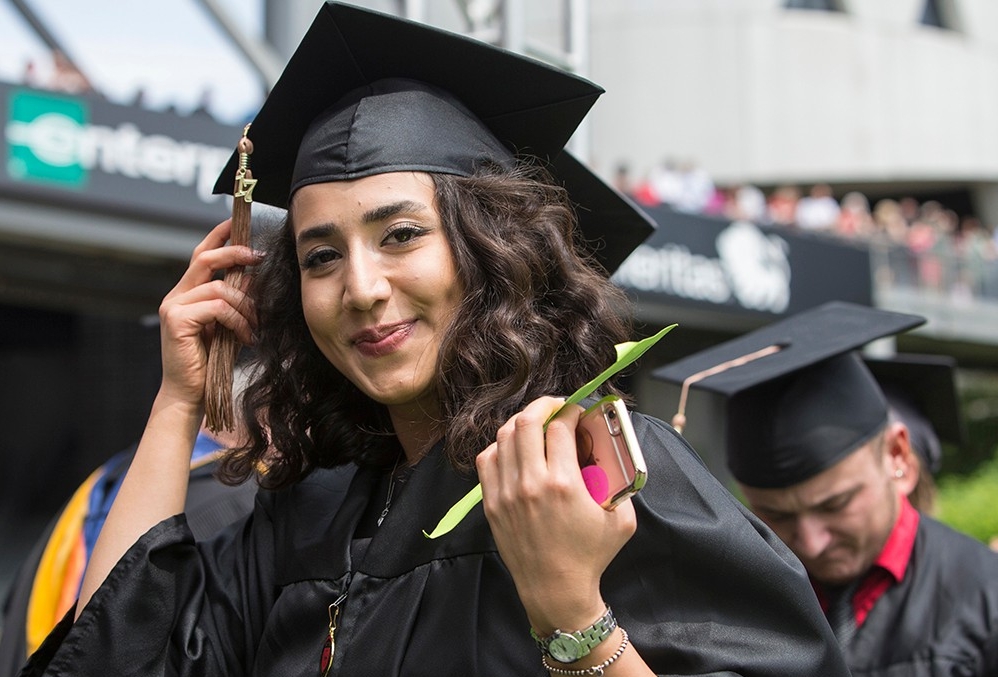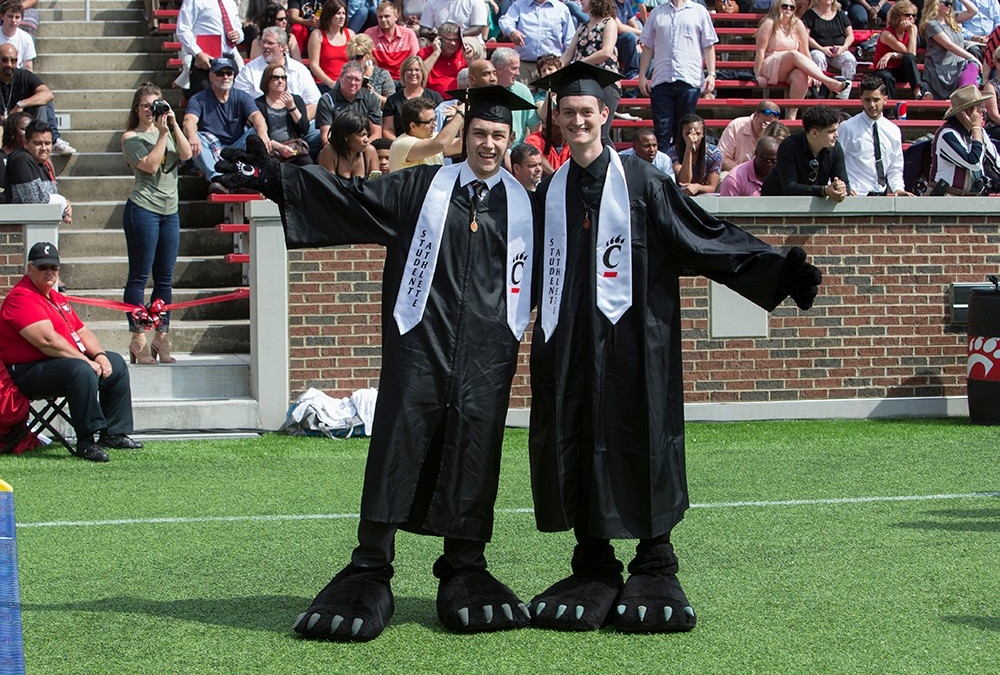 "My passion to help people began in high school. I attended Seton and I was required to completed 100 hours of community service to graduate. At first, I complained. However, once I experienced volunteering at a soup kitchen and Good Samaritan Hospital and working with children with special needs at a summer camp, I knew I wanted to devote myself to helping others and improving the community, which is why I chose social work. The heroin epidemic is a major concern because it affects the community as a whole, and has affected people that are close to me. I have worked at the treatment center, First Step Home, as I progressed through college and I also interned there. After I graduate, I strive to continue helping people who suffer from addiction."
Victoria Cipriani, College of Allied Health Sciences

"I enrolled at UC in the fall of 2010. I am finally graduating seven years later (not a doctor) because I missed a lot of school during basic training, deployment to Afghanistan and Guantanamo Bay. The Army National Guard and UC are everything to me and I wouldn't trade them for the world."
John McIntosh, College of Education, Criminal Justice, and Human Services

"I am the first child in my family to attend college, as well as completing and graduating with my bachelor's degree. This is such a remarkable achievement and I'm so proud of myself for fighting through the blood, sweat and tears to get to this point in my life. I want to thank my mom, my grandma, and all my friends who helped me through this journey, but I really want to thank my boyfriend Caleb who has dealt with every emotion that I threw his way. He motivated me to keep going and I appreciate him for being there for me. I'm so happy to see this day finally come, and I want to wish all the other students who are graduating much luck in their journeys after this day ends."
Jasmine Doll-Sledge, McMicken College of Arts & Sciences

"I was one of 10 million people to be selected for a Green Card Lottery to come to United States. That changed my life forever. I came to this wonderful country in June 2009 and started my BBA at UC in August 2009. Coming from Kenya, Africa, where there are no financial means to pay for tuition, such as loans, unless you come from a wealthy family, I cannot emphasis the opportunities this country and college has given me enough. Immediately after completing my BBA with a major in accounting, I started part-time MBA and after eight good years, I am graduating with a BBA and MBA while working full time with no student loans."
Riken Patel, Lindner College of Business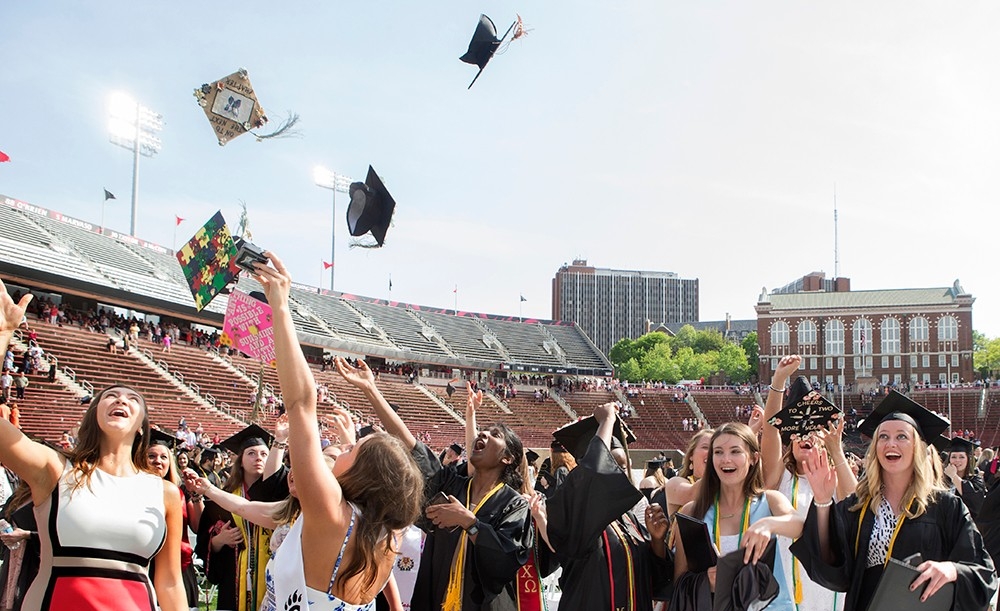 "I worked for seven years in an engineering job with great benefits, but became more interested in the analytics side of manufacturing. I tried to take online courses in my free time, but couldn't quite build the foundation needed for a pivot. I even looked at jobs in the area and was deemed unqualified. I started to look into data science "boot-camps" and MBA programs to build my skill set and network. Then I got a flyer from the MS-Business Analytics program at the Lindner College of Business.
"I met with a program advisor the next week to hear about the curriculum and was blown away. The same advisor helped link me up with scholarships and I enrolled a month later. It's been one of the best decisions of my professional career to use graduate school to help change my career path. I've built my technical foundation and my network, had the opportunity to work on local and global projects with St. Xavier High School and GE Digital and landed my dream job. All in eight months' time. Thanks, UC!"
Danny Shah, Lindner College of Business

"I am an Operation Iraqi Freedom combat medic veteran who has overcome my battle with PTSD, the stressors of planning a wedding, being a father of a 10-year-old boy and a non-traditional student at UC East Cohort of the College of Nursing program. The most remarkable achievement that I have completed as a UC student is completing my Capstone project regarding the importance of order of draw in blood labs during clinicals. My favorite memory from UC was my time spent with the Veterans Programs and Services at UC football games with the Wounded Warrior Project. I got to walk with many other veterans down the catwalk up to the game against BYU. I am the first of six children in my family to graduate from college and hope that I inspire my brother and sisters to do the same. The best advice I can give to any incoming students is to never give up and fight to the end. While some classes can be difficult and leave you feeling defeated, do not let them keep from succeeding in your efforts and attaining your goals."
Carl Whalen, College of Nursing

"I remember my senior year of high school — I didn't plan on applying for college. My father was a manager for a restaurant and my mother is a server, and money was the main factor. My principal convinced me to apply for the Bob Lawhorn Scholarship. I was amazed to find out that they selected me for the scholarship, which paid for four years' full tuition. Throughout my years in college, a lot of different events happened. The worst would be the loss of my father on Oct. 28, 2016. I got the call that he committed suicide the night before a big exam in my immunology class. I didn't work or go to school for a week, which put me both behind financially and academically. I honestly didn't think that I was going to able to finish the semester and graduate the next semester. With the empathy and help of my professors, I was able push through and get back on track with my education. Not only am I graduating for myself, but also for my father who was not able to make it to my Commencement ceremony, even though I know he'll be there is spirit. Thank you, University of Cincinnati, cor helping me achieve my goal and my father's goal."
Christina Marksberry, McMicken College of Arts & Sciences
"So many people don't understand how difficult it is to work full time, have children in school, kids in sports and other activities and go to school yourself. The fact is, it's taken me 15 years to get to where I am today. I have a son in high school and a middle school-aged daughter. I am excited to show them that no matter how long it takes, no matter how hard it gets, finishing what you started is important. Fulfilling the commitment I made to my own education demonstrates that."
Colleen Smith, UC Blue Ash

"I'm so thankful to finally be graduating from the University of Cincinnati. It's been a long and difficult road but I'm proud to say I've earned it. I transferred here from Cincinnati State and have been working on my bachelor's with a major in marketing for the past two years. I've had to overcome many obstacles along the way. Though it was difficult this has also been the best time of my life. I've also met some amazing people along the way and have made relationships that will last a lifetime. My social network is so much larger than it was before attending the University of Cincinnati.
"My advice to incoming students would be to start off on a good note. Don't wait until your last two semesters to catch up. Start out strong and you will have a good college experience without having to worry about struggling with your grades. I've been working on opening up my own business during college and plan on launching an apparel line along with some other ideas I've been turning into a reality. I plan on coming back to the University of Cincinnati and earning my MBA once I get my career going. Once again I can't express how thankful I am to my family and friends that have helped me get this far. I'm excited to start this new chapter in my life!"
Tyler Spangler, Lindner College of Business

"I was not able to attend regular high school due to a medical issue. I was put on home instruction and had to complete high school online. I completed the required classes in two years and began full-time classes at UC when I was 16. I completed my associate's degree at 18. I am now receiving my bachelor's degree and just turned 20 last month. I have worked full time at Children's Hospital while going to UC full time and will be graduating with honors.
"What I have learned is that a difficult situation can turn into something amazing given the right drive, ambition and attitude. I am applying to graduate school in the fall and hope to start my MBA at 20 years old."
Nicholas Hopkins, UC Clermont