Latest Magazine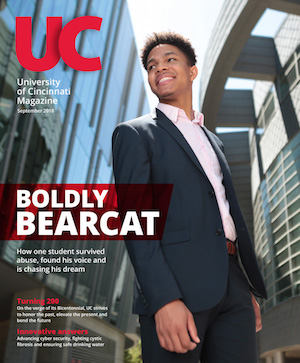 September 2018
Boldly Bearcat
Finding his voice
Danger in the tap
Virtual defense
Global game changer
Celebrating UC's Bicentennial
Browse our archive of UC Magazine past issues.
From left, Tamie Grunow, chief human resources officer; Robert Ambach, senior vice president for administration and finance; UC Board Chair Tom Cassady; President Neville Pinto; Beth McGrew, university architect; and Tanya Ladd, center director.
Ensuring staff success

The university's new strategic direction, Next Lives Here, identifies staff enrichment and development as key in support of UC's education, research and service mission. As such, the new Staff Success Center opened April 12.
By MB Reilly
513-556-1824
Photos by Joseph Fuqua II/UC Creative Services
April 12, 2018
The first realized accomplishment of the university's Next Lives Here strategic direction is the new Staff Success Center, designed to foster development, engagement, support and collaboration. And its opening speaks to the important role of staff at the University of Cincinnati.
So said President Neville Pinto at the center's April 12 ribbon cutting.
Speaking to the staff present, Pinto stated, "You are such an important part of UC's mission. I think you should know that each of you impacts students in a way that you don't always recognize, but they will remember for the rest of their lives, and that is why you are so important to our plan."
He recalled his own student career at Penn State where staff members -- three of whom he mentioned by name -- "were important in getting me where I am today. They probably had as much to do with my successfully completing my PhD as my faculty mentors did. And I'm grateful always."

The new center is the result of feedback from the University of Cincinnati community as well as national trends related to employee professional development, a key component of the university's new Strategic Direction, which focuses on supporting staff.
The new Staff Success Center, located in Room 440 of University Hall, will provide developmental programs toward staff learning needs and objectives as well as time and resources toward building organizational capabilities and talents amidst change.
Tamie Grunow, senior associate vice president and chief human resources officer, explained, "Our employees are telling us that professional development matters and that it matters a lot. As instructional, technological and workplace needs accelerate, we must be nimble in supporting our employees and providing them the time, tools, resources and opportunities to engage in projects and to develop abilities that match emerging needs."
She added that in both UC and national surveys, about 90 percent of employees – sometimes even higher percentages – say that learning, engagement and support offerings are a worthwhile investment in their careers and that professional development and career growth opportunities are very important.
In turn, skills enhancement for employees, training, collaboration and education is critical to meeting organizational needs and the institution's mission. It's also key in providing a truly inclusive environment where engagement opportunities, partnerships and active learning are readily available to all.
"Creating a rich, engaged, collaborative environment for all employees will, in turn, foster the very best living and learning, research and service experiences for our larger community of students, alumni, patients, fans and friends," according to Robert Ambach, senior vice president for administration and finance. He further credited Grunow and Tanya Ladd, center director, and their respective team members for their planning efforts related to the new Staff Success Center.
"Research has shown a direct correlation between the actions and behaviors of our faculty and staff and how the students feel at a university," added Ladd at the ribbon cutting. "This investment is going to directly impact the students, and that is a critical move forward."
In speaking of the UC College-Conservatory of Music students present at the ribbon cutting, Pinto suggested, "Those students owe their education...their success as much to the staff as they do the faculty. We're all a team with a very important mission...to educate the next generation of leadership in our society.... So when I think of 'Next Lives Here' I think of next, and the most important part of next is the next generation."
Emily Baute, UCIT public information officer, agreed. At the day's ceremonies, she left feeling thankful for leadership that recognizes how importantly staff are connected to the student mission: "This ties us together and makes me feel like I'm part of something good."
The new center will offer:
Professional development workshops and certificate programs
Mentorship programs as well as interview and resume coaching
Online and instructor-led training
Team building and consultation services
Systems education: UCFlex, Catalyst, Concur, etc.
These developmental opportunities will support institutional goals, attract and retain top talent to, and at UC and contribute to:
Education leading to improved job performance and service to colleagues, students and the larger university community
Engagement through adult learning based content, delivery and support
Support in career and academic advancement leading retention and internal talent pipelines for succession planning
Collaboration in anticipating and addressing the needs of the university community
Promotion of an environment to foster learning, teamwork, communication and morale
Providing a central location to foster and spread a culture in which knowledge and expertise are shared among the campus' diverse members