Latest Magazine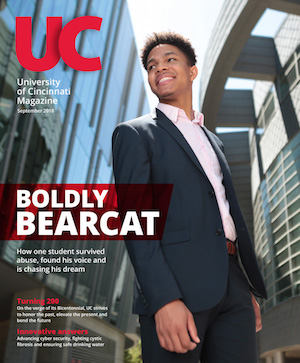 September 2018
Boldly Bearcat
Finding his voice
Danger in the tap
Virtual defense
Global game changer
Celebrating UC's Bicentennial
Browse our archive of UC Magazine past issues.
A sweet send-off
UC president offers words of wisdom, chocolate to summer graduates

Nearly 2,000 University of Cincinnati graduates and their guests filled BB&T Arena for summer Commencement on Friday, Aug. 4. The ceremony took place on the Northern Kentucky University campus due to the ongoing renovation of longtime UC Commencement venue Fifth Third Arena.
UC President Neville Pinto welcomed the grads to their "home away from home" — the arena will host UC men's basketball home games this fall — as they transformed the "land of the Norse into the land of Bearcats."
Pinto also shared words of wisdom he discovered in an unlikely place: A bag of chocolates.
Dove chocolates — the kind with messages printed on the inside of the wrappers — were placed on each grad's seat. Pinto shared some of his favorite Dove messages he discovered while doing "thorough and delicious" research:
• Be true to yourself;
• Believe the best in others;
• Walk to the beat of your own tuba.
"That means whatever you want it to mean," Pinto explained. "Forging your own trail, finding a new twist, framing a fresh take. There is nothing more transformational than that."
Outside of chocolatey words of wisdom, Pinto encouraged graduates to use their college experiences as a guide through life.
"As you walk into that unknown, your UC experience gives you a map and a compass to help chart your way," he said. "The map is your hard-earned degree. The compass is the well-learned ideals taught through our bold Bearcat traditions."
About the graduates

A total of 1,950 degrees were conferred to 1,943 students.


The summer 2017 graduating class hails from 47 states, including Washington, D.C., and 46 countries, from Afghanistan to Zaire. More than half of graduates are from Ohio.


The degree breakdown is as follows: 126 associate degrees, 692 bachelor's degrees, 987 master's degrees and 145 doctoral degrees.


Women represent 57.1 percent of summer graduates.


STEMM degrees were awarded to 53.7 percent of graduates.


Twelve percent of graduates are first-generation college students.


Ethnic minorities make up 18.5 percent of graduates.


The average age of all graduates is 29, with students ranging from 19 to 71 years old.


More than 600 students graduate from distance learning programs.
In their words
"Earning a BA in Psychology, a BS in psychology and an art therapy certificate has been a remarkable, exciting and humbling achievement not only as a 44-year-old adult learner and single mom of two incredible teenagers, but also having lost our family business in the 2007-08 economic crash.
I moved home to Cincinnati with the clothes on my back, two elementary-aged children, homeless due to foreclosure, a car from my parents as my company vehicle was repossessed and $20 in my pocket. I lost everything except what really mattered — faith, family and friends. My dad asked me what I was going to do. There was no hesitation — my answer was that I was going to UC. I needed to re-educate myself.
I went back to the future and it was a blessing. From pens and filler paper to everything technological! It was the same incredible campus with different tools and ways to learn.
If anyone has a doubt about the young adults of the future: Don't! These kids were the kindest, most intelligent 'peers' you could imagine. When I was not sure where to click for this or scroll for that, without hesitation, someone's son or daughter was right there to show me the way with a smile. I literally could be their mother, but they welcomed me with a genuine heart and brilliant mind.
UC has changed my life forever. From far below poverty level to gainfully employed, I am speechless grateful. I will most definitely give back to UC for moms who did everything right, but found themselves face down. The backbone of UC is strong; thus, today, I stand with tremendous gratitude and pride! Thank you, God, Mom and Dad (UC alumni), my children, family and UC community! Go Bearcats!
Carrie Stolzman, McMicken College of Arts & Sciences

"For years I was challenged in achieving my degree. I work a full-time job as an assistant teacher, part-time in home health care, I care for my 96-year-old mother and I had three close family members die all within a two month period. My mom's health/age is what pushed me to complete my education to the best of my ability. The road was rough at times, but through the help of God, I now finally can see the light at the end of the tunnel. Thank you, God!"
Shanda Flood, College of Education, Criminal Justice, and Human Services

"I began my UC journey back in the fall of 1989. Shortly after I enrolled, I started a family. Not the smartest move for an 18-year-old kid, but I do not regret my life choices. My children are my world. I had to drop out of school to support my family, but I never lost my desire to complete my education. I knew that education was the key that could unlock so many doors. In 1994, I received my associate degree from Cincinnati State. I knew I wanted to go further, but again, I had a family to support. Well, flash forward some 20-plus years. My children were mostly all grown, and I knew it was my time. In the fall of 2015, I began my journey toward my Bachelor of Science in health sciences, health information management. These past two years have been very challenging yet extremely rewarding. On Aug. 4 I will be able to walk across that stage knowing that I didn't give up on my dreams. The cherry on the top of it all: my daughter Gabrielle Belser will be graduating from UC the same day. She is receiving her MBA, and I couldn't be more proud of her."
Chanda Hardy, College of Allied Health Sciences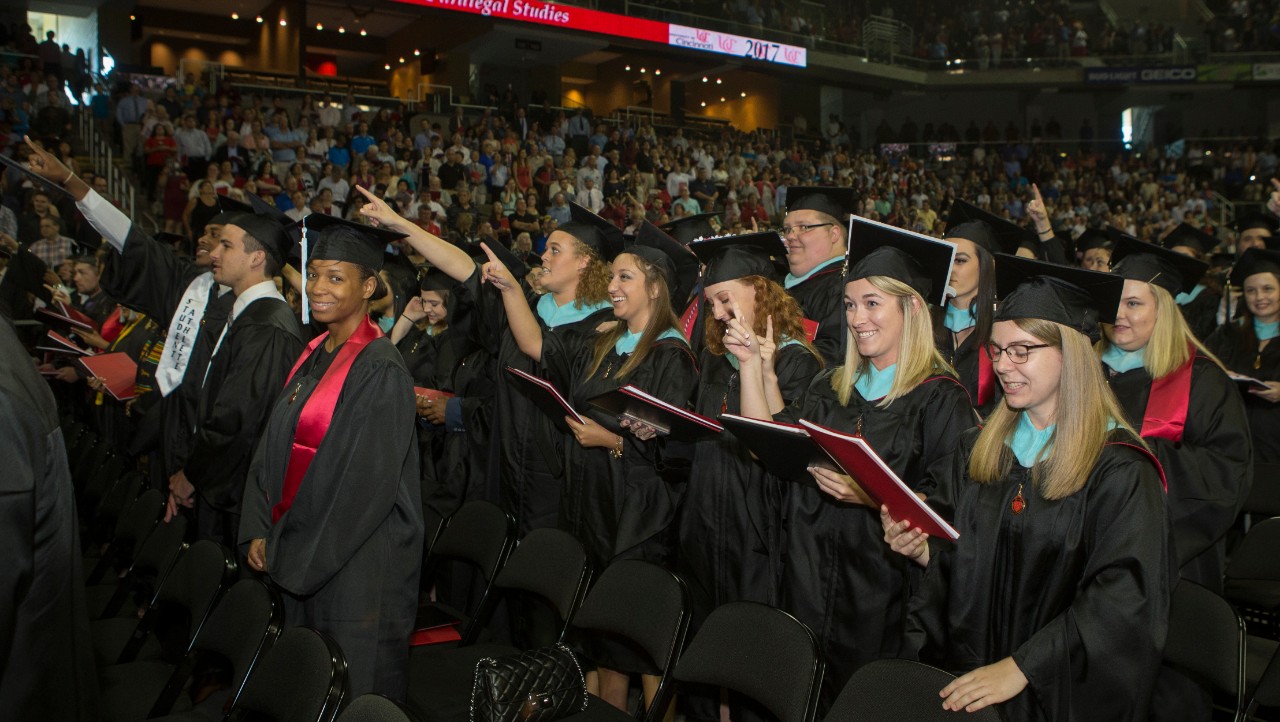 "My experience at UC has been a real challenge. Many personal issues created a difficult time obtaining my health information management degree. But with determination and drive I have completed my bachelor's."
Karen King, College of Allied Health Sciences

"On Monday, Aug. 25, 2014, I sat in Psychology of Sport, my very first class at the University of Cincinnati. As a transfer student, I felt all sorts of emotions. I was excited about my future at UC, but fearful I made the wrong decision to transfer and leave behind old friends.
My first class concluded, then my first semester, my first year and now I'm here. I'm graduating and becoming an alumna of the University of Cincinnati, class of 2017. Transferring to UC has been the greatest decision I have made thus far in my life. During my time at UC, I have grown academically, professionally, socially, emotionally and physically.
Thank you to the University Cincinnati. I have found myself and the person I want to be. My advice to incoming students, college students and really anyone: Don't be afraid to step outside your comfort zone. When you step outside of your comfort zone is when your goals and dreams are achieved. I took the jump and will be working in the Cincinnati Bengals' front office in a year-long internship that will allow me to transition into a full-time job in sports business.
Take the jump, you'll never regret it."
Nicole Zembrodt, Carl H. Lindner College of Business

"I am Hispanic and very proud. I am transfer student and I was very afraid to go back to college. Fear took over some of my time to graduate. I want to thank God for this university. I am very glad that I am graduating in August with the support of God, my mom and my siblings, my husband and family and all the professors. Thanks!"
Marangely Ortiz, College of Education, Criminal Justice, and Human Services
"You have probably heard about the son who chooses the same profession his father practiced. My experience was the exact opposite. That is, my dad chose the degree I wanted to pursue.
I considered myself to be the typical college applicant. After applying to the University of Cincinnati nine months before I would attend college, I discovered UC Clermont offered the Computer Network Systems (CNS) program. This was perfect for my career goals and because of the good prospects the Bureau of Labor Statistics' Occupational Outlook Handbook displayed about this career. I independently chose this profession, and I was ready to begin.
Meanwhile, Dad was in a completely different boat. He had received an Associate of Applied Science in Laser Electro Optical Technician from Vincennes University more than 30 years before I started college. He had been an employee at his current job for over 25 years. Sounds impressive, right? Well, the economic crisis had already started creeping into his workplace. Combine that with horrid management, and he was counting down the days until he was fired. He had been toying with the idea of returning to college, but he wasn't quite sure what to do.
He was justifiably nervous until he met someone visiting his workplace to do computer repairs. After speaking with him, Dad found out he wished he had become a computer networker because the jobs in their sector seemed secure and had a high pay. This moment was the catalyst he needed to return to college. He decided long after I did the research of colleges and degrees that he would follow my footsteps and attend the same college at the same time as me in the same program.
He had been with me during the process of discovering professions and saw the potential of the CNS degree I wanted to pursue. He also saw why I ultimately chose UC Clermont. It was very close to where we live, so we wouldn't have to pay for a dorm. The tuition was very cheap, which was very important since there would be two people in college at once, and we were still paying Mom's cancer bills. Most important, UC Clermont has the lustrous CNS degree. All around, UC Clermont was a great fit for both a 'standard' and a 'returning' college student.
It was miraculous how quickly Dad could apply, confirm and register for classes — about six weeks! From that point on, Dad and I stayed together through the fun and challenging aspects of the program. We were always in at least one class together, so we supported and encouraged each other a lot. Dad got a job in the field halfway through the degree.
Two years after we started attending UC Clermont, we are both graduating with a 4.0 GPA on the same day. We will walk by each other as UC Clermont marshals on Aug. 4, 2017. Though we came from different circumstances, UC Clermont and the Computer Networking Systems degree were the best fit for both of us."
Caleb Palmer, UC Clermont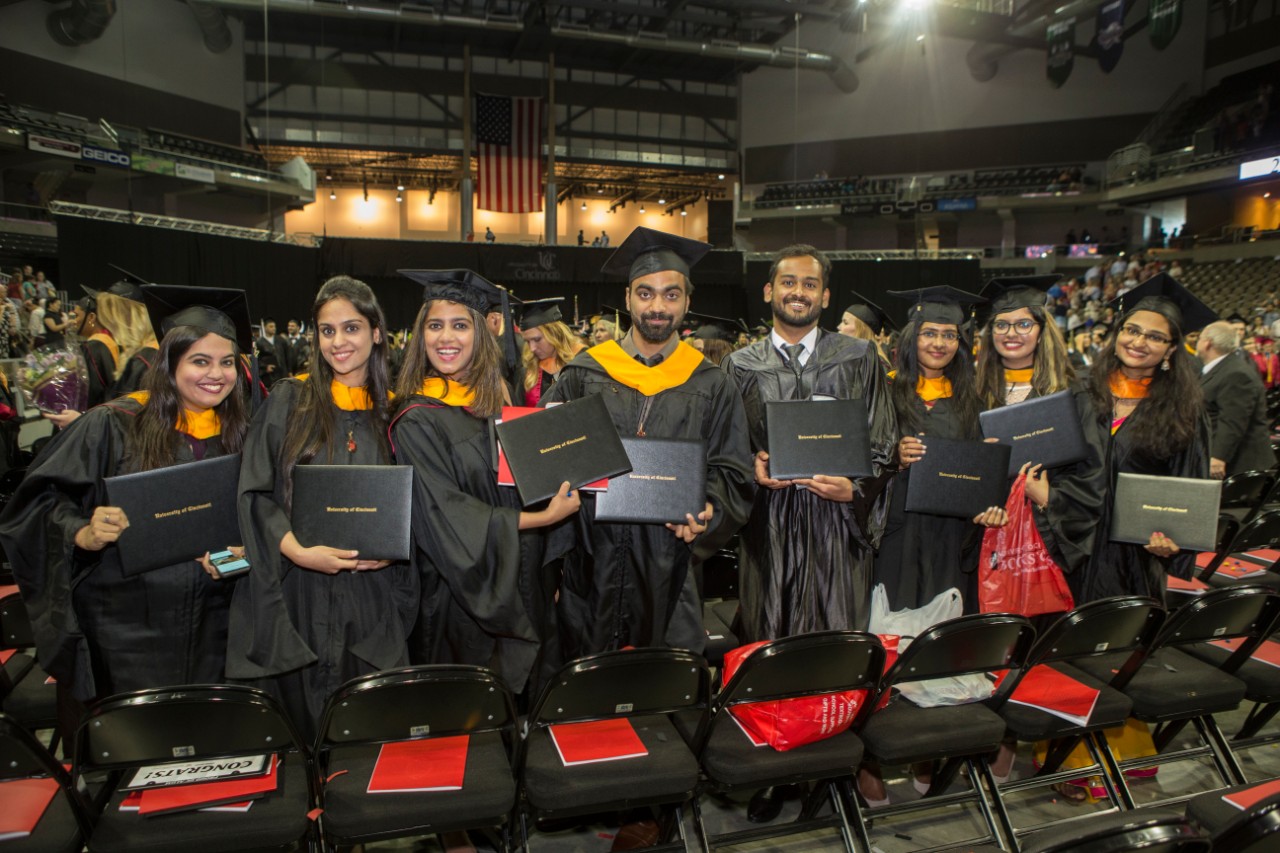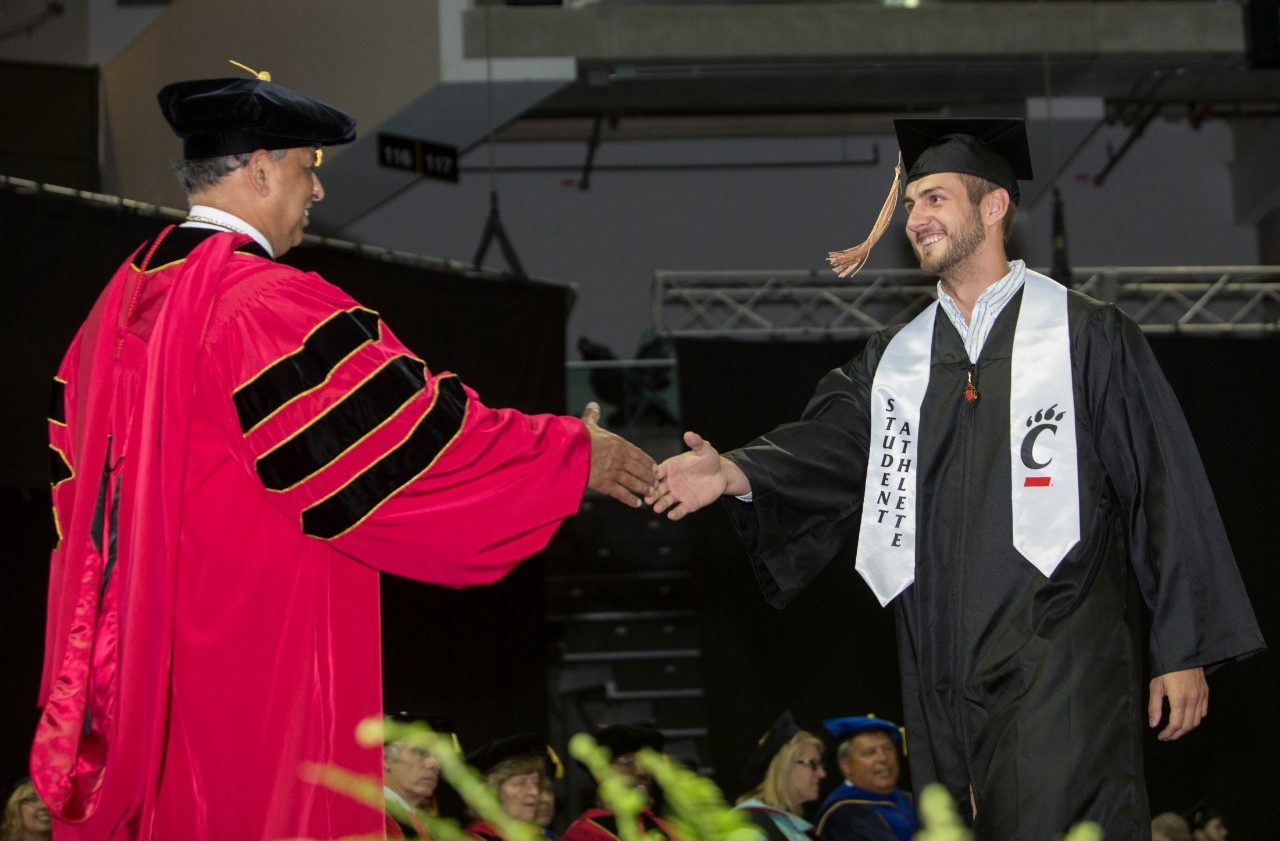 "I have been a student at UC on and off since 1981. During that time, my wife and I served in the U.S. Army and have raised three children. We have two beautiful grandchildren. As I graduate, I will also prepare for retirement as a police officer. This graduation is a lifelong dream and my way of thanking those who stood by me. As an elder statesman of this graduating class, I hope to show others with perseverance, anything can be accomplished."
William Nastold, College of Education, Criminal Justice, and Human Services

"I am a non-traditional student. This is my third time coming back to UC to obtain my bachelor's degree. I had to take breaks to raise my family and work. As my life changed, so did the need to return to school to finish my degree. It has been a tough road. My job allowed me to change to part-time so I could become a full-time student to finish my degree sooner. I struggled with some classes, especially statistics. But I kept trying and didn't give up. So, I'd say the best advice I can give is even if you have to repeat a class and even if it takes you longer to finish your degree, never give up. Believe in yourself and never give up!"
Cynthia Mills, McMicken College of Arts & Sciences

"My story is long, but the core of it is that everything is possible with determination.
The University of Cincinnati is my first educational institution in the USA after arriving from Ghana, West Africa. I was admitted into the accelerated nursing program in 2015 but opted to start in spring 2016.
Combining three kids aged six, four and one year with a husband and an accelerated program was challenging but I was determined to practice nursing, which has always been my passion. I had to take the kids every day to a nanny and to school, help with their homework and honor doctor's appointments alongside the school work. I was never absent from a class or clinical and that is what helped me through, because I had little time outside class and clinical hours.
With hard work, I was accepted into an honor society of nursing, Sigma Theta Tau, Beta Iota Chapter. I will encourage up and coming nursing students to take part in all academic activities available to them, listen to wisdom from the faculties and practice as many questions as you can for that has brought me this far. Best wishes to all."
Afua Ofori, College of Nursing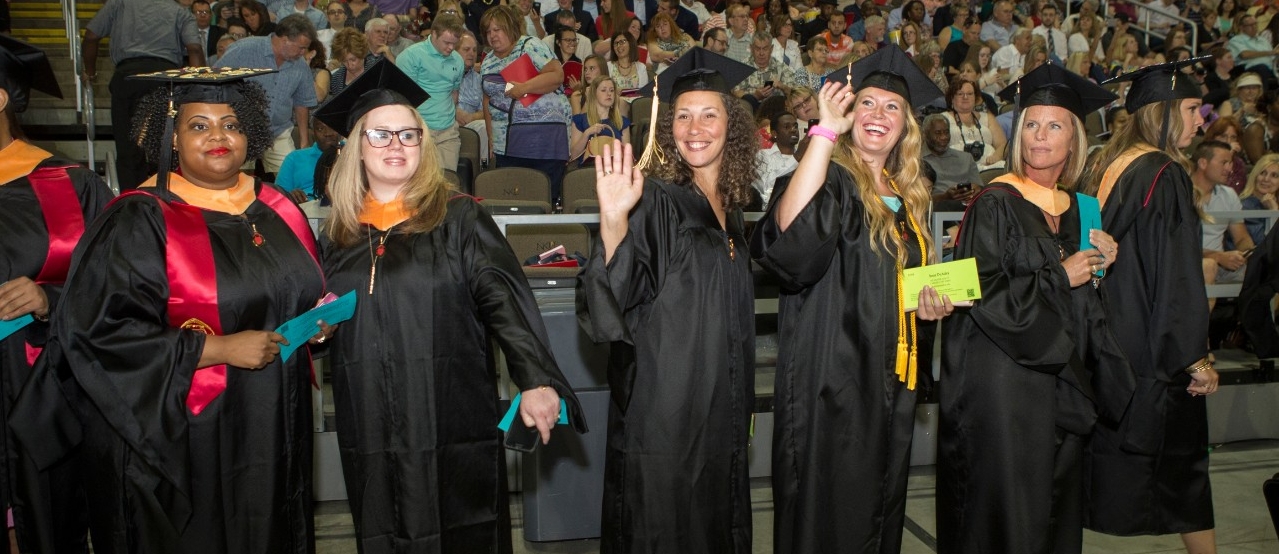 "I was feeling pretty aimless, but then a miracle happened. I took two years of college at a community college, then stopped. After a two-year break of uncertainty, I had a dream one night where God told me to go back to school. This was my dream at night and in real-life! I decided to follow my dream. Not only did I get into UC, but I made the Dean's List last semester! And I am actually graduating at the end of the summer. I cannot believe that I, of all people, actually finished college. And it's all because Jesus gave me that dream, which was the motivator for me to fulfill my dream of being a college graduate!"
Keilah Jude, McMicken College of Arts & Sciences

"I started at UC right out of high school. I dropped out after the first year. Feeling like a failure,I took a class here and there but I couldn't afford it. Frustrated working minimum wage jobs, I sought employment with UC as a means to go back to school. Then life got in the way. I got married, had kids. Eleven years later I went back to college. I got my Associate of Arts and then my Bachelor of Business Administration. In July of this year, I celebrated 25 years of employment with the university. I am happy to share that celebration with completion of my third degree, my MBA. For me, it marks a reflection of a 25-year journey to maximize my potential."
Gerrie Copeland, Lindner College of Business

"I was the first person in my immediate family to ever go to college. I started off with my associate degree at a local college then went on for my Bachelor of Science in Nursing online. I knew I was capable of providing a higher level of care and with the support and confidence of my family, I started this journey towards my master's degree.
Together, my family has overcome many challenges and sacrifices, but they have stuck by me and kept encouraging me all along the way. I could not have accomplished this without the love and support of my amazing husband and wonderful parents who have helped through this epic milestone in my education and future career. In addition, I hope my dedication and commitment shows my children the importance of obtaining a college degree for their future and that hard work and perseverance pays off in the end!"
Angela Keeton, College of Nursing
See more photos in the Commencement gallery.
Future Commencement dates and details