Latest Magazine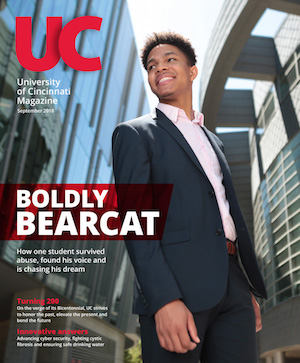 September 2018
Boldly Bearcat
Finding his voice
Danger in the tap
Virtual defense
Global game changer
Celebrating UC's Bicentennial
Browse our archive of UC Magazine past issues.
UC engineering student Austin Wessels holds one of the drones the UC College of Engineering and Applied Science is using to help Ohio's Department of Transportation fulfill its public mission. (Video by Paul Grundy and Andrew Higley/UC Creative Services)
Ohio panel recognizes UC's drone work

A new grant will help UC's College of Engineering and Applied Science continue its research into new drone applications in Ohio.
513-556-6757
Photos by Andrew Higley/UC Creative Servivces

July 18, 2018
The University of Cincinnati will get a share of a $6.3 million federal grant this week for its drone innovations.

The grant will allow UC's College of Engineering and Applied Science to continue developing unmanned aerial vehicles, or UAVs, for traffic monitoring and construction management projects. UC has a partnership to help Ohio's Department of Transportation create new UAV tools for bridge inspections, traffic counts and construction oversight.

UC's regional unmanned traffic management system was one of four projects selected from 33 applicants by the Ohio Federal Research Network, a collaboration created by Ohio lawmakers in 2015 to generate business opportunities in the Buckeye State. The goal of the program is to spur innovation in Ohio's aerospace industry. The grant was awarded under the group's initiative to sustain Ohio's defense and aeronautical readiness by helping institutions and industry overcome critical technical barriers.


UC's drone project demonstrates how this urban public university is leading students into a new era of innovation and social impact. Next lives here.

Ohio has a proud tradition in aerospace. The Wright brothers hailed from Dayton. The late UC engineering professor Neil Armstrong was the first man to walk on the moon. The late U.S. Sen. John Glenn was the first American to orbit the Earth and flew aboard the space shuttle Discovery. UC awarded Glenn an honorary doctor of engineering degree in 2013.

"I look forward to working with our amazing team to advance this exciting joint project and see this as a golden opportunity to embark on a very meaningful collaboration," said Kelly Cohen, professor of aerospace engineering in UC's College of Engineering and Applied Science.

The other selected projects in this round include a study of autonomous flying cars, detect-and-avoid navigation sensors and a brushless doubly-fed machine and drive system. The awards were granted to projects that served the research priorities of the Air Force Research Lab, the Naval Medical Research Unit Dayton, the National Air and Space Intelligence Center and the National Aeronautical and Space Administration's Glenn Research Center.

In its three years, the Ohio Federal Research Network has used $32 million in public funding to attract investment of $120 million for research awards.