Latest Magazine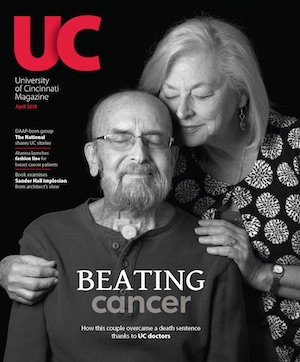 April 2018
Beating Cancer
Always room for hope
Musicians by design
Finding purpose in pain
Tower of glass
Inside job
Browse our archive of UC Magazine past issues.
UC celebrates record-breaking Commencement

UC awarded more than 6,400 degrees to 6,351 graduates this spring — the highest
number the university has ever seen for a class of spring term graduates.
The University of Cincinnati Bearcat nation is more than 6,300 graduates stronger.
UC conferred a record-breaking 6,445 degrees to 6,351 graduates – the largest ever spring-term graduating class in the university's history – during its 2016 spring Commencement ceremonies.
The class marks the university's third straight record-setting graduating spring class, surpassing last year's record of 6,335 students and handily beating the 2014 spring-term class of 6,272 graduates.
UC President Santa J. Ono led the four ceremonies, held April 29-30 in UC's Fifth Third Arena, which recognized both undergraduate and graduate students.
He urged graduates to use the skills and knowledge they've gained at UC to spread hope around the world, especially to those who have none.
"Carry that hope forward, wherever you go, and keep it singing inside you as part of your soul always," he told the students, in reference to the great American poet Emily Dickinson's poem, "Hope is the thing with feathers."
"You are a new generation of talented and educated global citizens whose creativity, courage and conviction can be counted on to confront all of the grand challenges that exist for humanity moving forward," he said.
Then, striking a lighter note, Ono paid tribute to another enduring American icon.
"Dearly beloved, we are gathered here today to get through this thing called life," Ono intoned as the chorus of Prince's hit song "Let's Go Crazy" belted out over the speakers amid a haze of purple strobe lights.
This year's spring graduating class joins nearly 300,000 Bearcat alumni across the globe, Ono told the graduates.
"You do not walk this journey alone," he said. "Once a Bearcat, a Bearcat always.
About the graduates
UC's spring 2016 graduating class of 6,351 students hails from 50 states and 78 countries. Nearly a quarter of the graduates earned master's degrees, and 295 students, doctorate degrees.

Nearly half of students received degrees in the science, technology, engineering, math or medical fields. More than 10 percent of students graduated from distance learning programs, while nearly 80 percent of graduates have taken at least one distance learning course.

Women comprise nearly 57 percent of the class. The average age of all graduates is 26, with the youngest overall graduating student 19 and the oldest, 68.

Numbers of those receiving Latin honors: summa cum laude (grade point average between 3.9 and a perfect 4.0) 225; magna cum laude (GPA between 3.75 and 3.8999) 404; and cum laude (GPA between 3.6 and 3.74999) 475.
Stand-out student stories
Honorary degrees
UC bestowed four honorary doctorates, its highest award, during the spring Commencement ceremonies. Recipients are:
In their words

UC has given me so many opportunities that I firmly believe I would not have had the chance to experience if I went anywhere else. I've made friends that I'll keep for a lifetime, I've gained real world experience through the co-op program, including working abroad in Singapore for an entire summer, and above all, UC has given me the education needed to be successful in my career! Stand first and last for old UC!
Chandler Curry, Carl H. Lindner College of Business

Diagnosed with cancer in second year at UC while on first co-op assignment at GE Aviation. Went through two surgeries while on assignment, came back to school in the spring and did physical therapy at nights while taking classes. Now, I've been in remission for three years and am graduating with my bachelor's degree in Mechanical Engineering. Thank you to my friends, family and especially my wife for supporting me throughout my college endeavors.
Andrew Kreger, College of Engineering and Applied Science
I am 60 years old and a mother of four. I thought that college was beyond my reach, but here I am today, graduating with my Master's in Social Work. It is never too late!
Janice Jones, College of Allied Health Sciences

At my previous college, I was told I would not get in to nursing school and that I should consider moving on. I was not ready for college and I was immediately discouraged; I then dropped out and lost hope. My grades were as poor as my attitude. But I knew that would not get me far. It wasn't until I came to UC that I understood I could go for what I truly wanted in life. Now, several years later, after making the Dean's List and with several generous scholarships, I'm graduating as a professional nurse. Take that, world!
Rebecca Burnett, College of Nursing

My time at UC has been great. My years here have been full of fun, change and growth. I will be graduating on April 30 with my BBA in Operations Management. In doing so, I will be the first in my family to graduate college.
Dennis Davis, Carl H. Lindner College of Business

My four years at UC have been the most remarkable years of my life and have shaped me into the person that I have always wanted to be. My advice to incoming bearcats is to come into college and hit the ground running. Get involved in everything that interests you and trust that the UC community has your back and wants you to succeed in whatever your passion may be. Get to know your professors, UC faculty and other students because you never know who will touch your life for the better. And know that it's okay if things go a different way than you originally planned because after all, everything happens for a reason.
Brenna McLaughlin, College of Allied Health Sciences

The campus life and activities were outstanding. I met lots of new people who are now friends and learned how to be a better student. I have grown tremendously. I know I am prepared for the next chapter in my life journey thanks to all who taught and supported me at the great University of Cincinnati!
Paul Stephens, College of Education, Criminal Justice & Human Services

My favorite memory from my time at UC was meeting so many diverse people that showed me how big the world really is and how important and amazing this college is. My advice for incoming students is that college may be hard, but it is completely worth it and don't slack off. My parents both got quite sick while I was in college and I almost had to drop out to help support their bills and my brother. The one thing that I'm really proud of is that I will be the first Studer to graduate college with a bachelors degree.
Jessica Studer, McMicken College of Arts and Sciences

I'm a student from China. I felt studying at UC is a such diverse environment. I got my bachelor's and MBA degree at UC. I'm so excited to be going out to see the new world. All thanks to UC for providing a such useful career service program. I love UC forever!
Zicheng Zhao, Carl H. Lindner College of Business

I am so glad that I was able to get a degree from such a renowned college. I am so happy to achieve this huge degree that was not only my dream, but also a passion of my life. I am more than happy and feel the luckiest person of my family to call myself a BEARCAT!
Kalpana Pandey, College of Nursing

I will be the first person on both sides of my family to earn a college degree. A challenge that I had to overcome while attending the University of Cincinnati and earning my degree was financial stability. I had to work full-time and pay for school myself. However, I didn't mind it gave me a sense of responsibility and a sense of accomplishment once I had paid off the payments for that semester. It was very stressful always trying to come up with the money, but I did it and couldn't be more proud of myself.
Linda Hunt, College of Education, Criminal Justice & Human Services

Attending UC has been a great experience! I joined the UC Marching Band back in fall 2008 and immediately was welcomed by this amazing program! It was great to be able to attend a BCS bowl game my first year (the FedEx Orange Bowl)! I've been part-time for many years, going to school around a full work Schedule, I'm proud to have completed my journey! Also, I've started an entrepreneur business in traveling the world! Thank you, UC!
Major Miller, UC Blue Ash

It took me six years to graduate, two years longer than the "average" student. I changed my major three times. I hit academic probation about three times. I conquered depression, and became aware of my mental health and something clicked. I chose psychology as my major because I wanted to help kids like me succeed in life by providing someone to tell them they can do it and that someone believes in them. I had important family members tell me I wasn't going to graduate. Look at me now.
Courtney Swiat, McMicken College of Arts and Sciences

In May of 2015, I began the master's program for Criminal Justice. I worked through 40-hour work weeks and long nights and weekends of coursework that, at times, frustrated me to the point of tears. Now here I stand, 22 years old, working as a social worker for Child Protective Services and graduating with my master's degree in Criminal Justice. I am #UCStrong.
Reghan Kidd, College of Education, Criminal Justice & Human Services

I come from a family that moved to the U.S. to find a better life for themselves. My dad came here in the 1980s working to support himself and to one day build a family. Years later, he is a successful business man with a family of five. With his help, I have been able to fully pay my tuition monthly without taking out loans. With his help, I will be the first one in my family to graduate college.
Amal Musa, College of Allied Health Sciences
Photography/Video Credits: UC Creative Services photographers Joseph Fuqua, Andrew Higley, Jay Yocis and Lisa Britton.