Latest Magazine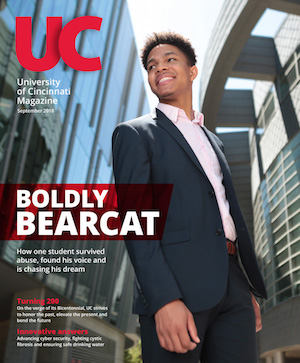 September 2018
Boldly Bearcat
Finding his voice
Danger in the tap
Virtual defense
Global game changer
Celebrating UC's Bicentennial
Browse our archive of UC Magazine past issues.
Participating in mindful yoga contributes to reduced risky behaviors in 18- to 24-year-old youth, says UC research professor Jacinda Dariotis.

The right track

Before joining UC as an associate professor of research, Dariotis spent the last decade at Johns Hopkins University gathering most of the data that includes neuroimaging and weekly questioning for hundreds of youth from all walks of life.
"I'm particularly interested in teaching at-risk youths to regulate their thoughts, processes and emotions," says Dariotis. "The neuroimaging allows us to see what's activated in one's brain while at rest or performing tasks to help us understand the intersection between hormones, brain structure and activity."
Dariotis found that at-risk youth who voluntarily spend their time reading books, playing sports or engaged in avoidance coping behaviors were twice as likely to avoid risky sexual behaviors or substance abuse. An example of avoidance coping behaviors, she says, is not thinking about a bad event that had occurred and instead, thinking about what could be better.
Dariotis found youths who were unable to develop positive coping strategies were much more likely to turn to greater risk-taking behaviors that included unprotected sex or sex for money, substance abuse, violence and crime.
Saving time, money and lives

Participating in weekly mindful yoga intervention programs as part of the current study taught the youths how to take control of their breathing and their emotions and helped them develop healthier long-term coping skills.
"These findings highlight the importance of implementing positive coping strategies for at-risk youth particularly for reducing illicit drug use and risky sexual behavior," says Dariotis. "Mindfulness-based yoga programs designed to improve the ability to cope are needed at earlier ages in schools to help vulnerable youths channel their skills more effectively."
Given the relative low cost of such programs and easy adaptations to different populations and settings, Dariotis says the return on investment may be substantial especially if they can reduce arrests, repeat offenses and other negative outcomes for risk-taking youth.