'The Waltons' creator Earl Hamner dies
Alum Earl Hamner charmed the nation with stories from Walton's Mountain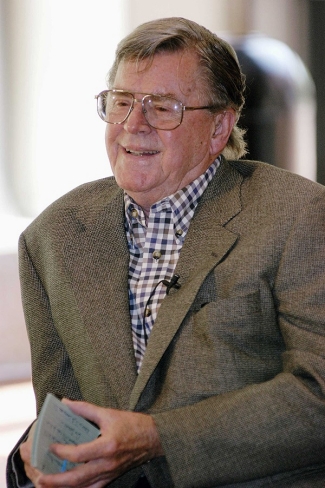 The gentle voice of "The Waltons" has been silenced. The narrator, writer and creator of the iconic television show, UC alum Earl Hamner, CCM '48, HonDoc '08, died March 24, 2016, in Los Angeles. He was 92.
It was Hamner's warm, distinctive drawl that was heard narrating the stories of would-be writer John-Boy, his parents and their large extended family living in Virginia's Blue Ridge Mountains during the Depression. The autobiographical TV series aired for nine seasons in the 1970s and won Hamner an Emmy.
A member of UC's first class of broadcasting graduates, Hamner got a job right out of college with local radio giant, WLW, on its writing staff. He moved to New York City to break into television. After struggling for a time, Hamner eventually got assignments writing for the "Today Show" and interviewing the likes of Eleanor Roosevelt and Tallulah Bankhead. It was also there that he met and married his wife, Jane.
The Hamners moved to the west coast -- but struggled again. Hamner's break came in 1959 when Rod Serling offered him a chance to write for "The Twilight Zone." "It came in the nick of time," Hamner related, "because we had spent all of our money and were living on handouts from Jane's aunt. I did eight of those original episodes." (Now published under the title "Twilight Zone Scripts of Earl Hamner.")

Two years later, Hamner had published a novel about his own family, "Spencer's Mountain." Two years after that, the book was made into a movie starring Henry Fonda and Maureen O'Hara. His next book "The Homecoming," again about his own family, became a made-for-TV movie, which led to "The Waltons" series.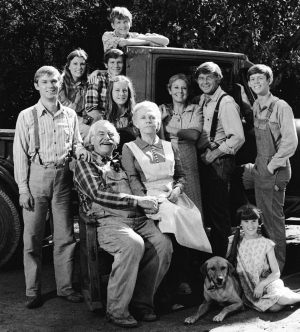 Following the CBS launch of "The Waltons," Hamner's career blossomed, and opportunities to write and produce continued to grow. He was the screenwriter of the original "Charlotte's Web" animated film and a producer of the 1980s television series "Falcon Crest."
UC presented him with an Honorary Doctorate of Performing Arts degree when he served as commencement speaker in June 2008. In his speech, Hamner noted that the people of his childhood were "decent, God-fearing, patriotic people. Like most Appalachian folk, they were frugal, proud and self-reliant.
"Some would have us believe that these values no longer have meaning, that they are quaint, outmoded relics of an older time. I believe they are more alive and well than our films and television and newspapers would have us believe," and, he added, "I do ask you to keep those traditional values in a quiet place in your heart."
UC President Santa J. Ono recalled, "We have lost a great friend and brother in the passing of University of Cincinnati alumnus Earl Hamner, Jr. We all felt like we knew him because of 'The Waltons' and its poignant portrayal of loving family life despite the struggles of the Great Depression. 'The Waltons' was a personal favorite of mine when I was a child, and I will always remember Earl's distinctive voice. I and so many others are blessed by the stories he shared."