Toys, sets and effects: UC contributes to 'Star Wars'
The Force is with UC alums with starring design roles connected to 'Star Wars,' including one designer who puts his own face on lesser-known characters.
Dec. 15, 2015
As "Star Wars: The Force Awakens" opens this Friday, it's time to revisit the University of Cincinnati's connections to the original film and its prequels and sequels. These UC design connections stretch back to the original film, nearly 40 years or "A long time ago….."
Mark Boudreaux: His toy story began as a UC co-op

"I think Star Wars is real," admits longtime Hasbro designer Mark Boudreaux, DAAP '78.
And maybe that's why he's able to make the space-opera epic so real to millions of children – and adults too, if the truth were told – as the designer behind every Millennium Falcon toy from the late 1970s on, with the latest version of the Han Solo space cruiser serving as the centerpiece to Hasbro's line of merchandise related to "The Force Awakens."
Boudreaux, 60, senior principal designer at Hasbro, began crafting Star Wars toy merchandise as a 21-year-old UC industrial design student who landed a university cooperative education work term at Kenner Products in January 1977, with the original Star Wars movie coming out in May of that year. (Kenner was later purchased by Hasbro.)
Image gallery of 'Star Wars: The Force Awakens' toys designed by Mark Boudreaux. But wait! Here's more.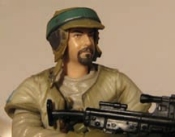 Since starting that co-op, Boudreaux has not only designed all five of the Millennium Falcon series, he's also put his own face on several Star Wars action figures – the Rebel Trooper, the Rebel Blockade Runner Trooper and the AT-ST driver – since the company allows portraits of members of the team to be used on background characters.
Boudreaux recollects, "I did the preliminary development on Kenner's original Millennium Falcon toy. Jack Farrah, (DAAP '69)…did the production development. And yes, that is my face on the Rebel Trooper, Rebel Blockade Runner Trooper and an exclusive AT-ST driver. LFL (Lucasfilm Ltd.) allowed portraits of members of the team to be used on 'background' characters – a little perk for us though it's strange to be mass produced in plastic."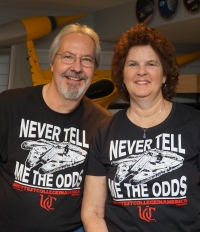 Producing that first Falcon took about a year from start to finish. And while today's process may be more seamless with the aid of computers vs. hand drawing schematics and hand sculpting in wax, the overall goal is the same: To take children beyond where the movie ends and further their fun by offering features not included in the film. And so, the toys extend the movie and help fans relive the fantasy.
For The Force Awakens "Battle Action Millennium Falcon," that means a cannon that pops up at the touch of a button and shoots a Nerf dart. See that feature and more in this short video from Bloomberg News:
Boudreaux recently received the Toy Innovator of the Year award at TAGIE (Toy and Game Inventors Con) for his work on the new Falcon, not to mention his induction into the Toy Collector's Hall of Fame earlier in 2015. And as episode VII comes to theaters, he's already anticipating hoped-for projects related to Star Wars' episodes VIII and IX, completing his third trilogy.
This will come as good news to his fans – yes he has them and is treated like something of a celebrity at toy and game conferences. They can expect that Boudreaux is likely to continue in his role as masterful designer.
And well they might.
After all, it's clear the Force is strong with this one.
Other UC alums at Hasbro who are associated with 'Star Wars: The Force Awakens' are Brian Parrish (DAAP '96) and Steve Bono (DAAP '91).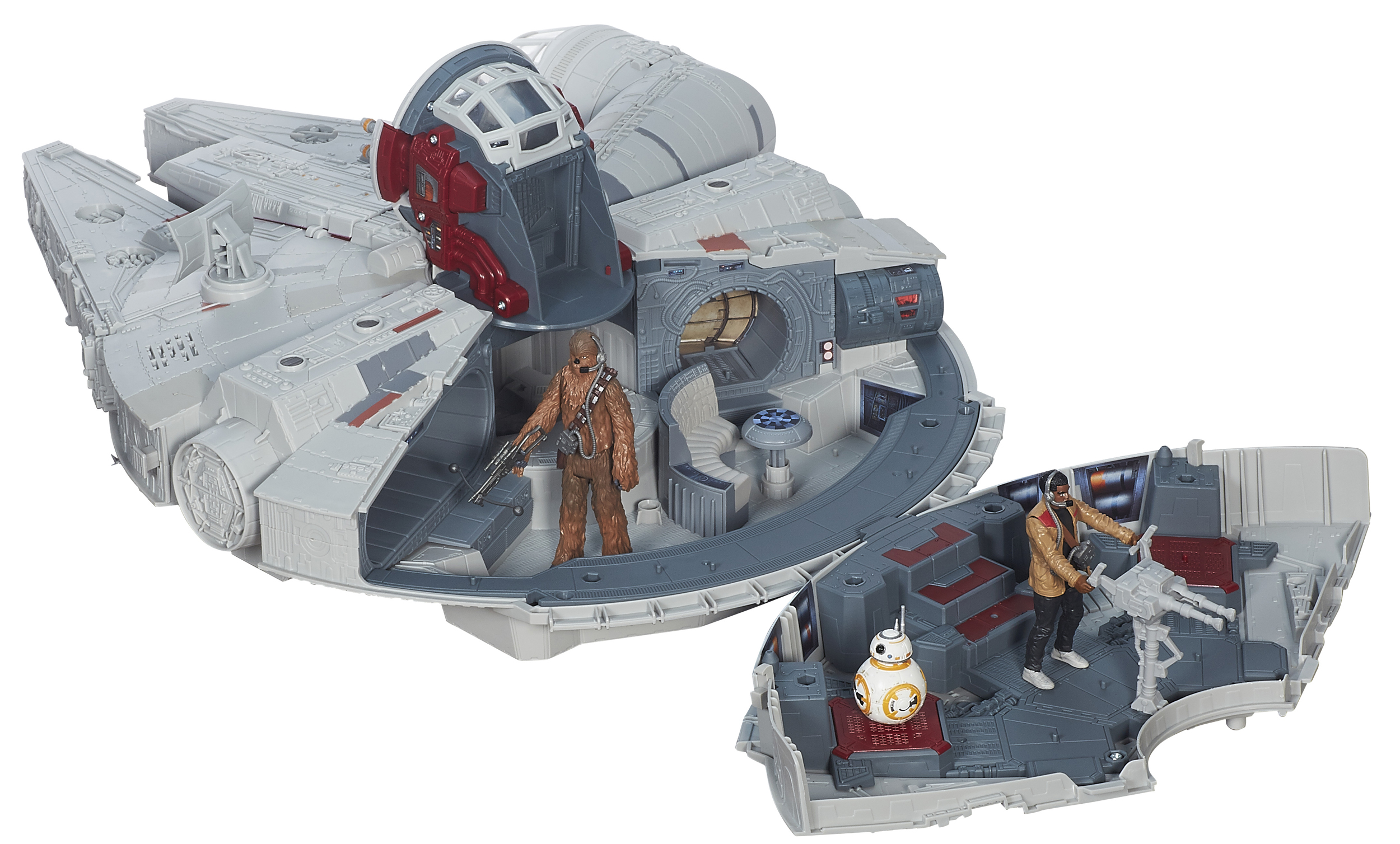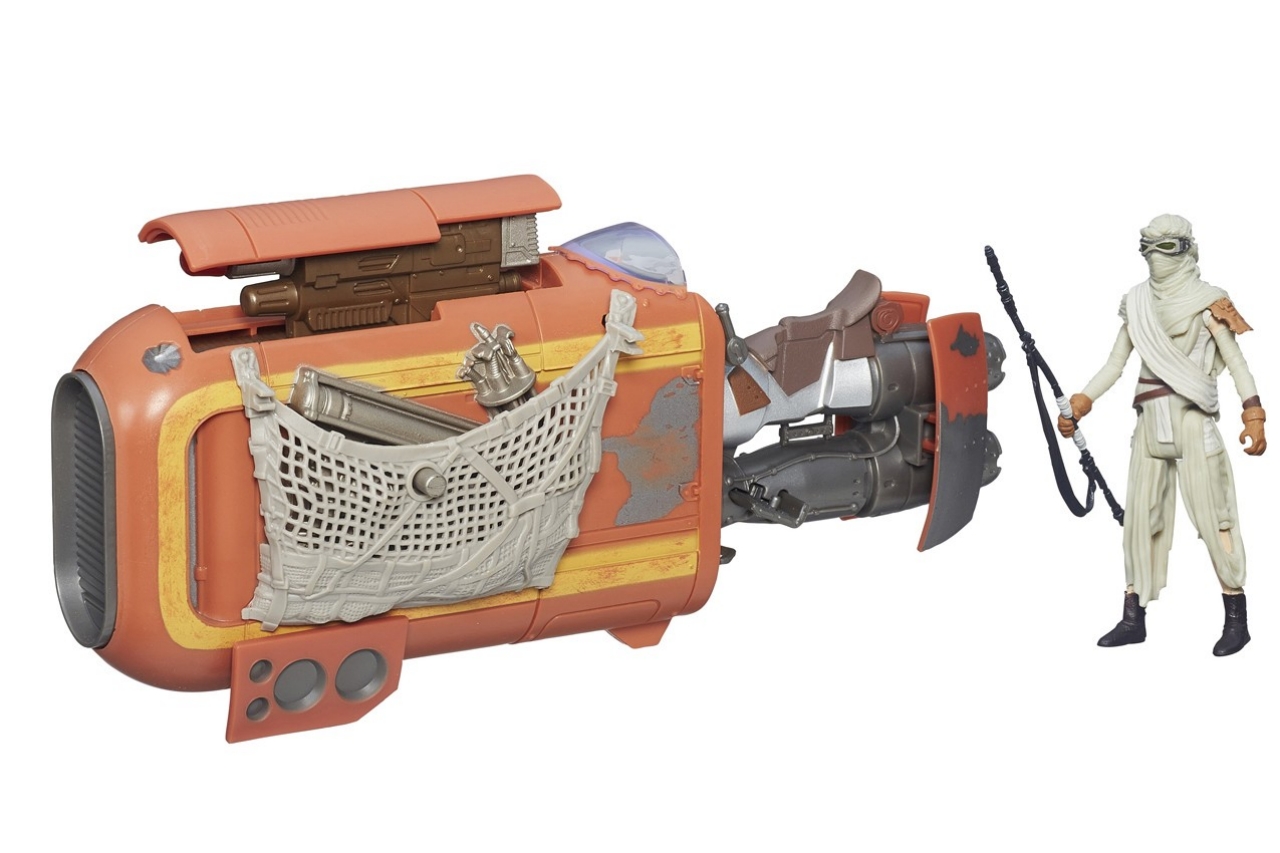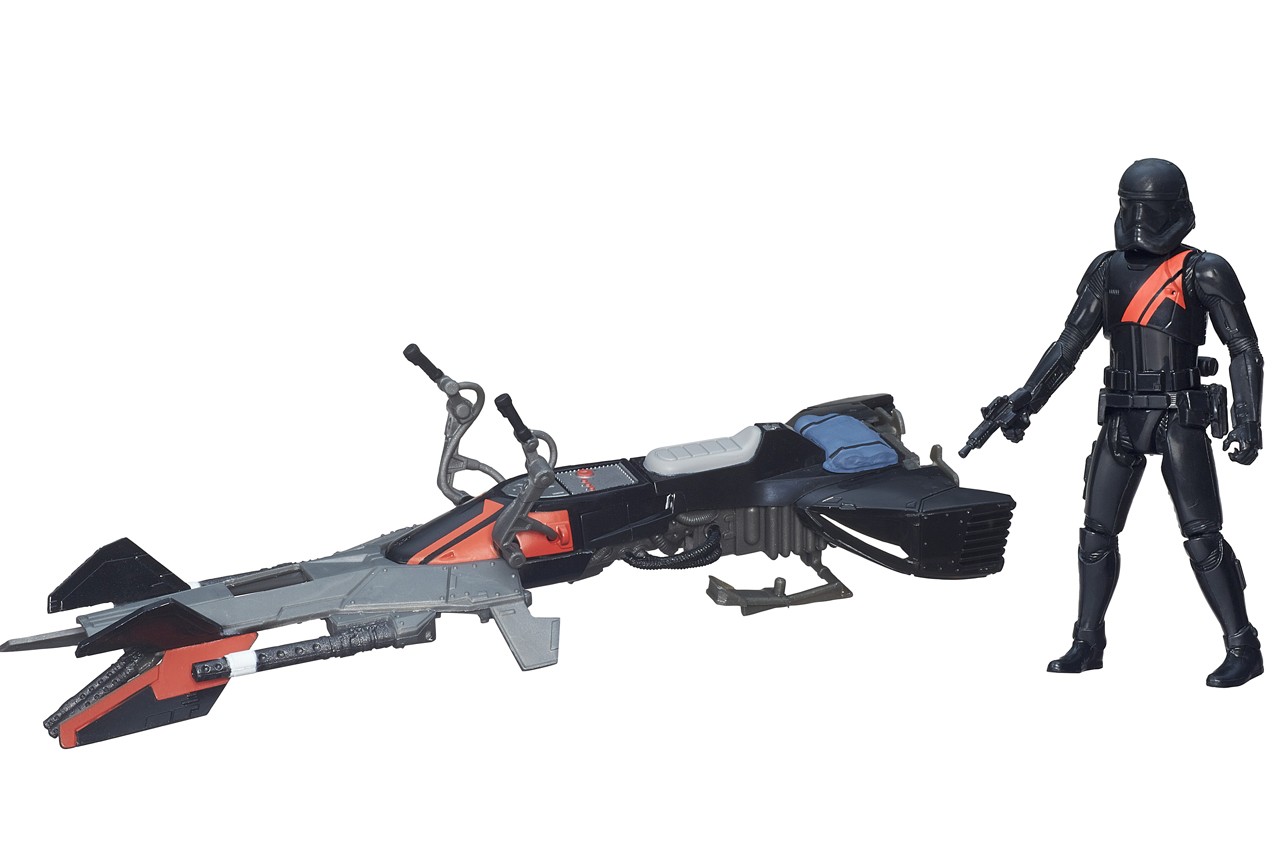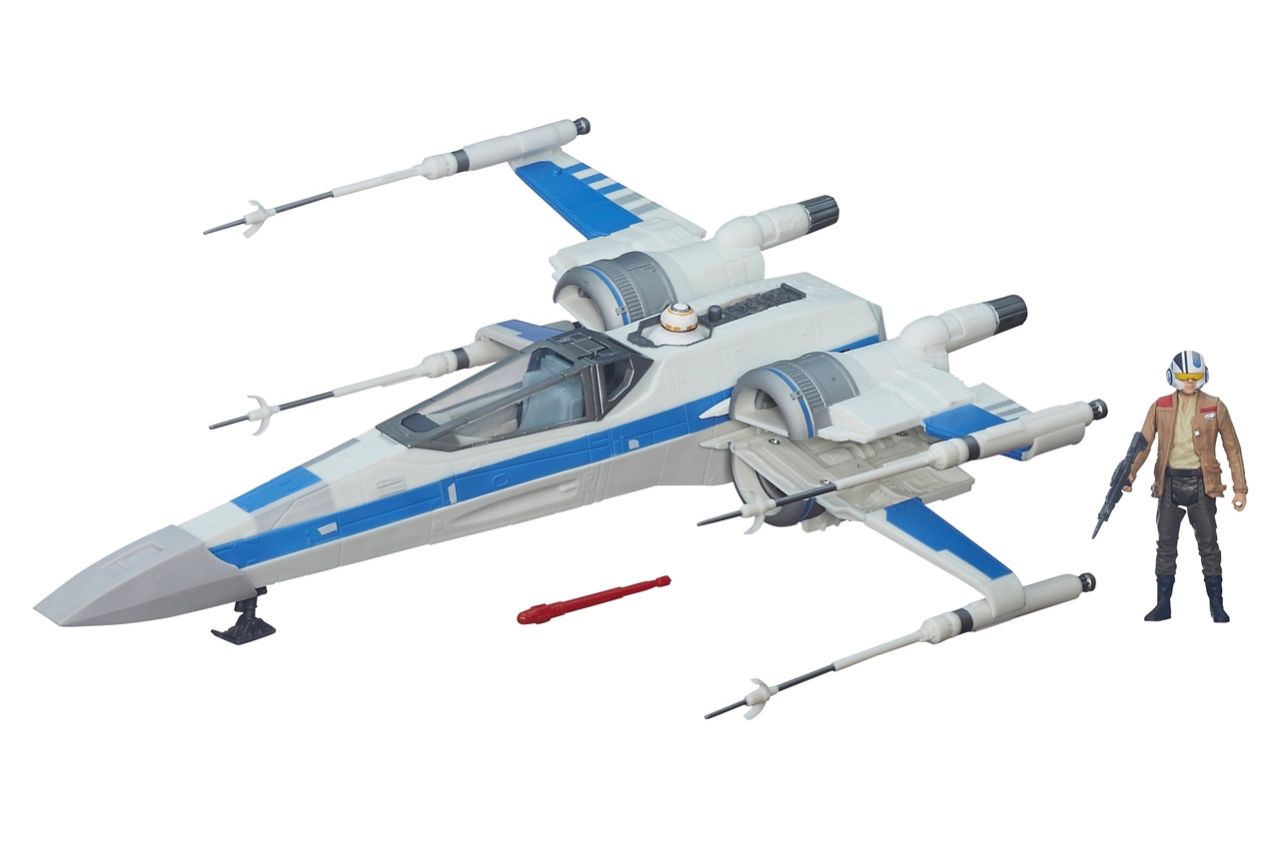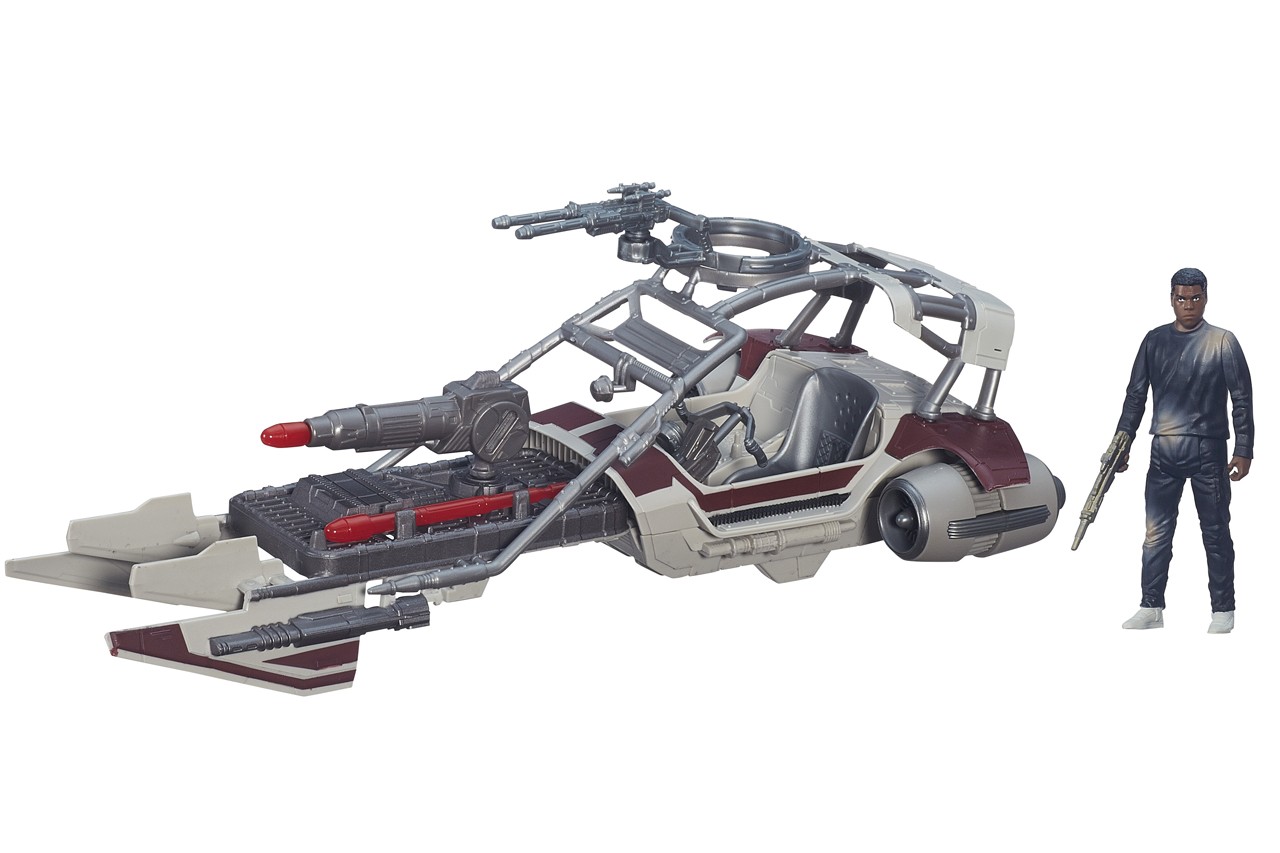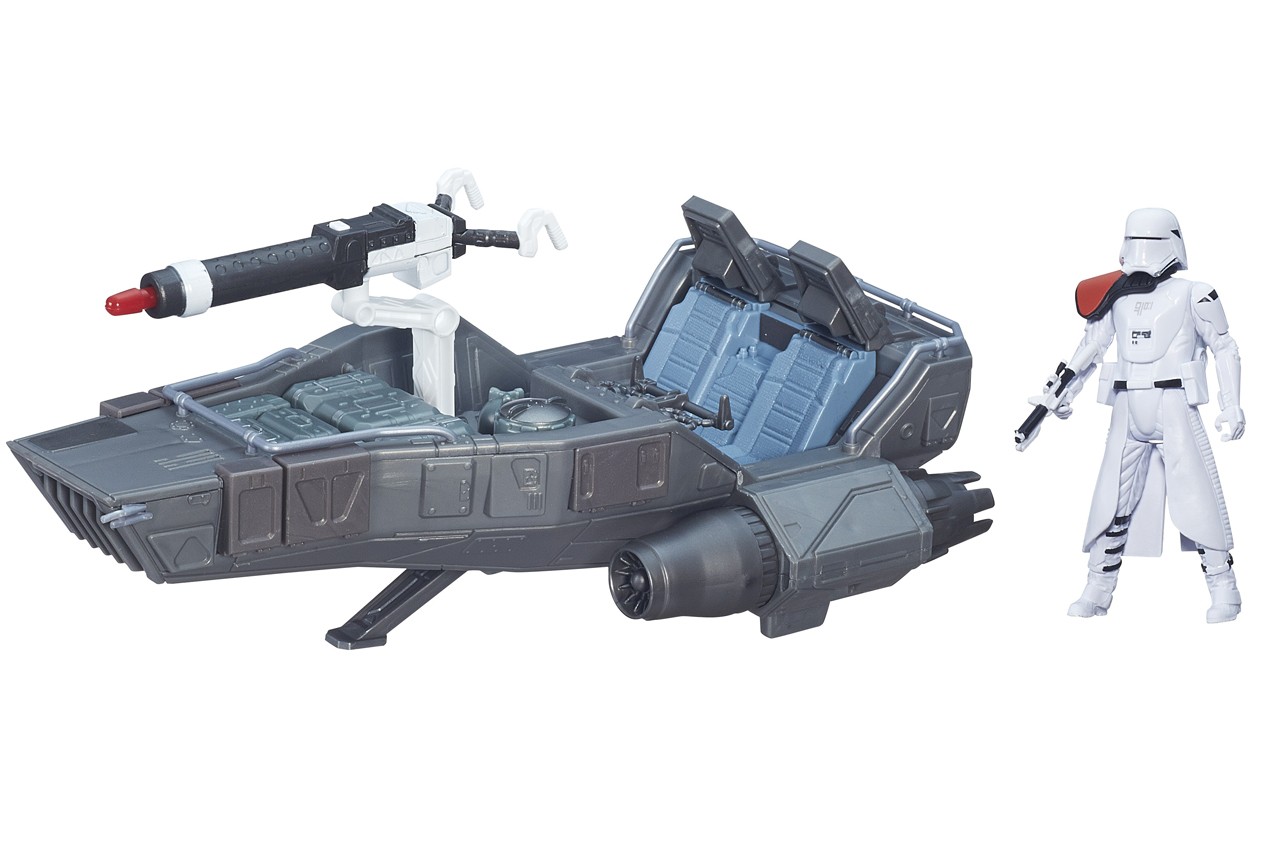 ---
See the UC Bearcats Star Wars tees
The three designs below, at left, are available on T-shirts via the UC bookstore. Go to the UC Bookstore link and search "Star Wars" to see the selection.
The Darth Vader design at right is available via DuBois Book Store, locacted adjacent to the south perimeter of campus. Or go online to the DuBois site and search for "Star Wars".



Other UC Alums with Connections to Star Wars

Jim Swearingen: Lunching with Lucas
Amazing as it may sound now, UC design alum Jim Swearingen, DAAP '72, Boudreaux's one-time boss, began working on the original Star Wars toy line mostly because no one else was much interested in that role in 1976, the year before the film became a smash hit.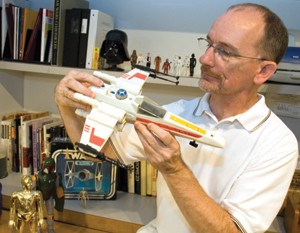 Swearingen served as the lead designer for Kenner's original "Star Wars" toy line when it came out nearly 40 years ago almost by happenstance.
Swearingen recalls his own boss, David Okada, coming in with a script and some photos form an upcoming movie called Star Wars. He recollects, "At the time, it was kind of like, 'Does anybody want to look at this?'"
Since Swearingen was familiar George Lucas' first sci-fi film, "THX 1138," which he saw as a UC student courtesy of the UC Film Society, he agreed to take the script home and read it.
The next day, he eagerly went searching for his boss and insisted that Okada read it, stating, "We have to do this. We have to make these toys."
And so, from 1976-79, Kenner's Star Wars toy line became Swearingen's responsibility, and he was the principal conceptual designer for the line, including the X-Wing Fighter, a rocket-firing Boba Fett, a Luke Skywalker figure and a Princess Leia figure.
Once, he even had lunch and an hour alone with filmmaker George Lucas and his dog.

It seems Kenner had sent Swearingen to Skywalker Studio for a sneak peek at the character Boba Fett, which was to be released as an action figure prior to the 1980 release of "The Empire Strikes Back."
"They brought a guy out in the Boba Fett costume so we could photograph him and get enough stuff to get started on development," Swearingen says. "My boss wandered off with a producer, and I was left alone with George Lucas and his dog."
All these years later, Swearingen's one regret from his career is that he didn't ask Lucas for a job when he had the chance.


Steve Bono: A dancing R2-D2
In 2002, UC design alum Steve Bono (DAAP '91), design manager with Hasbro, Inc, in Pawtucket, R.I., designed an 18-inch, interactive R2-D2 that moves under its own power and responds to a dozen commands associated with the original "Star Wars" movie. For instance, it will play Princess Leia's distress message from the original movie or will dance (spin around) to the cantina tune from the movie.
Read more about Steve Bono who, as early as the age of 5, could look through the "robotic" eye of his "Six Million Dollar Man" action figure to see his future career: Toy maker.


Charles Bailey: ILM model maker
Charlie Bailey (DAAP '71) is the most senior of a number of UC co-op students now at work full time in Hollywood. Bailey has created special effects for countless movies, including the "Star Wars" series, at George Lucas' Industrial Light & Magic.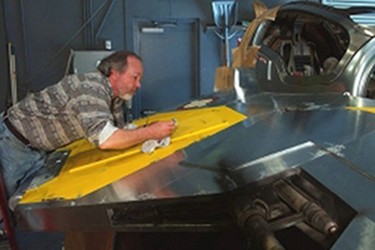 Bailey's role in any one movie might range from model maker, set construction, sculptor or puppeteer, and long hours come with the many roles. While working on "The Empire Strikes Back," he recalls 18-hour days and even working on the film after its release.
"When George [Lucas] released 'The Empire Strikes Back,' we actually changed the film after the release date," he recalls. "We all saw it in the theater on opening night. Then, George decided to change the last scene, so we went back to work for two solid days nonstop, and he traded those films for the old films in the theaters."
As a model maker for that film, Bailey created Darth Vader's big, white star destroyer, snow walkers, snow speeders, the hospital ship and X-wing ships.
See more about Charlie Bailey, who opines of the miniature sets he makes for demolition in films: "The first time I saw my work blown up, it was distressful. It's actually fun now, but it took me a couple of years to get there."
George Hull: Concept illustrator and visual effects art director
Before opening his own production company, George Hull (DAAP '93) was with George Lucas' Industrial Light & Magic from 1994-2000, leaving as senior visual effects art director, and his list of credits includes "Star Wars, Special Edition" released in 1996 as well as "Star Wars: The Empire Strikes Back, Special Edition," and "Star Wars: The Return of the Jedi, Special Edition" both from 1997. Hull's designs included buildings for the Coruscant city at the end of the "Return of the Jedi, Special Edition" and buildings for Cloud City's new cityscape on the "Empire, Special Edition."
See more about George Hull, who once told a UC Magazine writer: "In the benefit of being able to draw anything is also the challenge of having to draw everything."


MB Reilly

MB is director of public relations at the University of Cincinnati and a contributor to UC Magazine. She can be reached at 513-556-1824; mary-bridget.reilly@uc.edu