Ingeniously simple
Brush Factory, a UC alumni-founded custom furniture company, succeeds with "less-is-more" approach to design
Tucked away off the corner of Alfred Street and Colerain Avenue, among graffiti-tagged warehouses and overgrown parking lots, stands an industrial building most Cincinnati onlookers might overlook.

But inside its worn brown brick exterior, table saws whine to the beat of wooden mallets pounding against locally sourced wood as sawdust thickens the fresh-cut-lumber fragranced air. Though unassuming, this growing company's headquarters in Camp Washington is home to selections of modern, all-natural custom furniture products that are gaining popularity not only in Cincinnati but also around the world.

Founded by a pair of University of Cincinnati grads in 2009, Brush Factory recycled its name from a former location in Brighton, a 100-year-old handmade brush manufacturing shop they repurposed. What started as a purely experimental idea among friends nearly seven years ago has developed into a successful custom furniture business preparing to release its first solid hardwood furniture line this spring.

Video/UC Creative Services/Joseph Fuqua II
"I was literally working on motorcycles in our apartment, and this garage space opened up that also had a woodshop, so it was a no-brainer," says Brush Factory co-founder Hayes Shanesy, DAAP '04. "We moved in there and started taking commissions as they came. It happened really organically."
It wasn't Shanesy's idea to move into the former brush business. It was actually Rosie Kovacs, DAAP '09, who thought to transform the factory into a multidisciplinary studio for designers to sell collaborative collections of work. The two met through mutual friends in 2004 soon after Shanesy earned his industrial design degree from UC. Kovacs, a second-year UC fashion student at the time, asked him to make a wooden accessory for her class project. Shanesy's small favor seeded both a lifelong business partnership and a romance.

"I knew I wanted to spend my life with him before I really even knew him," Kovacs says. "Brush Factory came later … born of our relentless desires to be independent."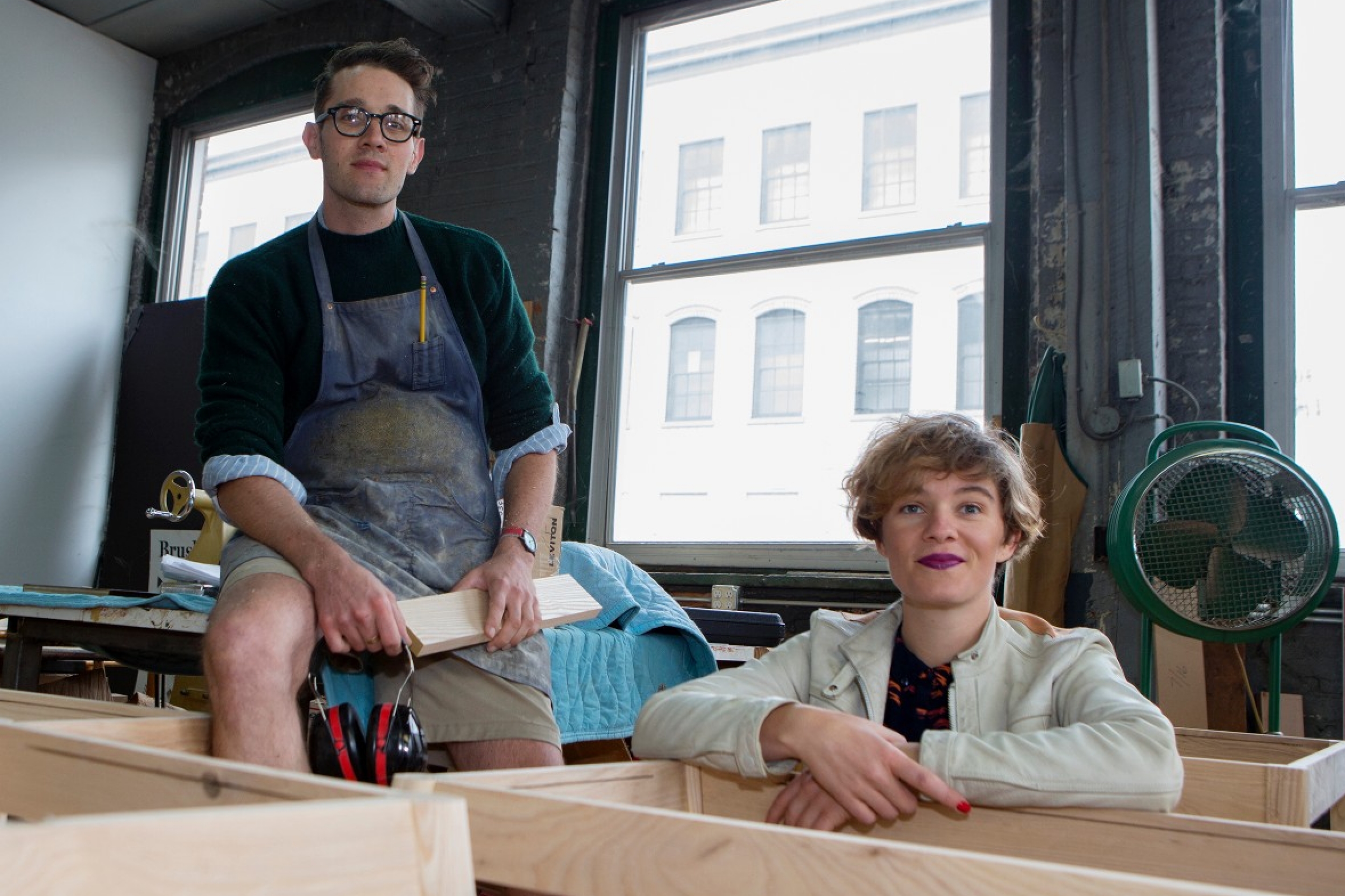 While the pair relies on their backgrounds for aesthetic and design collaboration, Shanesy handles material sourcing, production and custom designs as CEO, lead designer and woodworker, while Kovacs leads marketing, customer interaction, interior design and project management as the vice president of marketing.

But Brush Factory wasn't their original intention. Their hardwood furniture focus didn't solidify for a few years when they experimented with collections of clothing, bags, home accessories and housewares.

But as they filed down their focus to furniture, commissions grew.

"Eventually we started collaborating on product designs, and as we learned more about the business side of things we pivoted our focus and overall strategy based on what our customers and followers wanted," Kovacs says. It didn't take long for the company's contemporary furniture products to spread like wildflowers throughout Cincinnati's restaurants and storefronts. Today, their chic tables made of all-natural, locally sourced maple, oak, ash and walnut furnish art exhibitions at the Cincinnati Art Museum, display women's jewelry at Continuum Boutique on Vine Street and seat locals for meals and business meetings at Salazar and Cintrifuse in Over-the-Rhine. Custom designs couple with an emphasis of simplicity to make Brush Factory's furniture versatile to Cincinnati's diverse retailers and homeowners.

"It's definitely a 'simple is best' methodology," Shanesy explains. "Making something simple, while it seems counterintuitive, is often more complicated than you would think. Taking away everything except what's necessary for it to work is, in my mind, the most beautiful solution."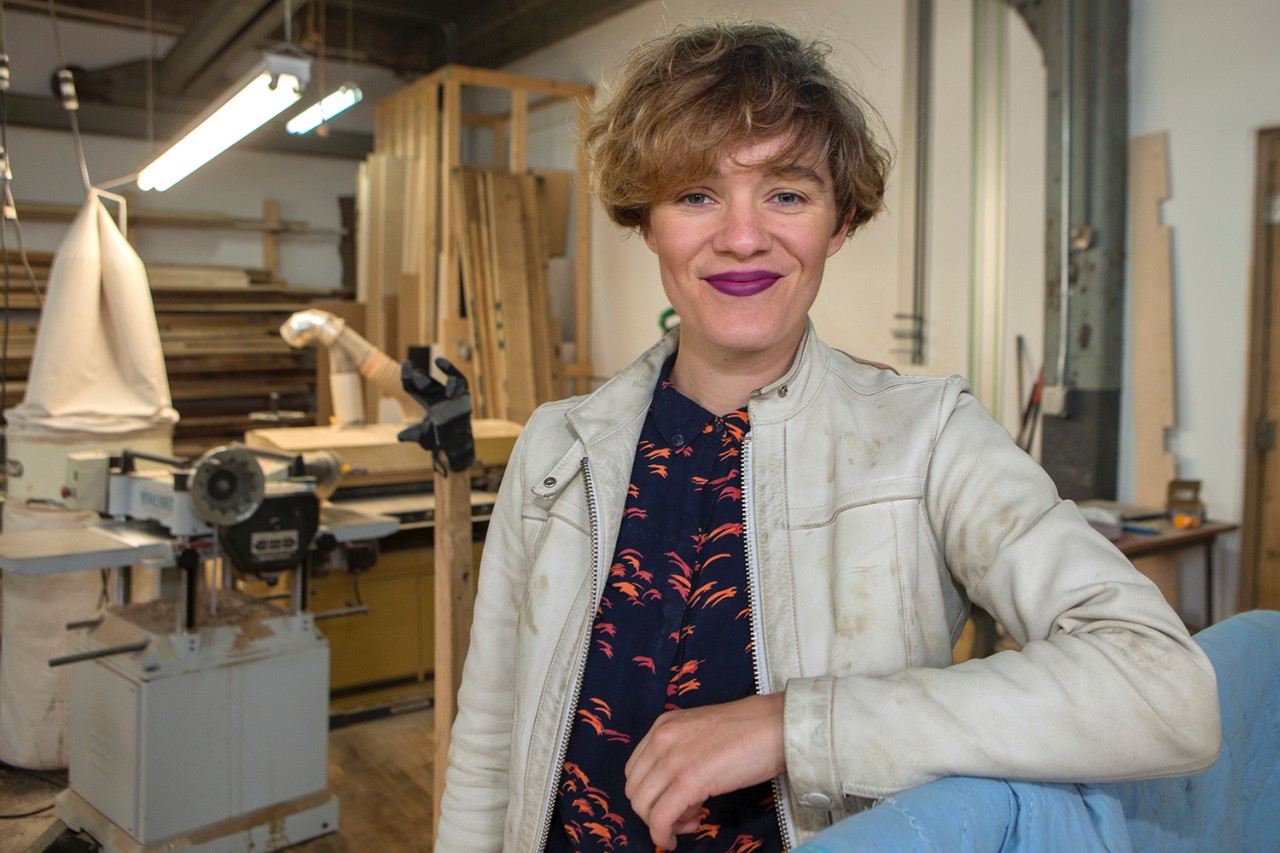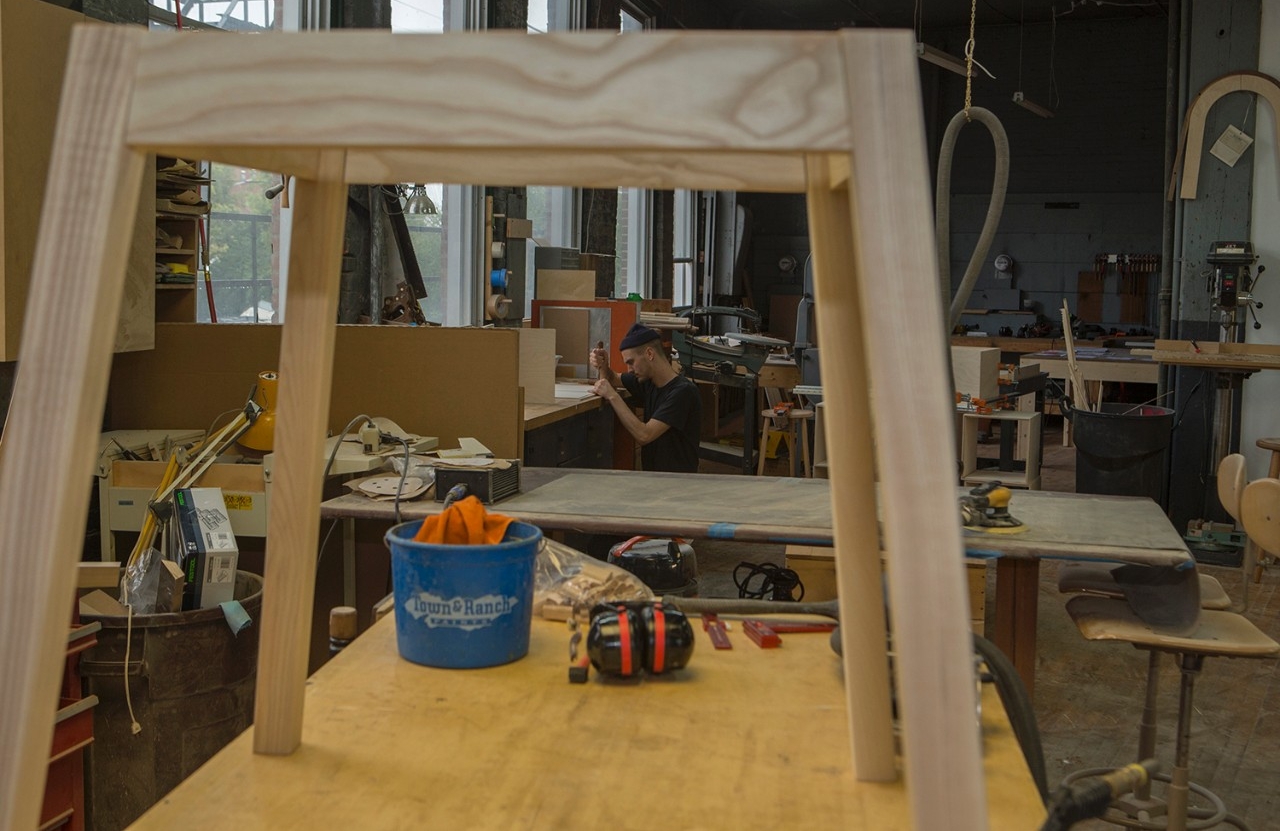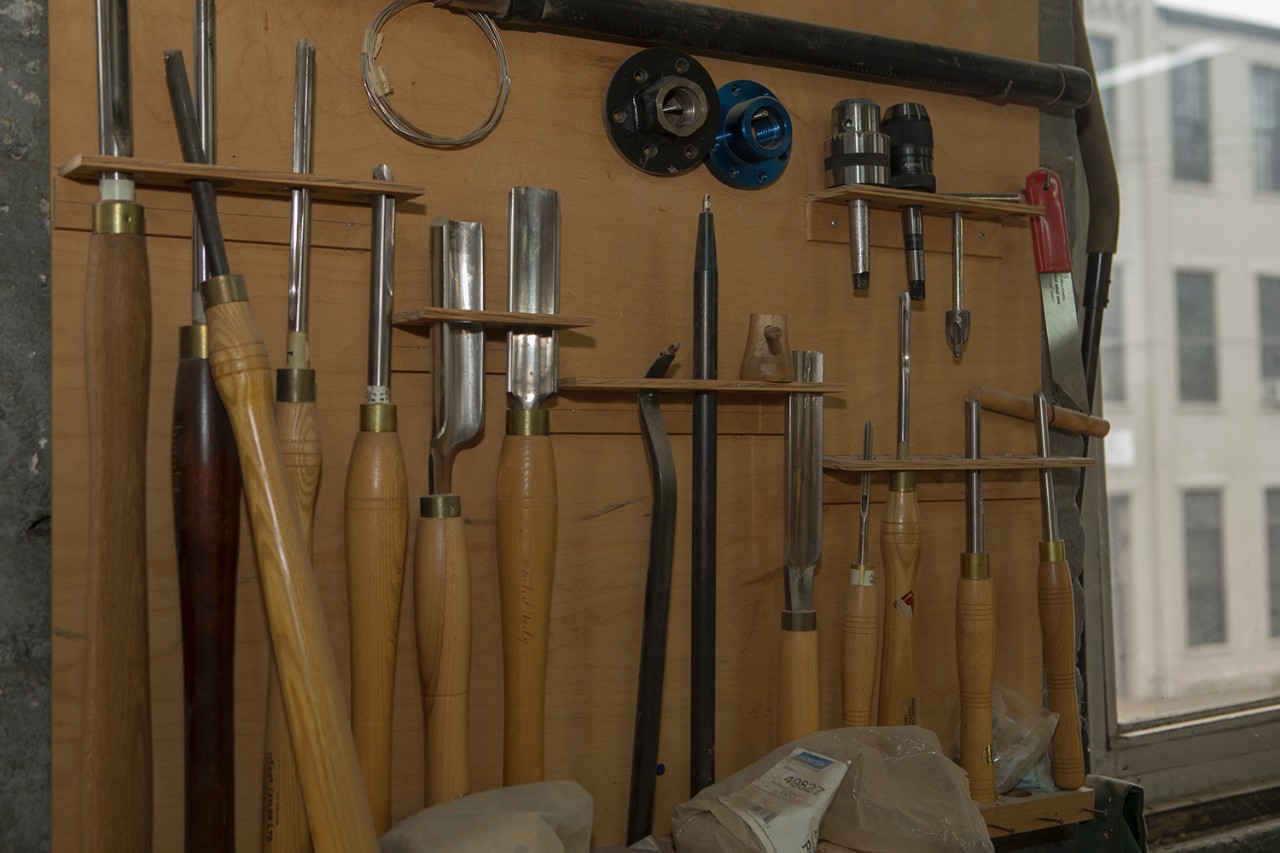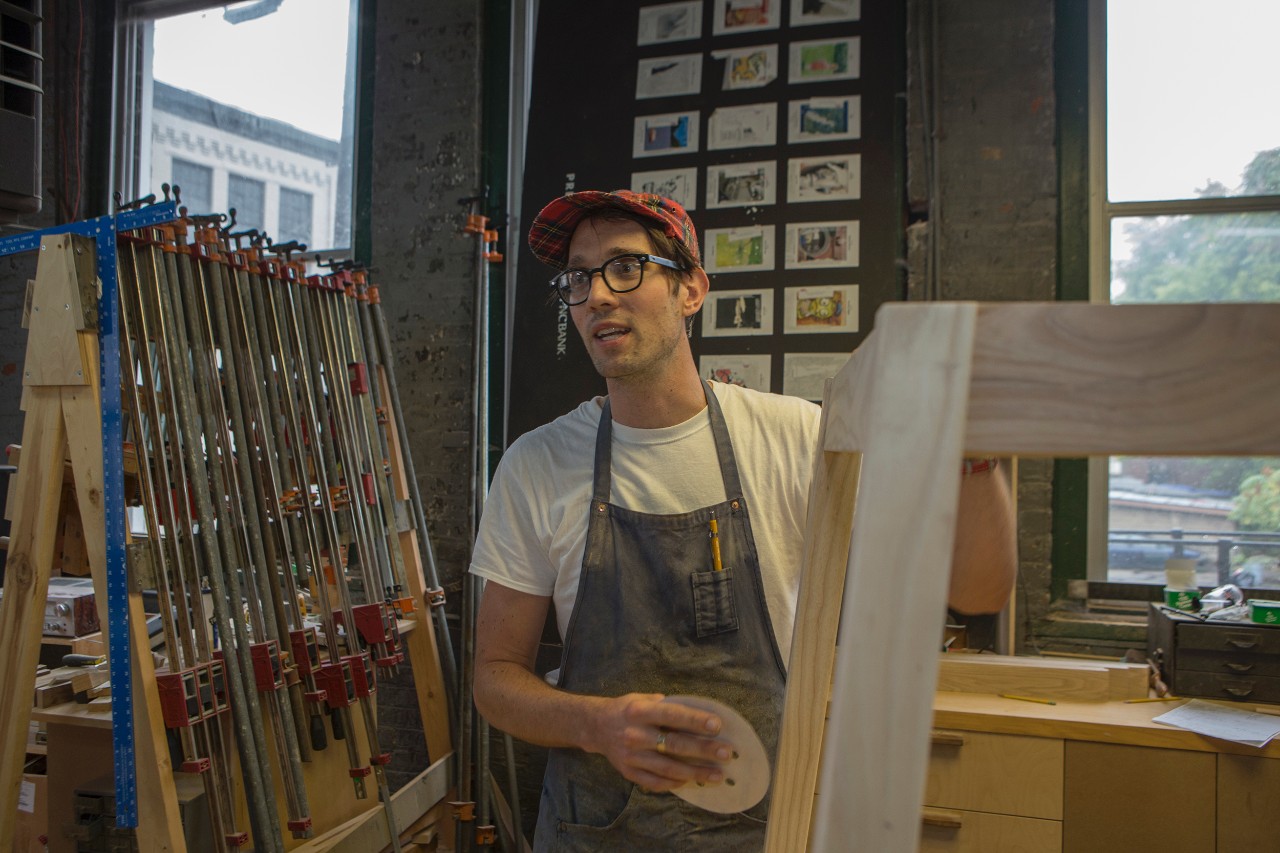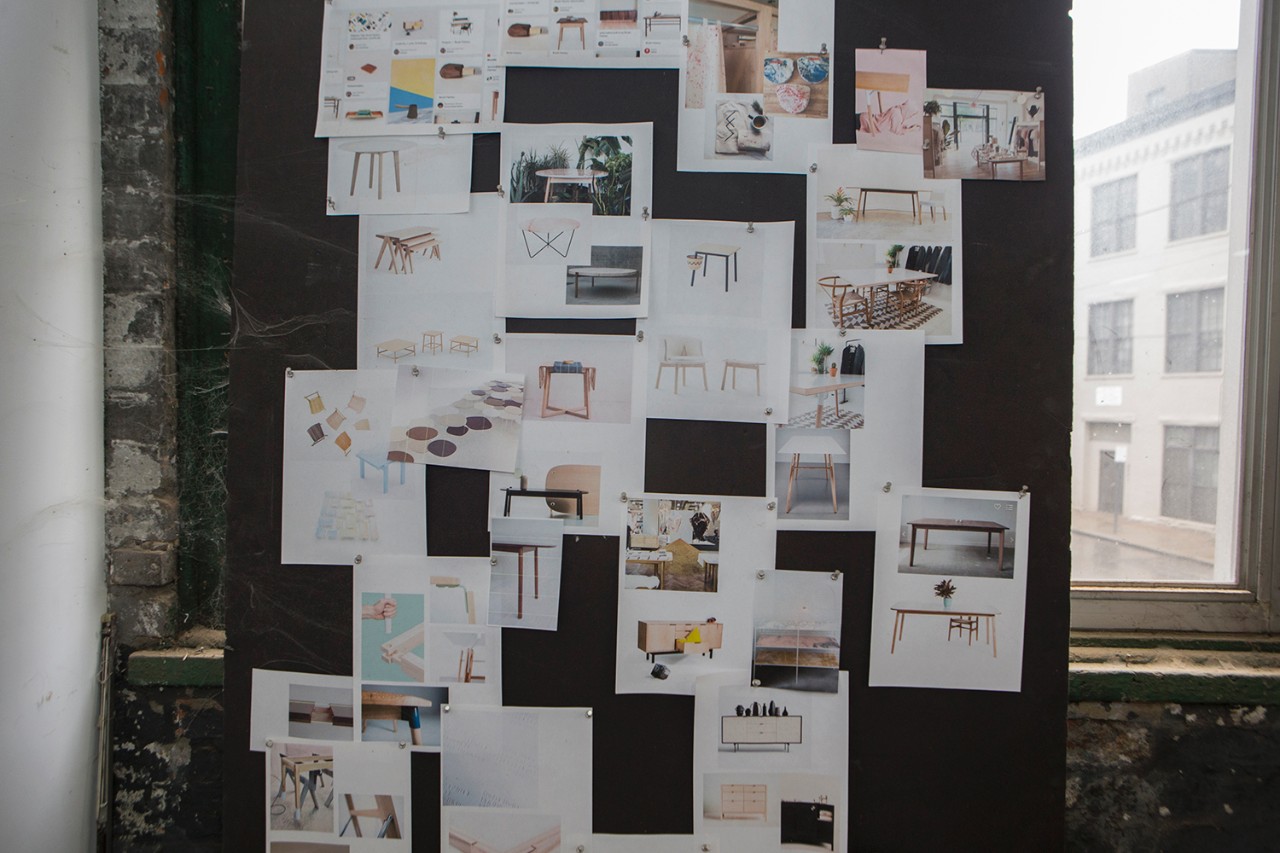 Their simple designs landed them $20,000 worth of business grants from U.S. Bank in August's 2015 ArtWorks Big Pitch – a 10-week mentorship program and pitch contest for creative businesses and established inventors. Their winning pitch: Brush Factory Furniture product line, also known as BFF.

"We want to grow and be more sustainable and scalable," Shanesy says. "The best way that we can do that is to offer a collection of ready-to-order items that can be manufactured in small batches and be able to offer these to consumers instead of just professionals and large organizations."

Though the company currently works with commercial and residential clients, the new collection will make purchasing custom furniture easier and more affordable for residential customers. It will also expedite the design process, which typically entails extensive client interaction and education. Building from feedback from previous projects, Shanesy and Kovacs will design the new collection to be refined, more scalable pieces.
Consisting primarily of surfaces, such as tables and desks, the line will be comprised of locally sourced and sustainably harvested solid hardwood, designed and constructed using traditional joinery to embody the company's less-is-more methodology. Residential and commercial customers will also be able to use the product line as a starting point to then modify accordingly.

While BFF is expected to launch in May, the co-founders plan to host a local launch party on Black Friday as well as a holiday showroom on Vine Street during the holiday season.
They look forward to growing Brush Factory's business along with its staff, which consists of only a few others, including one apprentice and Shanesy's father, who raised him into the woodworking world. Although Brush Factory's headquarters upgraded to Camp Washington only a year ago and blueprints to relocate or expand haven't been sketched, Shanesy says he and Kovacs are open to opportunity.

With competitors like IKEA, whose mass-produced, readily available furniture presents inexpensive convenience to Cincinnati homeowners, Shanesy ultimately hopes to attract more residential customers with the new furniture line.

"I'd love to just have people that I know be able to afford my stuff and be accessible and easy for them," he says. "That's the hope: that people will learn about us and be able to buy nice things that are not from chains and major corporations in Cincinnati, because there's really not a whole lot of options for contemporary furniture."