Latest Magazine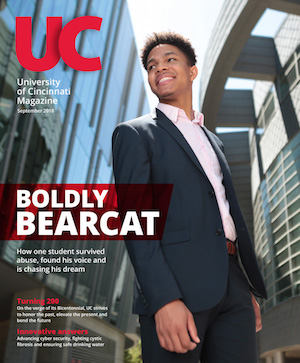 September 2018
Boldly Bearcat
Finding his voice
Danger in the tap
Virtual defense
Global game changer
Celebrating UC's Bicentennial
Browse our archive of UC Magazine past issues.


New campus eateries offer grub on-the-go



New UC campus eateries opening this month offer
convenient and healthy options for on-the-go students.

By Rachel Richardson
513-556-5219
Aug. 16, 2016

Forget dorm room Ramen or microwave mac and cheese. University of Cincinnati students this fall will find a number of convenient and delicious dining options to chow down on campus.
Four new eateries are set to open this month, with options ranging from mouth-watering spicy fish tacos, chicken cheesesteak sandwiches and a loaded smashed potato bar to calorie-conscious choices like turkey burgers, salads and wraps.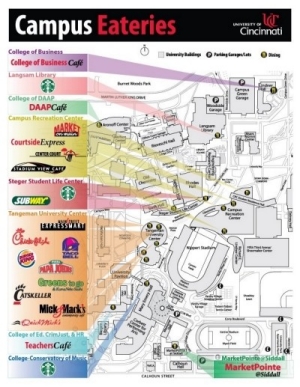 The new dining locations are set to open Aug. 22, just as UC welcomes a projected record-breaking fall enrollment. That includes more than 6,500 students — a 25 percent increase over last year — making their homes in UC housing.
Feeding this growing population offers up more challenges than simply offering students food on-the-go, says Victoria Rogers, associate director of marketing and publications for UC Campus Services. Today's on-the-go students aren't looking to compromise on convenience or nutrition, she adds.
"A healthy community is our number one goal when we are serving food to students," Rogers said.
"Food is such an important part of the community students are forming on campus. They need to not only have spaces to interact with fellow students, but also have study space. Providing community spaces while making sure that they are eating right is part of our mission," she said.

Here's a look at the new campus eateries opening this fall semester: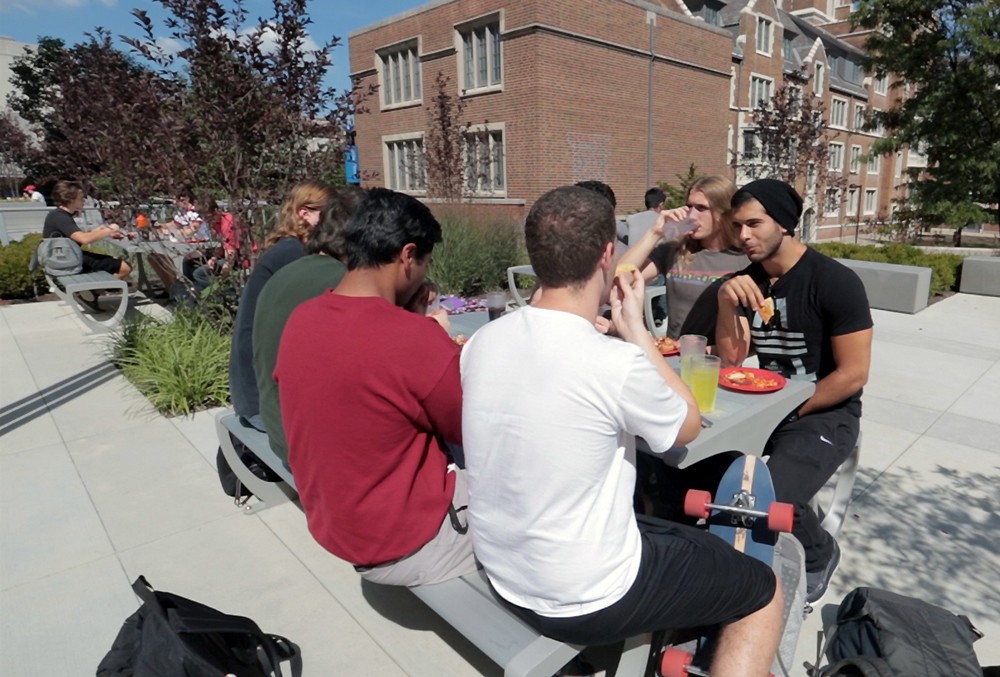 Students soak in the rays while eating lunch on the patio at the MarketPointe dining center. The campus eatery will offer an outdoor grill and expanded patio space when classes resume Aug. 22. Photo/provided


Grill at MarketPointe
What's better than made-to-order breakfast omelets, gourmet lunch wraps and custom-made pasta creations? A seasonal outdoor grill, of course, serving up such sizzling fare as teriyaki and Buffalo blue turkey burgers, bacon Swiss burgers, Friday fajitas, spicy fish tacos with watermelon salsa and a signature grilled chicken sandwich.
The Grill at MarketPointe, an extension of the MarketPointe dining center located behind Memorial Hall, offers an expanded menu and outdoor patio space to the popular all-you-care-to-eat MarketPointe@Siddall dining center. Grill grub will be offered Monday through Friday from spring through fall.
MarketPointe accepts meal plan swipes, Bearcat card, cash or credit.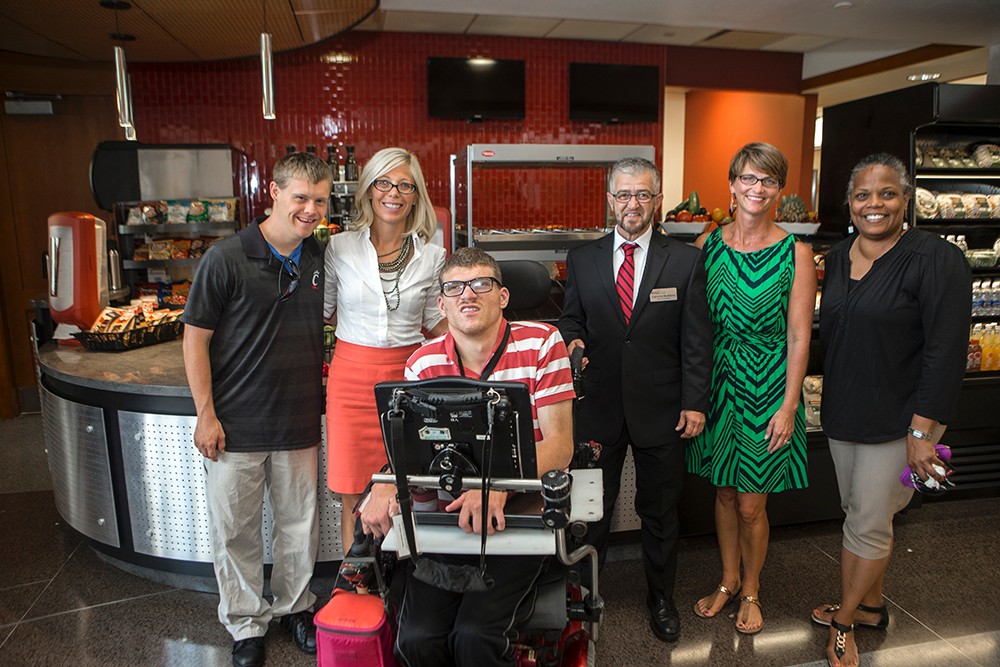 The new Teacher's Café inside the Teachers/Dyer Complex will offer convenient options on-the-go while providing students in UC's Advancement and Transition Services program, which caters to students with intellectual disabilities, with valuable work experience.
Teacher's Café

Hungry but hurried students taking classes in the newly renovated Teachers/Dyer Complex can find a number of fast eats at the new Teacher's Café, located inside the two-story atrium that serves as the building's new main entrance. Menu options include an assortment of fresh bagels and pastries, soups, coffee, gourmet salads, sandwiches, wraps and pizza.
This new grab-and-go café offers up more than just a convenient option for the more than 130 College of Education, Criminal Justice, and Human Services (CECH) faculty members and its 5,500 undergraduate and graduate students.
It's also a café with a cause, providing valuable employment experience to members of the university's Advancement and Transition Services program, serving students with intellectual and developmental disabilities, who will staff the eatery.
Bearcat Card, cash or credit accepted.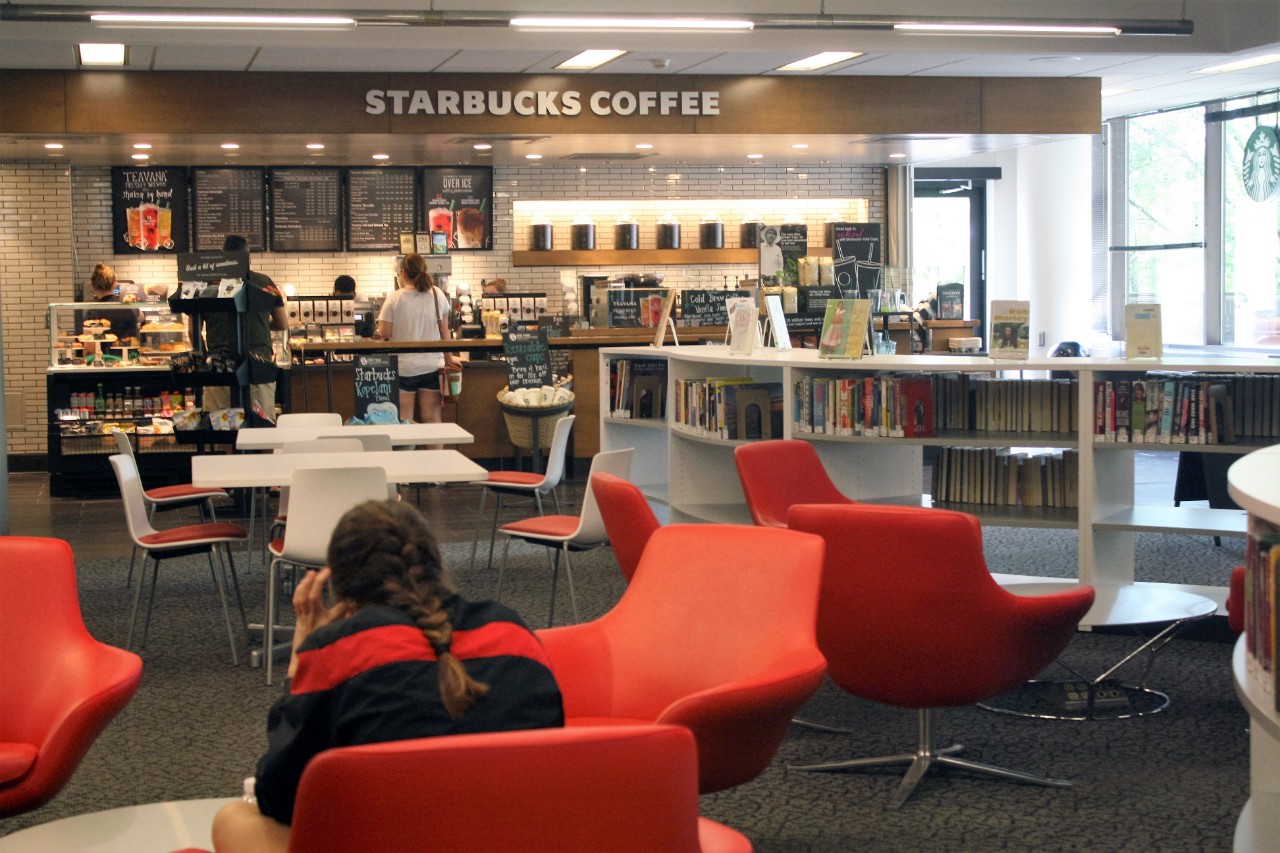 The new Langsam Library Starbucks offers harried students a jolt of java.



Langsam Starbucks
Students pulling late-night cram sessions can now get a jolt of java at Langsam Library with the opening of a Starbucks on the fourth floor.
The new Starbucks marries caffeine and literacy with an array of lattes, cappuccinos, muffins and other food options that students can take with them throughout the library, which announced it will open 24 hours a day, seven days a week beginning Aug. 21.
The location marks the third Starbucks on the main campus, with the other locations in the Steger Student Life Center and College-Conservatory of Music.
Library officials worked with the provost's office, Campus Services, Planning + Design + Construction and Student Government in opening the newest campus hub for caffeine connoisseurs.
"Judging by the early response during construction, we anticipate it will be very popular," said Xuemao Wang, dean and university librarian.
Bearcat Card, cash or credit accepted.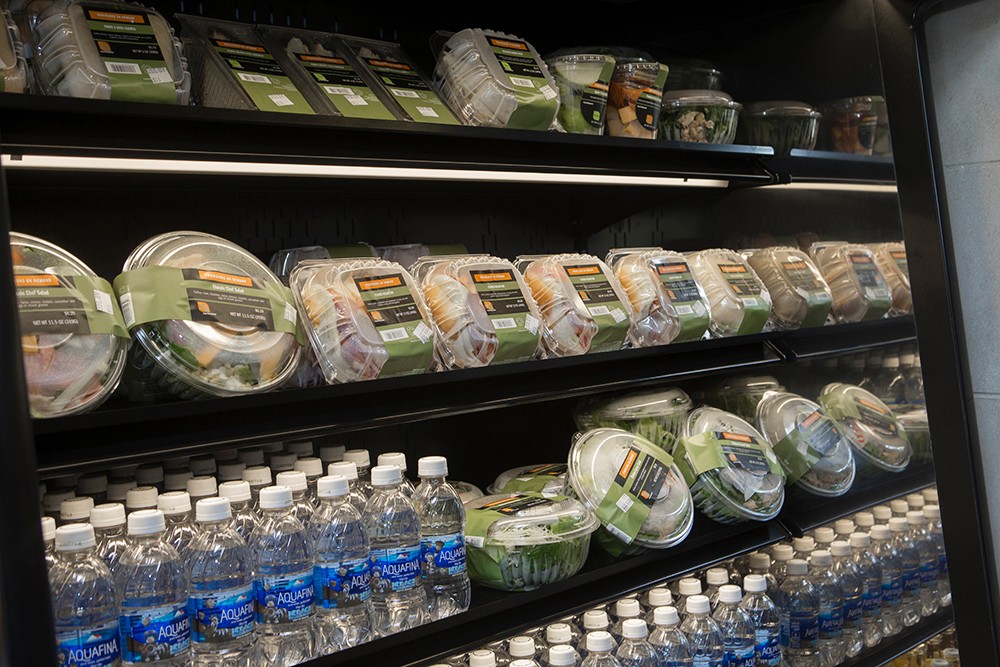 The new Courtside Express in the Campus Recreation Center will offer grab-and-go salads, sandwiches, fruit and other convenient options.

Courtside Express

Satiate your hunger after a tough workout with grab-and-go options at the new Courtside Express, opening in the UC Campus Recreation Center passageway.
The convenient new location will offer fresh salads and sandwiches, drinks, chips and fruit. Limited seating is located in the passageway overlooking the center's climbing wall or take in the rays at the newly renovated Nippert Stadium next door.
Courtside Express accepts meal plan swipes, Bearcat card, cash or credit.
For specific hours of operation and contact information, visit UC Dining Services.