Latest Magazine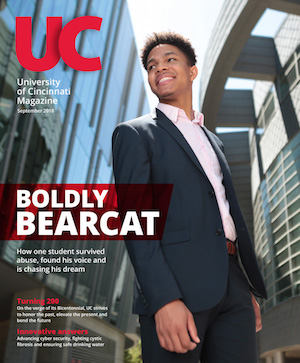 September 2018
Boldly Bearcat
Finding his voice
Danger in the tap
Virtual defense
Global game changer
Celebrating UC's Bicentennial
Browse our archive of UC Magazine past issues.
Video by Andrew Higley/UC Creative Services
Runway success

VIDEO: UC presents 66th annual DAAP Fashion Show
UC's College of Design, Architecture, Art, and Planning capped off its DAAPworks Showcase with the 2017 DAAP Fashion Show April 28.
The show, themed "Introspect," featured the work of 53 senior students — the largest graduating class of fashion design students in DAAP history — on a 92-foot catwalk accompanied by a live-mixed soundtrack provided by DJ MisterBradleyP.
Dozens of models walked the runway in everything from gowns and menswear to knits and even children's clothing.