Forbes Magazine lists University of Cincinnati among world's most beautiful campuses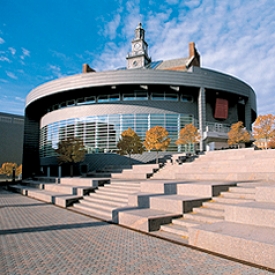 The University of Cincinnati has proven it doesn't need ivy-covered brick walls to be considered among the world's most-attractive campuses.
Forbes Magazine has named UC among the world's most beautiful college campuses. The magazine's unranked list, released online March 1, 2010, places UC among some elite company including Oxford University in England, Princeton, Stanford, Yale and Trinity College in Ireland.
To arrive at the list, Forbes editors asked a panel of architects and campus designers to nominate their picks for the best-looking campuses in the world.
Forbes commentary about UC:
"Architecture students at UC need only step outside the classroom to observe some of the more cunning modern architecture of their day. Kevin Lippert, publisher of the Princeton Architectural Press, says the school has positioned itself for the 21st century with a wholly renovated campus. Its master plan showcases major architectural works by Michael Graves, Peter Eisenman and Frank Gehry, among others."
The distinction further justifies UC's decades-long renewal through the Campus Master Plan, a $1.2 billion investment, now seen as one of the keys to record student applicants.
Ten schools in the United States made the Forbes list:
Click each school for a virtual tour or image gallery
University of Cincinnati
Stanford University
Princeton University
Yale University
University of Virginia
Kenyon College
Wellesley College
University of California Santa Cruz
Scripps College
United States Air Force Academy
Four international schools made the Forbes list:
Oxford University (England)
Tsinghua (China)
Trinity College (Ireland)
University of Bologna (Italy)
Links:
See the coverage in Forbes Magazine
Check out campus using our interactive map