Latest Magazine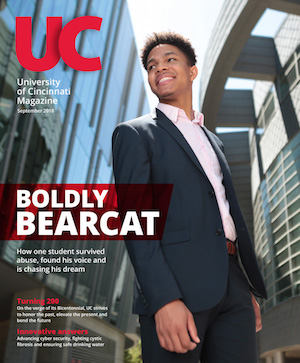 September 2018
Boldly Bearcat
Finding his voice
Danger in the tap
Virtual defense
Global game changer
Celebrating UC's Bicentennial
Browse our archive of UC Magazine past issues.
Southern comfort

Virginia's fall makes Bearcats the South's top remaining seed, but UC isn't looking past Nevada
513-556-5279
Photos by Andrew Higley/UC Creative Services
March 17, 2018
It wasn't just an upset. It was the upset of this year's tournament and, perhaps, of all time. Virginia had entered the 2018 NCAA Division I Men's Basketball Tournament as the first among the four No. 1 seeds. They exited Friday evening, the victims of a 20-point drubbing at the hands of the University of Maryland, Baltimore County. The Retrievers made men's basketball history in their 74-54 victory over the Cavaliers in Charlotte by becoming the first No. 16 seed to oust a No. 1 seed.
It also makes your University of Cincinnati Bearcats the top remaining seed in the South Region.
"It just shows that in this tournament, every team in it is pretty good," said UC junior guard Jacob Evans III. "No matter what the seeding is or what the record was with the 16 and 1, you've just got to make sure you're always ready to come out and play."
Some prognosticators are already talking about how the Retrievers' feat clears the Bearcats' Road to the Final Four. FiveThirtyEight.com now projects the Bearcats to make it to the National Championship game. In Nashville on Saturday, it was the talk of the town.
But the Bearcats aren't going to celebrate. UC Coach Mick Cronin took a moment Saturday in Nashville to express his sympathies to the fallen Cavaliers, but he didn't wax poetic about the Retrievers' feat. His squad's got other dogs to deal with Sunday when UC meets the Nevada Wolfpack with a trip to Atlanta and the Sweet 16 on the line.
"We're worried about Nevada. That's all that matters," Cronin said. "[If] we don't beat Nevada, whatever happened at some other site is completely irrelevant to us."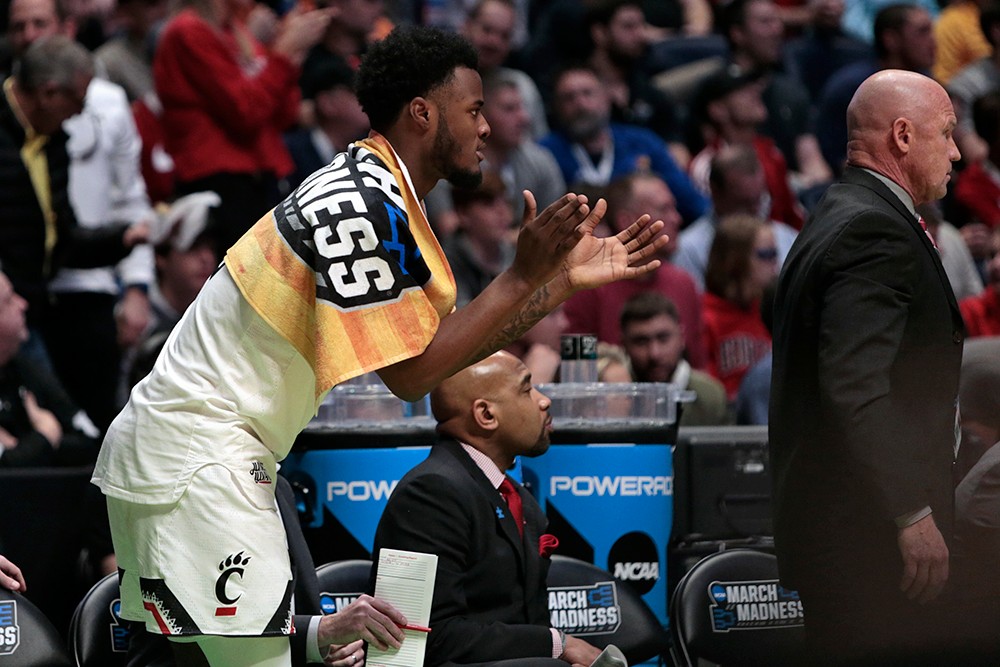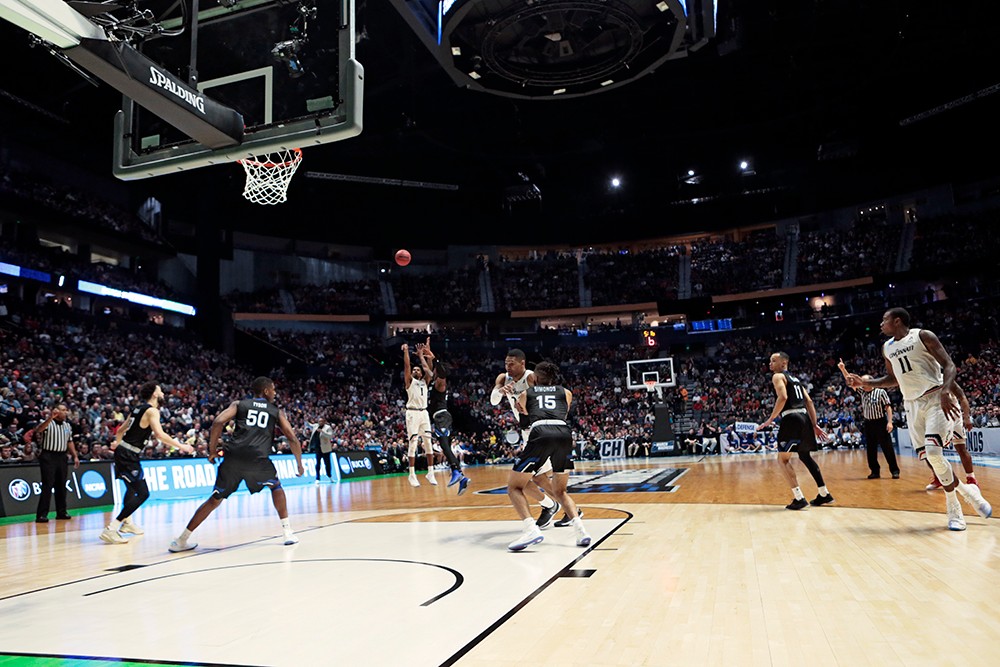 Sunday's game will be the first ever played between the two programs, but there's plenty of familiarity between them. Cronin told reporters Saturday that he spent many a late night watching Nevada basketball on television, thanks to the difference in time zones. On a more personal note, UC senior forward Kyle Washington used to team with Nevada's twin tandem of Caleb and Cody Martin when the three played together in another Wolfpack at North Carolina State.
"I have a great relationship with them," Washington said. "I'm not going to hide [it], I'm not going to deny it. That's not going to translate when we get in the 94 feet. I'm going to compete against them like anybody else, because we're trying to achieve something as a team."
Nevada had to overcome a double-digit deficit and an extra period of play to get past Texas on Friday. That, combined with a shallow Wolfpack bench and a short rest, would appear to give the Bearcats a distinct edge heading into the second-round tilt. But no matter how amped up or worn out Nevada may be, Cronin and company will be ready.
"If we look past Nevada, that would be our first mistake before stepping on the court," Washington said, "so we're definitely not looking past Nevada. ... The benefit of going to Cincinnati is we're going to prepare for everybody like it's a round of 32 game. We're not going to overlook anybody, and we're not going to underestimate our competition."
Cincinnati meets Nevada at 6:10 p.m. Sunday. For full coverage of Bearcats basketball, visit GoBearcats.com.
Additional coverage and image galleries