Honoring our veterans
The University of Cincinnati's annual Veterans Day Ceremony salutes the men and women of the U.S. Armed Forces
Video by Joseph Fuqua II/UC Creative Services; photos by Andrew Higley/UC Creative Services
IT'S HARD TO SAY WHICH ECHOED MORE LOUDLY – the ceremonial rifle fire rending the stillness of the misty morning air or the palpable waves of pride, respect and gratitude emanating from the crowd gathered in the heart of the University of Cincinnati's campus.
Dozens had gathered there on the damp lawn of McMicken Commons for UC's annual Veterans Day Ceremony on Nov. 10. The bright colors of flags waved in stark contrast to the sullen skies as area veterans, community members and distinguished guests joined UC faculty, staff and students in tribute to our nation's veterans.
UC President Santa J. Ono and Provost and Senior Vice President for Academic Affairs Beverly Davenport led the event, recognizing the many veterans in attendance and welcoming all who came to honor those who had served our country.

The tribute included a musical performance by the UC Bearcat Band, presentation of colors by the ROTC Color Guard, three volleys of rifle fire from the Honor Guard American Legion Post 530 and two buglers stationed in the towers of Tangeman University Center and McMicken Hall playing "Taps."
Terence Harrison, program manager of UC's Office of Veterans Programs & Services, said the salute marks a celebration of those who had served our country.
"If not for our veterans we wouldn't have the freedom of speech, freedom of choice and freedom to be Americans," said Harrison, an Iraq War combat veteran who still serves in the U.S. Army Reserves.
"It's important that we as leaders of the community at the University of Cincinnati recognize the sacrifices of not just UC student-veterans, but all veterans," he said.


Keynote speaker and retired Air Force Chief Master Sgt. James Shaw spoke of the segregation and inequalities he faced in his home state of South Carolina before joining the military in 1955.
The decorated soldier had served in the military for 18 years, including a harrowing two years in air combat in Vietnam, before he first heard of the Tuskegee Airmen.
Despite being among the most fearsome groups of fighters in the European theater, the history of the U.S. military's first racially integrated group of pilots, navigators, mechanics and other aviation support personnel remained relatively unknown in the decades following World War II.
"I never felt that feeling before or since [upon hearing] the history of those beautiful men who were referred to as 'Red-Tails,'" said Shaw. "Yet it was suppressed."
Now, as the president of the Greater Cincinnati Chapter of the Tuskegee Airmen, Shaw works to ensure the proud legacy of those brave and daring squadron of aviators lives on through educational talks and presentations.

Harrison said UC's Veterans Day Ceremony not only spotlights the vast contributions of veterans, but also serves as inspiration to cadets enrolled in UC's Army and Air Force ROTC programs.
"With our ROTC programs, we're developing leaders not only on the battlefield, but leaders in business," Harrison said. "One day our cadets will be leading troops. This is a pretty good training ground."


A Veterans Fair was held at the conclusion of the ceremony. The fair featured more than a dozen local and regional veteran-oriented groups, including representation from: Cincinnati Veterans Affairs, Disabled American Veterans, Easter Seals TriState, Ohio AMVETS and Tristate Veterans Community Alliance. UC's Office of Veterans Programs & Services is coordinating additional veteran-themed activities following the Nov. 11 Veterans Day holiday. Among the planned events:
Nov. 14
9 a.m.: The UC community is invited to participate in a "life march" around campus. Participants can bring a backpack or ruck filled with canned goods or paper goods. The donations will be delivered to the St. George Food Pantry.
7:30 p.m.: military appreciation night at the Bearcats vs. Tulsa University football game at Nippert Stadium
Nov. 25
11 a.m.: VetSuccess and the Veterans Affairs Medical Center will host a health benefits expo from 11 a.m. to 2 p.m. in Tangeman University Center, Room 423. UC veterans (students and staff) and their families are invited to attend a one-stop shop to learn about all the programs and services available at the Cincinnati VA Medical Center. Attendees can meet individually with VA health care experts to address a variety of needs.
For more information, contact Veterans Programs & Services at 513-556-6811 or vetcert@uc.edu.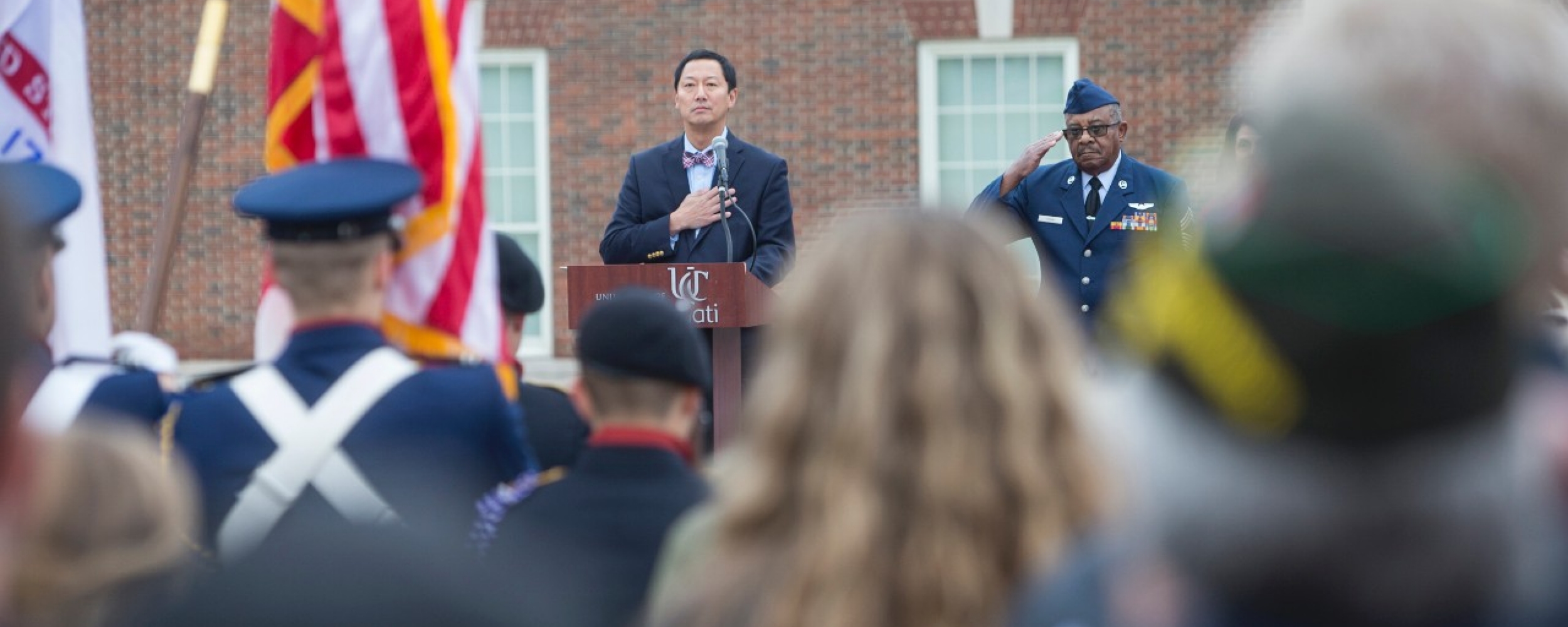 5 facts about UC and veterans
UC is one of fewer than 100 campuses in the nation to offer the VetSuccess on Campus program, which is designed to help veterans transition from the military lifestyle to an academic environment.
The Office of Veterans Programs & Services on the first floor of University Pavilion also provides job opportunity information tailored to veterans' needs, including an online "translator" to help show how skills acquired during military service can be applied in the civilian workforce.
UC has more than 2,000 military-affiliated students, including veterans; those serving on active duty, in the Reserve or the National Guard; and their dependents.
UC has been named a Military Friendly School by Victory Media, a veteran-owned marketing and publishing company focused on connecting the military and civilian communities.
In 2014, UC welcomed Omega Delta Sigma-Ohio Beta, the UC branch of the Omega Delta Sigma National Veterans Fraternity. The chapter is UC's first veterans fraternity and includes men and women.


A veteran's story of reintegration

Terence Harrison, program manager for the Office of Veterans Programs & Services, was featured in the September 2015 issue of UC Magazine. The following is an excerpt from that story.
There was a time when Terence Harrison didn't do much other than play video games and drink beer.
It was 2011, and he had just returned home to Cincinnati after a tour of duty in Iraq during the wind down of Operation New Dawn. He was a sergeant first class in the 256th Combat Support Hospital out of Columbus, Ohio, in the Army Reserve. He had been called up to serve as an administrator at a military hospital near Tikrit, ensuring care was given to the people broken by war.
And he'd seen many of those.
Yet despite intimate familiarity with the ravages of war, there in the desert Harrison had friends, a routine, a purpose. And somewhere along the 6,000-mile journey home he'd lost it all.
He didn't know it then, but his days wandering the fog between who he'd been and what he would become would turn into one of the greatest resources for his new mission in life.