Nationally known alumnus sculptor preserves history in 3-D
Tom Tsuchiya praises liberal-arts degree for his accomplishments
by Sarah Fasce, A&S '10

February 2, 2011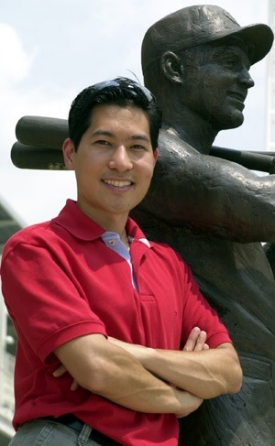 Constructing models of Greek and Roman architecture in his classic civilizations classes at UC was as close as Norikazu "Tom" Tsuchiya, A&S '95, came to getting a college education in sculpting. Yet today, he is nationally known for preserving history in 3-D — by creating images of significant people as sculptures.

Oddly enough, his first major commission was to produce the Bearcat's archenemy, Xavier University's mascot D'Artagnan, which was installed in front of the Cintas Center in 2000. Four years later, his life-sized likenesses of Joe Nuxhall, Frank Robinson, Ted Kluszewski and Ernie Lombardi were placed at the Cincinnati Reds' Great American Ball Park. Then in 2009, he designed and sculpted a piece for the NFL, which was unveiled at the Super Bowl.

Today, he has set his sights even higher: He and another artist are sculpting a 50-foot-tall Jesus for the Solid Rock Church on I-75 in Monroe, Ohio, where the previously recognizable "touchdown Jesus" (or "butter Jesus") was struck by lightening, then burned to the ground in June 2010.

"The liberal-arts education I received at UC was better than any art school education anywhere," Tsuchiya says. "I studied subjects ranging from Shakespeare to music appreciation to archeology. A broad education opens your mind and conditions you to look at the world in different ways.

"If you aspire to be an artist, you want to create fashions, not follow them. An open mind is the key."

Growing up in Kenwood, Ohio, Tsuchiya didn't dream of becoming an artist. He was just a kid who liked to paint Dungeons and Dragons figurines, play baseball and go on family trips to Japan, from where his family moved in 1962 and where he loved seeing historic art and architecture. Although a fascination with the latter two led to his major, he really had no specific goals for the future when he came to UC. "It just kind of happened," he says.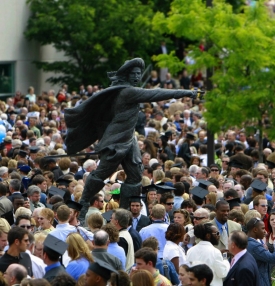 The first hint of his future career came while attending Indian Hill High School when Tsuchiya wanted to create a chimera, a mythical creature composed of a lion, snake and goat, for the National Junior Classical League Competition. Looking for help, he sought out Carin Hebenstreit, a painter and teacher at the Art Academy of Cincinnati. She aided him in creating an award-winning piece that judges picked from hundreds of entries.

Tsuchiya went on to win several other competitions, placing first once again in 1990. "It seemed like he was determined to become a sculptor," Hebenstreit says. "He had a lot of ability and drive."

Recognizing Tsuchiya's talents, Hebenstreit introduced him to her former teacher, sculptor Richard Miller, who taught sculpting classes from his home. Miller became Tsuchiya's mentor, teaching him the fundamentals of sculpting and serving as a source of inspiration until Miller's death in 2008.

During college, Tsuchiya began taking commissions from families in his neighborhood to create portrait busts of their children. Happy patrons' recommendations led to other commissions, which he filled by working in the basement of his parents' house.

Tsuchiya's first big break came after graduation when he was chosen to sculpt Xavier's mascot. Instead of replicating the existing statue, the sculptor says he wanted to present something livelier.

The old statue looked like it was "waiting for the bus," he says with a laugh. His D'Artagnan looks as though he is shouting to his followers to charge into battle. The result of this commission left him feeling he might have a chance at making a career out of his artistic passion.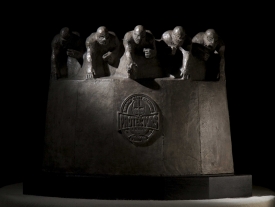 Tsuchiya credits his success to his lifelike style of sculpting. His teacher Hebenstreit explains, "Art needs to engage the viewer. If it is static or dead with no spark of life, it won't last the test of time. It will be forgotten. Tom's work has this lively quality."

Tsuchiya does this through careful study of his subjects. When Tsuchiya was chosen to create the four Crosley Field-era players involved in an imaginary ballgame, he looked at old video footage of the players, shot new footage of the Reds playing on the field and had live models with similar builds pose for him to capture the motion just right. Joe Nuxhall, the old left hander, also stopped by to advise the sculptor on the curvature of the statue's throw.

When Phil Nuxhall, Joe's oldest son, saw his father cast in bronze, he cried and complimented Tsuchiya with the title "The King of Sculpture." Phil says, "He takes the time to get to know his subjects and wants to honor them with the most true-to-life details in his work."

In the fall of 2009, Tsuchiya was asked to create his first national sculpture, a newly created honor for Super Bowl XLIV. The Madden Most Valuable Protectors Award recognizes the best offensive linemen.

To get the statue ready in time, Tsuchiya had to work 16-hour days, only stopping to eat, sleep and shower. The effort was worth it after he met football players, past and present, at the Super Bowl where Archie Manning accepted the award on behalf of the New Orleans Saints. Players praised Tsuchiya's work, and he says, "I felt I hit the mark."

The 102-pound statue, purposely unpolished looking, was built to be a metaphorical representation of a fortress. Using models Anthony and Michael Munoz, he placed five football players depicting real positions in a formation that mimicked the crenellation at the top of a castle.

"I looked at the linemen like Ford F150 trucks," Tsuchiya says. "They're not there for looks. They're there to get the job done. It wasn't meant to look pretty. It was meant to look tough."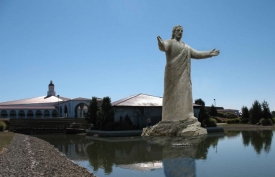 Inscribed on the top of the statue is UC's Latin motto: Juncta Juvant, "Strength in Unity."

Currently, Tsuchiya is working with Steve Brauch from Glasshand, known for helping create the "Big Pig Gig" statues around Cincinnati in 2000. Together, they will craft the new Jesus statue for Solid Rock Church. This winter, Tsuchiya is working to form the head and feet of the sculpture he'll call "Lux Mundi," which means "Light of the World," inspired by a Biblical passage in St. Matthew.

He is also in negotiations with the Reds to create statues of the players from the Big Red Machine Era.

After nearly a 20-year career as a sculptor, Tsuchiya has learned that inspiration cannot be forced. "You must relax," he says. "Like the David Bowie song, 'Waiting for the Gift of Song and Vision,' if you try very hard, good ideas never come."

In the end, art comprises more than inspiration and creation for Tsuchiya. It has become such an integral part of his life that creating art is necessary for his "spiritual, mental and physical well-being," he says.

Link:
Tom Tsuchiya's homepage

---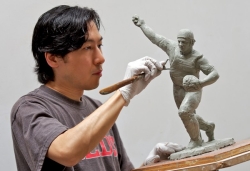 Update
In September 2011, Tsuchiya's bronze sculpture of the famous baseball catcher Johnny Bench was unveiled at the Reds Hall of Fame at Great American Ball Park. The larger-than-life creation greets guests at the entrance to the park, near the statues he created in 2004 of four other famous Reds -- Joe Nuxhall, Frank Robinson, Ted Kluszewski and Ernie Lombardi.

See the video below and more photos by clicking on "Photo Gallery" in the caption of the sculptor's photo at the top of the page.