Echoes of a legend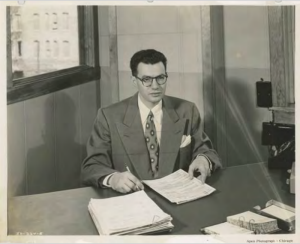 "The Unidyne was Bauer's first patent, and today the Uniphase principle which he invented is used in nearly every directional microphone around the world," says Michael Pettersen, director of applications engineering, and corporate historian for Shure Inc.

Bauer on the run

Benjamin Baumzweiger (who would later change his name to Bauer) was born in war-torn Odessa, Ukraine, in 1913, and endured a childhood that could be described as a cluster of chaos. Bauer's family owned a lumberyard in Sevastopol, Ukraine, during the Russian Revolution and was forced to turn ownership over to communists. His great-grandfather was not pleased by the situation and wanted to keep the lumberyard in the family's ownership, but his attempt at reclaiming the lumberyard was fatal.

"They shot him on the spot," recalls Dr. William Baumzweiger, Bauer's youngest son. "At least that's one story, the other is they shot him when he was going to temple."

As a result, Benjamin spent much of his childhood fleeing from country to country due to war and anti-Semitism. He later changed his last name after becoming a U.S. citizen. Bauer and his family called four different countries home by the time he was 12 years old, and his family eventually settled in Havana, Cuba, which had a large population of Jewish immigrants in the 1920s and 1930s. At the time, the United States had set a limit on the number of Jewish immigrants allowed to enter the country, and the overflow often went to Havana.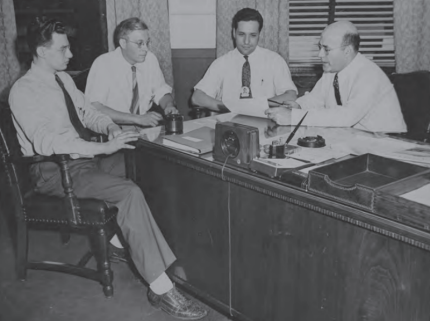 While in Cuba, Bauer was an ambitious young man and constructed a crystal-powered radio to pick up broadcasts from the United States. He began to absorb the English language by listening to American broadcasts.

In 1930, at the age of 17, Bauer made his way to New York, with dreams and determination that could not be deterred. He earned an industrial-electrical engineering certificate from the Pratt Institute's school of science and technology, but he was not yet satisfied with his education. Bauer returned to Havana and worked for the Giralt Radio Company for two years before he decided to tackle his next adventure.

Bauer becomes a Bearcat

His passion for technological innovation led him to the University of Cincinnati in 1934 to pursue a degree in electrical engineering while staying with a family member in Cincinnati. Not only did Bauer find his niche at UC, he was the head of his class and was well liked by his professors.

In 1935, Ralph Glover, a UC graduate and the chief engineer for Shure was searching for a bright electrical engineering student for a co-op position at the company. The engineering faculty did not hesitate to declare Bauer as the perfect fit for the job.

"I have consulted with the electrical department regarding a cooperative student for your organization," said Professor G.T. Addison, in a letter to Ralph Glover. "We have all decided on one of our junior students as having the qualification required for your work. This man's name is Benjamin Baumzweiger."

The young engineer alternated between 8-week periods of work at Shure in Chicago and a full-time schedule of classes. During his co-op experience at Shure, he was compensated $15 a week.

Impressed by the work ethic and creativity displayed by the young man, company founder Sidney Shure made the wise decision to offer Bauer a permanent position. Shure was not an engineer, but he had a fine eye for talent, and he reportedly built Shure on good values and was known for treating his employees well.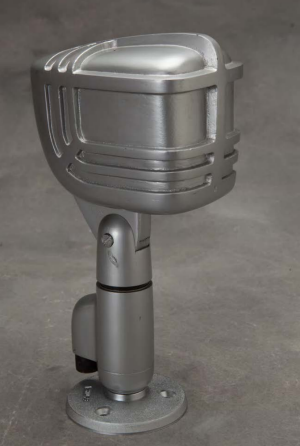 Life after UC

Bauer plunged right into his career after graduation, but he still found time to build a family with wife, Ida. The two met on a ferry in the Florida Keys while Bauer was traveling from Cincinnati to Havana to visit family. Their sons, William Baumzweiger and Philip Bauer, both doctors, speak highly of their father and are the proud keepers of his historic documents, including letters from UC.

"My brother kept a lot of that stuff," said William. "Between my brother and I, we knew most of the history of what Dad had gone through, Dad and Mom's relationship and what kind of person he was."

Bauer was known as a workhorse who would come home after a long day, eat dinner with his family, take a four-hour nap and promptly return to inventing and creating.
William thought of his father as an intense man who was impossibly brilliant and loving at the same time. He refers to his father as a genius, and he admits that living with a renowned inventor was a unique experience.

"First of all, it's very inspiring, and secondly it's really scary, because you didn't question your dad," said William, with a chuckle.
Philip and William have recently been reunited with their dad's former employer thanks to Shure's Michael Pettersen, who has done extensive research on Bauer's career.
"Mr. Shure was really close to the family and did so much with their dad, so it has really been heart-warming to bring these two important families back together," said Pettersen.

While Pettersen did not have the chance to meet the creator of the Unidyne, he has spent the last few years trying to spread the word of a Ukrainian refugee who set the standard for microphone quality around the world.

"I like to say that if it wasn't for him, I wouldn't be sitting here," said Pettersen. "I'd be working somewhere else. I think we all (at Shure) owe much to Bauer."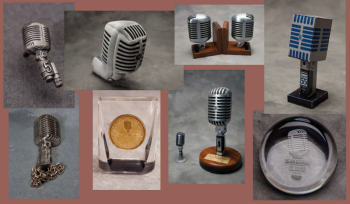 75 years of the Unidyne

On January 31, 2014, Shure was awarded the prestigious IEEE Milestone Award for the iconic Unidyne microphone, by the Institute of Electrical and Electronics Engineers. Other notable innovators who have earned the award include Benjamin Franklin, Thomas Edison and Guglielmo Marconi.

"To get this milestone is like writing a master's thesis," said Pettersen. "They don't just hand them out."

Members of the Bauer family attended Shure's ceremony celebrating the IEEE Milestone Award, and they examined Unidyne prototypes that have been preserved at Shure. Bauer's prototypes of the Unidyne do not resemble the microphone that would become associated with music legends, politicians and world leaders. He eventually settled on a design inspired by the glistening silver grilles of late 1930s vehicles, such as the 1937 Oldsmobile Six convertible coupe.
Benjamin Bauer passed away in 1979, a year after he retired. He had more than 100 patents to his name, and his career as an engineer and innovator spanned more than 40 years.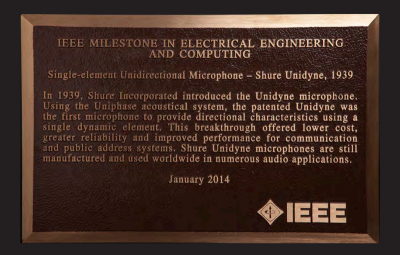 Shure continues to sell variations of the Unidyne, including a new special-edition model in honor of the Unidyne's 75th birthday in 2014. President Obama favors the SM57, which is the grandson of the original Unidyne models, and Shure has supplied this model for every president since 1965. Shure also keeps a lengthy list of contemporary artists who depend on Bauer's uniphase principle when they perform, including Tegan and Sara, Panic! at the Disco, Ingrid Michaelson, Tove Lo and Twenty One Pilots.
The Unidyne has also made appearances in movies such as "Walk the Line" and "Good Morning Vietnam."

Benjamin Bauer set out to change the way the world communicates, and that is exactly what he accomplished. William recalls that his father thought communication was the key to a peaceful world. He imagined that people would be kinder to one another if they were able to communicate easily and effectively.

"It was my dad's hope that if he could invent a microphone, and a communication system that it would teach people to be human beings, and maybe he could make things better," said William.

UC's College of Engineering & Applied Science plans on creating a permanent display in honor of Bauer's invention of the Unidyne. While the date of the display's unveiling has yet to be determined, Bauer's sons and grandchildren plan on being present to pay tribute to the late inventor.
All pictures herein are copyrighted works of Shure Incorporated, used with permission.
---
From the Shure archive

Click to enlarge