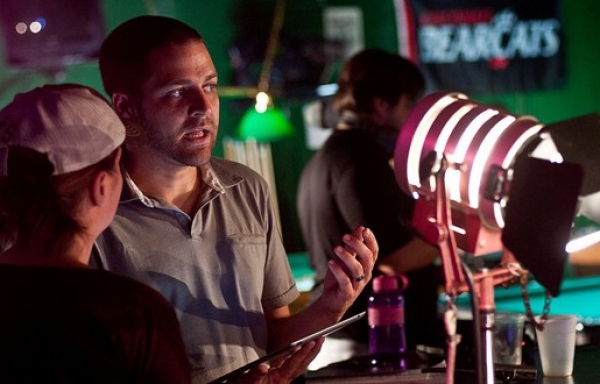 UC design grad Brad Wise writes, produces, directs 'A Strange Brand of Happy' — his 'love letter to Cincinnati'

by Dakota Wright

The spark of an idea hit Brad Wise as he drove to a friend's wedding on New Year's Eve of 2008. A character sketch began in his mind: a 30-something single guy who is an artist but is afraid to create art.
Wise, DAAP '02, pulled over to the side of the road immediately, fervently writing down notes before the character left his thoughts. And so began his "love letter to Cincinnati," a story that would traverse through multiple neighborhoods of Wise's beloved hometown.
"A Strange Brand of Happy," Wise's second venture as a director and third as a writer, released nationwide Sept. 13, starring Rebecca St. James, Joe Boyd and Shirley Jones. In the film, Wise built a screenplay around his initial idea to pair a disillusioned young guy with a group of "spunky old people."
"It's a story about an aimless bachelor who loses his job, gets a life coach and starts falling for her," says Wise. "He realizes that his ex-boss, the guy who just fired him, is chasing after the same girl."
While the film has a romantic backbone, the real meat is in the social and religious commentary underlying a love story. A unique cast of characters in a retirement home add another layer to the plot, prompting the main character to be challenged and enlightened by their life advice.
Wise didn't know much about screenwriting when he began the project, but the many people who were willing to help him out along the way kept the story evolving and changing.
When he finalized the script and sent it out to an Los Angeles production company to get a few final story notes, they sent back 26 single-spaced pages of suggestions. The first four were everything that they liked. The other 22 pages were filled with everything that was wrong.
"It was the best and worst thing to happen to me, because it was at once crushing and awesome," says Wise. "I figured out what I needed to do and how to rebuild the thing, so I completely scrapped it and started over."
DAAP taught him to take risks
Wise had already learned a thing or two about scrapping and starting over. Although he graduated from DAAP with a degree in graphic design, a co-op quarter in Venice Beach, Calif., ignited his passion for writing.
"I read a novel every week and wrote every day," says Wise. "I was super poor, without a job and surviving on about three dollars a day. It was complete creative exploration. That's when I began to think that I wasn't sure I wanted to pursue graphic design; I loved writing."
Once Wise graduated with a degree in graphic design, he searched for a career that would combine his two loves of design and writing. After spending five years as the creative director at Vineyard Community Church in Cincinnati, he decided to make the leap to writing and directing movies.
Working with Rebel Pilgrim Productions, a company based in downtown Cincinnati, Wise produced a number of films, including a social drama titled "Fenced Off." The film is also based in Cincinnati and tells the story of two men overcoming racial tensions when they become neighbors. He also co-produced "Hitting the Nuts," a 2010 mockumentary about amateur poker players.
After budget issues and countless rewrites, "A Strange Brand of Happy" finally went into production in August of 2011 and was filmed entirely around Cincinnati.
"Our production company is based downtown, so we all live here," says Wise. "Could this story have happened anywhere? Sure. But I'm like a lot of Cincinnatians who are really proud of this place, and I wanted this film to be my love letter to the city."
The movie's backdrop spans many Cincinnati neighborhoods. "There are just so many different eclectic places here," says Wise. "You can get so many different looks, from a park in Norwood, to Hyde Park Square, to the 'Big Mac' bridge."
Interviewed this summer soon after he sent a hard drive with the completed film off to the lab for cinema conversion, Wise reflected on all of the ups and downs he had been through in the process of filming. From his graphic design education to a career in directing, he had quite a ride to look back on.
"When I took the film to UPS and saw it sitting there in the box, I thought, 'Wow, this is four and a half years of work that is being sent off,'" says Wise. "When I stopped and thought about it, it seemed crazy that so many ups and downs could fit right there in that little box."
Dakota Wright is a UC journalism student and writing intern with UC Magazine.
Links