Connecting the dots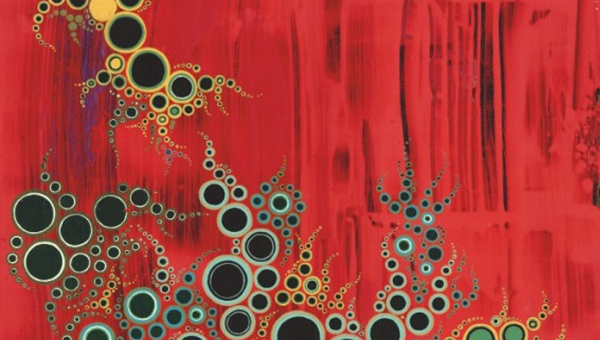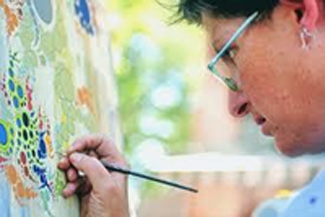 Robberies, cancer can't slow Cincinnati native from creating success through art
by Katie Coburn
Multiple robberies, two episodes of cancer and resulting physical disabilities do not slow Cincinnati native and painter Amelia Caruso from creating a life portrait decorated with artistic success.
Today, Caruso's distinct abstract art is recognized globally through her trendy designer fabric line and even on the set of the classic NBC sitcom "Will & Grace."
But, acclaim did not come easily.
Caruso devoted six years to studying documentary photography at the Art Academy of Cincinnati before transferring to the University of Cincinnati in 1988 and graduating the following year with a teaching degree.
To support herself financially while securing gallery appointments to showcase her artwork, Caruso delivered for Domino's Pizza, eventually earning a managerial position within the company and later owning an unaffiliated pizza store.
After years of the pizza business consuming her time and energy, Caruso sold her store and moved more than 1,200 miles across the country to Fort Collins, Colo., in 1996 to reinvent herself as a painter.
"I was known in Ohio among my art friends as a photographer, and so at that point I didn't really want to be a photographer anymore," Caruso says. "I wanted to be a painter, and so in moving to Colorado that was sort of a promise to myself that I would start to paint when I got here and that's what I did."
Although Caruso's painting career budded in Colorado, it certainly did not bloom. Thus, she went back to work for Domino's Pizza and moved to Riverside, Calif., three years later to accept a higher-paying position within the company.
Roads to recovery
During this time Caruso experienced her fifth robbery within the pizza business, causing her to endure great mental instability, ultimately constraining Caruso to the confines of her apartment for more than eight months.
"I sort of lost it a little bit to put it nicely," Caruso says. "One of the ways I think I actually healed myself in that situation, along with doctors and everything else, was through painting."
As a part of her healing mechanism, Caruso fixated over painting household items, specifically flowerpots. This obsession reseeded Caruso's painting career as she began to incorporate abstract circular patterns into her painting style. Although realism remained most familiar to her, Caruso found comfort and success in her transition to abstraction, a form of nonrepresentational art.
"There's something comforting about the form," Caruso says. "I loved [painting abstract pieces], but I never thought anybody would buy them."
Caruso quickly realized abstraction's ability to spark interest in customers when the set decorator of NBC's sitcom "Will & Grace" agreed to use her painted flowerpots on set. This was the first in a series of television shows to integrate Caruso's art into their scenes.
Though impressive, her art appearing in TV shows from the late '90s and early 2000s like "3rd Rock from the Sun" and "The Bernie Mac Show" served simply as a growing experience for Caruso's painting career, she says.
"I had a painted flowerpot here or a lamp there or a little painting here," Caruso says. "It was a growing experience."
Caruso took her growing experience back to Fort Collins in 2002 when she learned she had breast cancer. Though the cancer only created a minor speed bump along her transitional road to abstraction, she says.
Gallery of Amelia Caruso's abstract art
In 2006, after 10 years of painting realistic architectural paintings, Caruso fully transitioned to abstraction art. Caruso's distinguishable style involves hand-painted dots, which integrate layering of various colors to add depth and texture.
Her work can be seen as part of a public art project in Fort Collins, Colo., where the city had utility transformer boxes painted to combat its graffiti problem. Of the city's 40 completed transformer boxes, Caruso painted its first, as well as 12 others a part of the ongoing project. As each painted box is estimated to save the city $200 by reducing the cost of continuously painting over graffiti, the idea to paint transformer boxes has spread statewide, Caruso says.
Painting past physical setbacks
Just a year after her transition to abstraction, Caruso encountered yet another cancerous setback: uterine cancer. Although familiar with chemotherapy and routine doctor's visits, two years passed before Caruso started on the road to recovery.
"It was the biggest event in my entire life," Caruso says.
During her recovery Caruso curiously researched her cancer's composition and shockingly discovered similarities between her paintings and the cancer's cellular makeup.
"I was shocked at how on a cellular level the painting looked a lot like what was going on inside of me," Caruso says.
Astounded by the resemblances, Caruso hosted an art show titled "Connecting the Dots," which exhibited enlarged images of her cancer aside her paintings and a timeline of events describing her cancer experience.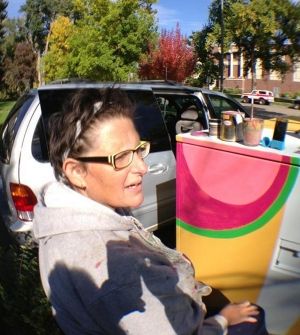 Walking with a cane due to nerve damage in her feet represents one of several permanent physical issues Caruso lives with as a product of her second episode of cancer.
However, Caruso does not allow physical restrictions to prevent her from infusing beauty in a world saturated with ugliness.
"What I'm trying to paint is beauty, because in my estimation there's just so much ugliness in the world in every capacity," Caruso says.
Caruso's efforts to combat worldly ugliness with art extend further than her paintings. Aside from pieces displayed in permanent galleries in Colorado, North Hollywood, Calif., and in Cincinnati's Malton Art Gallery, Caruso designs a fabric line for Robert Kaufman Fabrics called Effervescence.
From chef pants and dog leashes to men's ties and women's purses, Caruso's art continues to be exhibited on a global stage – and she claims to be "not that creative."
While her artistic career has surely seen a varying scale of contrasted success, Caruso says every life experience impacts an artist's work.
"Consciously or unconsciously these things are happening, and they affect your work," Caruso says. "You can't live without having anything affect your work."
Though the events that helped sculpt Caruso's artistic success provided neither comfort nor encouragement, they fail to prevent her from using art as a way to spread happiness.
"If you can find something that brings you happiness and joy, I don't care what you take away from [my art]," Caruso says. "I just want you to be happy about it."
Katie Coburn is a writing intern with UC Magazine.