Animal skulls are transformed into wearable art
Realistic replicas for animal enthusiasts and 'Game of Thrones' fans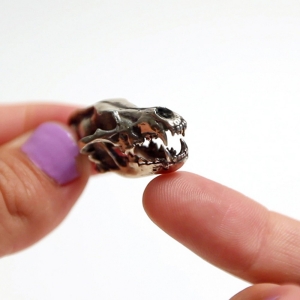 by Brittany Barker
The ancient dire wolf once roamed the plains of North and South America, feasting on giant ground sloths, mastodons and bison. The dire wolf was thought to be sturdy, fast and a larger version of today's wolves. The brawny beast became extinct over 10,000 years ago, but it was recently given a new life and can be found mingling with creatures such as a great horned owl, a walrus and even a velociraptor.
Modern technology mingles with ancient creatures
Fire & Bone, a company that cranks out miniature replicas of animal skulls including the dire wolf, is the brainchild of UC alumnus Matt Kroner, along with business partners Chris Boynton and Jason Bakutis. The company uses technology such as 3-D scanning and 3-D printing, along with traditional casting techniques to create a product that is intricately detailed and anatomically accurate. Fire & Bone's owners take pride in creating pieces that are nearly identical to the original skull of an animal. The replicas can be worn as a necklace or displayed on a small wooden stand by animal and history fanatics.
The species of animals used for Fire & Bone's miniature museum pieces range from common animals, such as a horse, to the mythical and ferocious dire wolf, which is the House Stark family's insignia on the show, "Game of Thrones." With a plethora of innovative machinery at their disposal, no animal is off-limits for Fire & Bone.
Hometown inspirations
Kroner, DAAP '08, an industrial design major, grew up in Cincinnati, and his love for nature-inspired art and innovative technology came from his education.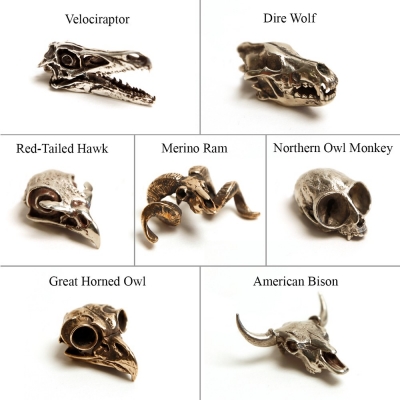 "Many of my projects at UC were inspired by nature, and it definitely has always had a big influence on my art and design work," said Kroner. "I also had amazing professors and classmates. I feel we really pushed each other to make interesting products, and we were encouraged to sometimes break the mold of what traditional designers do."
Kroner was exposed to DAAP before his studies there. During one summer while he was still a high school student, Kroner got to work in the DAAP building for his job at Artworks. This led to a project where Kroner and other Artworks employees created a mural for Cincinnati Children's Hospital Medical Center. For inspiration, he explored the Cincinnati Zoo & Botanical Garden, Eden Park and Krohn Conservatory.
Kroner says projects such as the jungle-themed mural he helped paint for the hospital led to his passion for crafting artwork inspired by nature. A fondness for the outdoors, technology and animals is what initially sparked his friendship with Bakutis and Boynton, and eventually led to the founding of Fire & Bone in 2013. The trio of entrepreneurs met in New York City while they were working at a 3-D printing company together.
"We have always been amateur naturalists," said Boynton. "We've collected a lot of things from nature, and we've always loved going to natural science museums."
For Fire & Bone's first collection of replicas, the three friends used animal skulls from their personal collection, or skulls provided by friends and family. The team now has access to rare skulls through partnerships with museums, and they hope to expand their collection of extinct animal skulls.
Sculptures a 'Game of Thrones' fan can appreciate
Funded and fully backed by 1,400 people on Kickstarter, the expansion of their product line seems inevitable, and they have capitalized on one of TV's most popular shows. The team at Fire & Bone was inspired by "Game of Thrones" to create a dire wolf skull with a moveable jaw. "Game of Thrones" animal and history fans may rejoice upon receiving one of the realistic miniature skulls that can be crafted out of white bronze, yellow bronze and sterling silver. Fans of "Game of Thrones" have made the dire wolf skull a best seller.
"The dire wolf has quickly turned into one of our most popular skulls," said Boynton. "A lot of people didn't realize that it was a real animal." Kroner says that the dire wolf skull was found in the La Brea tar pits near Los Angeles, the same location that their saber-toothed cat skull was discovered.
Fire & Bone customers have supplied the company with plenty of suggestions, and some have requested to have replicas of their pet's skulls created. New products are already in the works, but no matter how large the company grows, the guys at Fire & Bone want to maintain the quality of their beautiful mini-skulls.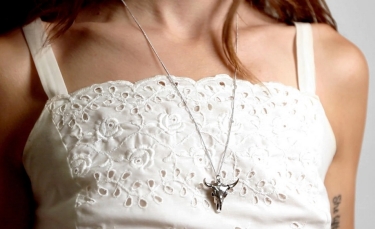 "It was very important to us from the beginning that our products were made in the U.S.," said Bakutis. "We work with a small casting company in Rhode Island for our pendants, and our display bases are manufactured in Maine."
The team wants to remain selective about the skulls they model their replicas from, and they want to keep experimenting with technology and production techniques to deliver inventive designs for their customers.
On the show "Game of Thrones," each dire wolf is a direct reflection of the Stark child it belongs to. For the guys at Fire & Bone, it could be said that the popular miniature dire wolf skulls are a reflection of Fire & Bone's current success and future achievements.
Brittany Barker is a senior journalism student at UC and a writing intern with UC Magazine.