'Girly-girl' models new kind of belt
Former dancer rolls with punches to become national boxing champion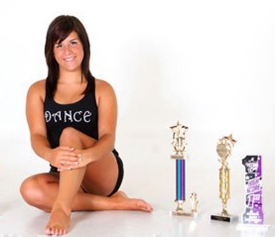 by Katie Coburn
Katie Harrington enjoys getting her nails done most Thursdays.
But, the risk of breaking a freshly manicured acrylic nail didn't slow the University of Cincinnati student from outscoring every opponent on her journey to becoming the Intercollegiate Boxing Association Middleweight National Champion this year.
"It's really hard to be a girl who likes to be pretty and box," Harrington admits as she explains how to maintain a fresh manicure in a pair of boxing gloves.
Her feminine appearance even surprised the Ohio Statehouse audience in Columbus in June when State Rep. Jonathan Dever presented Harrington with a resolution in recognition of her boxing accomplishments and involvement with the UC Boxing Club.
Sporting a fitted black dress, fuchsia high heels, long curled hair and hot pink acrylic nails, Harrington says "boxing champion" wasn't the legislative members' first notion of her presence in the statehouse.
"I like to do my hair and put on makeup and wear cute clothes," she says as she sits in a gym perfumed with sweat while still dressed in business-casual work clothes after a six-hour shift at her summer internship, "but I like to come in [the gym] and sweat and get a bloody nose and give other people fat lips."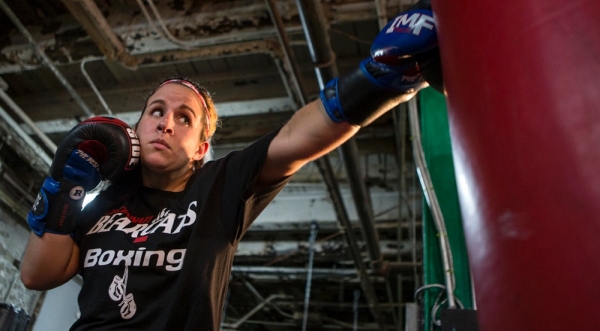 Labeled a drama queen at a young age by her parents, Harrington hasn't always been the tenacious no-quit-attitude fighter that her boxing coaches describe today. In fact, it wasn't until after 12 years of competitive dancing and five years of gymnastics and participating in more than 10 other sports that she woke one morning before her senior year at Madeira High School convinced she should try boxing.
"I was like, 'You know what, I'm going to take the chance of boxing,' and it was the greatest chance I've ever taken," says Harrington who will return this fall for her fourth year of studying psychology and marketing at UC and second year as UC Boxing Club president.
I like to do my hair and put on makeup and wear cute clothes, but I like to come in [the gym] and sweat and get a bloody nose and give other people fat lips.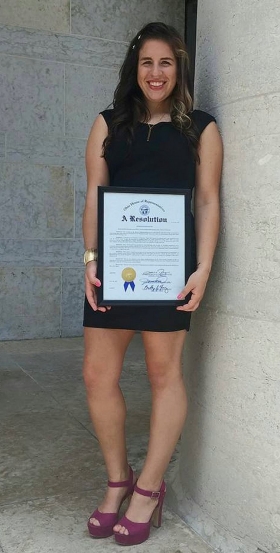 Stepping into the ring helped her reap more rewards than she or anyone else expected. Her father doubted she'd last more than two weeks but never missed a fight. Meanwhile, her mother refused to watch a match until four years in when Harrington advanced to the national tournament at the University of Michigan in April.
"It's really hard to watch your daughter get punched," Lisa Harrington says with an honest laugh. "It's very nerve-wracking for me. I told her in the beginning I was behind her 100 percent, but I couldn't watch, and she was fine with that … but I'm glad I was there for [the national tournament]. It was a really big moment for her."
Not even Harrington could have predicted a national championship.
"At the beginning of this season [the national tournament] wasn't even on my radar to be honest," she says. "I was actually really hesitant to go because I didn't want to, and I was scared of getting my butt kicked."
Harrington won three straight rounds in the final fight against U.S. Military Academy's Sarah Gold to collect the 165-pound division national championship. To Harrington's surprise, the two months of intense training prior to the tournament calmed her nerves in the final round. With heavy arms and ease in her stomach, she was ready. Although her mother paced nervously, Harrington's coach, Kenny Christo, says he knew the belt was Harrington's after only the first two-minute round.

While appreciative of her parents' support throughout the four-year experience, Harrington says her coaches are the ones to thank for her acclaimed feat.
"Even if I didn't win, they were still there to support me. They taught me everything. They got me there," she says. "It was my hard work and everything that they taught me, and I never would have been there if it wasn't for them."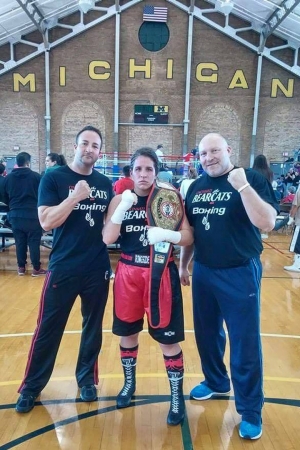 Christo claims Harrington trains harder than most athletes at Cincinnati Fitness Boxing, the gym where the UC Boxing Club trains.
"Katie is a very vibrant, very outgoing girly-girl who just happened to fall into boxing and do extremely well," Christo says. "She came from a dancing background, which is about as feminine as it gets and then transitioned over to a sport that is typically dominated by men, and, man, has she done extremely well."
Harrington has to train harder than most do because even with an extensive athletic history she says she's not a natural when it comes to boxing. But this only fuels her motivation.
"I'd take [having to work harder] over having that natural ability any day. Because I work so hard for it, I want it more," she says. "Out of all the sports I've ever played, [boxing] was the hardest sport to learn, to do, to be in mentally, physically, everything. I think that's why I love it so much, because it's such a mental challenge not only to overcome your opponent but yourself."
While boxing season runs October through March with nationals scheduled for April, Harrington trains four to six days a week year-round to remain physically fit for when a fight presents itself. And because it's harder for experienced middleweight female boxers to schedule fights due to a lack of eligible opponents, this only increases the pressure to always be ready. Though she admits training is both tiresome and time consuming, winning makes it all worthwhile.
"The amount of training and work that goes into it sucks. But when they raise your hand, it's worth it," Harrington says. "That one second of all those emotions is worth the weeks and weeks and hours of training."
When she isn't boxing, she spends her summer interning with a local recycling company's marketing department and managing a private swim and tennis club. She also maintains five to eight clients year-round as a certified personal trainer, all while balancing academic, social and family commitments.
Like most college students, Harrington doesn't know what exactly she wants to do after graduation, but she is certain about one thing: Her future will involve boxing. Until then, however, the UC Boxing Club president will prepare to defend her title next spring while also working to raise awareness of college boxing and helping her teammates develop their skills. Along the way, she is attracting more attention and support for UC's Boxing Club, a student-run club sport which has doubled in active participation since Harrington's presidency last summer.
Ultimately, Harrington couldn't be happier with her decision to unlace her dance shoes and strap on the gloves.
"I found more of a home in the one year of boxing here than I ever did in 12 years of dance," she says. "It has changed me -- but not. I love who I am right now … I definitely was more of a girly-girl, and I'm still a girly-girl, but I have this mean side, this toughness."
Katie Coburn is a writing intern with UC Magazine.
---
Parting shots
Photos by Joseph Fuqua II/UC Creative Services
Click to enlarge
---
In her own words
Check out the below clips to hear Katie Harrington explain how she preserves a fresh manicure in her boxing gloves, how it felt to be recognized by a state representative and how she reacted to her first bloody nose from boxing.
How to box with acrylic nails
Update Required
To play the media you will need to either update your browser to a recent version or update your
Flash plugin
.
Reactions to receiving resolution
Update Required
To play the media you will need to either update your browser to a recent version or update your
Flash plugin
.
Update Required
To play the media you will need to either update your browser to a recent version or update your
Flash plugin
.