UC grad's app helps users find local business
Jooku connects consumers, producers through technology
by Katie Coburn
An electronic-savvy University of Cincinnati alumnus is gaining notoriety for Jooku, a mobile application that helps users discover small and minority-owned businesses near their geographical location.
"It came about just walking around at lunch and realizing, 'Hey let's check out this lunch spot,' one day and the next minute it's gone," says Eku Williams, a 2000 graduate of UC's Carl H. Lindner College of Business and current member of the college's Alumni Board of Governors.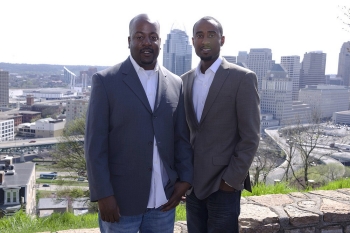 While working in downtown Cincinnati, Williams and his business partner Juma Parham noticed a trend in which small and minority-owned businesses close shortly after opening. With their combined backgrounds in information technology and a two-year time investment, the like-minded coworkers combined their brains and names to create Jooku, a free app designed to connect community members with local businesses.
"Some places are able to flourish and some aren't. That's the downside of being a small or minority-owned business," Williams says. "In the first two to five years, 50 percent of them fail, so we're trying to help them with exposure."
To increase visibility of small and minority-owned businesses, Jooku's cofounders engineered the app to promote an area's less commercialized businesses unfamiliar to mainstream search engines by listing these businesses first. Although businesses must provide Jooku with information to be displayed on the app, the process in doing so remains free of cost. Once a business supplies a description of its services, contact information, pictures and other pertinent information, the business will be added to Jooku's database. Businesses can also pay for additional advertising within the app.

Real estate agent and UC alum Darrick Dansby, A&S '96, M(Ed) '02, says advertising with Jooku advanced his real estate career by growing his customer base.
"It is a great opportunity for me to advertise for real estate," Dansby says. "I feel that in different markets people don't look at small business owners as much as big businesses, but [Jooku] provided me the opportunity to advertise and reach a good market area at a very affordable cost."

Because the app's database depends heavily on small and minority-owned businesses providing information to be displayed, Williams and Parham designed Jooku so it can also be utilized as a typical search engine.
With more than 1,170 downloads after officially launching in April, Williams expects Jooku's database to grow as the app gains popularity and users. Its focus on small and minority-owned businesses, as well as its user-friendly technology, sets the app apart from others, he says.
"The first thing we did was investigate if there is an app, and we couldn't find one that really focuses on these small and minority-owned businesses," Williams says. "So, we decided to make one ourselves to help out these businesses, because you have a lot of people who want to patronize those small businesses, but the reality is how do you find them?"
Through GPS and mapping capabilities, Jooku provides users directions to businesses in their immediate surroundings in addition to the information listed in the app's database.
"[Users] love the fact they have an app they can travel with, and they also enjoy that, no matter what it is, they can rate and comment on any business," Williams says. "It's not limited to just restaurants. It's everything."
Jooku isn't limited to Cincinnati either. It works globally and can be personalized by the user. "Liking" a business saves its information to a user's profile to be revisited. Of Jooku's numerous subcategories classified as business, social or community affiliations, users can select their favorite subcategories to customize the businesses and services displayed in their feed.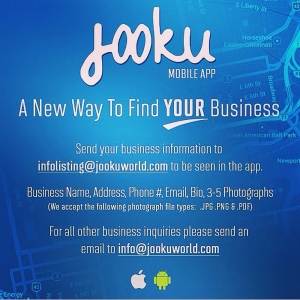 In addition to being able to comment, rate and save businesses' information, Jooku contains a forum for members to discuss community matters. As community members connect through mutual commercial interests, Jooku equips them to build community by helping local businesses flourish, Williams says.
While he and Parham continuously update Jooku's database and technology, Williams expects users to see key developments in upcoming weeks. An upcoming iOS update is scheduled to introduce a new design. To increase efficiency as Jooku expands, a website is under construction to enable businesses to independently update and upload their information, which would subsequently be approved and added to the mobile app. To increase interaction and support among businesses, the team plans to design a feature to establish communication among businesses showcased in the app.
Williams, employed with Macy's, and Parham, employed with Epsilon, dedicate an additional 30 to 40 hours a week to Jooku's development. Although Williams says creating Jooku posed an enormous time investment for both him and Parham, he says he enjoys it and encourages UC students looking to begin their own business endeavors to take the risk.
"Go for it. Take the risk. Jump. Have faith. That's really the only way you know if it's going to be successful or not," Williams says. "Don't be afraid to fail, because you're going to learn from your failures and eventually that's what's going to make you successful."
Katie Coburn is a writing intern with UC Magazine.