David Niland, 80, architect professor, urban-design advocate dies
A tribute by Jayne Merkel, an architectural historian and critic

One person really can make a difference in how an entire city looks. That was certainly true of David Niland, who died Sept. 24, 2010, at his home in Clermont County, Ohio, at age 80.
No Cincinnati citizen had a greater impact on the city's physical environment in the 1960s, '70s, '80s and thereafter than David Niland. Though his own architectural work was largely confined to private houses, he served on the city's Urban Design Review Board through those years and was its most influential critic.
As a professor at the University of Cincinnati's College of Design, Architecture, Art and Planning for more than 40 years, he directed the sixth-year architecture program where his influence was so great that students used to call the final year the "David Niland School of Architecture." The only Cincinnati architect of his time whose work was published internationally, he made important contributions to the art of architecture in the area of handicapped accessibility as well as in education.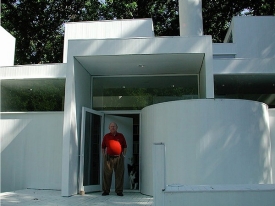 David Niland was born in Cincinnati, graduated from Withrow High School where he was a football star, and played under coach Woodie Hayes at Dennison University before Hayes went on to Ohio State and Niland went to Yale to earn bachelor's and master's degrees in architecture. He was at Yale at a time when the most influential architects of time -- Louis Kahn, Paul Rudolph, James Stirling, Buckminster Fuller, Eero Saarinen, Konrad Waxman and historian Vincent Scully -- were teaching there. Many of his classmates -- Norman Foster, Richard Rogers, Charles Gwathmey, James Stewart Polshek -- went on to become the most famous architects of the next generation, but Niland came back to use his training in his home town.
Although he is best known for elegant, white, geometric modern houses, which are works of art in their own rights, he also made important contributions to the art of architecture in the area of handicapped accessibility, an area that became important during this period as a result of the passage of the Americans with Disabilities Act, which affects almost every aspect of design. In two important houses for wheelchair-bound clients -- the Irwin Hanensons in Bond Hill and the Hugh Hawkins family in Indian Hill -- Niland proved that it is possible to create beautiful, spirit enhancing architecture while meeting the complex needs of the disabled.
These clients were so important to him that when he built his own house ("Mary's House," named for his wife, Mary Krohn Niland), he designed it to be accessible to them with wide corridors, no steps and easy turnarounds. He provided the ups and downs he created in most other buildings with roofs of various heights.
Niland served as a visiting critic and lecturer at colleges all over the country. He also received numerous awards including the American Collegiate Schools of Architecture's Distinguished Professor Award in 1991-92 and the Architectural Foundation of Cincinnati's Apple Award in 2003. His former students practice and teach throughout the United States, carrying on his commitment to ambitious architecture, sensitive urban design, and education. Many head major architectural practices or have followed in his footsteps as college teachers, spreading his influence exponentially.
One former student, Erik Sueberkrop, is a founding partner of Studios Architecture, a firm with offices in San Francisco, Los Angeles, New York, Paris and Washington, D.C. The firm has designed headquarters for E*Trade, Turner Broadcasting Systems Europe, Silcon Graphics (later sold to Google), Bloomberg News and other high tech clients.
Sueberkrop explained what it was like to be back under Niland's tutelage when he was designing a building on the University of Cincinnati Medical School campus. "My last interaction with him was in his capacity as a member of the University's Architectural Review Committee, commenting on our design for the Crawley Center, around 2002.
"David was as usual very animated, passionate, insightful, exercising his great command of the English language. We had our share of differences about how to look at the project, so the review was fairly lively and intense, but it ended with his giving me an Eastern European bear hug. Needless to say, it caught everyone at the review by surprise, but it summed up David's persona.
"He was passionate about debate and commitment to the forces of architecture," Sueberkrop continued. "In a way, it was his religion. He appreciated this same commitment in others and expected, if not demanded, excellence.
"It is what made him a great teacher. And yet, he had the ability to be compassionate, a love for humanity. I think David appreciated that everyone had a little different take on his religion, a passion for architecture."
Another former student and friend, the prominent Cincinnati architect John Senhauser, explained, "As a critic, David developed the personae as both thespian and entertainer, 'singing' his observations in a sort of poetic rhythm. He coined a colorful non-architectural language of 'innies, outies, whoop-d-do's, zoots and woo-woos,' utilizing these terms to deflate the flawed logic of some inept formal manipulation.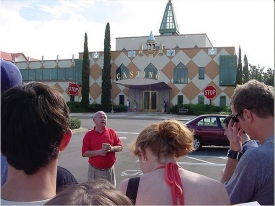 "His blue eyes would twinkle with his sarcasm and wit as he delighted in this intellectual dance. I recall him suggesting once that a famous architect possessed the ability 'to charm the drawers off a Mother Superior.'

"Anyone who knew him knows he was a singular voice amid public cynicism and decaying values, whose life's purpose was to articulate the constructed environment. It is rare when someone becomes synonymous with an organization as he was with the School of Architecture's Senior Studio, the City's Urban Design Review Board, the University's Design Review Committee. No discussion about Cincinnati's or the university's architecture is ever credible without recognition of his contributions to the critical discourse that lead to these projects."
Jayne Merkel, an architectural historian and critic, is a New York-based contributing editor for Architectural Design/AD in London and writes for numerous architectural journalists in the United States. She is a former Cincinnati Enquirer architecture critic and author of the book "Architecture in Cincinnati."