Backstage view of presidential security for Obama's UC visit
When President Obama visited campus, UC's experienced police chief knew just how tight security would be.

Secret Service agents and White House security surreptitiously combed through every corner of the University of Cincinnati campus before anyone knew that President Barack Obama was going to pay a visit on Sunday, Nov. 4. "The president's people are here long before they make their presence known," UC's police chief Michael Cureton said.

He estimated an advance team was on campus for a week before he received a phone call about booking Fifth Third Arena for the president's campaign stop just four days later. And by the time Sunday rolled around, security was at an all-time high.

"The president is the most well-protected man in the world. He always moves around in a bubble," said Cureton, who joined UC one year ago and who had helped guard the president several other times, in Cincinnati and Washington, D.C.

Sometimes the bubble was obvious. The 15,000 people who attended the rally — and warm-up show by Obama supporter Stevie Wonder — quickly noticed that they were passing through metal detectors, officers were searching their bags and canine units were numerous enough that a dog was always in sight. Even Secret Service agents were easy to spot, each wearing a plain gray suit, white shirt, tie and a white curly cord extending from behind an ear to the shirt collar.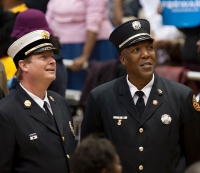 Fewer people, however, may have noticed camouflaged, armed men stationed in strategic locations or bomb squad crews wanding and frisking the media. Furthermore, the public was unaware of the fact that White House security, UC police (who were appointed to be primary responders for the event), Cincinnati police, Hamilton County sheriffs and two SWAT teams were all on duty. UC police also had officers who had been trained in dignitary protection working directly with the Secret Service.
Furthermore, the most observant visitor would not have realized that security personnel were stationed at every door in the Shoemaker Center, including closet doors, and that a White House agent was assigned to every officer carrying a gun, according to the chief.

More over, when the president rode between the venue and the airport, police blocked all expressway entrance ramps and all side streets leading to his travel route. After the rally, the same philosophy held true for UC garages that faced Corry Boulevard. Because the president's limo and entourage would exit campus along that street, several garages had exits blocked until the VIPs passed first.

All of those steps, of course, involved strictly ground security. Similar security also patrolled in the air and in the Ohio River (because Obama had to cross a bridge), the chief pointed out. In addition, the White House had "the technology to control the airwaves" so that communications would be accessible to the president and staff at any time and that those same communications would be inaccessible to others.

A final oddity was the number of curtains installed behind the scenes at the Shoemaker. "There were lots of curtains," Cureton says, "and you didn't know what was behind them.

"They used them to set up rooms for different activities — one where the president signed memorabilia and one with a big flag where people could have their photos taken with the president. Each guest would get their 35 seconds for a photo with a flag in the background."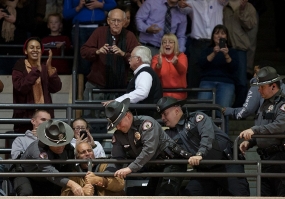 Everything went "without a hitch," he says, even though two hecklers had to be physically removed. One was screaming so loudly that it became difficult for the audience to hear the president over a microphone. Although the president told the audience not to worry about it, four officers forcibly removed the heckler from the arena after giving him a chance to calm down.

Chief Cureton explains that police have to handle hecklers with "a different set of rules." "It's a free-speech issue," he says. "They can disrupt a public meeting by yelling, and you can't do anything about it. But at a ticketed event, each facility has ground rules that go into effect when you accept a ticket.

"When you remove such a person, they calm down once you get them outside because they did what they wanted to do. In fact, they are often glad to have a police escort out of the building at that point."

Before a presidential appearance takes place, White House security members "rehearse" frequently, Cureton says. "They plan out different scenarios and have walk-throughs over and over again."
The last time a sitting U.S. president visited campus was in 1936, when Franklin Delano Roosevelt made a campaign stop a few weeks before his re-election. Presidential security has tightened significantly since then.

Cureton says the biggest changes took place after John Hinckley Jr. shot Ronald Reagan and three others at the Washington Hilton Hotel in 1981. Reagan suffered a punctured lung, Press Secretary James Brady was left paralyzed, and a law enforcement officer retired due to his injuries. Afterward, the president no longer strolled among people who could reach him, and he exited and entered vehicles in undisclosed locations. He can't identify all the procedures he knows because some are confidential, he notes.

An advance team from the White House had scouted out the possibility of using the University of Cincinnati four times earlier in the campaign, says Gregory Vehr, vice president of Governmental Relations and University Communications. "The Romney campaign called twice, too, but it wasn't what they wanted."

Initially, it wasn't what the Barack team wanted, either, but at the last minute, they cancelled an Oct. 31 rally downtown when the president's first priority became Hurricane Sandy relief efforts. Chief Cureton said that the advance team simply had to "switch gears" when they moved the event to Fifth Third four days later.

In the case of either party, the campaign pays the university for all expenses incurred. Basically, the arena is simply being rented.

Ticket-holders to Sunday's rally began lining up well before noon. By the time doors opened at 4 p.m., they were feeling quite frozen and running for the restrooms.
Around 7 p.m., Fifth Third Arena reached maximum occupancy of about 13,000 people while some people still waited in line. An overflow room was set up in the adjoining Armory Fieldhouse, but streaming live video was impossible. That left 2,000 people disappointed at the prospect of only hearing an audio feed of Obama's remarks and Stevie Wonder's performance.
Around 8 p.m., their wildest dreams proved to be wildly inadequate when President Obama strolled into their room to talk to the group personally before he went into the big event. Richard Puff, director of Academic Health Center Public Relations, says many people had chosen to leave when they realized they would be unable to see anything. Yet those who stayed, such as Puff and his wife, considered themselves the lucky ones when they got to meet the president in a room that was quite intimate when compared to the arena.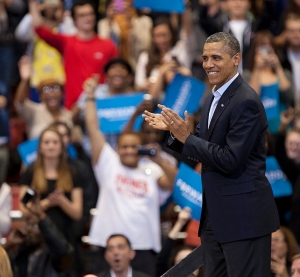 In many respects, the presidential visit was old hat to Cureton, who has pictures of himself with Obama from four occasions. The most memorable meeting took place while he was assistant police chief for the Cincinnati Police Department.

He had been given the chance to take 81 of his officers to Obama's '09 inauguration, where they guarded the presidential procession along Pennsylvania Avenue and later provided security at the Presidential Ball. To accomplish both assignments back to back, Cureton worked nearly 24 hours straight, from 3 a.m. in freezing weather to 2 a.m. at the ball.

Although that was the most exciting encounter he had with Obama, he did have a more humorous one in '08. The presidential candidate was at Ault Park while a security team scoped out the venue for an upcoming rally. When Cureton arrived, bomb-sniffing dogs were roaming the hillside while Obama and his personal aide Reggie Love tossed a ball.

The funny thing is that as Cureton approached, he passed an official sign that read, "No throwing balls and no dogs." "I told them I'd let them go that one time," Cureton says with a grin.
LINKS
See entire photo gallery of Obama's November 2012 rally, including a photo of Stevie Wonder.

Read about FDR's visit in 1936.
See the slideshow of photos related to Obama's two visits in 2008.