Heart and sole
UC alums stand behind international business built around sustainable stomps
By Dawn Fuller
Photos by Marc Laurent
An upscale and compassionate designer sneaker company – conceived by two University of Cincinnati alums when they were students – is impressing shoe shoppers worldwide as well as top fashion publications.

Named Piola Shoes, their company is dedicated to being fair to workers and environmentally sustainable while churning out shoes made of leather or canvas from organic cotton and fair trade rubber – the wild rubber coming from the Amazon rainforest.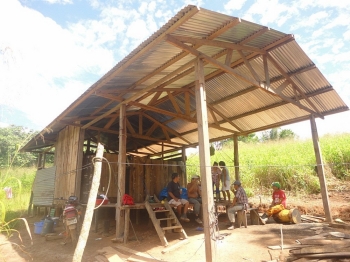 The idea for the venture was hatched by Antoine Burnier-Dechon, a study abroad student from the Audencia Nantes School of Management, a Carl H. Lindner College of Business International Programs partner. He completed his master's degree at UC and launched a business partnership with Josh Rudd, a Princeton High School graduate who earned his BBA from the college in 2012.
One of the most compelling aspects of their business is that it supports the Peruvian farmers who provide the materials for the shoes, as well as the factory workers who produce the shoes in Portugal. Piola's commitment to environmental sustainability also fits in with fashion industry trends toward more eco-friendly and fair-trade products.
The word, piola, is Peruvian Spanish for "elegant" or "cool" (or, as Men's Journal states, "kick-ass"), and the product has been featured in such high-profile publications as Gentlemen's Quarterly (France), Harper's Bazaar, Men's Journal and Sneaker Freaker Magazine.
While they were still college students at UC, Burnier-Dechon and Rudd started the Piola partnership through the UC Center for Entrepreneurship Education and Research. Rudd received the center's 2012 award for Outstanding Undergraduate Student in Entrepreneurship.

The company's two other business partners are Augustin Gautier, a graduate of ESCP Europe, an executive business school in Paris, and Quentin Richard, a graduate of University of Wollongong, Sydney, Australia.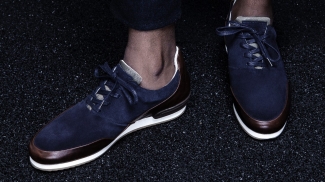 Launched in 2011, Piola Shoes started out selling in boutiques in France. Rudd says Piola now has 105 points of sale across Europe, Asia, Australia and North America but is sold only through an online clothing and lifestyle store in the U.S., the Virginia-based needsupply.com. However, Rudd says the shoe line is coming to Nordstrom, an upscale fashion retailer, in early 2015.
The company is filling a new niche for casual designer footwear that's growing in popularity. "It's not the '50s anymore, and when we started out, we knew that men didn't have to wear only loafers to work anymore," Rudd says. "The work place is more casual, and we wanted shoes to go with the office and with jeans – you can wear them dressing up or going more causal, day or night. I've heard it called the hybrid sneaker.

"We also wanted designs that represented our philosophy, so the shoes come in lots of colors and patterns," Rudd says.

Shoe prices range between $150-425. Although the company's first demographic target primarily focused on younger, professional men, Rudd says the company has just introduced a women's line of shoes.
Not quite an overnight success
With every success story comes its obstacles, and Rudd says Piola Shoes started out with its share, among them navigating the language and cultural barriers in working with other countries to manufacture the product. Their suppliers communicated in Spanish. Burnier-Dechon's native language is French and Rudd's is English. Furthermore, the remote areas of Peru where the company operated were not wired.

"One of the first lessons we learned is that we needed to sell before we produced," adds Rudd. "We started out by producing about 4,500 shoes, because the manufacturer required us to do that. But because we had sold zero shoes before we produced, we almost went bankrupt."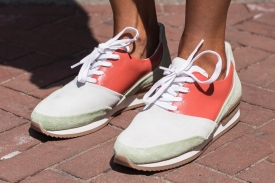 Burnier-Dechon moved to Paris to supervise sales in Europe, and after his UC graduation, Rudd initially moved to New York to work on getting Piola Shoes into the U.S. market. But moving and shaking in those big cities wasn't half as glamorous as what might be imagined.
For that matter, real-life as a budding entrepreneur in the Big Apple was hardly the lifestyle portrayed on TV.

Rudd moved to New York with two UC interns from the Lindner College of Business: Kyle Neyer and Alex Schneider, along with another Lindner College of Business graduate, Robel Kidane, who got a job at Jeffries, a global investment banking firm.
"We were living in a one-bedroom apartment, so all four of us were sleeping in the living room on blow-up mattresses," says Rudd. "Antoine's first apartment in Paris was an efficiency. He didn't have a stove, and the shower was about a foot away from his bed.

"A lot of us were also working second jobs in addition to Piola Shoes, and we had no vacations," says Rudd. "There really wasn't much time for ourselves." Rudd has now moved back to Cincinnati to work on U.S. business operations while Burnier-Dechon remains in Paris.
Piola launched a successful Kickstarter campaign in March 2013 to raise $85,000 to create the company's first workshop for their rubber producers. Project Piola, as it was called, resulted in the company's first development project to create an "elegant, sustainable product in 33 days for 33 rubber producers." The project was a partnership between Piola and the United States Agency for International Development (USAID), a United Nations Organization, and the World Wildlife Fund (WWF).

"Sales from Piola Shoes still support the farmers. We built three workshops just this past year for the farmers in Peru," says Rudd.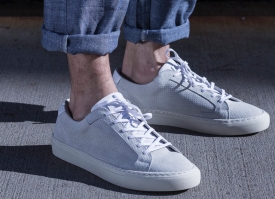 Rudd says the challenges and the excitement around Piola Shoes never would have existed without the Lindner College of Business' partnership with the Audencia Nantes School of Management, which resulted in the partnership between Rudd and Burnier-Dechon. That partnership was also guided through the college's Center for Entrepreneurship. Established in 1997, the center is dedicated to entrepreneurship education, research and service.

"Our main mission is to remove barriers and create gateways for entrepreneurs like Josh and Antoine," says center founder Charles Matthews, a distinguished teaching professor of entrepreneurship and strategy. "They've been focused on creating a business model that adds value to the customer and the planet. From the beginning, they have been sensitive to labor and environmental issues associated with manufacturing and production. By adhering to environmentally-friendly plant practices and by making sure that the rubber they're sourcing is not being depleted, the eco-friendliness of the product goes hand-in-hand with its design and functionality.

"I view this shoe company as a highly scalable potential venture," Matthews says."They seek to redefine markets and have optimal growth – similar to companies such as Nike and Apple that started as small businesses and grew into responsible global companies."

Rudd adds that as for his experience at UC, Matthews was "the best professor I never had. I worked with him as an advisor, but never had him for a class."

Look for future developments on Piola Shoes as the product enters Nordstrom stores in the U.S. in February. You can get updates through Facebook and Twitter.