CCM students, alumna join Lee Roy Reams on Muny stage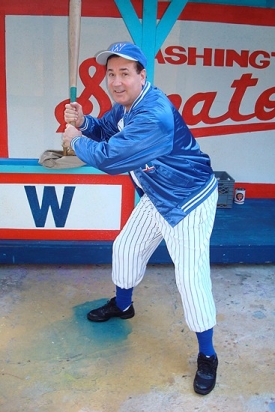 In 2010, for the 21st year, Lee Roy Reams, CCM '64, MA (CCM) '82, HonDoc '98, spent part of the summer on stage at the St. Louis Muny, the nation's oldest and largest outdoor theater. As usual, he was joined by a number of CCM students and an alumnus.

This year, Reams played Van Buren in "Damn Yankees," while Leslie Kritzer, CCM '99 (fresh from her performance in the acclaimed Broadway revue "Sondheim on Sondheim"), played Gloria Thorpe. Also on stage were College-Conservatory of Music students Leeds Hill, Jennifer Brissman, Kelly O'Neill and Michelle Rombola — all in the ensemble.

Always anxious to play an uncle-like mentor to the students, Reams made Cincinnati chili one night for all the "kids," as he calls them. "We had a CCM night, the youngsters and the old-timer," he says. "We had a wonderful time. I love being part of our continuing family."

Reams also enjoyed performing with Kritzer. "We've known each other, but this is the first time we had to work together," he adds. "And we bonded the very first day. We had a grand time. It was really swell."

Last year at the Muny, he directed "42nd Street," a show for which he had received both Tony and Drama Desk nominations in 1981 as Best Featured Actor for his portrayal of Bill Lawlor in the original Broadway production. The year before last, the Muny cast Reams in "The Producers" as Roger De Bris, a role he has played off and on for five years -- on Broadway, on the national tour, then at the Muny.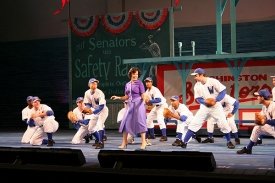 Reams says he has remained busy all year working in New York and on the road. On Aug. 30, he began rehearsals for Hairspray at the Paper Mill Playhouse, playing Wilbur, the husband. Patrick Parker from CCM is the assistant managing director of the show.

Besides the shows mentioned above, Reams is best known for his Broadway work in the following:
"Beauty and the Beast" (as Lumiere)
"La Cage aux Folles" (as Albin)
"Applause" (as Duane Fox)
"Lorelei" (as Henry Spofford)
"Hello, Dolly!" revival in '78 (as Cornelius Hackl
"Oklahoma!" (as Will Parker)
"Sweet Charity" (at the young Spanish man and in the ensemble)
"An Evening with Jerry Herman" (in which he starred and directed)
"Hello, Dolly!" revival in '95-96 (as the director and choreography of the show starring Carol Channing)
Leslie Kritzer has received critical praise for her work in these Broadway shows:
"Rooms: A Rock Romance" ('09, Outer Critics Circle Awards nominee)
"A Catered Affair" ('08, as Jane Hurley, Drama Desk nominee, Outer Critics Circle Award nominee)
"Legally Blonde" ('07, as Serena, Actors' Equity Clarence Derwent Award as the "most promising female performer on the New York metropolitan scene")
"The Great American Trailer Park Musical" ('06 Drama Desk nominee for Outstanding Featured Actress in a Musical)