Making puppets relevant
DAAP graduate creates educational toys shaped like dinosaurs

In an era where children persistently reach for PlayStation controllers and iPads, Zachary Opaskar has found a way to make paper hand puppets relevant.
In 2011, Opaskar, DAAP '01, was invited to introduce a fourth-grade class in Los Angeles to his greatest passions, dinosaurs and design. By the end of his class session, the students of Los Feliz Elementary School were declaring that his invention, Snappets, was more fun to play with than video games.
From paper to ferocious beast
Shaped like dinosaurs, Snappets are 3-D hand puppets that users build themselves. Each Snappet is crafted out of durable card-stock paper that is smooth to the touch and is accompanied by a set of detailed instructions on how to bring it to life. Every Snappet begins as a puzzle and users have to fold and bend it to create the dinosaur shape.
Snappets have a powerful bite, and they make a distinctive chomping noise. Once constructed, users stick their hand into that back of the puppet, open and close their fingers and the snapping noise occurs when both ends of dinosaur's mouth are slammed together.
Dawn of the dinosaurs
Opaskar has been fond of dinosaurs for the majority of his life. Frequenting the Natural History Museum in his hometown of Cleveland, he became mesmerized by the prehistoric creatures, especially the saber-toothed tiger and stegosaurus. While in DAAP's graphic design program, he took a three-quarter long class on how to make paper toys.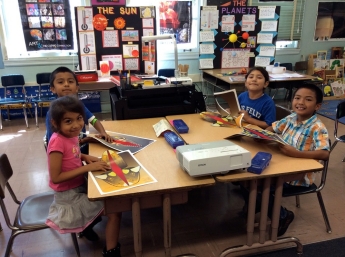 The class, taught by Joe Bottoni covered everything from designing a pattern, to the toy's packaging. Opaskar chose to create paper hand puppets shaped like dragons. He credits the class for the inspiration behind Snappets.
Nearly a decade after the class, Opaskar and his girlfriend were shopping at a boutique in Los Angeles when he stumbled upon a design that reminded him of the paper dragons he created at UC.
"There was this really wonderful Japanese designer who put together this origami set," said Opaskar. "It was black and white and beautifully presented, but the catch was that they were American farm animals as opposed to the crane, the frog or the rabbit."
With his girlfriend swooning over the intricately folded designs, Opaskar decided to dig up the pattern for his dragon hand puppet that he created in DAAP. His girlfriend was astonished by the intricate paper dragon and insisted that he should pursue toy making as a career. Opaskar, who has a fondness for toys and working with children, agreed wholeheartedly.
"We made a list of animals and dinosaurs," said Opaskar. "Dinosaurs were of course the first things we listed. Everybody loves dinosaurs. Girls like them, boys like them and adults like them."
Opaskar spent a lot of time researching dinosaurs in preparation for his business venture. He saw potential for Snappets to be more than just a toy. He wanted them to have educational value, in addition to being fun. The first two dinosaurs he created were the Tyrannosaurus rex and ankylosaurus.
More than just a toy
Opaskar created a Kickstarter campaign to fund the production of Snappets in July 2014. The dies used to cut out the dinosaurs were pricey, and Opaskar knew that he needed help to get his business off the ground. With over 200 backers, his campaign earned over $4,000 more than his original goal.

This campaign allowed him to purchase the eight dies he needed to cut out his creations. Each die is specifically made to cut out a particular type of dinosaur. Snappet's roster of dinosaurs includes the ankylosaurus, archaeopteryx, elasmosaurus, parasaurolophus, pteranodon, triceratops, tyrannosaurus and velociraptor.

Opaskar intentionally selects dinosaurs and creatures with interesting facial structure for Snappets designs. The combination of Snappet's educational value and hands on construction experience have caught the attention of educators and parents.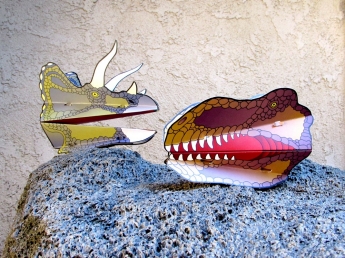 Opaskar has recognized that Snappets can be used as an educational tool for a wide range of people. "I have been approached by teachers, I've been approached by therapists, I've been approached by people with children that have autism, so it can be used as a tool for all of these things," said Opaskar. "I was thinking initially, 'What a cool retail product,' but there is this whole value that I didn't expect with children and teachers of all kinds."
Moving forward
Opaskar continues to come up with innovative ways to reinvent his popular hand puppets. He hopes to create Snappets fashioned after sports mascots and athletes for fans at sporting events, similar to bobbleheads.
He has utilized social media outlets to draw attention to his designs, and he loves to make videos to show off his Snappets. He takes full advantage of free marketing tools online, such as Facebook and Instagram.
Snappets may be a fledgling business, but Opaskar, educators and all who hear his dinosaurs snap have confidence that it will grow larger than a Tyrannosaurus rex. Within the next few years, Opaskar's goal is for Snappets to become a self-sustaining business that can pay him a salary, although it is not all about money for this DAAP graduate. He feels that his greatest accomplishment with Snappets has been putting a smile on faces, young and old.
Brittany Barker is a senior journalism student at UC and a writing intern with UC Magazine.
Link: