UC's ties to India prime minister's Madison Square Garden event
Alumnus faculty member wrote original composition,
which his daughter, a UC student, sang as a soloist

by Barbara Blum
University of Cincinnati alum Kanniks Kannikeswaran had a musical composition performed at Madison Square Garden in New York City on Sept. 28, 2014, as the opening ceremony song for the mega-event staged for India's new prime minister, Narendra Modi. What makes it even more special is that it was Kanniks' daughter, a UC student, who performed it in front of the 18,000-plus audience.
Kanniks, M (Eng) '86, M (Bus) '88, also a CCM adjunct faculty member, had his composition, "Mahavakya — Anthem for the Indian Diaspora," performed by daughter Vidita Kanniks, a CCM sophomore double majoring in music history and music education.
Honoree and speaker Modi, elected as the prime minister of India in May, made several stops and speeches in his first visit to the United States after his election, including an appearance at the United Nations and a meeting with President Obama.
The Gardens' event drew national attention, and the sold-out crowd was treated to multimedia performances of dancers, singers and artists.
Kanniks' composition featured ancient Sanskrit lyrics conveying a message in the popular Indian raga "Desh":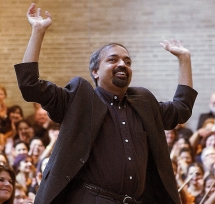 "The world is my motherland.
Everything that exists is sacred.
There is nothing more liberating than the knowledge of the
self.
The Universe is my family."
Kannikeswaran is considered to be a pioneer of the Indian American choral movement, and his groundbreaking work has led to the formation of Indian community choirs in Cincinnati (the first in the country); Chicago; Washington, D.C.; Atlanta; Fort Lauderdale; Tampa; Minneapolis/St Paul; Toronto; Allentown, Penn., and across the Atlantic in The Hague.
He is also the recipient of several awards such as the Ohio Heritage Fellowship, the McKnight Fellowship and a UC Just Community Award. His piece, "Shanti — A Journey of Peace," was performed in April by the Greater Cincinnati Indian Community Choir, the MLK Chorale and YPCC at the Aronoff Center to an large audience.
Daughter Vidita was featured as a soloist in the first-ever archival recording of the Indo Colonial music of the 1800s. She has performed as in the presence of the former president of India Abdul Kalam and has been a featured soloist in several of her father's productions all over the world.
---
Below is a link to a YouTube video that runs nearly three hours and includes Modi's speech, but it begins with Vidita Kanniks' performance of her father's composition.