UC president's book featured book of the month at public library
Williams shares stories from his autobiography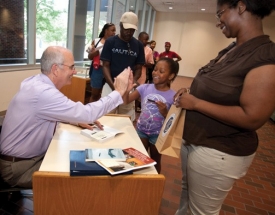 When UC President Gregory Williams took the stage at the downtown Cincinnati Public Library in July 2011, he joked about having been afraid no one would show up. As he spoke, however, library employees were setting up several more rows of chairs to accommodate the overflow crowd.

Williams talked and read from his award-winning memoir, "Life on the Color Line: The True Story of a White Boy Who Discovered He Was Black." When he was a child, he told the crowd, libraries were important places where he could read about heroes. "I spent hours in libraries to escape the reality of my own life."

One unidentified woman (wearing the black blouse in the lower photo) was particularly eager to meet the author because she shared a similar story: Although she looked white, her ancestors had been slaves. During the Q&A, she came to the microphone weeping to thank him for his inspirational words.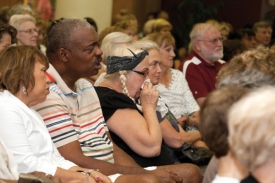 The president also talked about the progress on his next book, which deals with ancestors who were slaves in Bowling Green, Ky. "My great-grandfather was 10 years old when Lincoln signed the Emancipation Proclamation," he said. "But writing is slow these days. My day job keeps me kind of busy."

As a result of his autobiography, Williams has been featured on a number of national programs including "Oprah," "Dateline NBC with Tom Brokaw," "Larry King Live," ABC's "Nightline with Ted Koppel," and National Public Radio's "Fresh Air with Terri Gross."

In 1995, Life on the Color Line was selected as Book of the Year by The Los Angeles Times. In 1996, the Gustavus Myers Center for the Study of Human Rights in North America named Life on the Color Line an "outstanding book on the subject of human rights." It is often required reading for entering students at U.S. colleges and universities. President Williams also has written a number of articles and book reviews for The New York Times, The Los Angeles Times, The Washington Post, and other publications. At the library it has been selected as July's featured book of the month, so everyone is invited to read it this summer.

Before moving to Cincinnati, Williams served as president of the City College of New York (CCNY), the flagship college of the City University of New York. He has worked as a university administrator for over 30 years, serving in a variety of posts at George Washington University, the University of Iowa, and Ohio State University.

Read feature on President Williams