Legendary lips make master class masterful
Jazz trumpeter Wynton Marsalis teaches, inspires CCM students
A standing-room-only crowd packed Patricia Corbett Theater on Monday, Oct. 6, 2008, to hear what came from the lips of a contemporary jazz legend, trumpeter Wynton Marsalis, the first jazz musician to win a Pulitzer Prize and the only artist to win Grammy Awards for both jazz and classical records.

First came words of inspiration to jazz students from the College-Conservatory of Music and local high schools. Next came the music that the audience had sat on the edge of their seats waiting to hear. Finally came a critical interchange between Marsalis and four CCM students who played with him.

This is what master classes are about — motivation and education from a true master.

Days later, "students were still talking about how inspiring it was," says professor Rick VanMatre, director of jazz studies. "Wynton Marsalis is the most famous jazz musician of his generation, and he has had a profound impact, not just on the art form of jazz, but on the culture of America.

"The master class was invaluable. The lecture and demonstration were tremendously powerful philosophically, and students who got a chance to actually play with Mr. Marsalis picked up relevant, practical advice."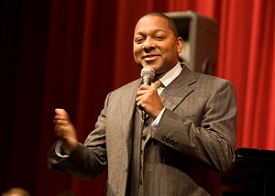 Senior Martin Diller, a drummer from Oakland, Calif., was one of those lucky students — sitting on stage with his drum kit. He says he was able to remain "pretty cool" about playing with "the most well-known jazz musician in the world," until Marsalis focused his attention on him and the bass player for a critique.

"I was educated there, right in front of a few hundred people. That was a little intimidating, but it was a good learning experience."

Watching from the audience, Joel Baroody, a first-year master's student in trumpet performance, was taken by Marsalis' approach to teaching. "He spoke to people not just as an elite professional and virtuoso, but as a colleague on the same level.

"Positive comments and phrasing criticisms such as, 'All the love in the world to you man, but that wasn't quite right,' are a great way to communicate with students. He was a warm and engaging personality on stage, and the class felt very much like there was only a handful of people in the room, instead of 400."

All of the CCM jazz studies majors attended the class, as well as other UC students, faculty and staff. In addition, VanMatre invited jazz students from outstanding high school jazz programs in the area, including Walnut Hills, Princeton, Lakota West, Lakota East and the School for the Creative and Performing Arts.

The night before the class, Marsalis performed for a Healthcare Connection fundraising concert, which CCM helped sponsor. Preceding the event at the Aronoff Center, a CCM student jazz combo performed in the lobby, and afterward, CCM hosted a jam session at the Blue Wisp Jazz Club, where the CCM Faculty Jazztet performed alongside Marsalis and members of the Jazz at Lincoln Center Orchestra.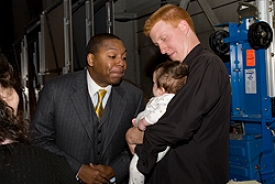 Despite three events in less than 24 hours, Marsalis was in no hurry to leave campus after the master class, which ran 30 minutes longer than scheduled. Afterward, he greeted students and alumni backstage, where Baroody asked the nine-time Grammy winner to sign his trumpet etude book.

"I definitely confess to having been slightly starstruck," Baroody says. "Wynton's been probably my greatest musical hero and influence. For many trumpet players like me, meeting Wynton is like college basketball players having a chance to do a clinic with Michael Jordan. The whole experience was a great way to start off my career at CCM.
"I was also pleased at the personal attention he gave everyone. He seemed very appreciative of us as fans, students and aspiring trumpet players. He's very approachable, just a normal dude."

Of course, Baroody must have been taken a little by surprise when that "dude" took the student's trumpet from its case, played it, then asked Baroddy to play something for him — "which I did, slightly nervously," he says.

And what was Marsalis' critique? "He said, 'Sounded great. Keep at it.'
"I can't tell you how thrilled I was."