UC dedicates 15-foot Bearcat statue
The new bearcat statue was dedicated on Dec. 4, 2010. Video/John Bach
What's behind ferocious Bearcat design?

By Jayna Barker

A bearcat waits in a tree, mouth agape with large, sharp fangs, letting out an angry scream. Hanging by its tail and one claw wrapped around the tree to give it balance, its other claw reaches out, ready to strike.

The new 15-foot tall, two-ton, bronze statue near Fifth Third Arena and the Marge Schott Baseball Stadium isn't exactly the cute and cuddly bearcat some might expect.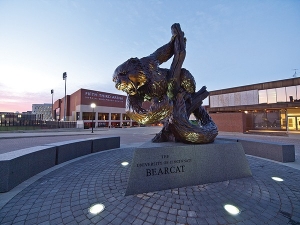 Instead of a benign pussycat, nationally acclaimed artist Jon Hair created a ferocious yet iconic representation based on the zoological and anatomical quality of a bearcat.

"We didn't want the bearcat to look like the mascot," says Len Thomas, senior planner and university architect. "We wanted the bearcat to be a timeless figure. The mascot has changed probably 25 times in its history. This sculpture will persist 200 years from now. It will still be a relevant piece of artwork, and that's what we wanted."

The idea behind the bearcat statue started with the senior class of 2005, and fundraising began with the senior class of 2006. When students struggled with funding, Sigma Sigma Men's Honorary -- which has had a history on campus since 1898 and has a commitment to the enhancement of service and improvement of UC exclusively -- stepped up to sponsor the $192,000 project.

"(Sigma Sigma) immediately recognized it was an initiative they could embrace and get their membership to contribute to consequently," Thomas says. "They were incredibly benevolent."

Thomas was assigned to work with Sigma Sigma to manage landscape and facilitate sponsored projects. He collaborated with them on the bearcat statue project for nearly five years.

The first step in creating the sculpture was finding an artist, and Hair was selected from among nearly 25 artists and eventually five finalists who submitted drawings.
The bearcat statue, now a recognizable symbol on campus, has already become a destination for students and especially fans on their way to basketball games.

"It gives you a sense of connectivity," Thomas says. "I think that's the most important thing of all. It gives you a connection to your alma mater. It gives you a connection to the the past, to the fact that a tradition has been perpetuated for almost 100 years. It adds a sense of foundation and stability to the collegiate experience."
Jayna Barker is a senior journalism student and intern with UC Magazine.