Graae gave up Lucky the Leprechaun for pot of gold
The luck of the Irish was with Jason Graae, CCM '80, when he auditioned for the voice of the Lucky Charms leprechaun in 1992 after the original actor retired following nearly 30 years. Although Graae's 5-foot stature tends to look a little impish, he won the role with the elfin voice he created, not with his looks.
"They had the same guy (Arthur Anderson) doing the part for 30 years, and one day it just sounded like he couldn't get it up anymore, and they wanted someone new," Graae told Tom Nondorf in a 2007 Playbill article. "They had this big audition, and I got it" — having "stole" the voice, he says, from Ken Jennings, the original Tobias in Sweeney Todd.
For five and a half years, Graae (pronounced Graw) repeated the cereal's jingle, "They're magically delicious." It looked as if his luck ran out, however, when he moved to California, and the New York ad agency liberated the leprechaun, announcing that a local elf was preferable to one on a telephone patch nearly 2,800 miles away.
Following the rainbow
Nevertheless, it seems Graae really did follow the rainbow … with a pot of gold waiting for him at the end in L.A. Since he moved, his career flourished — on TV, the movies and primarily on stage. The New York Sun once claimed he "steals so many shows he should be arrested!"

On television, his stint in commercials also included singing the Western Union Telegram jingle "Everybody Needs Some Money Sometime." His frequent work in TV series featured HBO's "Six Feet Under" (playing Dennis), NBC's "Frasier," NBC's "Friends" and ABC's "Sabrina the Teenage Witch."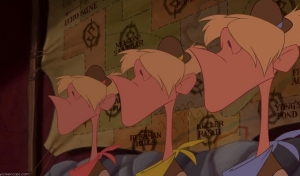 Although Graae hasn't focused on movies per se, he did voice a character (one of the Willy brothers) in the animated Disney film "Home on the Range" in '04 with Steve Buscemi.

In the long run, stage has always been his forte. While living in New York, he nabbed a 1993 Drama Desk Outstanding Actor in a Musical nomination for the Off-Broadway production of "Hello Muddah, Hello Fadduh." On Broadway, his baritone voice has been heard for more than two decades in such shows as "A Grand Night For Singing," "Falsettos," "Stardust," "Snoopy!" and "Do Black Patent Leather Shows Really Reflect Up?" In 2006, his one-man show "Coup de Graae" won him a New York Nightlife Award For Best Musical Comedy.

In 2011, he received rave reviews In New York and L.A. for his one-man show "Perfect Hermany," a tribute to the famed Broadway composer and lyricist Jerry Herman. Graae had toured the country along with Herman during the tour of "Hello Jerry."

Although Graae is loved in New York, perhaps he is best known on Los Angeles stages simply because he is always there — and often winning accolades, including two L.A. Drama Critics Circle Awards, an Ovation Award and an Artistic Director's Achievement Award. And it is since moving to L.A. that Graae has developed a comic approach to his one-man shows that leaves audiences howling.
Sample reviews

"The versatile Jason Graae tenderly croons a ballad one minute and then belts out a riotous comedic number the next. Graae pulled it off, but he's just about the only guy around who could do so." — Los Angeles Times
"The ace of West Coast Musical Comedy!" — L.A. Daily News
"An irresistible cut-up whose splendid voice is matched by mischievous charisma." — Stephen Holden of the New York Times
"An impish one-man arsenal of comic mischief with a real voice, hilariously mugging and clowning as the world's most shameless and stage-hogging ham." — Stephen Holden of the New York Times
"The undoubted master of humorous song is Jason Graae, who sings, moves, and mugs his way to definitive renditions, exuberant in support, not at the expense, of his material." — New York Magazine

Working on the stage has also come to include opera for Graae. He has appeared with the opera companies of Los Angeles, San Francisco, Houston Grand, Washington National, Dallas and New Orleans.
He has also recorded 40 CDs.

LINKS
At right: A Lucky Charms video
from 1995, when Jason Graae
was doing the voice of the
leprechaun.