Alumnus Flaherty's score for 'Rocky' heads to Broadway
Overwhelming success in Germany lasts for more than a year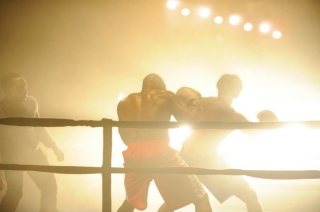 by Deborah Rieselman
After more than a year of packed houses in Hamburg, Germany, "Rocky" the musical will soon open on Broadway, with a score composed by Stephen Flaherty, CCM '82, and his lyricist writing partner Lynn Ahrens. Tickets are already on sale for previews starting Feb. 11, 2014, at the Winter Garden Theatre and for an official opening on March 13.
Flaherty and Ahrens wrote 20 new songs for the show and retained three popular oldies: "Eye of the Tiger," "Gonna Fly Now" and "Take You Back." Because the story is set in Philadelphia in 1975, "the score combines a lot of sounds of the period — funk, soul, pop, rock and folk," Flaherty says. "We look back to that time, but it is really a contemporary score."
"Rocky: Das Musical" opened in Germany in November 2012, produced by Stage Entertainment, as well as Sylvester Stallone, creator, writer and star of the 1976 "Rocky" movie, which received 10 Oscar nominations. Germans loved the show. The front page of Hamburg's daily newspaper declared, "Big Emotions, Big Theater." And the city's biggest tabloid announced, "'Rocky' Knocks Hamburg Out!"
Of course, both producers had hoped to move the show to Broadway eventually and did so even though the German production is still packing houses to rave reviews more than a year later.
Lyrics and the book were originally written in English, then translated into German, which created a challenge because translations in the two languages do not contain the same number of syllables. "We had to find an equivalent in German so the German words could sit on the beautiful melody and have the right rhyme," Ahrens explains. Taking the lyrics back into English was indeed simpler.
"It has been an amazing adventure," Flaherty says. "Our international cast in Germany comes from 12 different countries, and our band features some of the best players I've ever worked with. I'm having the time of my life. Thank God for the 'Basic German For Dummies' app!"
Looking ahead, the Flaherty-Ahrens team will see the opening of another New York musical in October 2014. This time, the Kennedy Center will premiere "Little Dancer," about the artistic collaboration of sculptor Edgar Degas and young ballerina Marie van Goethem. The show could head to Broadway afterward.
Kennedy Center PR states, "Part fact, part fiction, and set in the harsh backstage world of the Paris Opera Ballet, 'Little Dancer' is inspired by the young ballerina who posed for Edgar Degas and became, inadvertently, the most famous dancer in the world. Torn by her family's poverty, her debt to the artist and the lure of wealthy men, Marie struggles to keep her place in the ballet corps — a girl on the verge of womanhood, caught between the conflicting demands of life and art."
In a previous statement, Flaherty and Ahrens said, "It feels as if our 'Little Dancer' is about to step off her pedestal at the National Gallery of Art and spring to life on stage. We're delighted to be returning to the Kennedy Center with a brand new musical."
Flaherty and Ahrens have been writing popular musicals for 30 years, including two shows that won Tonys for best scores — "Once on This Island" in 1991 and "Ragtime" in 1998. The book for the latter was written by Terrance McNally, who won a Tony for his creation and who also wrote the book for "Rocky."

In addition, Flaherty received a 2001 Drama Desk nomination for outstanding music for "Seussical," which was originally scored for Broadway, later revised for a national tour, then revised again for junior-theater productions. For years, it has been one of the top three most-licensed properties in Music Theatre International's licensing catalog.
LINKS
Video of Broadway's "Rocky" cast, comments from Flaherty, new music