Alumnus included in Forbe's '30 under 30' list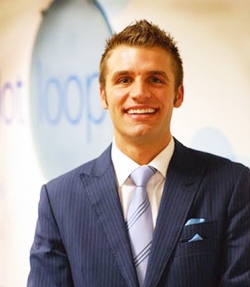 by Barbara Blum
A young UC alum is simplifying real estate transactions and making a name for himself in the process.
Twenty-six-year-old G. Austin Allison, Eng '04, JD '11, is co-founder and CEO of DotLoop Co., a software design firm that provides a seamless, online solution to effectively automate real estate transactions.
Allison teamed with Cincinnati Web designer (and now business partner) Matt Vorst to develop software that would eliminate paperwork for real estate agents. It allows buyers and sellers to trade offers and counteroffers without printing, faxing or emailing updated contract versions to all parties. Documents are signed electronically, and contract changes are time-stamped to provide an audit trail for every transaction.
DotLoop began in 2008, and by late 2011, the company employed more than 40 people, had business connections in all 50 states and had 120,000 paying and 2 million non-paying users.
Perhaps because of that success, Allison drew the attention of Forbes magazine and was named one of its "30 under 30" in December 2011. Forbes collected names of "tomorrow's brightest stars" – 30 each in nine categories that included art and design, energy, finance, media, real estate and technology.
Allison is in good company. Other "30 under 30" honorees include basketball star LeBron James in "entertainment," Facebook inventor Mark Zuckerberg in "social and mobile," actresses and fashion entrepreneurs Mary-Kate and Ashley Olsen in "art and design," and singers Adele and Justin Bieber in "music."
The Forbes listing is just the latest honor for Allison. In August 2011, he was named one of the Cincinnati Business Courier's "Forty Under 40" winners. The Business Courier states, "Forty Under 40 recognizes the Tri-State's next generation of young leaders and innovators – people who have already made a mark professionally and in the community."
The community is also a focus for Allison. He works with Habitat for Humanity and established a nonprofit organization, the Mr. Bob Foundation, which provides books to elementary-age students in need.
Links:
College of Law feature on Allison
Forbes' "30 under 30"
Cincinnati Business Courier's "Forty under 40" website
posted 12-11